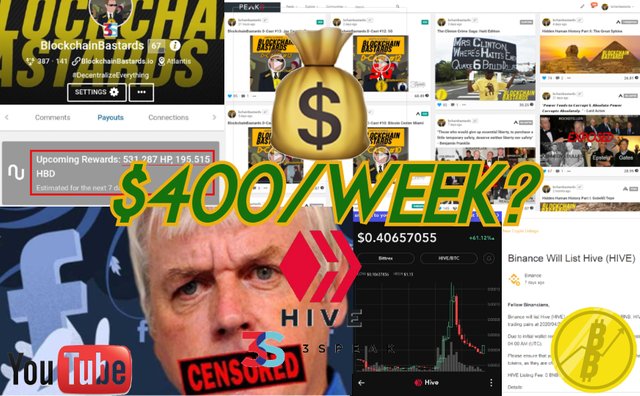 The State of Social Media:
- Monetization
If you're a content creator, you know how difficult it is to monetize your content. Traditional social media sites like Facebook, Twitter & Instagram will gladly take in all the ad revenue from the traffic you bring to their platforms without offering you a cent for your trouble.
Running a personal blog and profiting from running ads is extremely difficult to do, and requires a massive dedicated audience.
Youtube has traditionally been the one platform that will occasionally offer to share some of the monetary value you create. If you qualify for monetization they will share some of the revenue they get from running ads on your video. In order for this to be even remotely profitable, you'll need tens of thousands of subscribers, bare minimum. Even with millions of subscribers, they are still free to arbitrarily decide which videos to pay you for. They continue to tighten these criteria as well.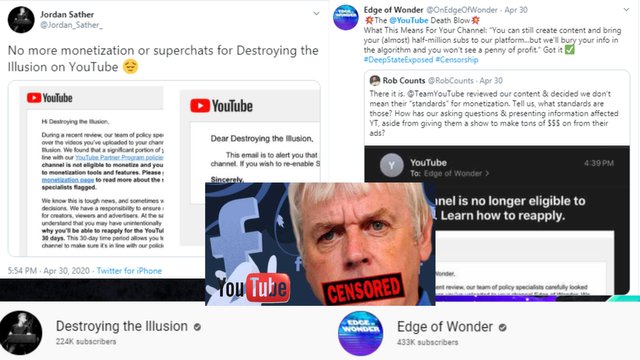 - Censorship
Times are especially tough for alternative/independent news content creators. Even if you manage to gather a massive audience, Youtube can, at the drop of a hat, completely demonetize your channel (like they did to Jordan Sather and Edge of Wonder above), or in David Icke & Alex Jones' cases, delete it completely.
This very plainly is modern-day censorship.
When you add this to Facebook stealing your data, Twitter shadow banning accounts without warning and both of their CEO's getting called in front of congress to discuss political bias in their actions, it's clear that Web 2.0 is failing their users on EVERY front.

So what is a content creator to do at a time like this? It's harder than ever to earn, and no matter how good you do you're always at the mercy of the social media giants' thought police.
We need to stop allowing ourselves to get taken advantage of, cheated out of our earnings, and having our content censored. But how?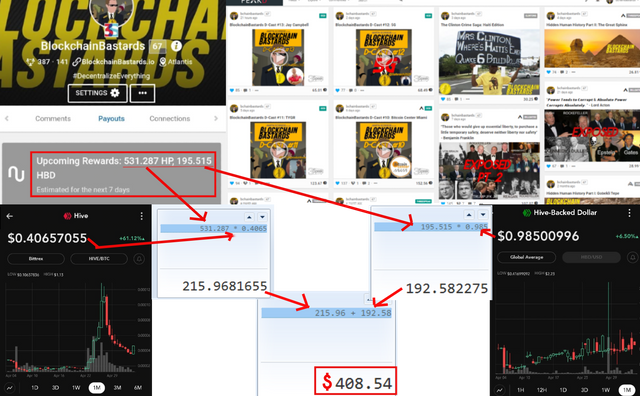 I did exactly that this week, earning more than $400 posting content on an uncensorable, blockchain/IPFS, Web 3.0 platform:
Enter Hive: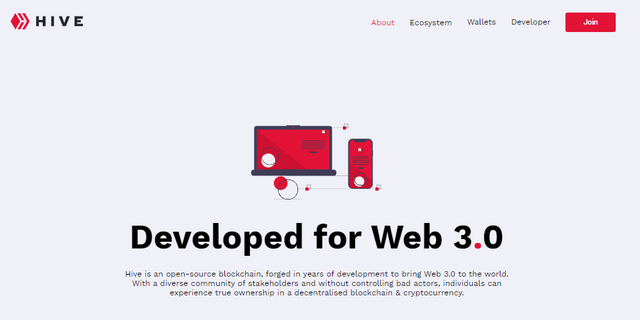 In Web 1.0 the internet was read-only
In Web 2.0 users got to read AND write (getting to consume and add their own content) but the platforms are ultimately owned by a centralized corporation who has free reign to use your data, attention, and valuable content how they please. To share in their success, you have to buy their publicly traded stock, that offers you no added benefit on the platform itself, much less any ability to determine it's direction.
In Web 3.0 users not only get to read, write but OWN the platform. Users post to a decentralized blockchain/IPFS network, hosted by different users/servers around the world. This means no one entity has control over it. Instead of purchasing stocks in a company, with Hive you are able to purchase (and/or earn) equity in the form of freely traded Hive tokens, a cryptocurrency digital asset that gives you a proportional amount of influence to your stake. This means not only do you share in the platform's success, you get to vote on everything from the 20 "Witnesses" who develop the code, to proposals on what upgrades they should make.

This system is called "delegated proof of stake", and unlike Bitcoin's "proof of work" reward system, instead of giving newly mined coins to those who provide the most computational power, Hive allows users to decide who gets the newly produced wealth by voting on their content (Users with more "stake" get more powerful votes).
This means that each and every like on the platform has a monetary value. Direct compensation from your audience, and it doesn't cost them a dime.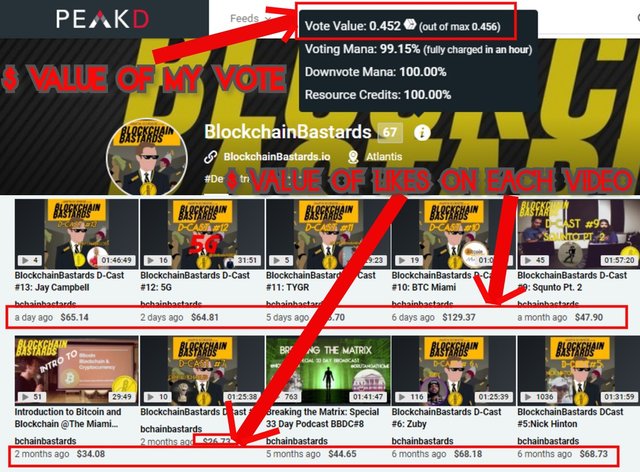 While the main Hive.blog platform is essentially a Medium like blogging centric platform, one of the best features of the Hive blockchain is the ability to build DAPPS (or Decentralized Applications) on top of it (I'm posting this on the PeakD DAPP)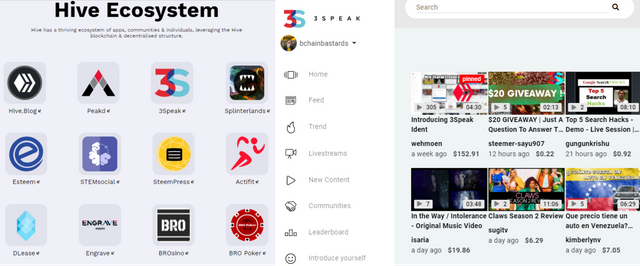 This means that Hive is extremely flexible, and can be used as a base to build out decentralized replacements to ALL social media platforms
Take for instance 3speak.online, which is a fully-featured Youtube replacement that runs on the Hive network. Not only does it offer decentralized video hosting, but also live streaming, and soon an advertising revenue sharing program (for even more ways to earn).
Getting Started: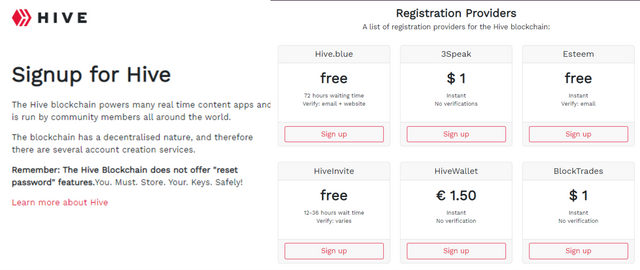 To make an account on the network, all you need to do is follow this link and choose the registration provider you prefer. Each provider offers a different speed/verification/cost combination, but all provide the same universal Hive account that can be used across all DAPPS.
Purchasing/Cashing Out Hive: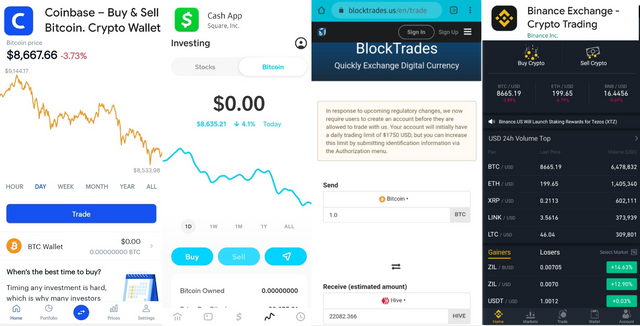 Of course, the #1 question I get asked about Hive is "Where and how can I buy it??"
Above I have pictured some of the apps/services you can use to get your hands on some Hive. While you can't directly purchase Hive on Coinbase or Cash App, you can buy and sell Bitcoin for USD (from a linked bank or debit card). Once you purchase Bitcoin, you can then send it to the Blocktrades decentralized exchange. This exchange will allow you to send in Bitcoin and convert it to Hive, which you then can have deposited directly to your Hive account.
For selling your Hive for USD, you can simply do the reverse. As far as more active trading, Hive enjoys listings on several large exchanges, Bittrex, and most notably, Binance has recently listed Hive with both BTC and USDT pairings.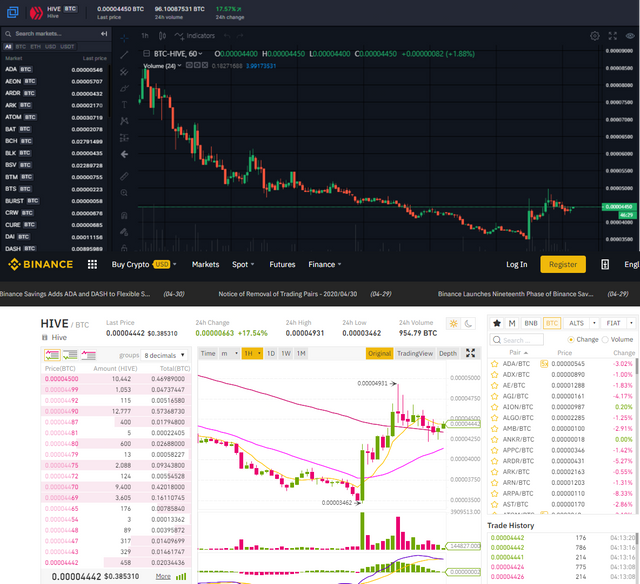 As far as the structure of the payouts for your content, Hive currently pays out 50% in Hive Backed Dollars (a native stable coin that can be exchanged with the blockchain itself for a dollar's worth of Hive in 3 days, you can trade and cash it out in the same way as Hive), and 50% in Hive Power (Hive that has been "powered up" meaning that it is increasing the $ value of your vote, to be withdrawn, you'll have to initiate a "power down", in which your total powered up Hive will be available in equal payments over 10 weeks). The payment for each post is delivered exactly 7 days after it was posted.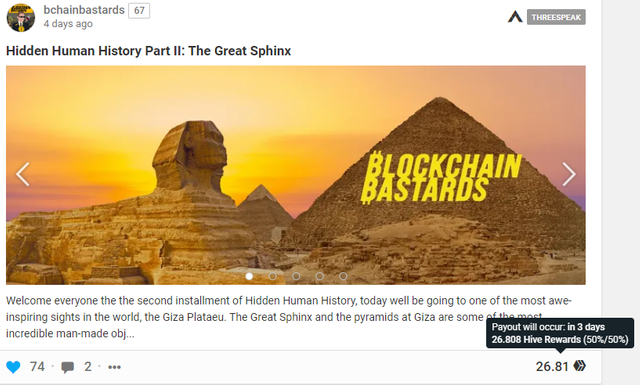 Current Events: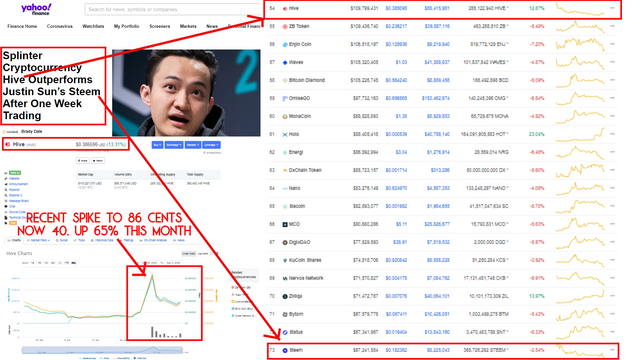 For those in the crypto community, you may have heard of Hive recently when the project hard forked off of the Steem blockchain after Steemit Inc. was bought by Chinese Billionaire Justin Sun. In response to hostile actions by Sun to centralize the network, the community made history by defending our content and creating a mirror of Steem's battle-tested code: Hive.
Now, a little more than a month later, Hive is #54 in overall market-cap, while Steem is #73. At the time of this article, 1 HIVE token is worth more than 2 STEEM tokens.
Not only did this move show how committed the Hive community is to decentralization/censorship resistance, but showed how much the market values it as well.
This recent price increase is part of the reason it is so profitable to create content on Hive right now, and as time goes on and the platform becomes more popular, this trend will only continue.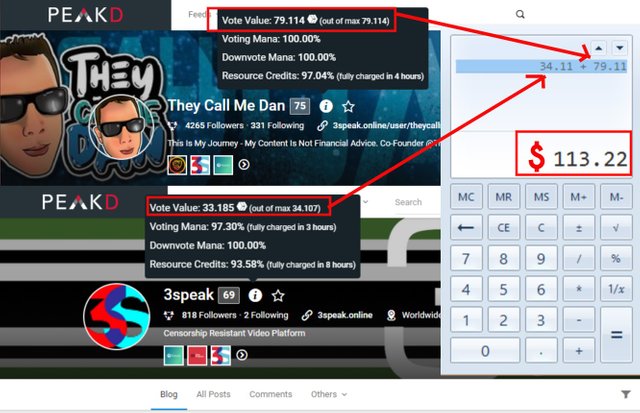 What's next for Hive? Well now that we have established ourselves as the new kid on the block crypto-project, it's time to start really putting the product to work.
That's why I'm happy to announce 3Speak's #YoutubeExodus Challenge:
If we truly want to end censorship and the constant abuse of content creators by Web 2.0 platforms, we have to leave them completely.
That's exactly what @TheyCallMeDan did last year when he took all his content off of Youtube and started exclusively posting to decentralized platforms. That's what led him to later create 3speak.online, a premium Hive-based video platform that could truly replace Youtube.
So what is the #YoutubeExodus Challenge? Well, Dan would like to offer any large Youtube creator that's been demonetized/censored (or just opposes those things) to leave the site completely and relocate to 3Speak.online. In return for your courage, Dan has agreed to guarantee you upvotes from both his personal account and 3speak account:
A combined value currently totaling over $100.
These votes only represent the base level of rewards you would receive on the platform as the rest of the Hive community would no doubt appreciate your commitment as well.
If you've already been demonetized, you have nothing to lose and everything to gain by being the first to adopt and promote a cutting edge Web 3.0 platform like 3speak.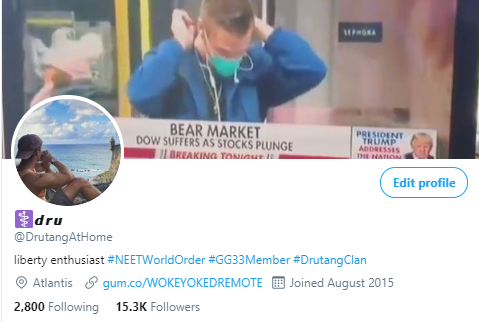 Applications to this program will be opened as of now, May 4th, 2020. If you are interested, please contact me @ [email protected] or on Twitter @DrutangAtHome
If you know of a popular creator in situation like what we described or just one that might be interested in this program, please let them know about the #YoutubeExodus challenge and encourage them to reach out.
If you're a large Hive Power holder and would like to add your vote to the challenge to sweeten the pot, please let me know as well.
Alright, well I think that just about covers everything, thanks for reading, and if you sign up for Hive based off this article, please leave a comment down below so I can upvote it and give you some free Hive!
If you are already a Hive user, this is a great article to send to your friends who are interested in Hive but don't know where to start.
Peace, Love, Anarchy,