As @bowess I have been on Steem (and now Hive) since July 2016, but this is not my first blog. Two months after moving 'Twardogórzanie' to Steem, I would like to tell you the story of my old blog that did not die - quite the opposite, it gained a new life, it got a second wind.
I started blogging in 2014. At the beginning, these were local news - information from the town hall, election results, planned investments and which media write or talk about our small town. The name 'Twardogórzanie' means Twardogóra residents - like Londoners or Berliners.
I founded the blog in September 2014 in a large Polish website for bloggers - blox.pl. At the same time, I also created a fanpage on Facebook with the same name.
The traffic on the blog was not big - the city has only 6,000 inhabitants, so I never expected hundreds of entries. Although there were posts that caused a lot of traffic on the site - the results of the election of the new mayor were checked by 2,000 people.
After some time, I thought it would be good to add some new content to the blog and post something that will attract the attention of people who are scrolling the feed on Facebook. And so in the spring of 2015, I started the series "Niedziela z historią" - "Sunday with History". The series was scheduled for 30 Sundays because I had 30 pre-war photographs of my town. The idea was simple - every Sunday one old photo with a short description of what it represents and whether this object exists to this day or not.
The series gained popularity - nice comments appeared, messages from readers, several people sent me more photos from home albums. I also got involved in searching for historical graphics and old photos, and now "Sunday with History" has over 200 episodes.
After (dblog.pl) and before (blox.pl).
In summer 2016 I created an account on Steem, which at the beginning seemed boring and focused around the topic of cryptocurrencies. I had no idea what to write on this new blog, also because my school English does not always allow me to express my thoughts in the way I would like to do it. I was a rather quiet user throughout the first year.
Everything changed in 2017 when I found the #polish community and thus my place in blockchain ecosystem. The community was young but supportive, helpful and with many ideas for creating content. My best posts were created for the 'Tematy Tygodnia' ('Topics of the Week') competition, which was invented and ran from the @steemit-polska account by @lukmarcus.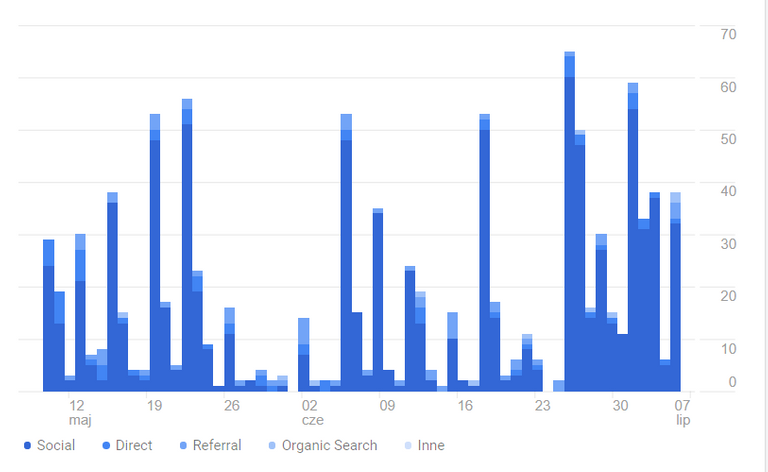 How do I get users? Number one - social media.
So why didn't I transfer my older blog to blockchain in 2016 or 2017? In those days I saw Steem as a place where the creation of content for other Steemians is primarily rewarded and desirable - such posts had discussions in comments, upvotes, the greatest response, and reactions. Creating and publishing niche content, even the most unique and highly displayed by search engines, was associated with the lack of response from Steemians. Therefore, I created here a content that was more universal - about Polish spelling, about books, culture, and everyday life. I used the steemit.com interface. This type of writing also gave me a lot of joy and was just different from the blog at blox.pl.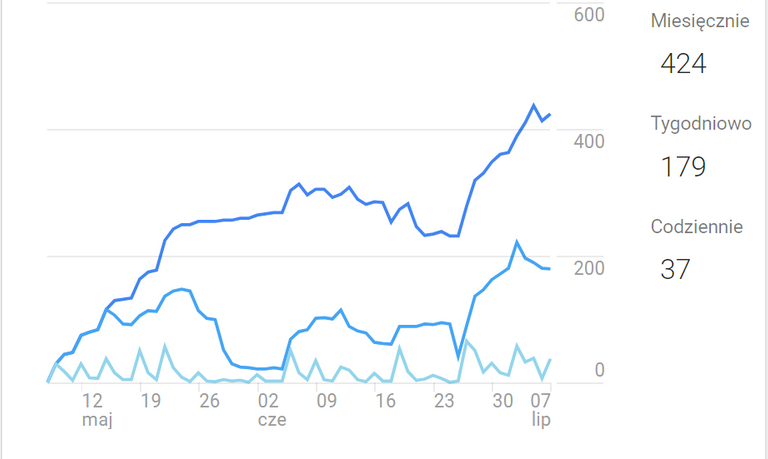 Monthly, weekly, daily.
Five months ago there was a huge change. @nicniezgrublem - the creator of Engrave suggested to #polish users a new option - creating a blog based on blockchain in the new domain dblog.pl. This solution allows you to measure traffic on the blog, besides, the platform offers tools and options that were missing on the steemit.com interface. I think I needed something new then, some change, so I was the first to submit my decision to use dblog.
In the early spring of this year, it turned out that like a few other Polish blog sites, blox.pl will also disappear - the platform will be closed from May 1. I had to make a decision, but I already knew what I should do. Categories on dblog.pl were exactly what I needed.
So I created the 'Twardogórzanie' category and that's how the new chapter of my blogging began.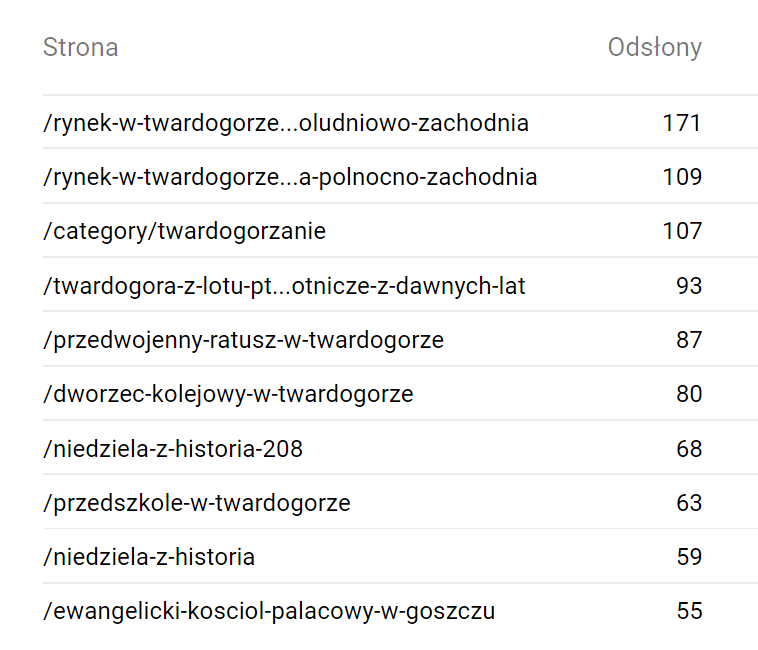 Popularity is gradually growing. New posts have more entries.
'Twardogórzanie' is part of my blog that is mainly run for people outside of blockchain. It is promoted on Facebook, acquires readers from previous blox.pl. On blockchain these posts have quite a lot of upvotes, comments are little or not at all.
However, there is always a big response on Facebook - every new link to the post on dblog and the new photo 'Sunday with History' get likes, comments and are shared.
The picture and the link to dblog always have a greater range from the link to the post - I think that's how Facebook's policies and mechanisms work. The ranges are organic - I do not pay for promotion. Fanpage has 941 likes, it is watched by 947 people. This week, the posts reached 2,379 people.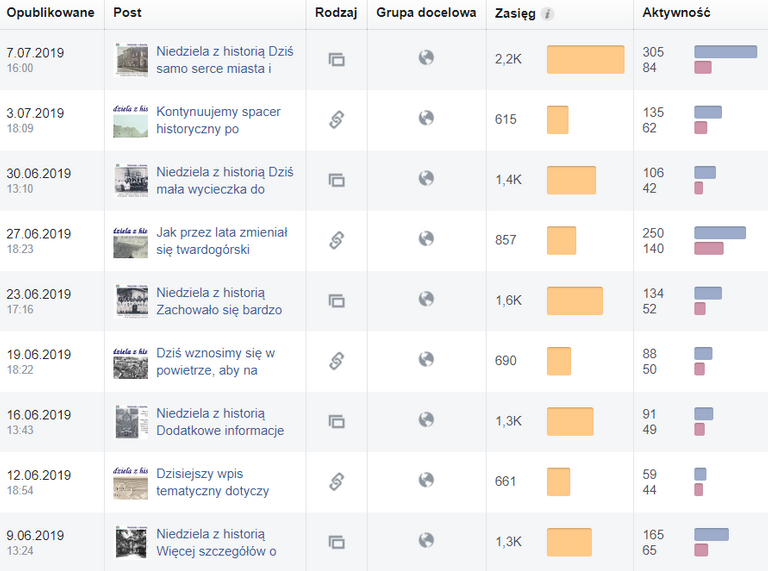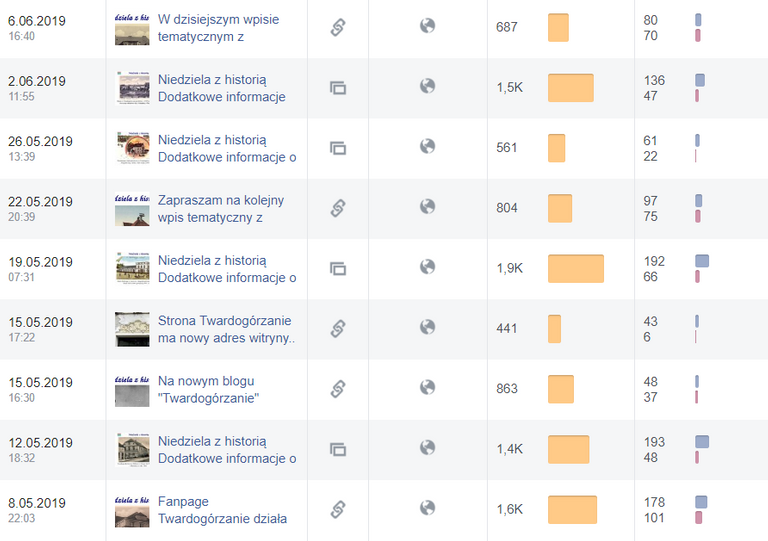 My dbog posts on the 'Twardogorzanie' FB fanpage.
It's getting better. Former blog readers from blox.pl are satisfied with the move. I have comments that they like the visual side of dblog - a clear look, legible fonts, and a way of displaying photographs. At the beginning there were a lot of blox redirections - readers still had a habit of entering the old page, now they are rarer - the most people see on Facebook that a new post is published and clicks on the link.
If you ask me it makes sense to move a blog to blockchain, I will say that it definitely does. Also if you write about very specialized, unique things, intended for a few recipients. Blockchain was created for such content. Steem or now Hive only for Hiveans would be like a snake eating its tail.
Let's be open to new recipients of content, let's enjoy the benefits of decentralization.
My blog on dblog: https://lectorium.dblog.pl
New category: https://lectorium.dblog.pl/category/twardogorzanie
Twardogórzanie on Facebook
---
Special thanks to:
---
Pierwotnie opublikowano na Lectorium. Blog na Hive napędzany przez dBlog.