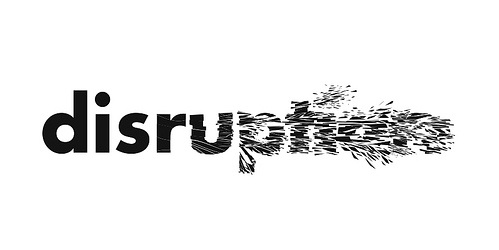 In my previous blog post, I stated four (4) areas that blockchain technology will disrupt, which are:
• E-commerce
• Cyber-security & data privacy
• Banking & investment
• New & unique business models
In this post we will focus on e-commerce and examine some of the ways that blockchain technology will disrupt this $2.3 trillion dollar industry. Today's e-commerce landscape is dominated by the likes of Amazon, Apple, Walmart or China's Alibaba and JD.com. Today's retail e-commerce ecosystem presents the one of the biggest opportunities for blockchain technology to disrupt.
Retail e-commerce sales worldwide from 2014 to 2021 (in billion U.S. dollars)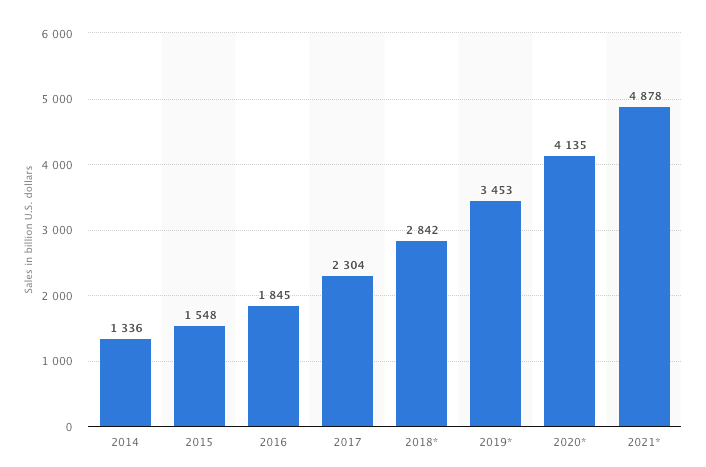 Minimize Privacy Risk
Cryptocurrency and their underlying blockchain technology provide the benefits of cash but over the internet. Consider this: every time you use your credit card, you are handing over personal information that could become a source of identity theft later. Using cryptocurrency, like cash helps you to avoid this unfortunate possibility by making a straight forward transaction without given up any unnecessary personal information.
This is the advantage of hard physical cash, which in many ways can be considered the first Proof system. For example when you go to the store to purchase goods or services with cash it is a frictionless transaction because you as the consumer instantly prove that you have an agreed upon medium of exchange. In fact, just like fiat money, cryptocurrency functions as a medium of exchange, a unit of account, and a store of value. Imagine if you can make purchases without the risk of the trusted 3rd party selling your personal information. Or worse, malicious hackers steals data from trusted 3rd parties (Read about recent major data breaches).
No Login
As mentioned above, one of the biggest vulnerabilities with existing 3rd party business models is that users must provide their personal information with the trusted party (so that trusted party can authenticate and verify user transactions), leaving customers at risk to malicious hackers. The trusted 3rd party looks to protect user information by creating logins that offers a layer of security to allow access to the user's online account. Ironically this exposes the user to additional risk.
Time Efficiency
The process of creating login accounts can be time consuming. Furthermore, logins do not solve the problem of protection because centralized systems are susceptible to cyber-attacks. With cryptocurrency, the customer's identity is protected and the merchant can trust that they will receive payment almost instantaneously (on Steem, confirmation is under 1 minute).
Low to No Transaction Fees
A huge advantage of cryptocurrency and the blockchain is that the technology is designed to have low to no transaction cost. As a case in point, one of the major advantages of Steem over other blockchain platforms is that there is zero transaction cost! This point cannot be overstated and gives Steem a powerful advantage over other blockchain networks. But that is a topic for another post...
In conclusion e-commerce presents a real opportunity for blockchain technology to reach mainstream adoption. However there remains huge challenges before blockchain technology moves from a weird and speculative asset to a tangible utility. Although, Bitcoin and Ether are the two dominant cryptocurrencies, it is not uncommon for their prices to fluctuate 20%-40% on a given day. In order for cryptocurrency and the underlying blockchain technology to attain mass adoption, it can not expose businesses and consumers alike to such currency risk. As a business owner you cannot pay a person's salary in Bitcoin if the purchasing power of their wages keeps fluctuating. A solution which is being proposed is the idea of a "stablecoin" which is a cryptocurrency that is pegged to a fiat currency such as the US dollar. There are projects which are currently in progress that take aim to address this problem. However, none of the existing stablecoins have proven to be reliable. In fact, many are considered scams. However as cryptocurrency and the blockchain becomes a more mature technology and gains adoption, coin price stability issues will be solved and unleash a second e-commerce revolution.
Make sure to leave your comments and share your thoughts.