Past 24 hours or so have been pretty hectic for us! Especially for our curation team which has drained the account's VP lower than usual. Can you guess why? Well, we had launched a contest and asked STEEMIANS to vote for STEEM to get listed on NETCOINs for FREE. We are totally blown away by the response we got. You guys have gone CRAZY and we love it. Congratulations, you are awesome!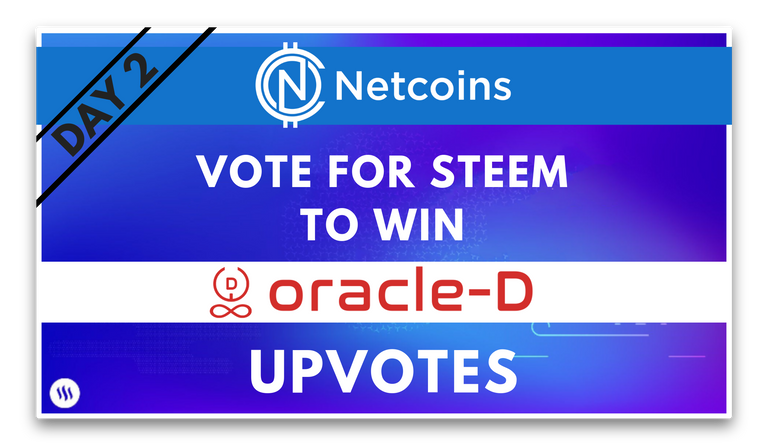 Note: If you are still unaware of it, please check our annoucment post made yesterday.
Without wasting too much time, let's look at what we achieved so far. And we will also discuss how we can take it to the next level over a course of next 5 days! Contest Guidelines are changed too, so please read this very carefully till the end.
What Happened In Last 24 Hours?
This is how STEEM is looking right now which pretty amazing. We launched the contest with approx. 100 votes and STEEM was at 11th Position at that time. Right now we are going strong with 1200+ VOTES and 6th Position.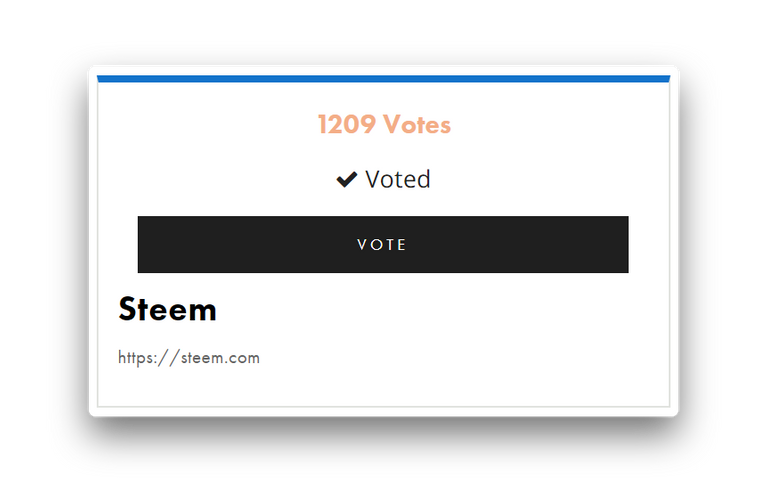 This is how our contest post looks like right now. $220+ worth of upvotes (650+) from you guys, 710+ comments and counting.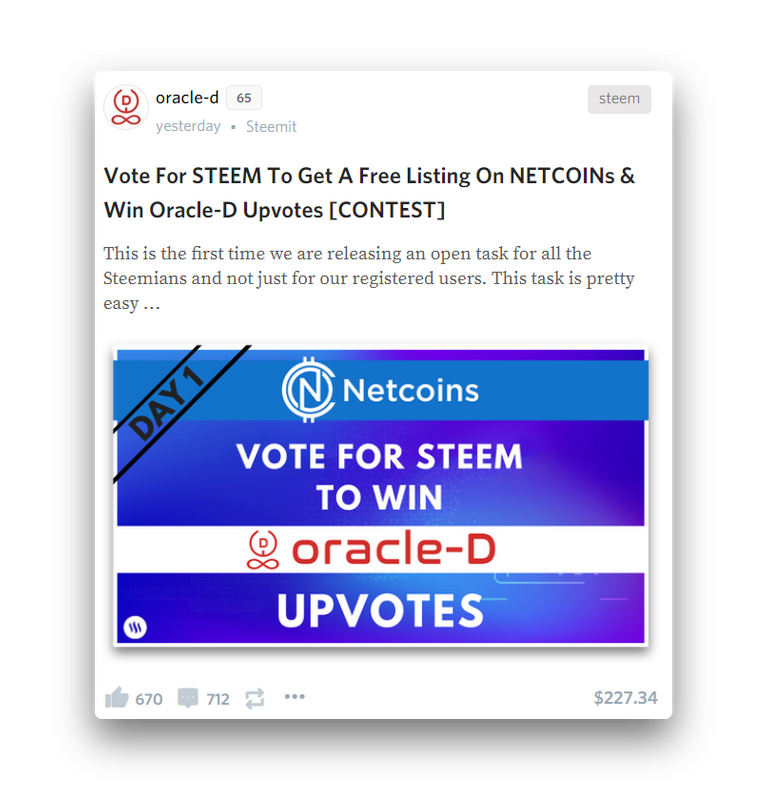 These are some of the things we did on the day one. Our team has reached to top influential people on STEEM to participate and talk about it to their followers. We can use all the manpower we have here!
What's The Next Step? - NUMBER ONE SPOT
The day one is over but we are just getting started. We want to GAMIFY this a little more and try to push STEEM to the FIRST SPOT. Hence, we are changing/adding some more guidelines/tips to take this contest to the next level:
If you are taking part in this contest, please shift your entries to this blog. You can comment with a screenshot of your latest vote. As we write this, last VOTE was 1209. So, your screenshot should have VOTE number higher than 1209. Also, RESTEEM THIS POST.

EDIT: We are no longer upvoting comments with $1. But we will still reward with something depending upon our voting power. So keep voting guys and share your screenshots in the comment section!

We will now focus on rewarding high quality blogs/vlogs about this contest and comments will be upvoted later in the week.

Calling out Famous DTube communities like @dtubedaily, @onelovedtube, @dcooperation and others to support this contest and participate among themselves. OD will extend the support to such entries. It will help us to boost engagement and votes for STEEM.

We would like all of you to nominate at least 5 STEEMians to participate in the contest by tagging them in your comment or blog post.

Please share your blogs on Twitter and tag them with #STEEM and #Exchange-Blast and we will find you easily. ;)

Share on telegram groups, FB Groups, Wechat groups, Whatsapp groups with high engagement and share proof to get rewarded a little higher.

We also encourage other STEEM communities, top witnesses and other STEEM Influencers to come forward and take part in this activity with everyone. We will try to offer max. support.
If you are here for the first time, please check our annoucment post to know more.
Let's do this guys. Let's take STEEM to number one SPOT.
THANK YOU
We are blown away by the response and we really appreciate it. Thank you @followbtcnews, @teamsteem, @phareism, @blockbrothers, @ausbitbank, @tipu, @reggaemuffin, @firepower, @ned, @blocktrades @aggroed, @yabapmatt, @timcliff, @good-karma, @heimindanger, @justyy, @creatr, @pennsif, @coruscate, @ericwilson, @scaredycatguide, @fr3eze, @enjoyinglife, @future24, @ruth-girl, @neopch and other influential Steemians for supporting us. We couldn't mention everyone so please forgive us if we missed your name. But we thank you for your support too!
Special thanks to @cryptocurator, @honeybee11 and @hungryhustle for organizing this contest and leading it from the backend and frontend too!
Last but not the least, A huge shoutout to our wonderful team of Pro-Creators who are producing high quality stuff everyday and kicking-ass.
We couldn't do this much without your support guys. THANK YOU SO MUCH once again. Let's keep pushing STEEM and one day it will reach the MOON for sure. ;)
Note: All Liquid Rewards from this post will go to @ADollarAday Charitable Initiative by @Pennsif.

Oracle-D
is a new STEEM blockchain business venture bringing new investment into the ecosystem. Founded by @starkerz and @anarcotech, we previously were co-founders of the #promo-steem and @steem-ambassador projects, and we developed the CAMPUS curation system, which is a fully decentralised system for distributing rewards.
Core Mission
We remain apolitical, and our number one goal is to raise the price and utility of the STEEM blockchain, improve culture and education about the blockchain, and create opportunities which support exceptional quality content creators through collaboration with investors and clients. In other words, to add as much value to the blockchain every day as we can.

You can support us in the following ways:
Go to our campaign's link given above and donate to us. The funding we get will be used only to cover the expenses of the events we will attend to attract more investors.
Upvote & Resteem this blog and spread the word about Oracle-D and our campaign.
Support our writers and their content which will ultimately empower quality on the STEEM Blockchain.
Upvote @Oracle-D witness by going to https://steemit.com/~witnesses or by using SteemConnect
Join our curation trail in SteemAuto to maximize your curation rewards.
Any kind of contribution is much appreciated and thank you for being a part of this Journey! Also, please do not hesitate to connect with us for any kind of collaborations that can help the STEEM Community grow.

Note: This blog has been posted using eSteem Surfer created by @good-karma. It's a wondeful Desktop client for STEEM Blockchain. Download it today from https://esteem.app/#downloads