As the whole market falls, so does Steem. We are currently at our yearly lows and we may make an attempt to defend this area in the shorter term: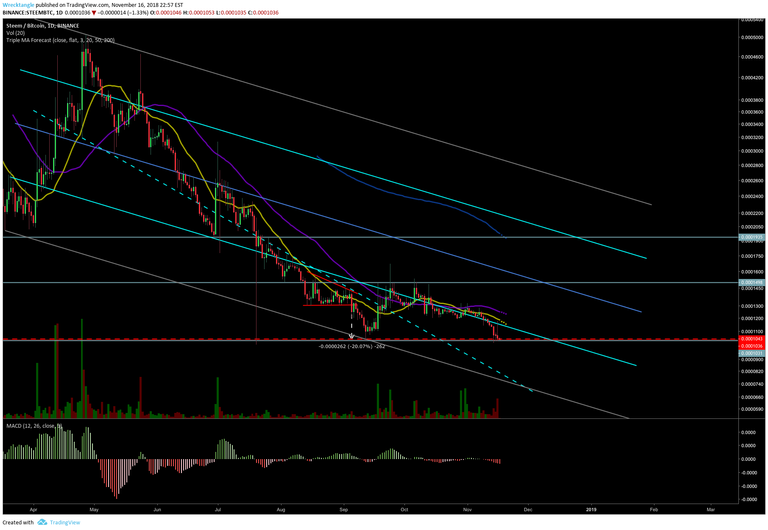 As I stated last week, we needed to stay above the 75% fib channel retracement and start getting over your moving averages if we wanted to stay short term bullish. We failed to accomplish that and we are once again below it. We are right at the yearly lows so we can be a little optimistic here that we may bounce soon. The daily candle prior is currently showing a beautiful inverted hammer candle so we could see a temporary reversal. Unfortunately, it may just be to the 75% fib channel level and then bounce back down.
I've been watching the price movements, along with the technical indicators as we've been creeping down, and it doesn't help change our overall bearish state. Our MACD is in line with the price movements and is giving us no divergence when looking for a big pop and the sell volume is increasing. Moving averages are starting to curl faster to the downside as well. We might head sideways to a little bit up until the moving averages catch up and to hit the fib channel levels before breaking down again. It seems it really wants to test the bottom of the channel by the looks of it. It may not happen soon, but it's something to keep an eye on in the future. I personally don't think it will make it that far down. Selling on the daily isn't as severe as earlier in the year and it seems to be carving a cup shape pattern when looking at the bigger picture. It may take us a few months to start being really bullish, but it does look optimistic in the near future.
Looking forward, I don't expect any major movements. We should start consolidating price action in the 1145-1030 SAT range. We currently do not see any patterns developing in the short term so we are on the sidelines until we see it appropriate to make any calls with any confidence. Can only analyze candlestick signals right now, which does imply we should bounce a bit. Hopefully it's enough to find higher support zones to rest on.
Hopefully that helps!
Good Luck!