EFFECTIVENESS IS NOT DOING THINGS RIGHT, BUT DOING THE RIGHT THING.
---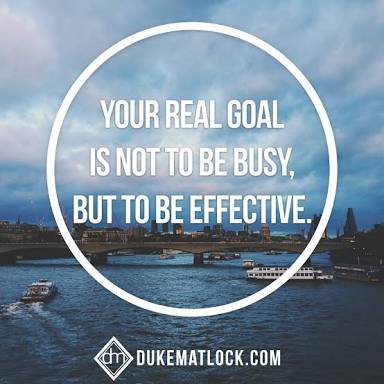 Source
Luke 10:42 But one thing is needful: and Mary hath chosen that good part, which shall not be taken away from her.
Effectiveness is not measured by what you have done compared to what others have done, but rather what you have done compared to what you should have done. Thus, the core of effectiveness is successful completion of the correct assignment.

It is not doing things right, but doing the right thing. It entails operate at the center of God's will.

Supposed I hire someone to clean my house and request that you should wash the dishes why I run an errand. After my departure, he proceeds to the kitchen and begin to walk on the floor. With great intensity and energy, he scrubs, mops, and waxes until it is immaculately clean and shinning. Upon my return, I enter the kitchen and am deeply impressed by the excellent condition of the kitchen floor. Then turning my gaze from the floor, I am dismayed to see the dishes in the same condition the way they were in when I left.

In the above illustrative account, my employee was not effective because, even though he did a good thing, he did not do the right thing, he was busy but not effective. He was active but not progressive. This is exactly what Jesus noticed about Mary, hence his comment in Luke 10:42. Martha was very busy but not in the right thing.

Those who runs life's race on another person's track or those who do not abide by the rules governing the fulfilment of their purpose are normally tagged: "Busy but not effective ".
Effectiveness begins from knowing the purpose of something and understanding the purpose of which you are created before you assume a responsibility in a task. Compare what you have been doing with your original purpose,then you will know whether you are effective or not
Stay Blessed and do have a productive day!!!