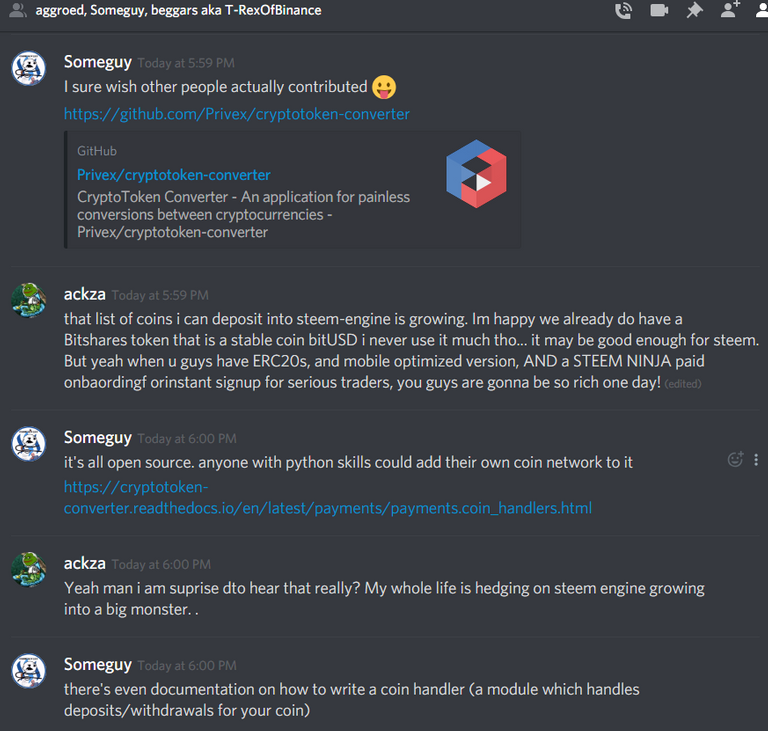 So Steem Engine is open source, we can improve it and build whatever we want if they approve of our changes. https://github.com/steem-engine-exchange and https://cryptotoken-converter.readthedocs.io/en/latest/payments/payments.coin_handlers.html and https://github.com/Privex/cryptotoken-converter I will gather investors and coders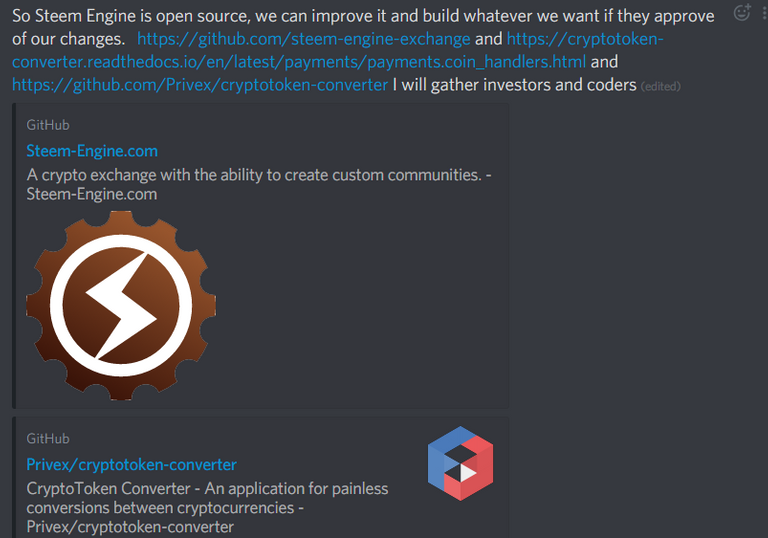 This also means if you have a token you want added, you can bootstrap from $0 and add it without paying 1000 ENG as long as YOU do all the work! This may change in the future and you may still need to pay a small listing fee but if you are adding value by adding a token and do all the work and the code looks good to add, steem-engine devs have said "I sure wish other people actually contributed" before posting the cryptotoken-converter github page!"
If you can help us optimize the steem-engine site, you can carve for yourself a role as a superstar in steem, and I would give you upvotes, and many others would give you upvotes. I bet @blocktrades and @theycallmedan would even give you an upvote if you helped steem-engine optimize their website for mobile devices :D We can all benefit from this.
Whats at stake here? The attention, business and respect of large Crypto investors who have many a bitcoin to drop into steem-engine but only once the site looks better especially on mobile devices.
Once the site LOOKS better, we can then worry about the deposits and withdraws and the worry of some large users about the delay for any deposits over a certain amount of steem. @steemfinex by @blockchainstudio can help with this problem. We also have the option of listing steemP and ENG as EOS-EX tokens on https://newdex.io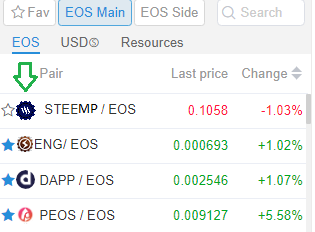 I believe allowing SteemP and ENG to be backed by EOS on newdex even at a lower price than on steem-engine would be a great way to ensure that steemp retains its value even in the event that steem-engine.com and its gateways are down. @stemfinex will also be a backup for exchanging steenmp to steem.
Decentralizing steemp will also help gain us more respect from mainstream crypto investors and one step closer to getting their Bitcoin to be deposited into steem engine.
@blocktrades could also be used to allow us a much better Deposit mechanism for BTC. people who just have Bitcoin now are at the mercy of the BTCp market which doesn't usually have very good prices. BUT Blocktrades with its website https://blocktrades.us is always there to give competitive prices for convert BTC to Steem and Steem to BTC (among many other popular altcoins) so by combining resources with blocktrades or simply building a simple tool to allow for cross blocktrades steem engine trades we could make steem engine feel a lot more powerful.
Also an automated arbitrage bot could be built by @reazuliqbal or @zaku that can help a user know when there is an arbitrage opportunity between @blocktrades and @steem-engine and a user can make money. Like if dogecoin is on sale on steem-engine and the price of doge on blocktrades is good enough to make a profit with steemp, then it could let the user know and help automate it all, via keychain or steemconnect.
So much can be done, that I just need to list all of these improvements on a to do list and make sure that investors see it. because we dont have the time to do this all before EOS Voice comes out BUT with proper resources steem engine could rival newdex which is only about 10 times larger in volume than steem engine. We can match that if we make steem engine also have a SIGNUP faucet
Another improvement i can lobby for now that i know steem-engine is open source is for @aggroed and @steem.ninja @oracle-d @starckerz to work together on a special onbaording page for SteemEngine, so anyone stumbling upon steem-engine.com can INSTANTLY buy a steem account to use on steem-engine, and this faucet would simply allow someone to buy their steem account for maybe $3 to $5 and it could even directthem back to steem-engine when they are done, and guide them through the process of using keychain.
I have also begun the process of addinga Github Issue feature request to @vessel by @jesta who is more busy with @greymass on EOS but BUT if we can write the code for adding steem-engine tokens to Vessel, we can add it to the vessel github ourselves and MAYBE even have Deposits Withdraws and market buying and selling all inside vessel
regardless we WILL have a mobile app with steem engine tokens soon as I have talked to @roelandp and he intends on adding steem-engine tokens natively to his STEEMWALLEt app on google play / iOS
@steempeak is also getting a mobile app SO WE ARE VERY close to having Multiple mobile apps that can support steem engine AND if vessel can we could have all steem engine functions on a DESKTOP app
We can ALSO always start work on a DESKTOP steem engine app like how bitshares has its own desktop wallet with trading built in.
Every tribe owner from @neoxian to @jongolson should be ready to support the NEW steem-engine we can all build together because tribe owners stand the most to gain from a more user friendly and smooth steem-engine that works on phones, desktop app, and even has fast easy onboarding and Bitcoin/altcoin gateways for serious traders
WITNESS ME