Steemexplorers is Proud to Unveil Our Latest Project - A Discord Server Designed to Benefit All Steemit Users
---

---
** Quickly join by clicking here, on any photo, or on the link at the bottom of this post. **
---
Our Mission
Exactly 255 days ago, Steemexplorers was created as an account with a long-term goal of helping people grow on Steemit. Our original "Introduction" post read exactly as follows:
Introducing Steemexplorers

@steemexplorers is a new type of service aimed at uncovering all of the useful tools and services out there that are accessible through the steem blockchain that can help you to grow as a successful blogger on Steemit and to help increase your earnings.

Our mission is to help education other users as we ourselves learn and experiment with the various strategies we uncover.

Stay tuned over the coming weeks as we explorer Steemit and uncover all the great things it has to offer.

Thank you for joining us.
Over this time we have spent countless hours researching, testing out various services ourselves to gain knowledge and understanding of how things work, and relentlessly networked with individuals that we could learn things from and grow. We never lost sight of realizing our intended purpose of bringing fellow Steemians something useful that can benefit us all and help contribute toward improved user experiences and longevity of the platform and it's user base.
We are here today to share everything we have learned with all of you!
---
New Discord Server - What Is It's Purpose?

The past several months were spent reaching out to the owners over various services and communities to talk through what each of their services did or could be used as we jotted down noted to help ourselves better understand each and every one. What we quickly noticed was our list of people we had reached out to had begun to resemble and a centralized database.
This Discord server has accumulated a collection of resources, tutorials, services, games, communities, crypto discussion groups, STEEM exchanges, and much more and has categorized these various things into "Categories" within the server. Furthermore, each service or community then gets it's own "Channel" grouped within the respective category for which best describes it's purpose.
This is designed to save users time, network with others, and learn about services and communities that they previously were unaware existed. Along the way we discovered that this database provides benefits to not just the users looking for information on communities and services but also to the owners of each of these groups.
The owners that have been apart of the build out over the past two months or so have helped provide insights on how best to essentially advertise their groups and services as well as to communicate among themselves and find ways to work together where these relationships were not previously formed.
---
Design and Structure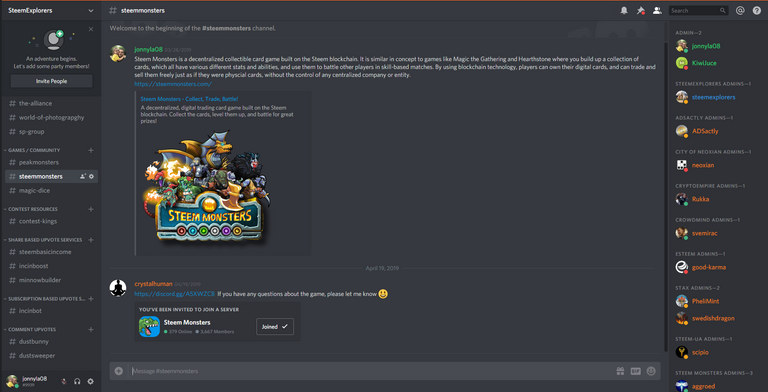 Here is a basic breakdown of how this works:
1.) There is one "General Chat" room where all users can communicate and ask questions / help guide others.
2.) Each service owner is assigned a unique "Role" within the discord to help identify themselves in connection with that service or community separately from the other members so users know who to contact if they have questions pertaining to their group.
3.) All channels pertaining to services or communities are "Read-Only" to prevent 1,000 different discussions from being held across the server at the same time as each channel is designed to be a listing to help educate a user on what the service does or how it benefits you and provides links to Steemit websites, external websites, or invites to discord groups all in one place.
4.) Each service owner is given full write access to their specific channel so they may add or edit any information or links contained therein as they please.
5.) In any instance where the service owner was unable to provide information on their own service, one of our admins dropped the information into their channels on their behalf.
We have provide a brief glimpse of the discord server above albeit it's difficult to understand from this perspective until you're in there and you've seen how it works first hand.
---
Continued Additions to Server
As we continue to learn more about other services provided on the STEEM blockchain or other communities we'll add them here. Anyone that wants to be a part of this project is welcome to and in fact we'd encourage that provided you own or know of a service or community that in some way helps or benefits people in any way.
That's our ultimate goal and we want people to have easy access to information, while at the same time helping to drive more traffic and/or business toward these various services and communities that deserve our help.
We are the Steemit community and we need to help each other out wherever we can.
If you like what you've read, please come stop by our discord channel and join our community and the help us start something we hope to be a great initiative for all!
JOIN OUR DISCORD HERE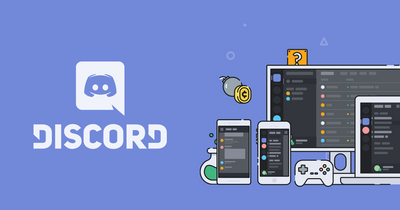 ---
Thank You on Behalf of Steemexplorers To All Who Helped During the Development Phase!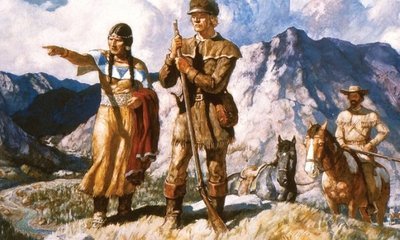 Early Members:
@neoxian - City of Neoxian
@dkid14 - Contest Kings
@rukka - Crypto Empire
@svemirac - Crowdmind Community
@good-karma - eSteem
@thedarkhorse - Minnowbuilder
@phelimint - STAX
@scipio - Steem-UA
@aggroed - Steem Monsters
@yabapmatt - Steem Monsters
@crystalhuman - Steem monsters
@pollux - Steembay
@firemouse - Steemengine
@rishi556 - Votefun / GiftGiver
@samrg472 - Steemdunk
@andzi76 - SP-Group
@adsactly @adstoshi - ADSACTLY Community
@asgarth - Steempeak / Peakmonsters
@bitmaster177 - Crypto Empire
@bluefinstudios - Welcome Wagon / Image Skills / World of Photography Communities
@cyrptowithincin - Incinboost / Incinbot
@danielsaori - Dustsweeper
@davemccoy - Dustsweeper
@dconnect - School of Minnows
@dfinney - Steemsilvergold Community
@emsonic - SP-Group
@enginewitty - The Alliance Community
@EwkaW - Qurator Community
@fraenk - Dustbunny
@hidden84 - Crowdmind Community / Curie Community
@hiddenblade - Curie Community
@josephsavage - Steembasicincome
@MahdiYari - Steemauto
@mcfarhat - Actifit
@michalx2008x - SP-Group
@pit-bullion - Rewards-Pool
@raybrockman - Steemsilvergold Community
@raggaemuffin - Minnowbooster / Steem Voter
@scrooger - Qurator Community
@strefanetu - SP-Group
@swedishdragon - STAX
@thatdamiguy - Curie Community
@underground - Minnowbootcamp / Crypto Empire
---