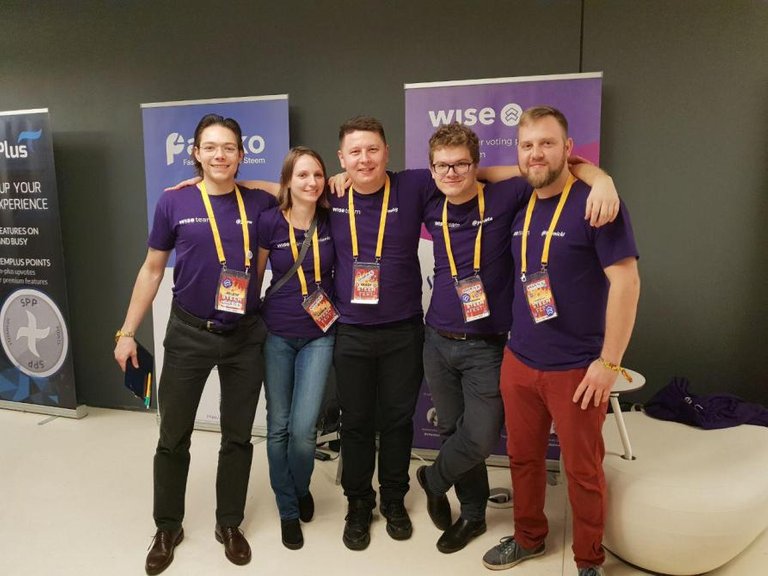 SteemFest³ is over! What a week it was!
For these crazy 5 days, we had a chance to meet Steemians from all over the world and talk about our projects developed on Steem blockchain (among many other topics of course!). @jblew, @lenka, @nicniezgrublem (@bgornicki), @noisy, @perduta were available to answer all the questions about Wise Team that SteemFest attendees had and discuss some of our yet-to-be-developed ideas. Except one person, all current members of Wise Team are from Poland, so we were more than happy to gather together in Krakow and really thrilled that the biggest annual Steem related event is happening in our home country!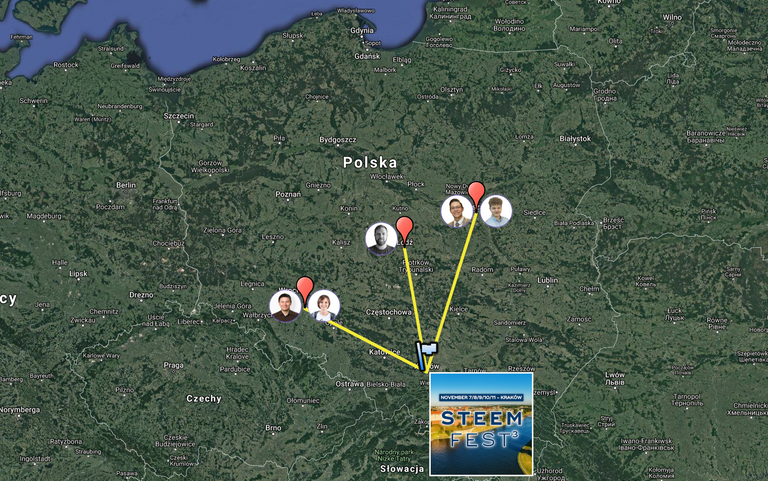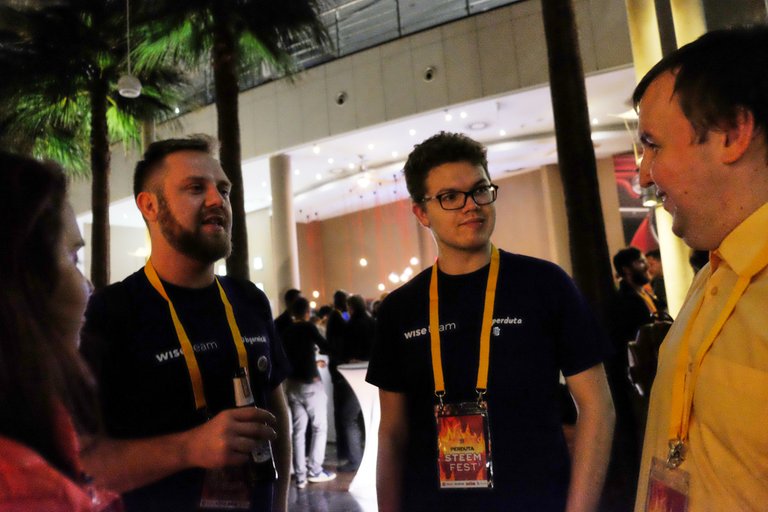 Every Steemian could easily spot us in our violet team t-shirts and hoodies! In the photo, @nicniezgrublem and @perduta are chatting with members of the polish community (@anshia, @fervi) during the opening drinks in Qubus hotel.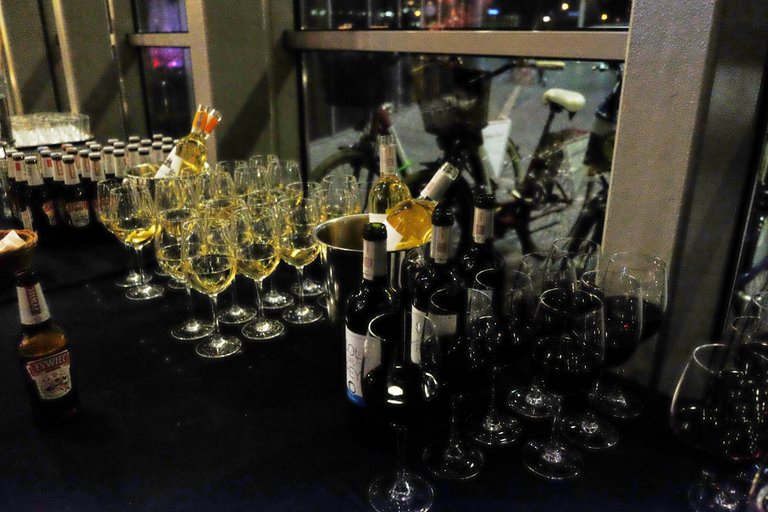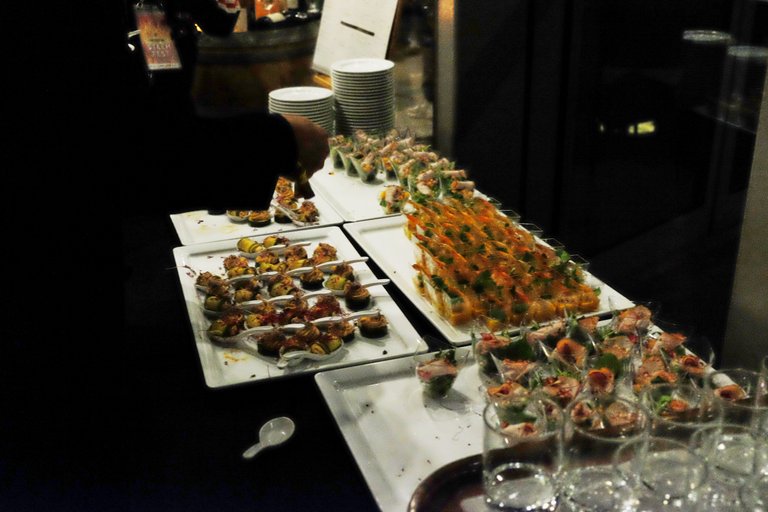 We were trying to spread the good word about Wise protocol, Engrave (Steem-based blogging platform) and our other projects from the very beginning of SteemFest.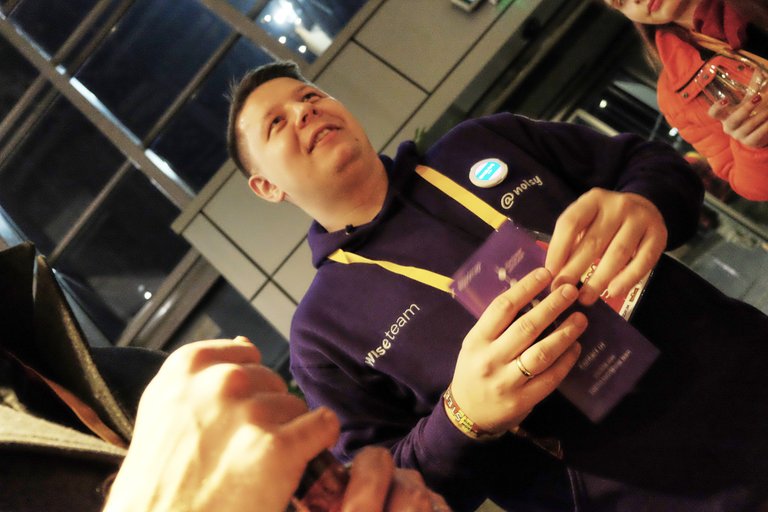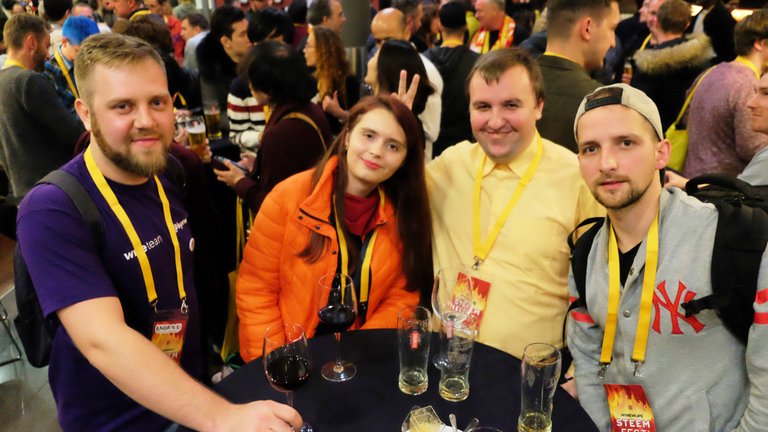 @nicniezgrublem, @anshia, @fervi, @mynewlife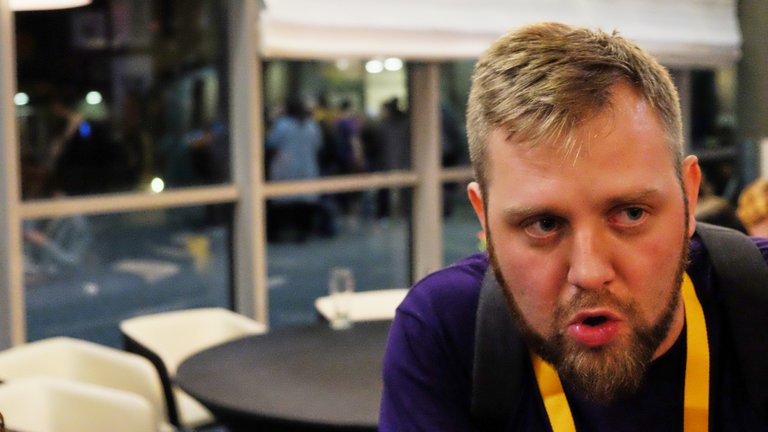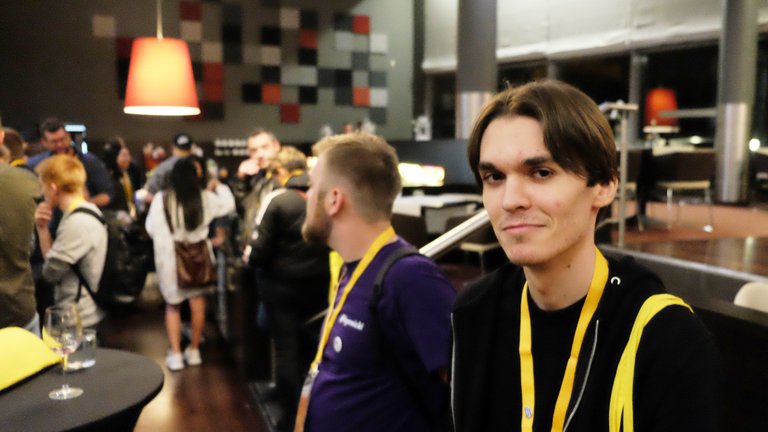 @nicniezgrublem and @jestemkioskiem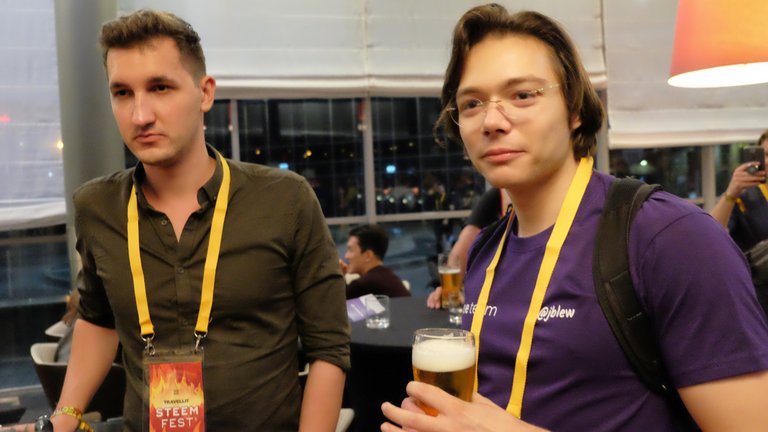 @travellit and @jblew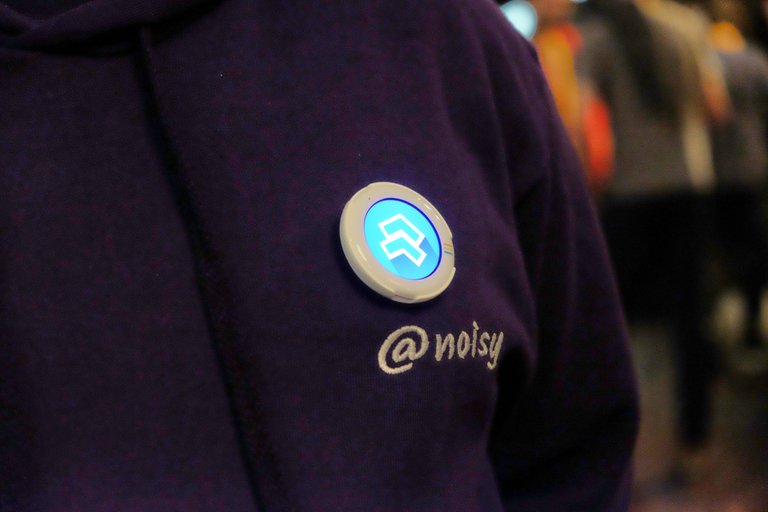 @noisy's new digital, nerdy toy!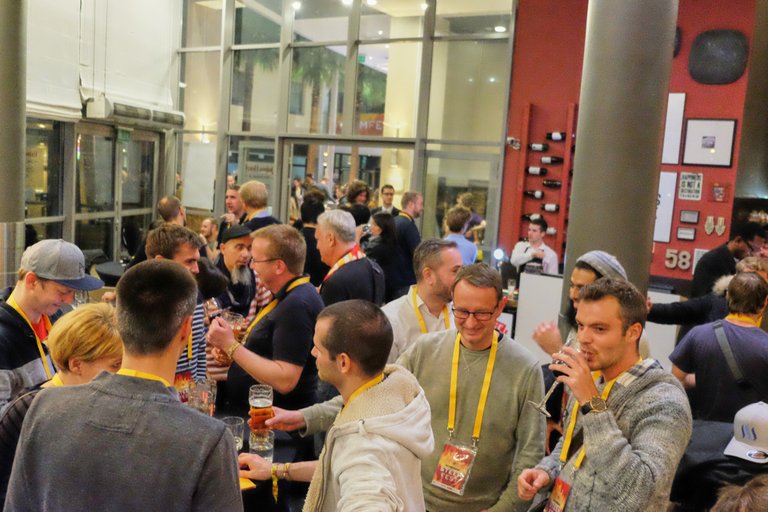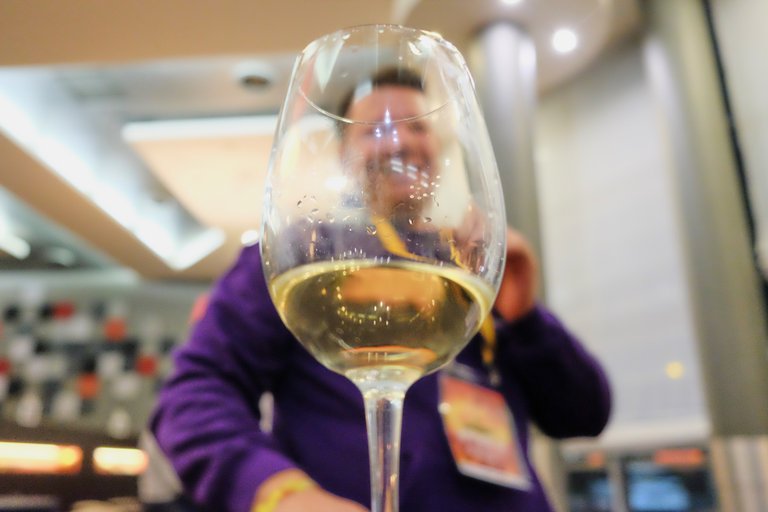 Do you recognize that smile?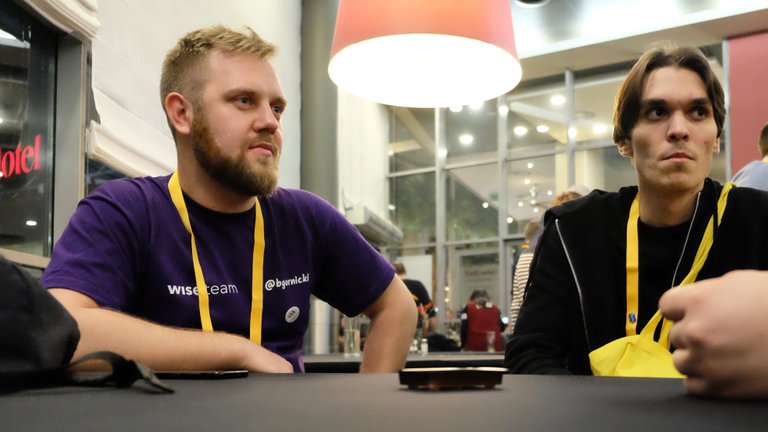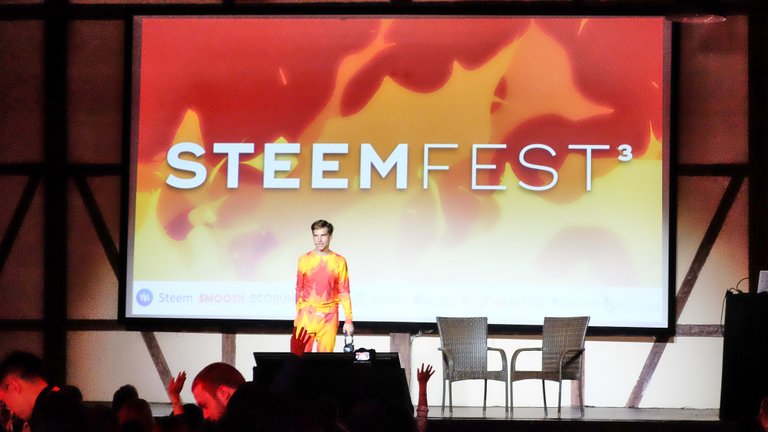 @roelandp during opening the first conference day at Stara Zajezdnia.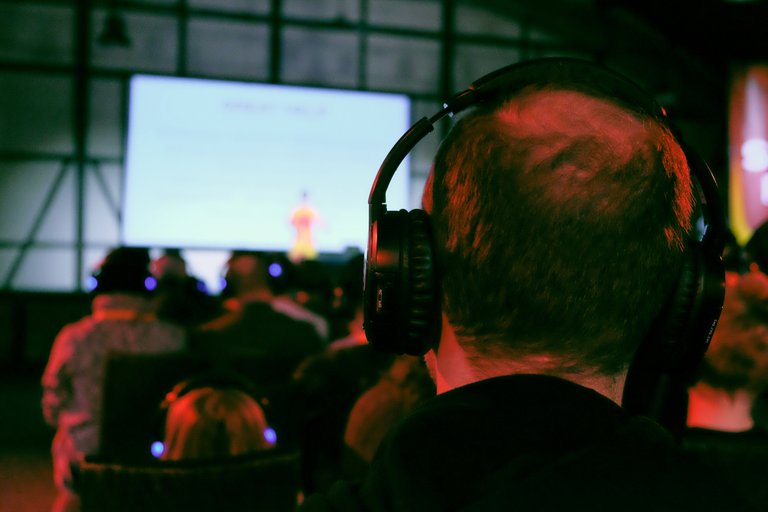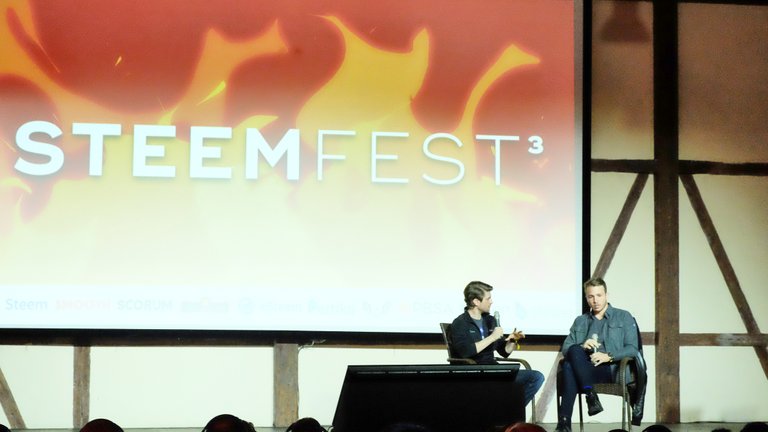 @andrarchy interviewing @ned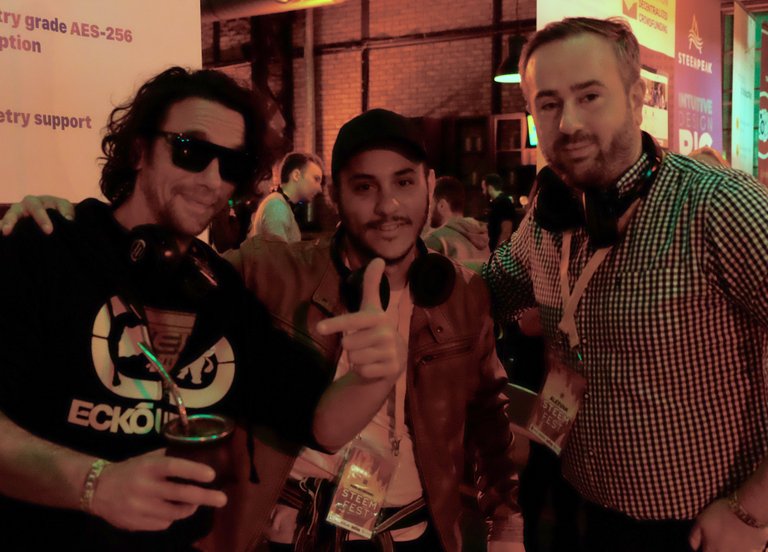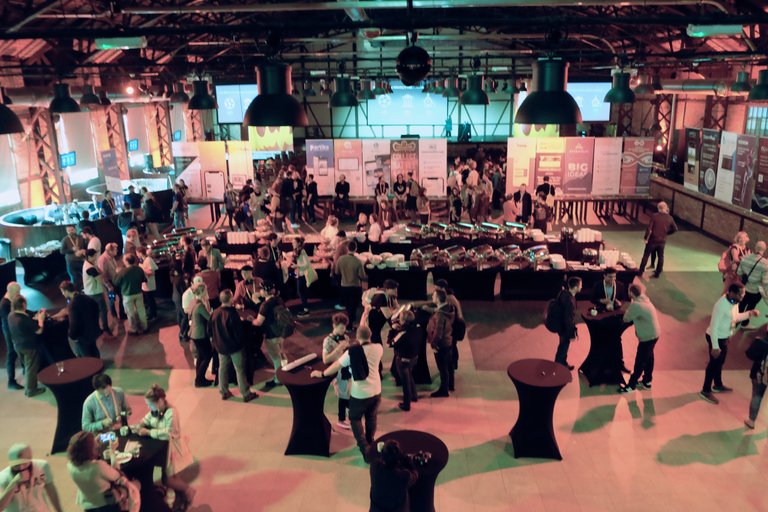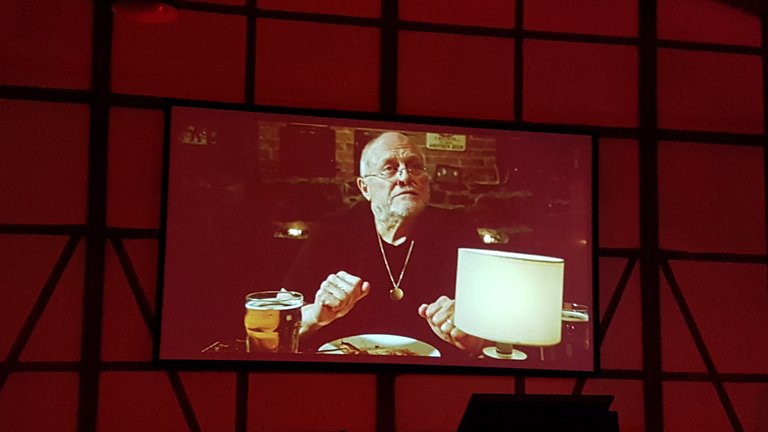 The short-feature film "The Order of Things to Come" displayed on the screen and @brian-rhodes in it.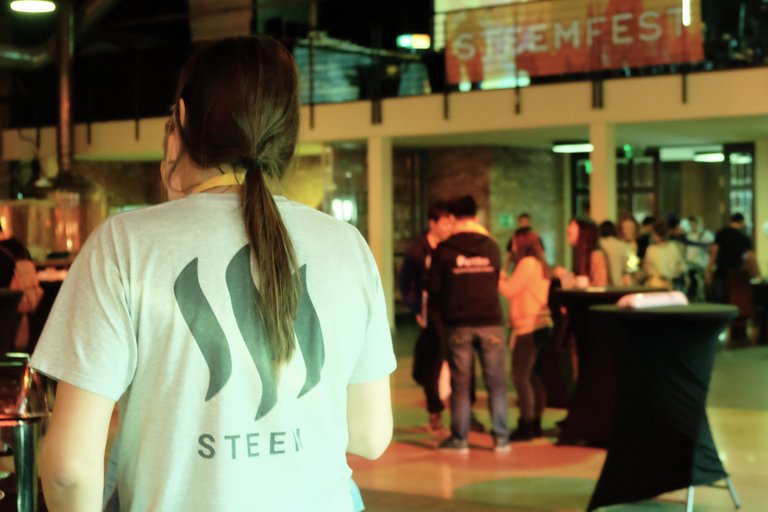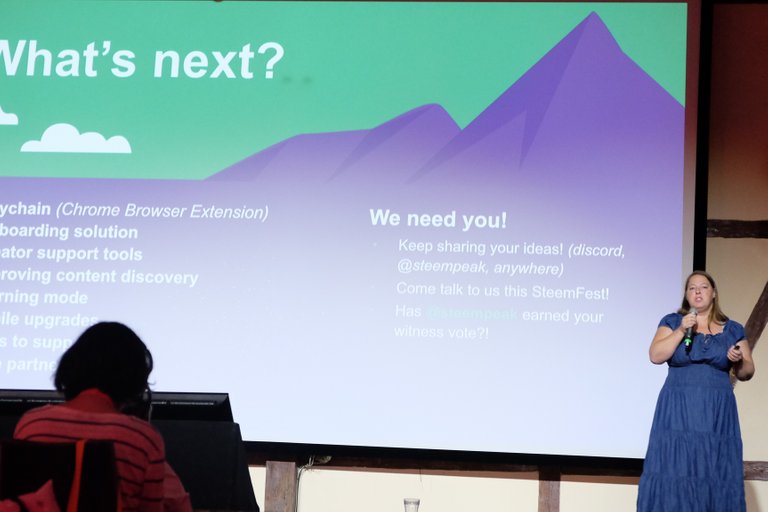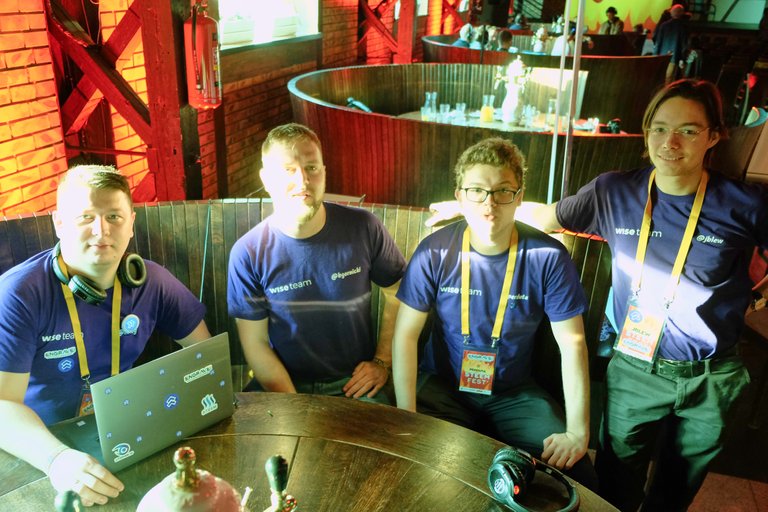 Team photo with @noisy, @nicniezgrublem, @perduta, @jblew, but with @lenka missing.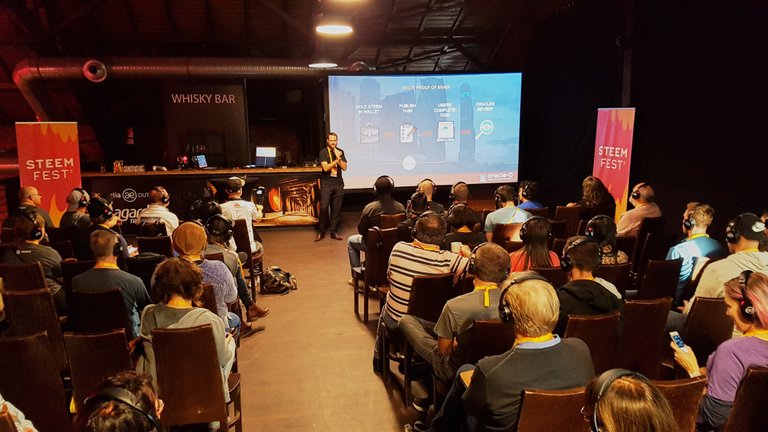 Thanks to @roelandp we had a chance to have our own talk at balcony stage at the last minute. The presentation was prepared just 1 hour before, but given how many questions and positive feedback we got after the speak, it went quite well.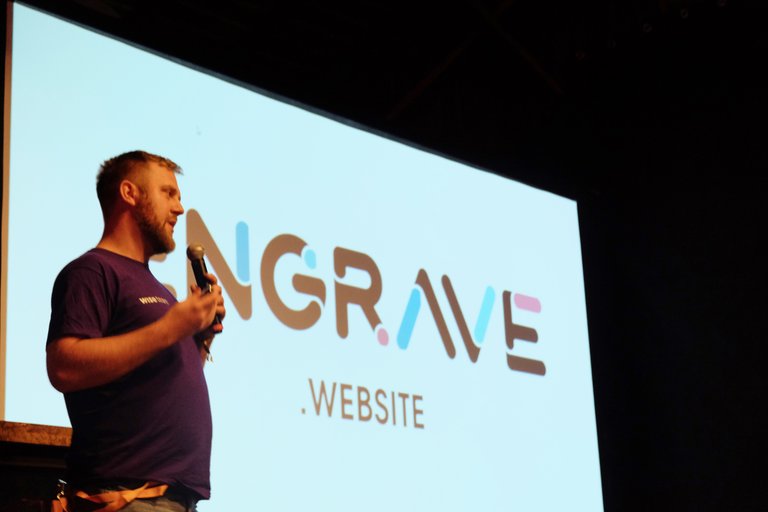 First, @nicniezgrublem spoke about Engrave - blogging platform powered by Steem that allows people outside of Steem make their own Steem blog with their own domain in just a few clicks.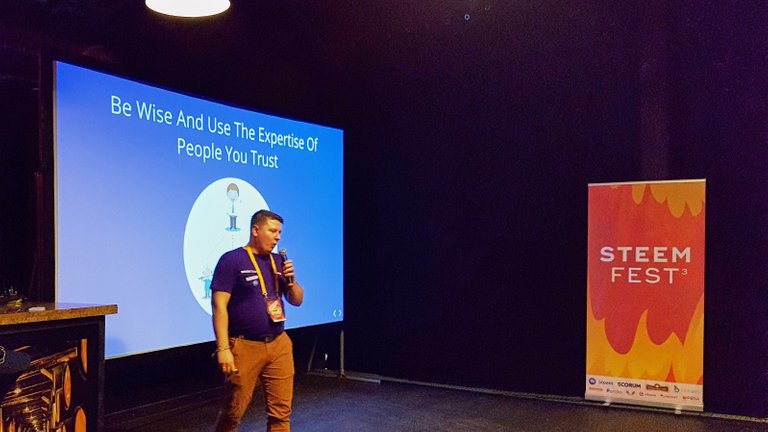 Then @noisy took over and told the audience about Wise voting protocol, that broadens curating in many customizable ways and will hopefully change how curation on Steem works for good.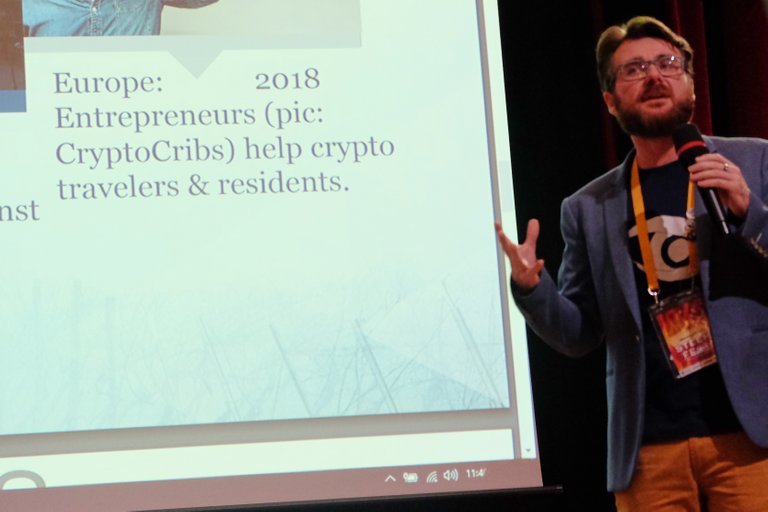 @remyhauxley while doing his very entertaining 1 Year 1 Bitcoin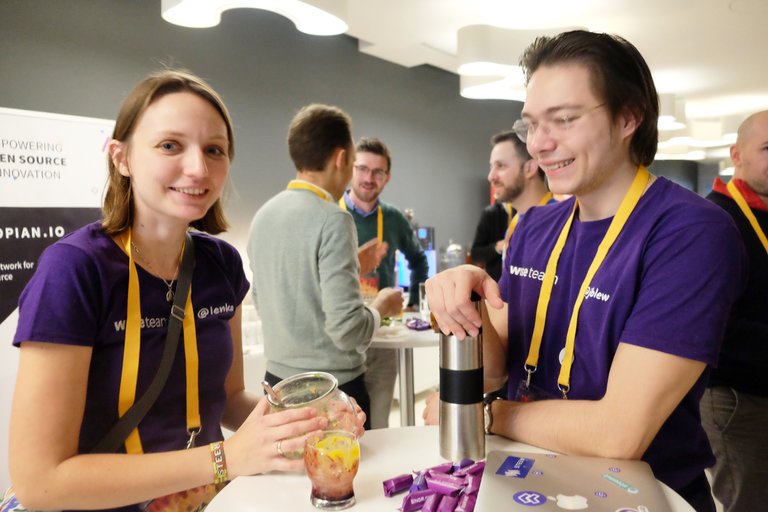 @lenka and @jblew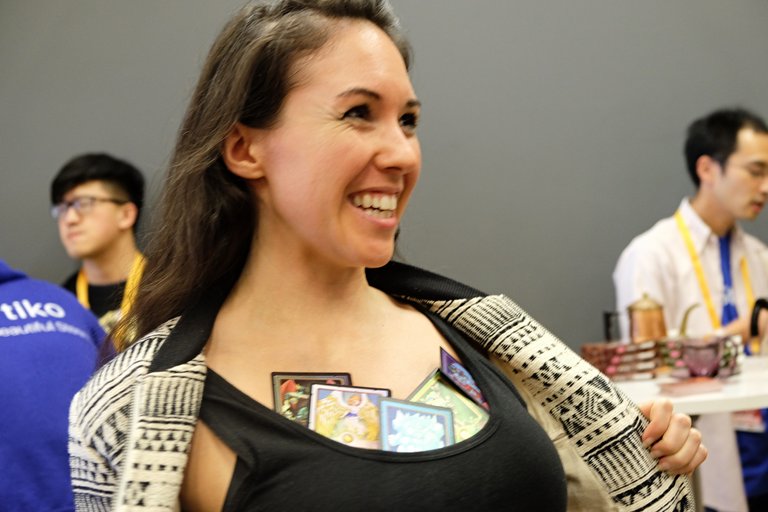 SteemMonsters promoting their cards hard!
@anshia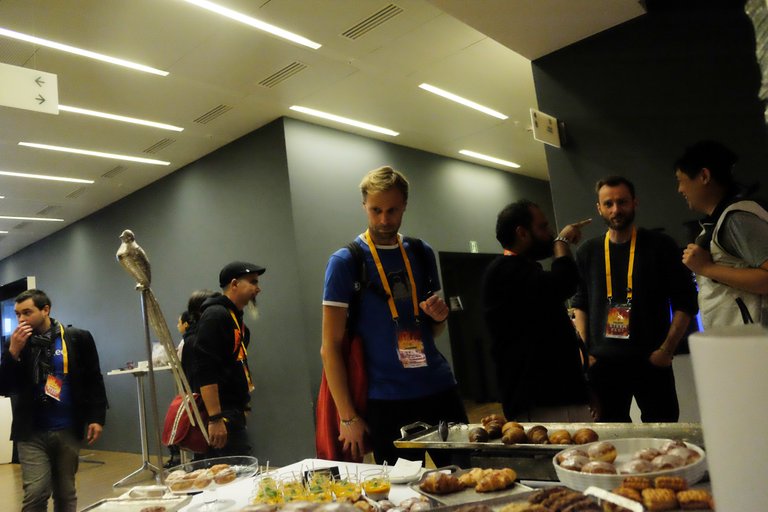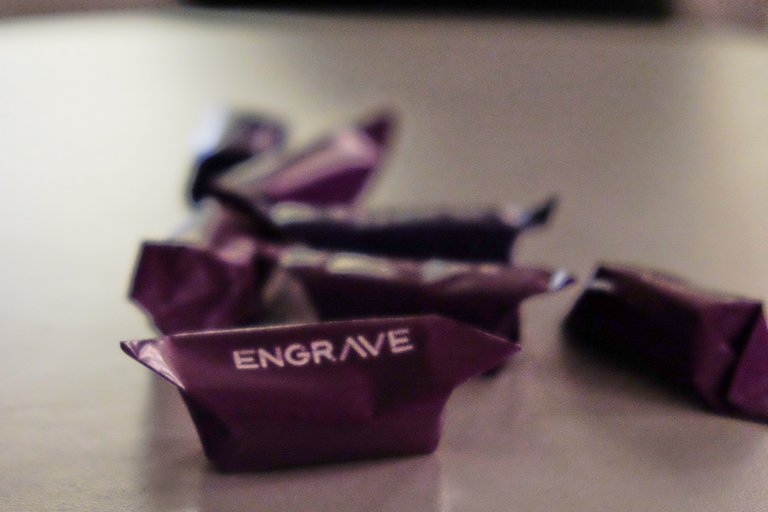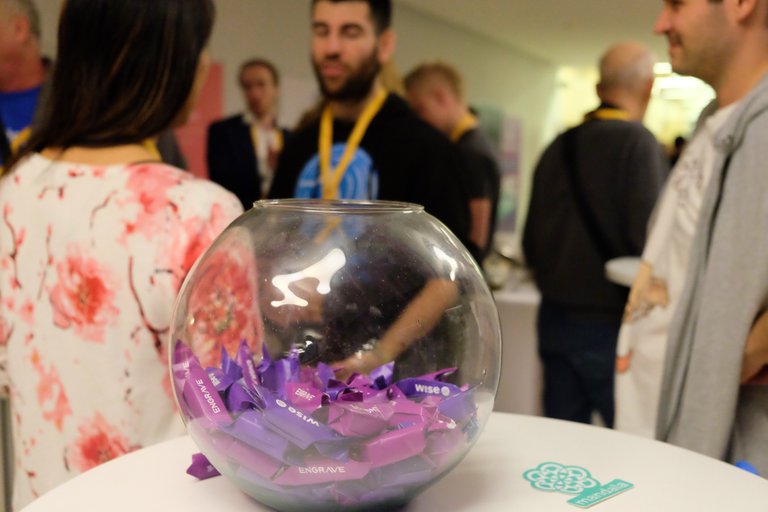 We thought that sharing with Steemians some small part of our polish culture was a great idea. In all of SteemFest venues attendees could find with our traditional polish very chewy fudge called Krówki with Engrave and Wise logos on them! People seemed to love them as they were disappearing from the standing tables in the blink of an eye.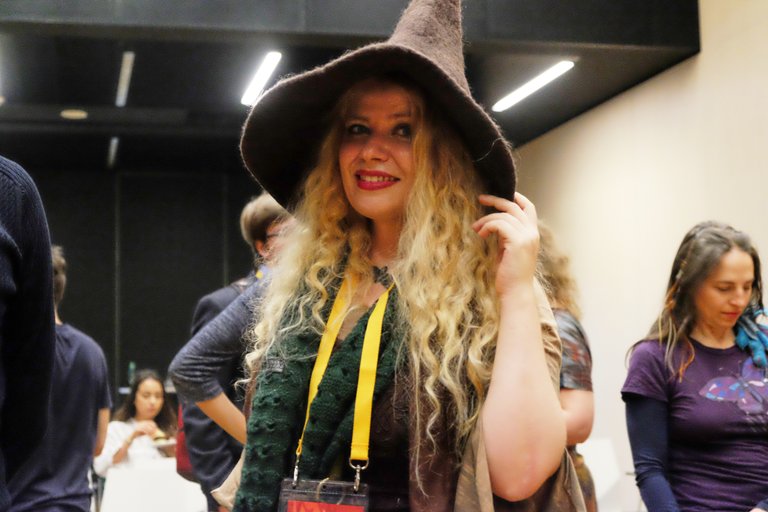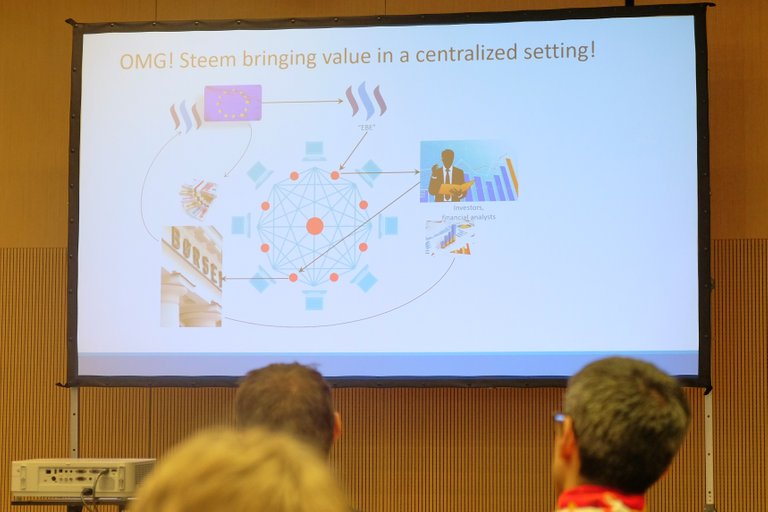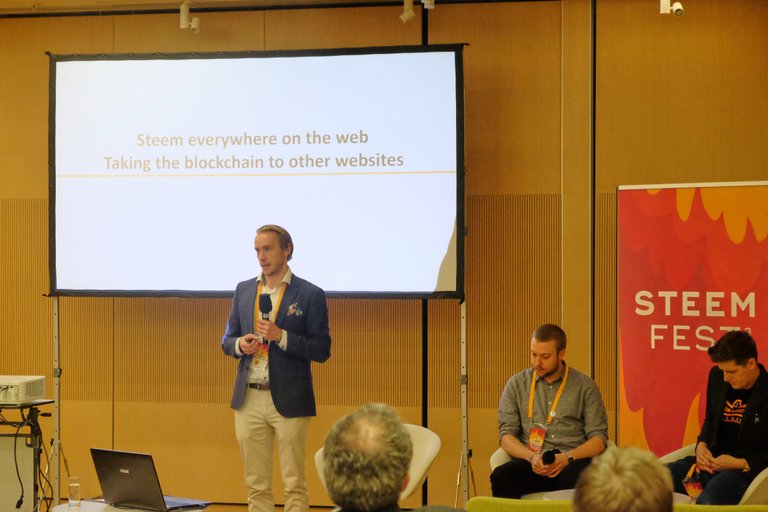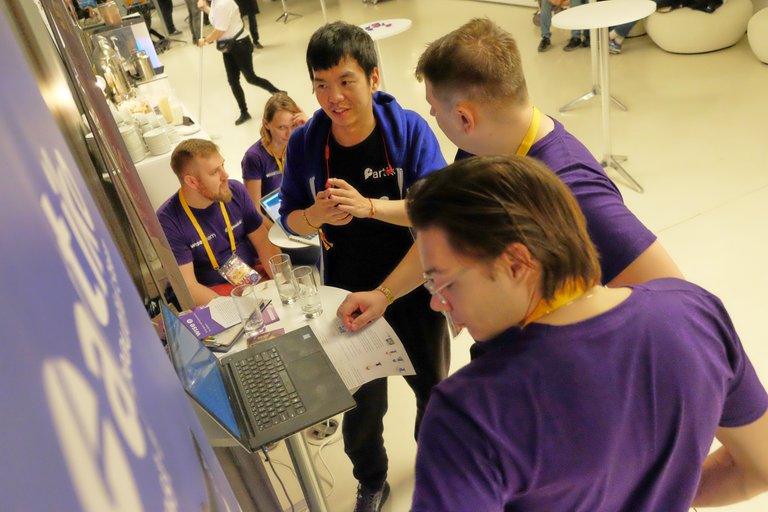 Our own dapp booth was constantly occupied by people curious what Wise Team is about. After a few hours of passionate explaining, both @noisy and @nicniezgrublem lost their voices, but it did not stop them at all.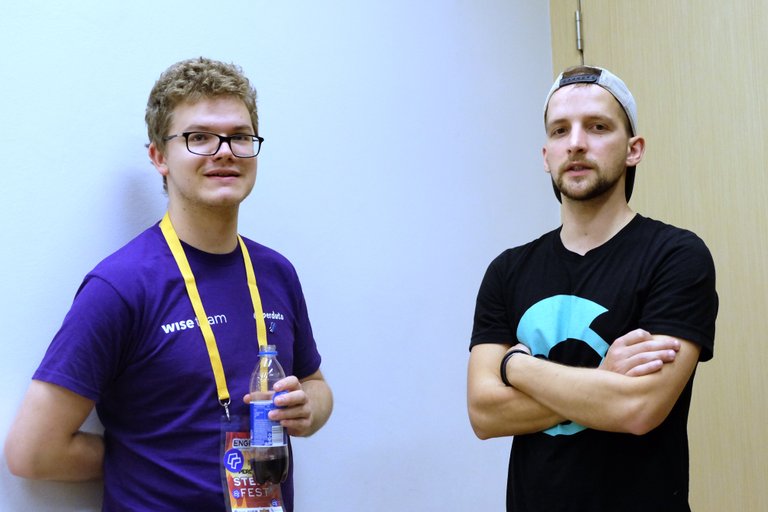 @perduta and @mynewlife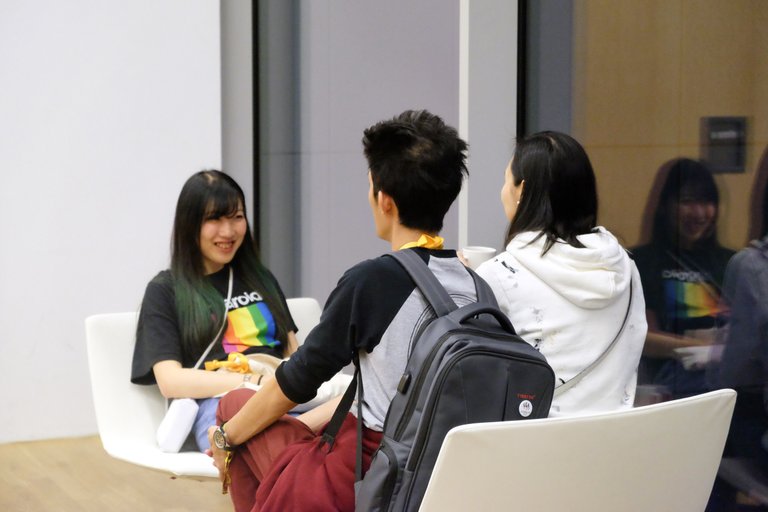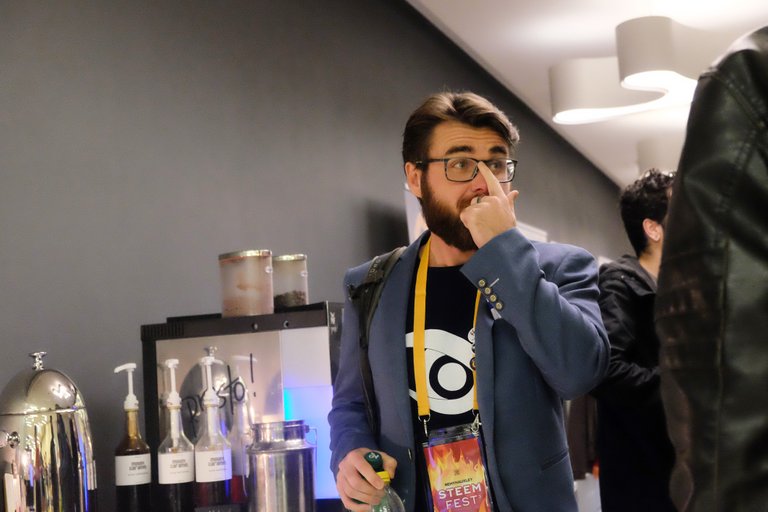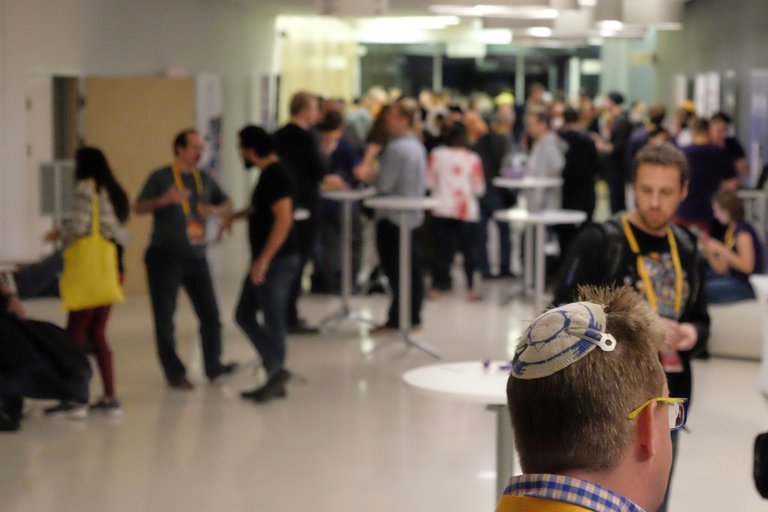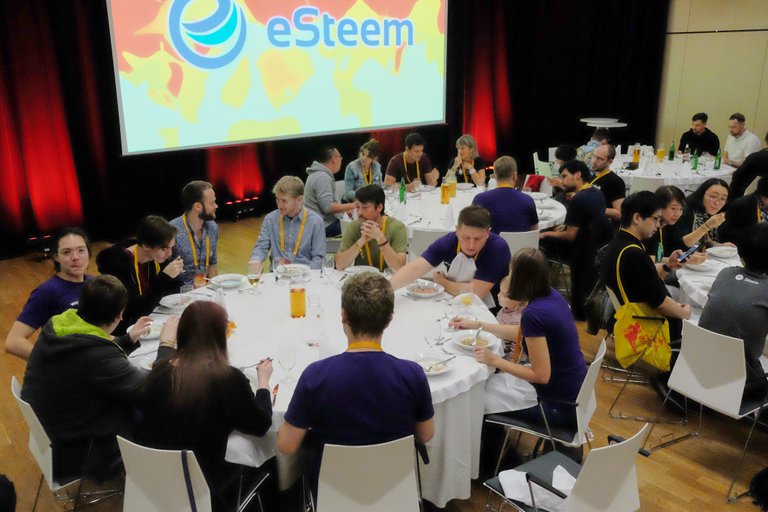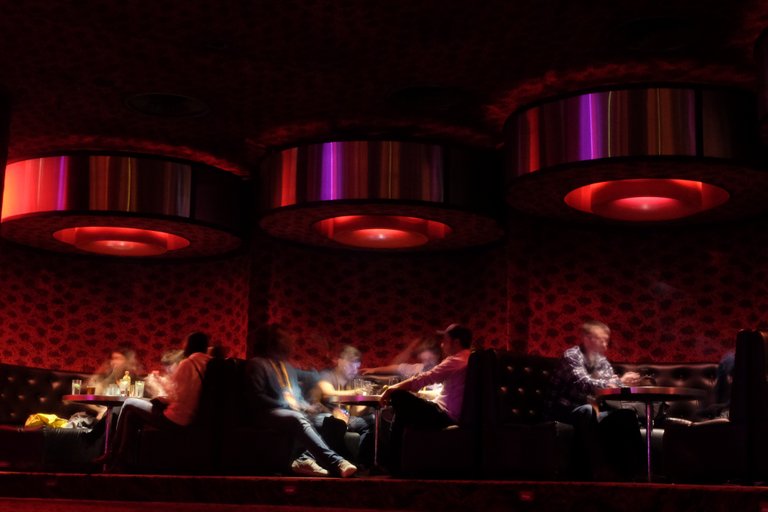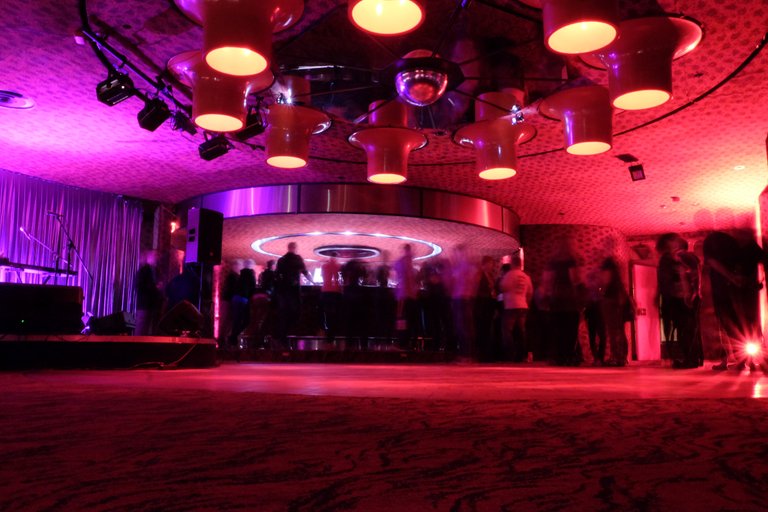 Luxurious Club 89 was the place where the fun part of the second conference day was. The Night of Steem pleased us with several performances of true music-wise gifted Steemians. In the photo below - @steembirds performing one of their hilarious Steem-themed songs.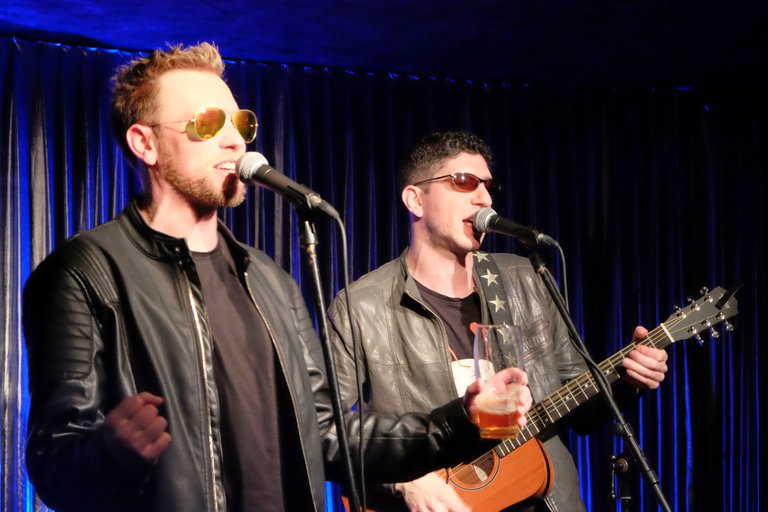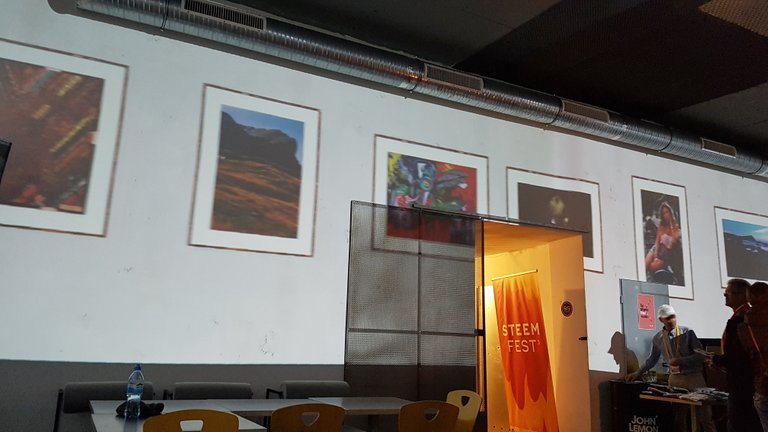 Ar at SteemFest hosted at Hevre restaurant.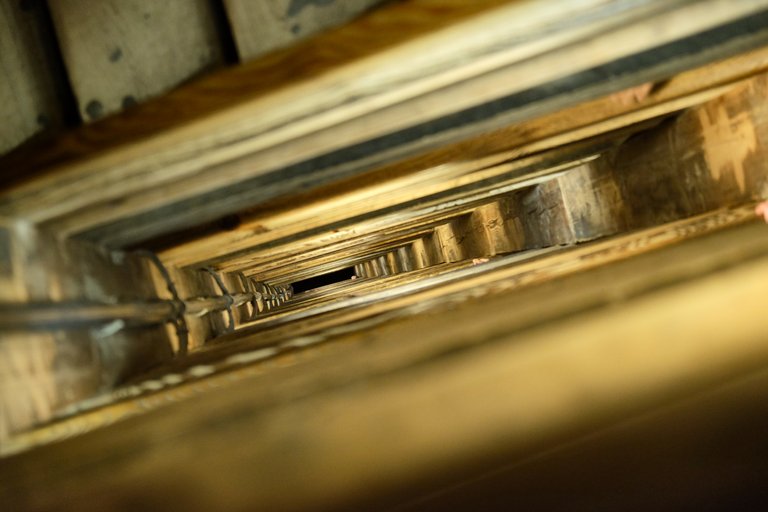 Sunday included breathtaking Wieliczka salt mine tour and closing dinner over 300 meters underground. This place was run constantly for over 6 centuries (!) and now is one of the greatest tourist attractions in Poland. We have no idea how SteemFest managed to book a dinner in that prestigious venue on the National Independence Day of Poland, but it really happened! It would not be an exaggeration to say that every Steemian out there was deeply impressed of this place's beauty and craftship.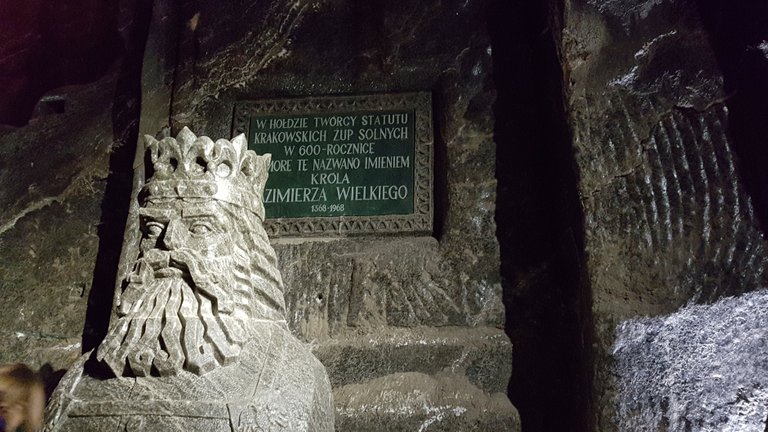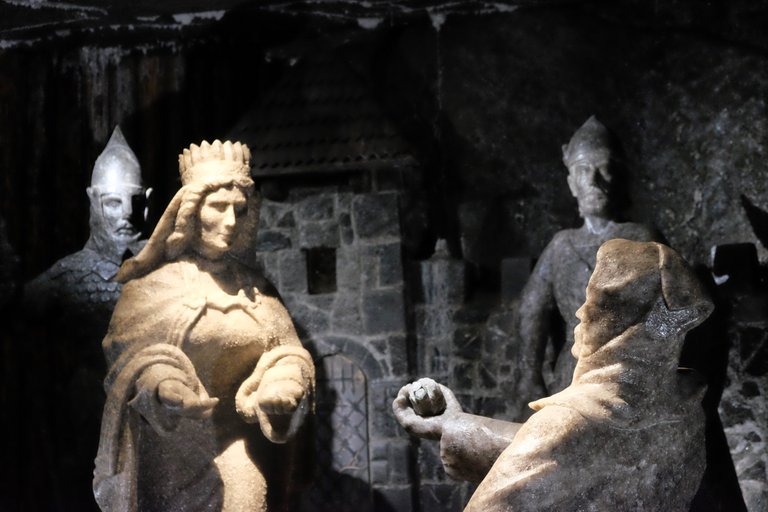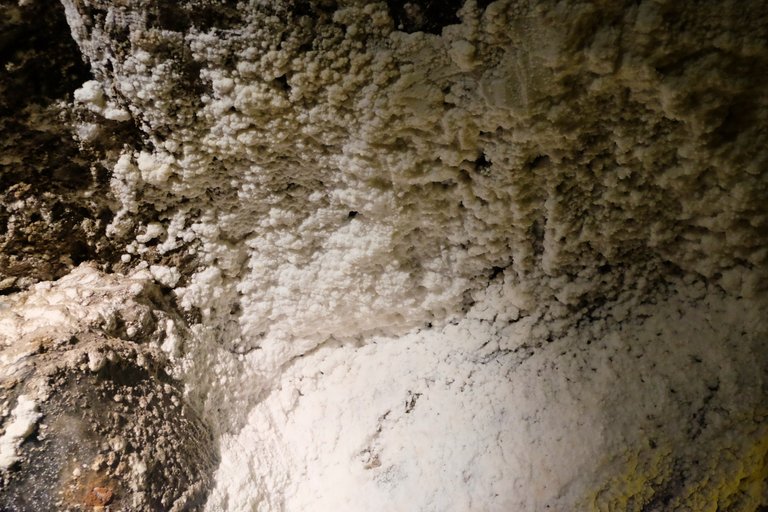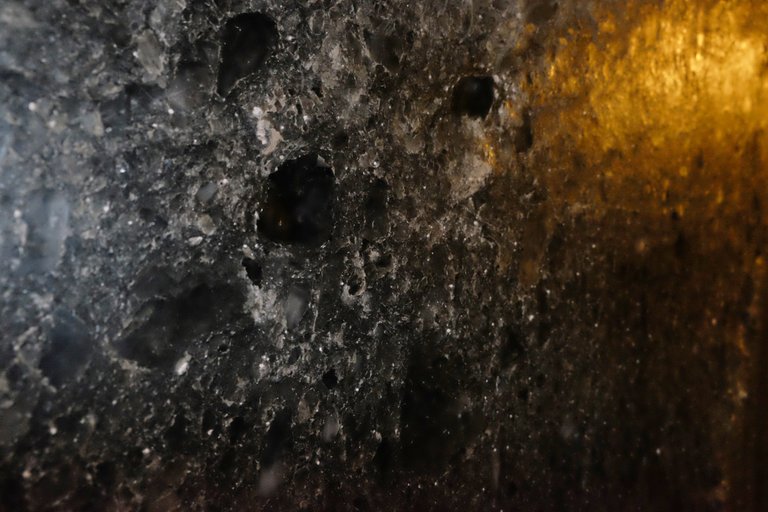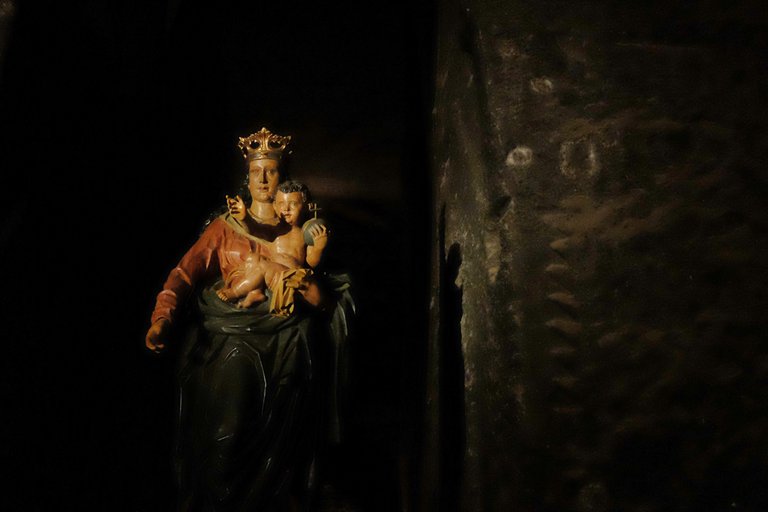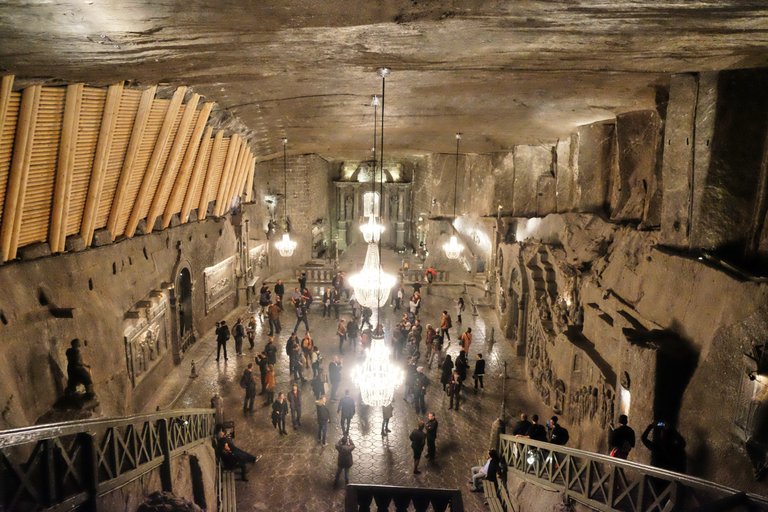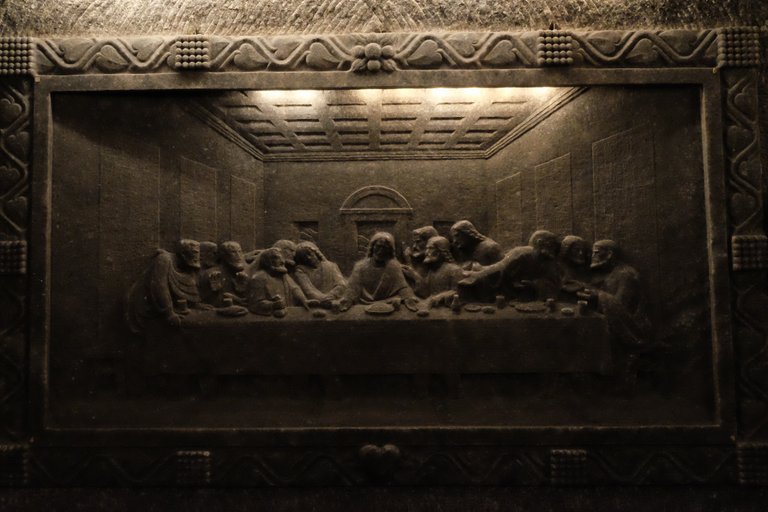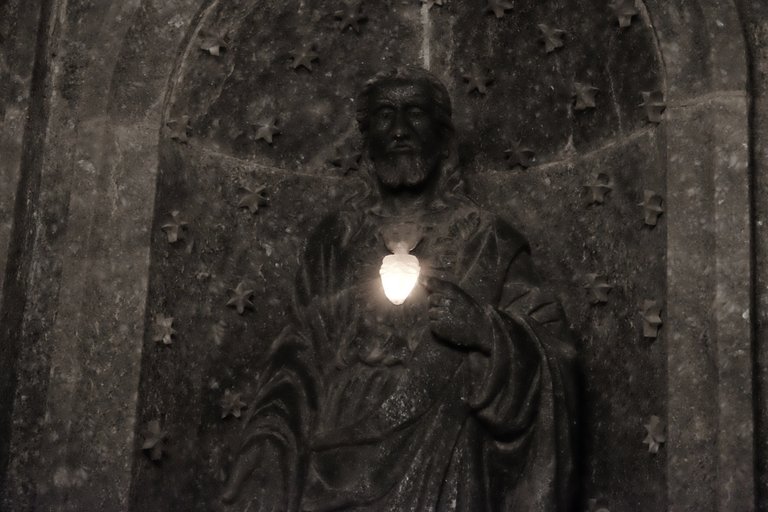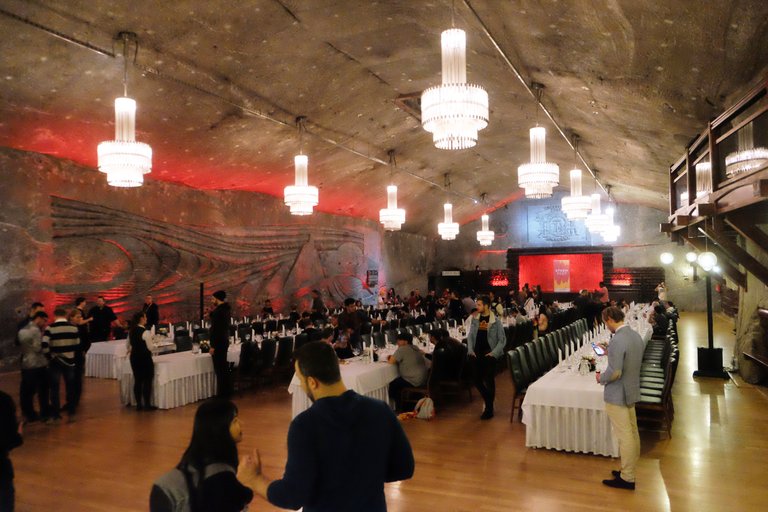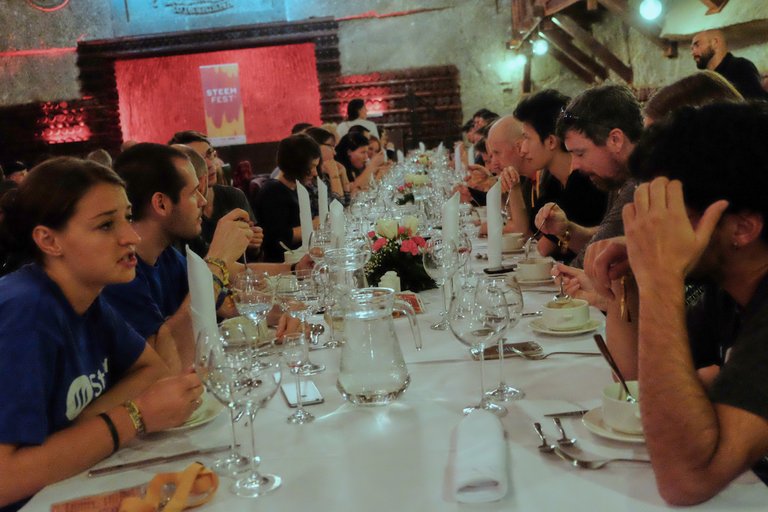 At the very end of the closing dinner, Wise Team joined the rest of polish Steem community for a group photo.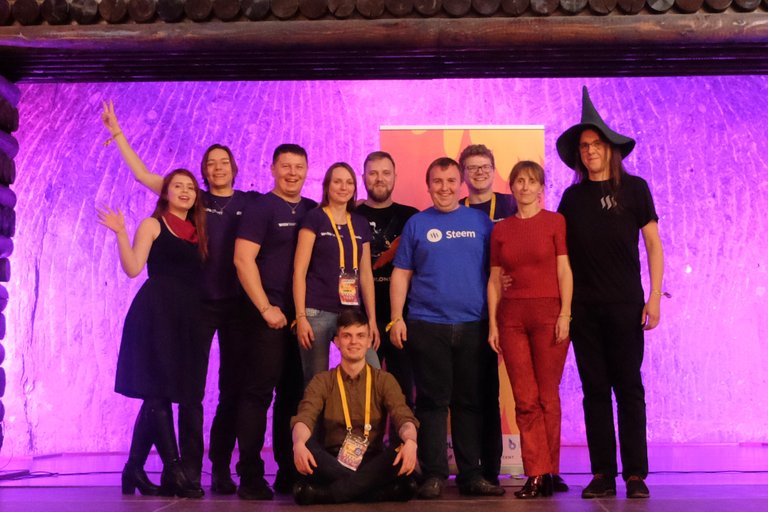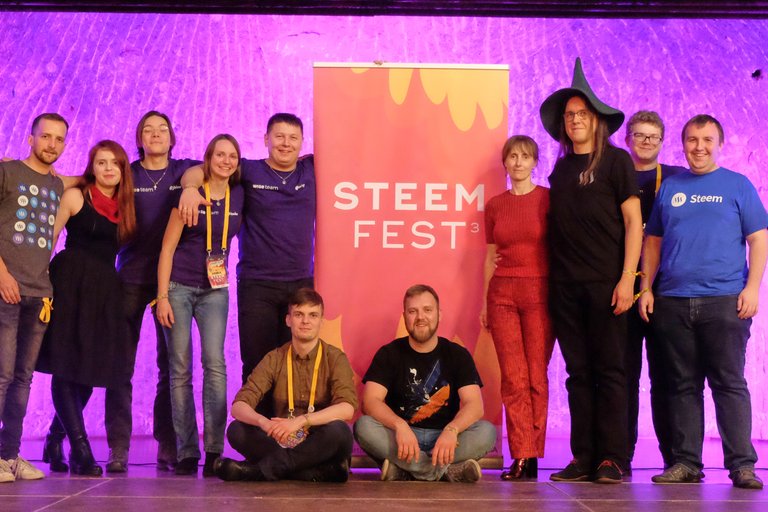 However, it was not the end yet! There still was some time to have a chat and a drink at Qubus hotel until late evening. Last time to say goodbye to all the Steemians met this week.
@jblew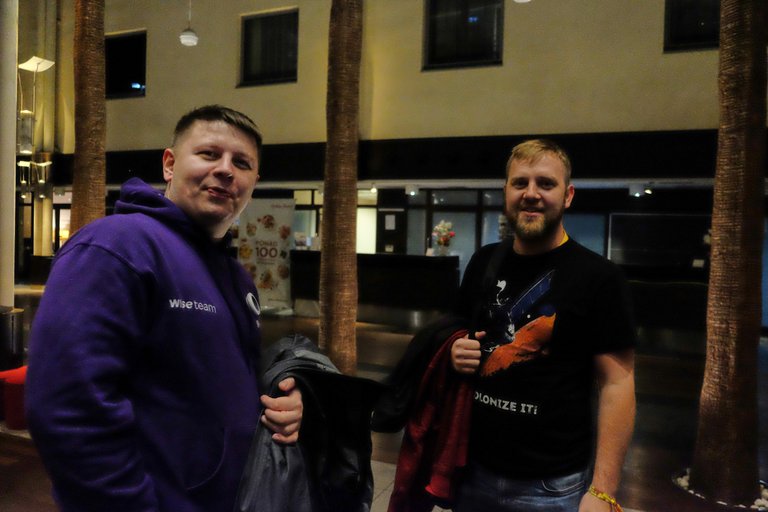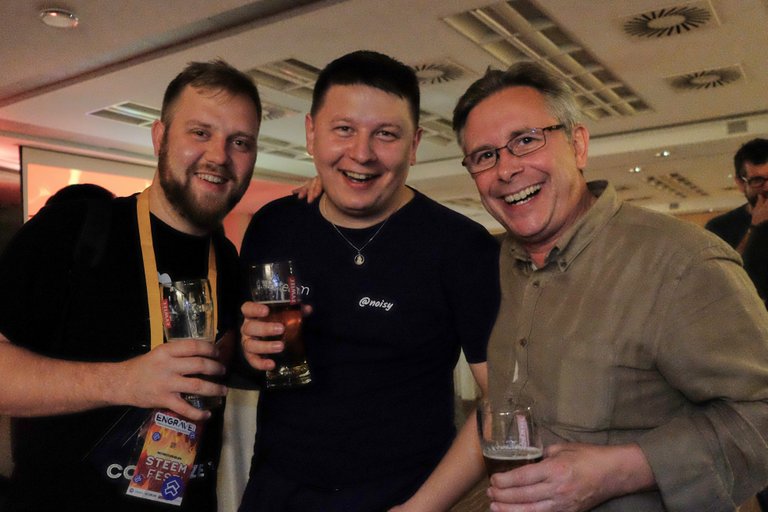 @nicniezgrublem, @noisy and @arcange happily still holding beers.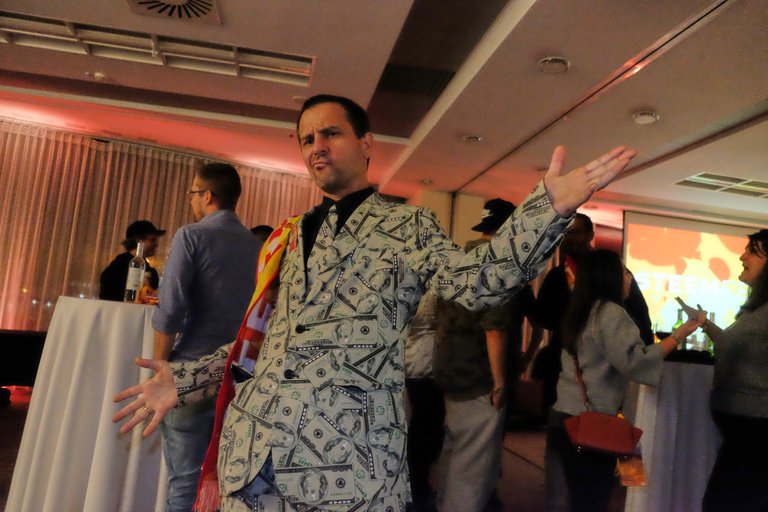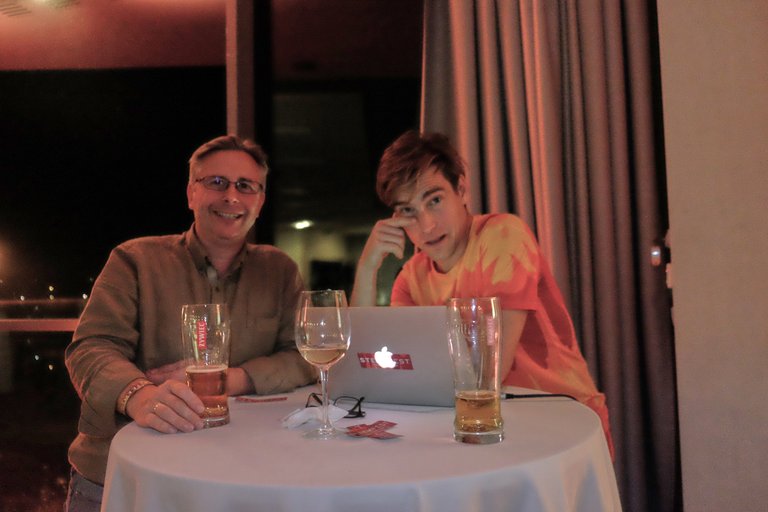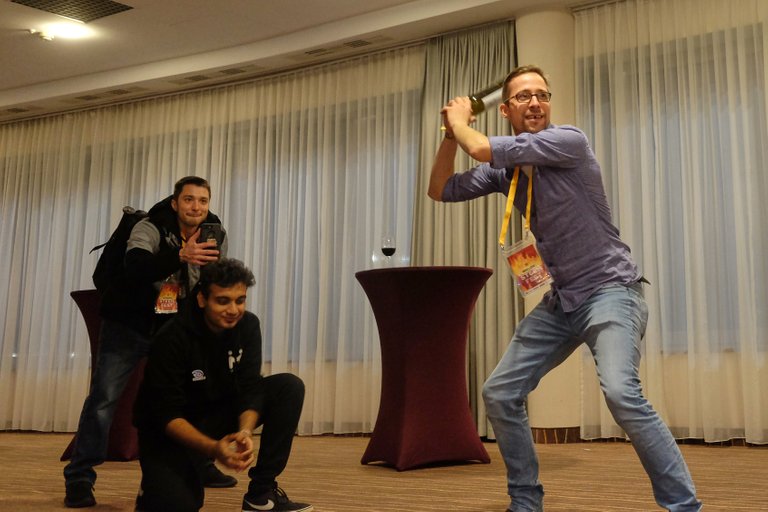 ---
SteemFest³ was an intense time for the whole Wise Team. We would like to express our gratitude for the genuine interest in our actions and we will do everything in our ability to meet your expectations. It was a time of intensive work for us, but it was also filled with the joy of being among other blockchain freaks. We made new friends and met some old ones. This 5 days spent in Krakow will not be forgotten. Now it's finally time to show our projects to wider Steem community! And of course...
See you next year at SteemFest⁴!
@wise-team
---
This article was written by @saunter, which was so kind to not only share with us his experience from SteemFest, but also share with us all those great photos. Please take a look on his profile to find more amazing content.