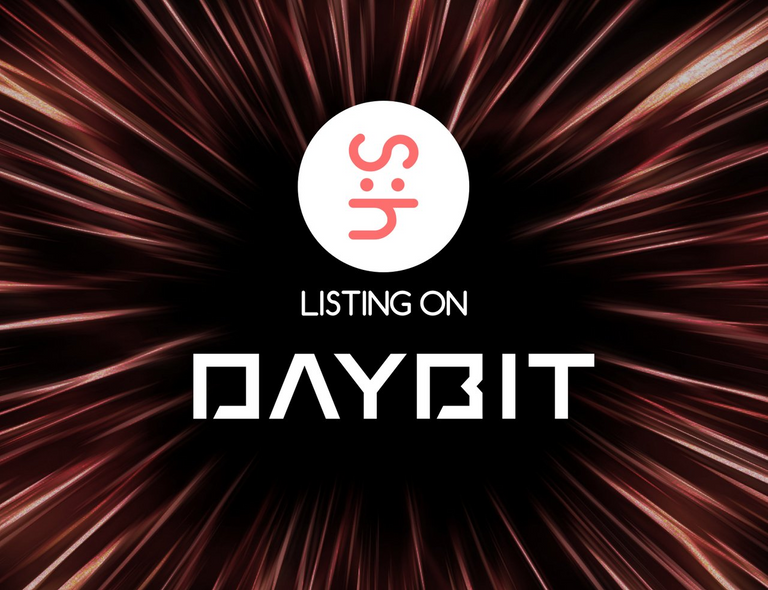 Hi, @jayplayco here,
The first listing of an SMT based project on a centralized exchange Daybit has been announced and is fixed for the 15th of April 2019 12:50 KST. The first trading pair is going to be with BTC and the listing price is based on 0.02USD. The wallet at Daybit is going to be opened also at 12:50 (KST) the same day.
The official announcement about the listing can be found as below.
https://support.daybit.com/en/support/solutions/articles/36000133745--event-steemhunt-listing-on-btc-market.
An additionally important part is that also the off-chain wallet at Steemhunt has been opened and I would like to introduce the steps on how to use it and what you will have to take care.
0. Repository
https://github.com/Steemhunt/web
1. Steemhunt.com Wallet
The wallet at Steemhunt.com is an off-chain wallet, as the bounty was distributed already about a year long. With the listing at an exchange, it was needed to make it possible for users to get their Hunt tokens out of the off-chain wallet to be able to trade or buy more.
An important point is, that the user score is directly calculated with the "staked" Hunt tokens you have in your Steemhunt wallet. The Steemhunt team decided to create a way that the current users still have the possibility to "stake" Hunt tokens but also to be able to have liquid Hunt tokens.

If you have a look at an example wallet from Steemhunt's off-chain wallet, you will see the Steemhunt Wallet and an external wallet. This external wallet needs to be connected with Metamask and as soon as the connection has been confirmed you are able to transfer Hunt tokens from your off-chain wallet to the external on-chain wallet. Also, the Hunt quantity that is stored on the connected external wallet is going to be calculated as "staked" Hunt token and will show together in your total Hunt token balance.
2. How to connect your wallet with Metamask.

First of all, you will have to go to your off-chain wallet at https://steemhunt.com/wallet and look for the connect button. This process is only needed one time, as long as you are not changing your external wallet. Please be aware that you will need access to the private keys for your wallet, which is normally not the case on a centralized exchange.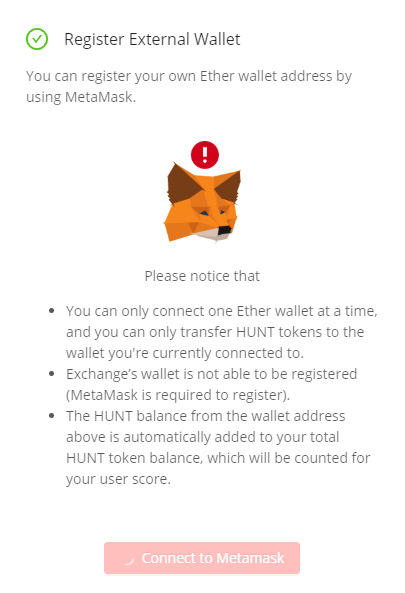 After pressing the black connect button you will see either a popup for Metamask or a request that you will have to install Metamask. You will have to be logged in in Metamask and your Ethereum wallet already installed to move to the next step. If it is the first time installing Metamask, you can also have a look at the following video (which is not from me)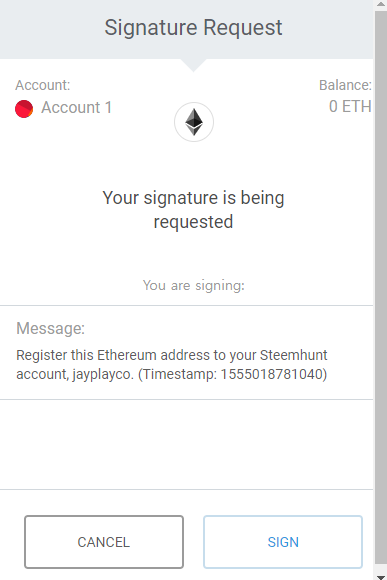 When you confirm the button to connect your wallet, you will see another request for a signature. When you confirm it, your external wallet is connected to your off-chain Steemhunt wallet.

You will find your ETH address directly right of your External wallet.
3. Transfer Hunt tokens to your external wallet.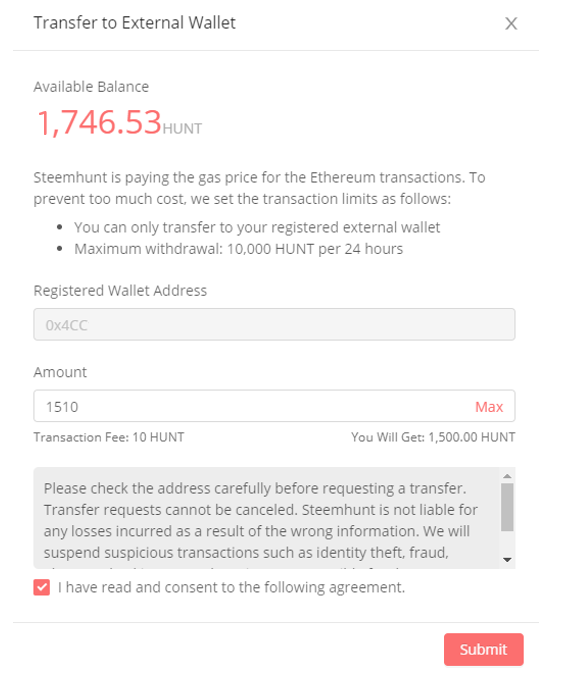 If you press now transfer you will get another popup to transfer your off-chain Hunt's to your on-chain wallet. Steemhunt has implemented a few rules for transferring your Hunt tokens.
From April 12, 2019 all HUNT balances collected previously will have a 13 week lock-up period with a daily vesting release. In other words, you will be able to get 1/91 transfer-ready tokens of your total balance every day at 20:00 (KST). For example, if you have 91,000 HUNT on April 12, 2019, 1,000 HUNT will be unlocked each day at 8pm (KST).
There is a daily max withdrawal limit - 10,000 HUNT per day (this will be revised later based on the market price changes).
This lock-up period is only for the HUNT tokens that users have collected before April 12, 2019 (there won't be any lock-up period for the HUNT tokens that users collect after this time).
Each transfer has a transaction fee of 10 Hunt.

When you confirm your transfer the system will ask again for confirmation. As soon as you confirm it the transfer will start. Technically the requested amount will be sent out from a Steemhunt ETH address to your requested address. This is the reason that transferring Hunt tokens out of the off-chain wallet is possible, but not the other way back into the off-chain wallet.

You can check on the transfer tab in your off-chain wallet that the transfer itself is starting. Depending on the ETH network it will take from a few minutes to up to 30 min.
If you want to have a detail look, you can also check it at etherscan under the following link.
4. Adding Hunt tokens to your Metamask Wallet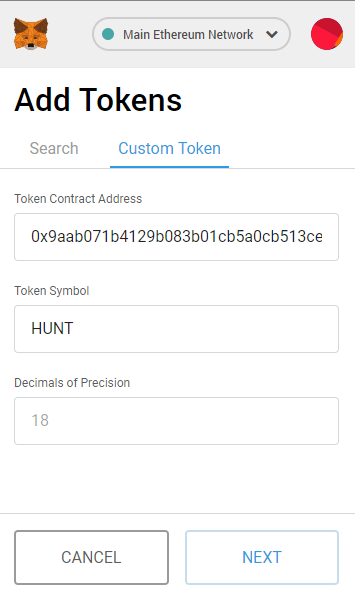 Metamask can show ERC-20 tokens, but you will need to add them to your wallet. To do so, please go to "ADD TOKEN" and add the following address.
0x9aab071b4129b083b01cb5a0cb513ce7eca26fa5
After confirming to add Hunt as token to your wallet, you will see your Hunt token balance. You can check it also on your off-chain wallet at https://steemhunt.com/wallet as it is connected.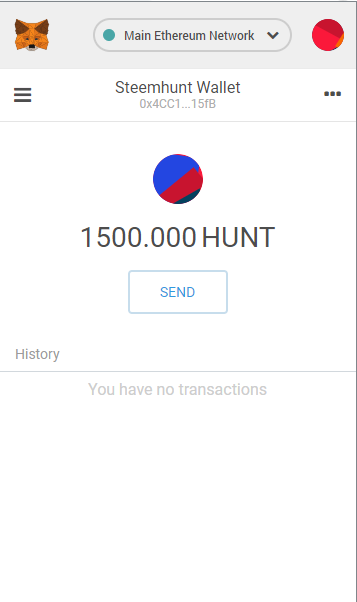 5. Conclusion
If you have not yet a Daybit account, feel free to register on with the following link Daybit, which includes a referral. https://www.daybit.com is the direct link. It is going to be very exiting to see the first launch of an SMT based project going to be listed on an exchange and I think it is also opening the doors for other SMT based projects to be able to follow this road.