Hello everyone,
I have been talking about STEEM on-boarding contest conduct by the @steemindian community to onboard the people on steem blockchain and promotion of steem in India.
So I have came up with the guide lines of the contest where the purpose of the contest should be reached and there should not be any loophole to abuse the contest.
At first when I thought about this, I have started checking different ways to organise and read about the previous @steemonboarding contest.
The contest is designed simple but with a long term purpose. With really keeping in the mind how many dead accounts on STEEM here after signing up new ones who leaves the platform with out much time spent to understand.
So this contest is long one but really fruitful and I hope it brings the results for what it made.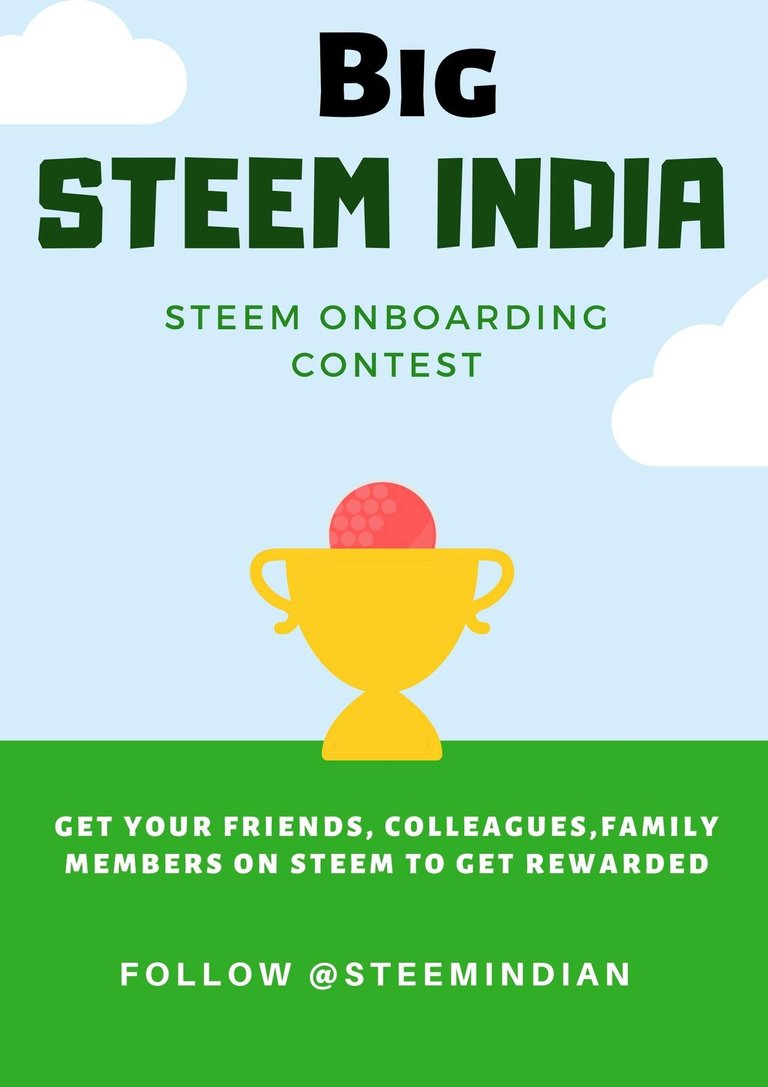 Rules
This contest is open for all Steemians with reputation number above 50.
✓ The contest runs for one month, from 14-november to 14- December which divided in to two time periods.
On-boarding and Posting Periods
Onboarding period
This period is from 14-november to 04- December. In this period you need to onboard your friends,colleagues or family members on steem.
Posting Period
In this period, exactly from 6 days of their joining date on steem that newbie need to make a post about how steemian explained about STEEM to him, how he was helped to onboarded and his/her one week experience on steem. Last date to post is 14- December.
The steemian who onboarded the newbie need to make a post about the relation with the newbie and how he got successful in introducing STEEM and signing up his friend.
The participation posts must made after only onboarding time period is over. Before submitted posts or the submitted after expiration will not be taken in to review.
---
One Steemian can onboard any number of persons but only make one post mentioning all the onboarded people.
what are the rewards.
I have been in contact with multiple whales to conduct and some of them have been come forward to reward the participants. There is no first or second but each participant receives an reward in terms of good $ value upvote on their submitted post. It's surely above 5$ and goes on more depends up on your participation.
The votes will be given to the both newbie post and Steemians post. Each post will be manually checked for the voting purpose.
Tags
To find out the submitted posts for the contest participants must adhere to the tags rule. the main tag which the posts should be made is #steemindia-steemcontest . The posts made with this tag as main tag only can consider for the participation and participants can use other tags along with this.
@steemindian community is open to the suggestions and really looking forward for the participation from all the Steemians to make this successful and help our steem block chain grow.
If you liked the contest and willing to volunteer to give upvotes please join us at telegarm to discuss.
Participants please don't join 😝
https://t.me/joinchat/LPj7kg3Zv65xHD6cQY3HRQ
Happy steeming