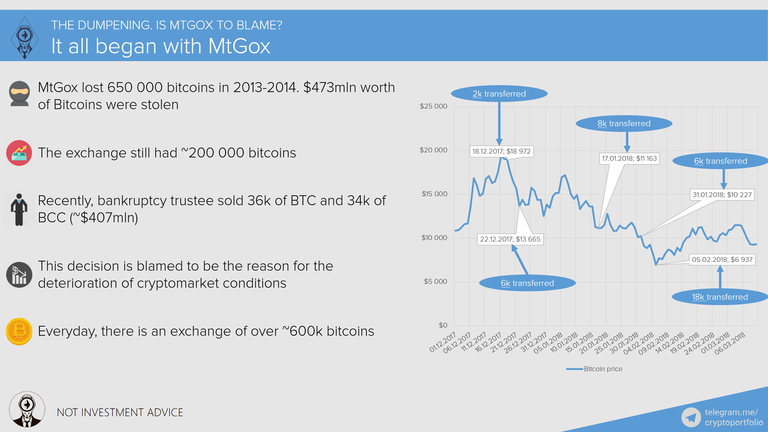 Who is to blame for what is happening on the cryptocurrency markets? As a reddit user, I could see a lot of people trying to point their fingers at MtGox. If it is true, it will be the second time this Bitcoin exchange fucks up the cryptocurrency space. If you want to see what people have to say about the Dumpening, I will leave the links in my blog post on Steemit (
mtgoxinsolvency/comments/82m0dl/mtgox_trustee_has_sold_some_btc_and_bch/dvb5e94/). reddit metadata:fG10Z294aW5zb2x2ZW5jeXxodHRwczovL3d3dy5yZWRkaXQuY29tL3IvbXRnb3hpbnNvbHZlbmN5L2NvbW1lbnRzLzgybTBkbC9tdGdveF90cnVzdGVlX2hhc19zb2xkX3NvbWVfYnRjX2FuZF9iY2gvZHZiNWU5NC8pLnw= ~~~
Let's start from the beginning. MtGox lost 650 000 bitcoins in 2013-2014, that's some governmental budget money in current terms. It was calculated that $473mln worth of Bitcoins were stolen by hackers.
The exchange still had ~200 000 bitcoins. Currently, it stands at 164k bitcoins. Why?
Recently, bankruptcy trustee, Nobuaki Kobayashi, sold 36k of BTC and 34k of BCC (~$407mln). Why did he do it only recently? It seems that Nobuaki Kobayashi simply thought that the price was high enough to pay off the $473 mln debt to those who were affected by the hacks. Also, it seems like the rest of bitcoins will be either sold or handed to those who were affected by the hacks proportionately. Well, another possibility is that those bitcoins will be given to Mark Karpeles, but it would rip the space time fabric with the rage of MtGox users across the globe. Still, there is an interesting article about it, definitely read it (https://www.ccn.com/mark-karpeles-will-end-taking-859-million-mt-gox-bankruptcy/).
As you can see on the right part of the slide, there are 5 instances where the trustee sold bitcoins. 2 of those instances lead to further market deterioration and because of that reddit users were very aggressively attacking trustee, blaming the market fall on him. Can it be possible that 2k of sold bitcoins on Kraken can lead to market crash from $18000 for BTC to $13000 for BTC? I don't believe that. Do you?
I mean, look at statistics. There are about 600k bitcoins exchanges every 24h on all exchanges. Even 18k bitcoin cannot move market that dramatically. I can only agree that trustee's actions could only slightly deteriorate market conditions, that's all. It certainly cannot kill or significantly affect the market.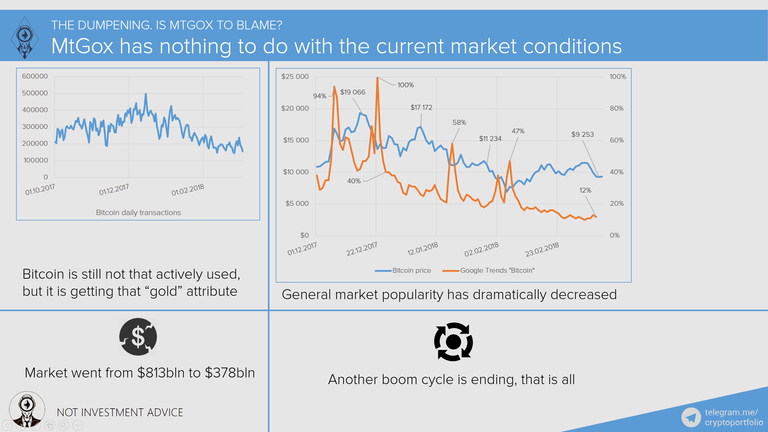 Here I would like to tell you the real reasons Bitcoin and other cryptocurrencies are in downward spiral right now.
The absolute most important reason is public interest. It CRASHED. And I literally mean it. It went from 100% interest on 17th of December 2017 to current 12%. People simply don't give a single shit about cryptocurrencies right now. Hype is gone. Now you should expect even bigger fall in crypto capitalization due to the lowest interest from people. If you want to know more about it, check out one of my last videos "Is cryptomarket dead?...". I really worked hard on it, building a lot of graphs.
Then we have the same problem Bitcoin has always had. People simply don't use Bitcoin enough, we went from 500k transactions at peak to current 150k transactions. We need to make Bitcoin cheap and fast ASAP.
Then, generally market is in bad conditions. It halved.
Finally, the cycle ended. Let's wait for the next one!