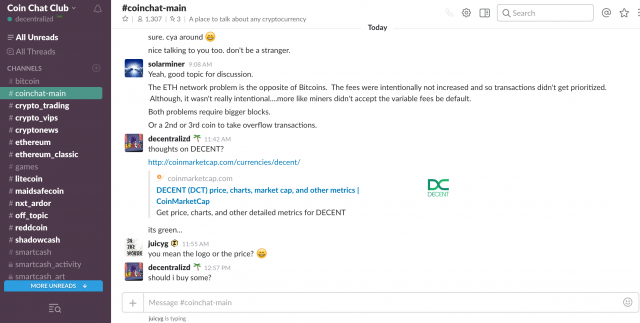 CoinChatClub is a community of crypto investors from all over the world, most of whom own many altcoins and have spent numerous years researching altcoins and crypto currency projects in general. After some years it became obvious that coin specific slacks end up basically turning into echo chambers where not much quality discussion goes on in hopes of attracting new users off instead of scaring them with honesty as we all know happens from time to time.
The idea behind this Slack group is simple, educate, permeate and create. We encourage collaboration, always provide the latest up to date news, information and most of all yummy rumors. There are many feeds of Crypto VIPs within each slack channel that pertain to that specific coin which makes keeping up with the latest news a breeze. Not to mention the trading and coinchat-main channels are always buzzing with generalized news about new coins, new crypto events & new rumors or developments, which is always a great head start when it comes to catching those knifes at the right time! Or maybe just making a good buy at the bottom of a new coin!
2. Who runs CoinChatClub? When did it start?
CoinChatClub.com is run by a couple long-time crypto vets that have been around for many years, it's a group effort to maintain all the channels, keep everything fairly moderated yet still uncensored and provide a place where we can all grow together, instead of spending all day arguing whos coin is better on Reddit for example.. this is a project that has had many many transformations in the past few years, it was originally created as the unofficial Dash slack many years ago and after operating as such for quite some time, the core team decided they wanted to run their own Dash Slack and Dash Nation slack was born under their control. After that it became a more altcoin centric community chat room.
3. Whats the goal of CoinChatClub? Thats simple; Decentralization.
Most of us have never been a fan of these inner coin politics, we're more on the side of 'lets all work together' to accomplish a common goal, which in my mind is true financial control of our own destiny, in a world where decentralization is a new form of innovation thats used to fix many broken aspects of our current world. This Slack channel is more of a place for like minded community members to help support one another and learn alongside veterans and new investors alike. 
💸 💬 What are you waiting for? Come hangout with us and lets get the #Steem channel bumping! Visit https://coinchatclub.com/ to sign up!
//KEEP CALM AND STEEM ON!

//Don't forget to follow, upvote and re-steem!