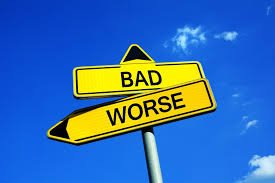 For me this picture pretty well sums up the last hard fork and genius idea out of the brain trust of Steemit Inc. and top witness ..... After watching Steemit Inc. employees present at Steemfest I don't think it's there fault. The programmers are solid and the leadership is doing ok but not excellent.
As an example lets look at how Steemit Inc. and Splinterlands preformed during this time period. The biggest difference to me is Aggroed used this time as one stop on a well planned strategic business trip. He hit several conferences and meetings over multi-week trip, spanning several countries, not bad says I. These types of differences add up over time and decide which companies win and which don't.
So here is a great business decision freebie, bring back bid bots. Why in the world would you discourage people spending money to advertise on your platform? Why in the world would you discourage the whales running these services to not be involved with Steem? You will never get "honest" curation. There are people that I follow that have never been "curated" even though they pump out great content regularly (and this has not changed even after all the claims that it would after the latest failed HF).
But, but, but bid bots are bad and trending blah blah blah ... For you rocket scientists spouting this bull shit, advertising is still going on. Now you just pay Steemit Inc. money to get your post featured or whatever instead of paying bot owners for the same service. The only difference is that Steemit Inc. (as we have been reminded time and again is a PRIVATE company) keeps all the money a.k.a centralization VS. bot owners which are multiple active players in steems economy a.k.a decentralization.
Which one is better depends on whether or not you own a piece of THE PRIVATE COMPANY, Steemit Inc.
Best Regards,
Dreamryder007