The crypto sales have also affected STEEM. But why the hell is SBD falling well below the value of one dollar? That's the question for today.
---
SBD = USD... or not?
You may have noticed that there is a possibility to convert SBD to STEEM in a rate as if the SBD was equal to the US dollar. If STEEM is equal to 0.5 USD, you would get about 2 STEEMs per converted SBD. However, the thing is, that it is
not always possible to convert SBD to STEEM in the above-mentioned ratio
.
Well, to explain it in a more comprehensible way... imagine that there are 100 STEEMs and 100 SBDs in the whole (some imaginary) blockchain. In total, the value of all tokens is, for example, 200 USD. What will happen if the real value of the entire network drops from 200 USD to 20 USD? You have 100 tokens and in the network there is a guarantee that through conversion you can create STEEMs worth of 1 dollar from a single SBD. That means that it would be extremely profitable to convert your SBDs to STEEM. Of course, this would probably be done by all users (some would sell their SBDs making it even more profitable to convert to STEEM). But the result would be that during a 3.5 day conversion, STEEM would fall so much that you would only get a fraction of the 1 USD value. After that, the STEEM may fall so significantly that you would be able to get billions of STEEMs per conversion and thus a beautiful hyperinflation would be here.
(Of course, the credibility of the entire network would plummet so you would probably get nothing from the conversion, but I ignored that in that example)
That's why we have a special rule in the blockchain in a form I did not know about before (perhaps because such situation has not yet happened).
---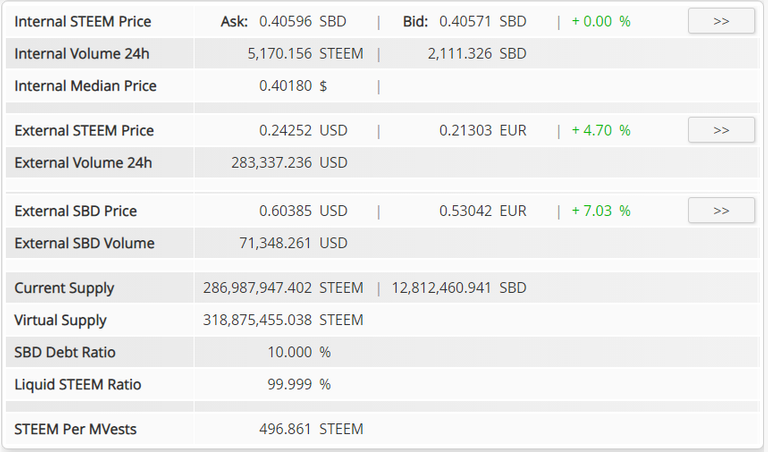 This is a screenshot from https://steemworld.org. You probably know that. Interestingly, the Internal Median Price ("IMP") somehow does not go down... even though the STEEM price is well below 0.4018 USD for more than a week. IMP is determined by the feeds of witnesses and it is the median STEEM price of last 5 days; but why did it not go down? The reason is that there is the SBD Debt Ratio, which is the ratio of the SBD token value (always 1 USD x amount of SBD) to the total value of all tokens (value of all STEEMs + value of all SBDs). The maximum value is set to 1:10 (10%). And because the maximum has already been reached and we do not want to be in the situation which I described above, the minimal IMP is set so the SBD Debt Ratio is at most 10%. Thus:
VIRTUAL SUPPLY (= all the value expressed in STEEM → Amount of SBDs/IMP + Amount of STEEMs) × IMP ≥ 10 × Amount of SBD tokens
Since the IMP is artificially modified, then its value is much higher than the real value of STEEM. The rate of SBD conversions depends on the IMP. This means that if we convert 1 SBD now, we will get STEEMs of about 0.604 USD... that is AMOUNT OF CONVERTED SBD × (ACTUAL PRICE OF STEEM ON AN EXCHANGE / IMP). That is the real value of SBD, if we only determine it by the current conversion option and do not expect anything from the future. Therefore, there is now a problem with SBD and even in this situation it is not so profitable to buy and convert SBDs to STEEMs.
The side effect of artificially elevated IMP is that the values of articles are also increased, as it counts with IMP and not with the real value of STEEM (it may vary depending on the platform you use – but I do not know any that would count with the price on an exchange). That is also why I recommend paying a great attention to the upvote bots, because the real value of the upvote may be much lower than the boost service suppose. In many cases it is about 40% (1 - Real price of STEEM / IMP) lower. So before you send money anywhere, you should rather calculate the payout from previous upvotes the bot gave others.
What should we do with that?
I see the only organic solution in waiting for the correction. Only a rise of STEEM price may cause the SBD to go up a bit higher. You may think that keeping SBD is advantageous because it will be near the value of one dollar somewhere in the future, but such thinking is wrong: The SBD price will correlate with the STEEM price increase, as its real value is (as I already mentioned) expressed as Real price of STEEM / IMP. The only difference between SBD and STEEM is that the SBD real value will for sure stop at 1 USD... when the SBD Debt Ratio will decrease (IMP increase).
Another solution may be the intervention of witnesses. They can, for example, increase the Maximum SBD Debt Ratio. However, this way of solving the problem seems to me to be quite violent, because, of course, it will cause the need for the Hard Fork and in addition it will cause the SBD price to go sharply up, which will cause an increased number of conversions to STEEM so larger amount of STEEMs will be emitted and it will decrease the STEEM value. In addition, more SBDs in the network will cause a greater vulnerability to this problem; only a small fall of STEEM would be able to decrease the SBD value also.
Or maybe developers will come up with something else that I cannot imagine. Who knows...
---
I would like to add that I am just observing. I am not an expert. So if you found any mistakes, please correct me. Thank you. :)