That's what I love the most about blockchains!
Not everyone in the mainstream world is using cryptocurrencies yet but most of them will be soon! Unless something catastrophic happens like we blow ourselves up with nuclear weapons, or aliens come and take all of our fancy electricity away, cryptocurrency isn't going anywhere! So you might as well start collecting as much as you can now!
I know many of you (myself included at times) can't really afford to risk hard earned money investing in some who knows what if you're not overly familiar with what you're doing.
Thankfully, nowadays there are more and more ways to earn free crypto! Just by signing up and doing a few minor tasks each day you can slowly but surely start racking up a savings fund!
Since I started off about a year ago just getting into cryptocurrency I've consistently been looking for as many ways as I could to capitalize on my time investments.
I spent a few months just hanging out in the Steem Monsters Discord helping out whenever I could, making sure everyone who joined knew what was going on and how to succeed as a part of the community.
Luckily, I already happened to be working on another project for one of the developers at the time and since he knew me and I was apparently doing a pretty good job with that and also volunteering my time in Discord, @yabapmatt, someone whom I definitely consider to be an honorable friend, invited me to join the team. To which I likely replied with a HELL YEAH I WANNA JOIN and of course I instantly found myself working as a Steem Monsters Team Member.
This has been a major event in my life as it has sparked so many new friendships, business relationships and much more! Aside from that, I've been paid weekly for my efforts as well!
TO THE MOOOOOONNNNNNN!!!!
I've been working for Steem Monsters for a few months now, so I haven't looked too hard for other ways to make money because I wanted to prioritize my time and stay dedicated to this one major project. However, I recently stumbled across something the other day which I at first all but completely ignored because I didn't understand it, until I looked in my STEEM wallet and saw that I had been being paid for the last 5 days with literally zero effort or investment.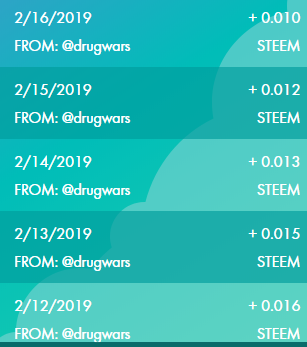 Sure, it wasn't much, at all, but it was free money so I wasn't complaining. And of course, the game then had my full attention. Drug Wars didn't really sound like it was going to be the next big thing or anything but I had played a simple windows game before called Dope Wars and I was really good at it, so I figured I'd give this one a shot.
I have to say, at first I was a little concerned this might be just another scheme as we all know there have been all too many of them in the cryptosphere. Thus far, I am impressed with what I have seen though. from the community to the website itself, it's all looking like something that has been well thought out and there seems to be plenty of development going on with consistent updates.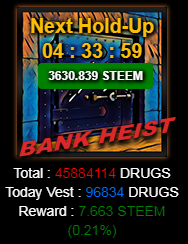 After the first day (yesterday) getting almost 8 STEEM back,(I will likely get a lot more back today) I am feeling a lot better about my impulse-investment I made once I realized how much I actually liked the game. You can play this game for free and make very little money and have it take a very long time, or you can invest and make more, faster. So, I invested probably a little much considering our current financial situation but at the same time this looks like it could be a good long-term solution to it.
There's a few updates coming where they will be re-implementing the battles, among a few other things. That's where things get interesting (or so I've been told). Apparently you can loot and steal from other people in the game too! So, you will want to make sure you take the necessary precautions and have plenty of backup!
There is so much more to the game I definitely can't tell you everything about it so you'll just have to try it for yourself!
If you haven't already,
Log in to Drug Wars and start making some DRUGS!
Sign up at NoLimitCoinPoker and get 20 free NLC2!
Join Steem Monsters and get your starter pack today!
Follow me!

If you resteem this post I will send you 10 SMPT (Steem Monsters Poker Tokens) that you can use to join in on my Texas Hold'em games to win even more Steem Monsters!