Third update to the remaining reward cards, and about 8 days early, as I did not plan on looking at this again until just after the end of the current season, which would also be 30 days from the last update. However, Flame Imp hit 90% and Hobgoblin, Mushroom Seer, and Lord Arianthus are also fast approaching, so I did not want to wait.
A few updates since the last chart. I have included Gold Foil cards in this latest spreadsheet. Aggroed was helpful in confirming they are not a separate capped category and count towards the listed card cap. I might list them out separately in another chart so everyone can see the draws and burns for reward golds, but wanted to keep this chart simple for now. The XP is also different for golds even though the sheet has the regular XP. Also helpful for anyone wanting a quick update, the link I use now includes a total_printed that includes regular, golds, and burns. Thanks to the dev who made that small change! https://steemmonsters.com/cards/get_details
Already my numbers are out of date, as daily rewards are continuously being completed. It does appear that reward cards are being generated at a quicker pace than previously, and all the reward cards jumped more than usual at the end of last season. The increasing number of active accounts supports this data as well.
Based on these new numbers, my guess would be that Flame Imp, Hobgoblin, and Mushroom Seer run out in somewhere around 35 days (or less!!). Lord Arianthus won't be far behind. Once these four cards hit their limits, should expect another 5% draw increase for all additional cards unless new reward cards are released as replacements. Hope this is helpful, and get them while you can!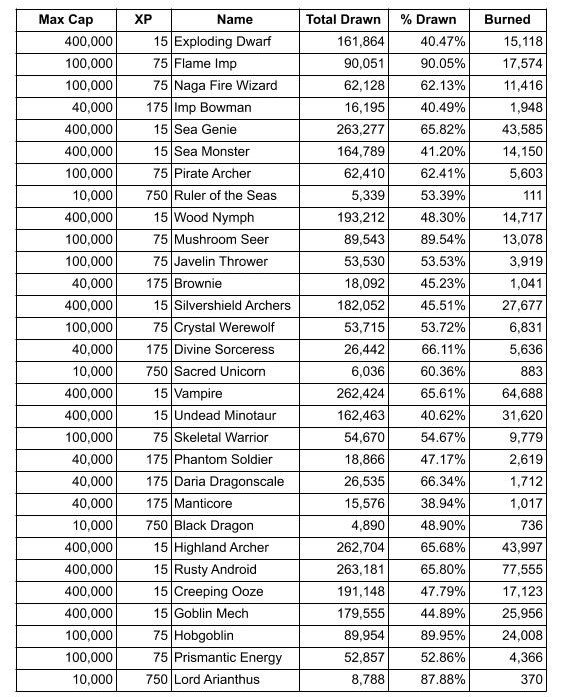 EDIT Added the draws and burns by type!