Hello Steemians and Steem Monster players.
Quest 2 update for @sm-starter-beta, and introduction of another participant in #fromstartertochampion.
For those who are new to SteemMonsters it is a fully decentralized, digital collectible trading card game built on the Steem blockchain. Drafting cards from your collection you can compete for the top positions in the fortnightly season's rank (with rewards), practicing for the upcoming tournaments.

In the meantime once you've bought your starter pack of 30 cards you can begin earning daily quest rewards, winning 10 battles as a predetermined splinter (card fraction). You could be lucky and open rare card! To sign up visit SteemMonsters.
---
I've decided to document my progress on this account to see how far I can progress beginning only with the Beta Starter pack from SteemMonsters, and how long it might take to reach each league milestone using the daily quest rewards. I've asked a friend to take a similar challenge, and encourage others to share their progress as well on their journey #fromstartertochampion.
---
Today @kgroup accepeted the challenge here. Already, beginning only with the starter pack, they are in Bronze III league, and have unpacked 2 legendaries from daily quests.
---
The current conflict now has players competing with a 16 mana cap, with Legendaries unable to be used. This has proven to be useful, as I've found the lower cap seems to reduce some of the barrier between decks.

And as such I have now reached Bronze III 🏅. 1 booster for season rewards.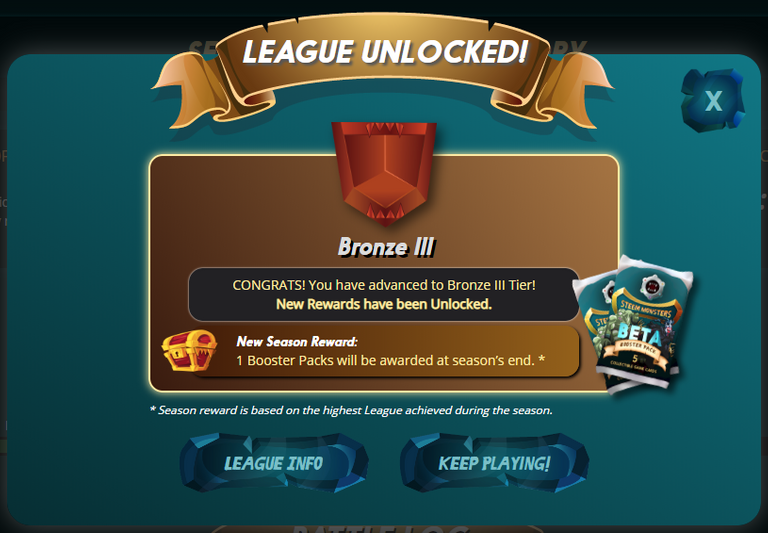 ---
After completing my Pirate Attack quest today I opened by booster pack to a surprise - 2 rares and a gold epic! Over $30 at today's prices. I've decided to keep the GF for now instead over flipping it on the market to improve my lower cards. It might come useful in my next Pirate Attack. What would you do @kgroup?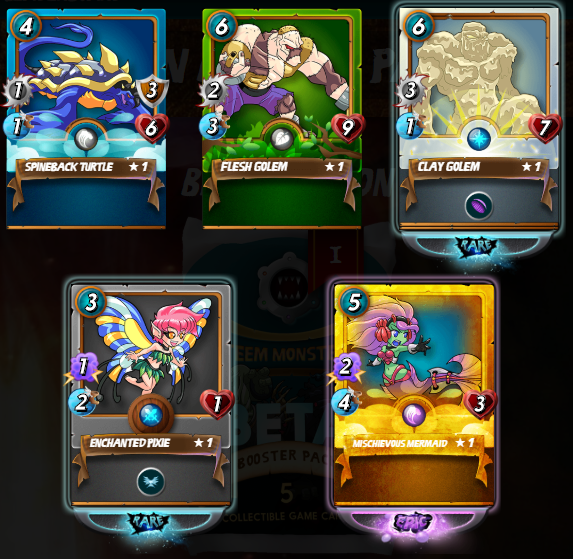 --
Card Value Tracking:
:stars: Steem Monsters Stats for: sm-starter-beta :stars:
Number of cards: 39 - Alpha: 0 - Beta: 39 - Promo: 0
Common: 21, Rare: 17, Epic: 1, Legendary: 0
##Gold cards: 1 ## BCX: 41 ## Value: $ 30.14 ##
---
Thanks to those who have a look :)
@kiokizz