Hello steemians! It's been a while since our previous update where we shared our 2018 roadmap, our vision and mission statement, and introduced our new witness @steempress. Since then, we've gone through a transition period to begin working full time on SteemPress to realize the goals stated in the post, while also implementing changes according to the demands of our users and ensuring compatibility with changes made to the Steem blockchain.
HF20 updates:
The last few days following the latest hardfork on the 24th of September have been very busy for all active witnesses and application developers. Ourselves we have been working non-stop together with other top witnesses to ensure that the @steempress witness was running the latest updates as soon as they were implemented by other witnesses to fix the various problems that were introduced with HF20. As a result, our witness was updated and replayed 4 times in a matter of days and now runs on version 0.20.5 similar to all other top witnesses.
A few minor changes were also implemented following the fork to accompany the introduction of resource credits and changes to curation. These include handling resource credit errors when an account is low on resource credits and changing the time at which @steempress-io can cast its vote on new posts to 15 minutes as opposed to the 30 minutes before.
New post queue manager
One reoccurring problem that some of our users have had is when they accidentally bulk-post several old WordPress articles they have written using SteemPress. This could result in them spamming their Steem-blog, and thus also their followers, with several posts. Users who made this mistake had no other option but to contact us directly and have our assistance in deleting them. To make it more convenient for both ourselves and the users, we've built a new interface where you can see what posts have been scheduled to be posted to the blockchain and delete those that you do not want to post.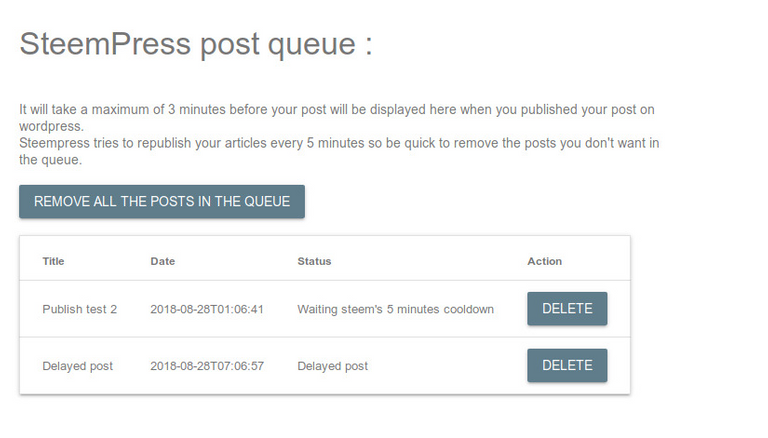 The post queue manager allows the user to see and delete posts are currently scheduled to be posted from their WordPress blog
Content discovery dashboard
For some time, we have used our own website, steempress.io, to browse posts that are made using our plug-in. Since we are receiving a lot of questions by users regarding how we find new posts, or whether they need to include the #steempress tag to be seen by us, we thought we would briefly introduce this tool even though it is still work in progress.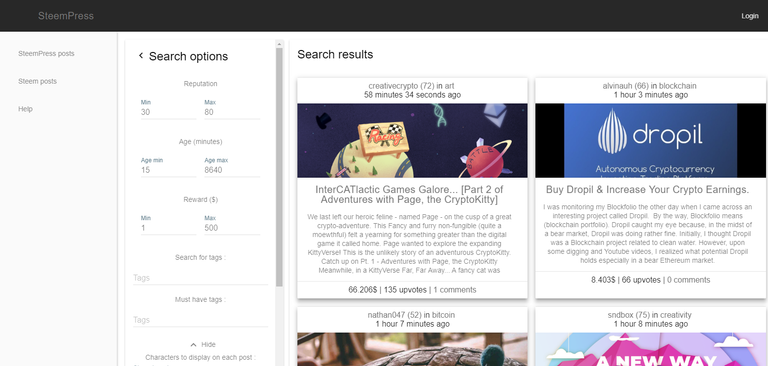 The SteemPress content discovery dashboard allow any user to browse content published with SteemPress, or on the Steem blockchain generally, based on their own search criteria. The website's design is still a work in progress.
The dashboard is intended to give any curators a more convenient way to discover content and find authors on the Steem blockchain or to browse SteemPress content in particular. The dashboard presents search options that the browser can set to improve their search. Furthermore, by logging in using SteemConnect, a user can create their own blacklists of users whose content they would like to hide from their search (i-e spammers, or proven plagiarists). While we are aware that alternative solutions exist, we hope that the tool can prove valuable to other Steem communities and projects and in particular to the many communities that we trail.
Progress on two-way integration
The major promise of SteemPress outlined in our previous post is enabling a full two-way integration where not only are posts made to WordPress posted to the Steem blockchain, but where comments and upvotes made on Steem are also reflected on the website running SteemPress. Over the past two months, we've made great progress towards this goal and will be excited to share an alpha release of these capabilities later this fall. For now, one update we've made in this regard is enabling edits to posts to be made on both the WordPress and Steem articles. Previously, if a user made an edit to their post on WordPress after having published it with SteemPress, they would have to individually edit both articles afterward. One time on Steem, and one time on WordPress. Now, if an update is made on your blog, it will also be done on Steem.
Other updates and improvements
• Improvements made to the generated URL of posts where the title contains special non-latin characters. This should generally result in less messy URLs for posts made in languages such as Chinese.
• Introduced a limit to the number of votes one user can receive each week through our different voting trails. In practice, this will only affect a limited number of users who were previously receiving a very large amount of tralied votes, which will now instead we distributed among other users.
• Fixed some errors with blockquotes.
• Increased the available space for the customizable footer to allow for a greater variety of signatures.
• Enabled the custom footer to include special characters.
• Fixed a problem where html lines were wrongly converted and displayed as "<br/" on steem.
• Automatic removal of html comments that may have been added to the text.
Attending SteemFest 3
Finally, we are happy to share that both SteemPress co-founders, @howo and @fredrikaa, will be attending SteemFest 3 in Krakow, Poland November 7-11 to present our latest updates in the "state of the Apps" pitching session and also be part of the Wall of dApps stands!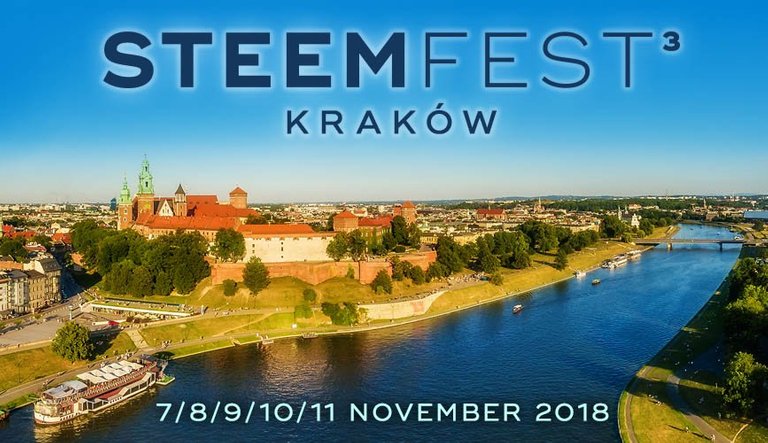 The SteemPress co-founders looks forward to meeting you in Krakow for SteemFest 3 in November! Go learn more about the event at steemfest.com
As mentioned we are working hard to finish a major update to SteemPress for November, which we will be happy to share with the community at SteemFest 3! We look forward to seeing and speaking with any of our users, supporters or other steemians who are curious about the work that we are doing.
As always, if you have any questions then please visit us on our discord channel!
To download SteemPress, find our plug-in at https://wordpress.org/plugins/steempress/
To vote for our witness, either use SteemConnect following this link, or find us on https://steemit.com/~witnesses.
Thank you for reading this far and for being interested in SteemPress!
@Fredrikaa and @Howo