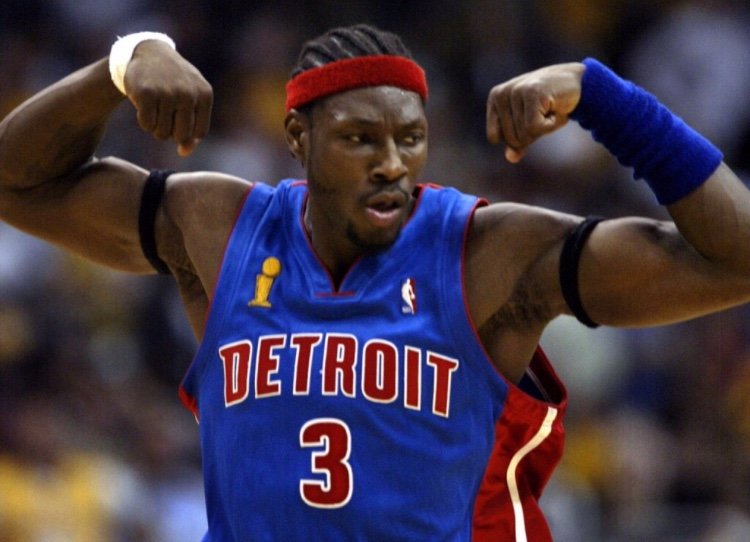 ---
SteemSports Presenter:
@dwin0603
---
SteemSports Editor:
@scottybuckets
---
We all know that Shaquille O'Neal was the most dominant force at center in the history of the NBA. He is strong, athletic, and fast. Three man or even more is needed to stop him or you should just foul him when he gets underneath the rim. His strength was truly unimaginable. But do you know that there is man that can contain him? Well, his name is Ben Wallace. An undersized center who is a monster in defense. And today, we are going to break down how good Ben Wallace was.
---
Recently, Ben Wallace just got snubbed again from the 2018 Hall of Fame class. So, will he get into the Hall of Fame? Wallace's career is a bit hard to evaluate if you haven't seen him play. His career stats and even his highlight videos don't do him justice because the ridiculous impact he had on the floor is not reflected in either of them. His career stats are six points a game, nine rebounds, 41% free throw percentage, and a rather mediocre field goal percentage for a center.
---
He did record some good block and steal numbers but just from looking at those stats you'd assume that he was just a role player or something. And I guess you could make that case but I don't agree with it. He was not a role player in my opinion. He was a superstar on the defensive end and he's one of the few players in history who had just as much of an impact on defense if not a greater impact than other offensive superstars. Wallace had his best seasons on the Detroit Pistons from 2002 to 2006. He made five all-defensive first team selections, got selected for four all-star games, and led the league in rebounding twice and in blocks once. Led the league in defensive win shares for four straight seasons and also won four Defensive Player of the Year awards.
---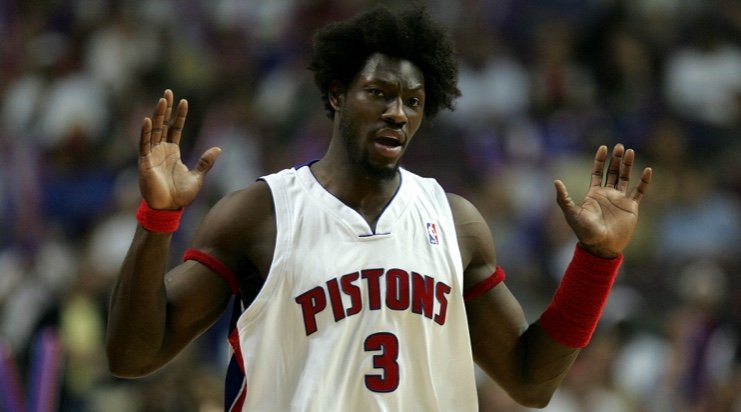 ---
Keep in mind he was only six foot nine inches tall. That's what he's listed but even six foot nine is a bit generous apparently, he was closer to 6-7 without shoes on. Leading the league in rebounding and blocks at that height is ridiculous. He also tied Dikembe Mutombo for the most Defensive Player of the Year awards won by a single player. And guess what, this guy went undrafted. He was part of the 1996 draft class, one of the greatest drafts in NBA history and a lot of people probably didn't even know he was in the same draft class as these guys. And up until now, he's still the first and only undrafted player to ever be selected as a starter for the all-star game.
---
Additionally, like what I mentioned earlier, Wallace's legacy and encore production transcended beyond all of these stats and accolades. He actually made defense fun to watch in pretty much every single game Wallace was at a height disadvantage against whoever he was guarding but he would constantly suffocate them and holds big men far below their season averages. Part of the reason he was able to stand his ground was because he was really freaking strong. Nobody accepts, maybe Shaq was able to move him in the post since he was so strong and sometimes even Shaq had trouble against him besides that though Wallace was also a great pick-and-roll defender for his time even though pick and rolls were not as common as they are today, he was very quick on his feet earlier in his career which allowed him to effectively defend perimeter players for short periods of time.
---
From 2003 to 2006 the Pistons always finish top 5 in defensive efficiency with Wallace anchoring the defense. Another thing I want to bring up is that throughout NBA history players who were primarily good at just defense did not get paid as much as players who are just strictly offensive players. It makes sense though for the average audience offense is just way more exciting to watch than defense. So, you got to give them bigger contracts because they're bringing in more people to watch the games.
---
For example, I'm sure 99% of the world would rather watch James Harden than Andre Roberson. The great defense was unappealing to watch back then. However, Wallace was the player who changed that. In fact, he was statistically one of the worst offensive players in the league for years but he still got paid like a superstar when the Bulls offered him a hefty four years sixty-million-dollar contract. And nowadays you have all of these defensive minded centers being paid a lot of money even if they aren't stars like Steven Adams or even Ian Mahimni who's getting paid 16 million a year for some reason. And let's not forget about Joakim Noah's four years seventy two million dollar deal either.
---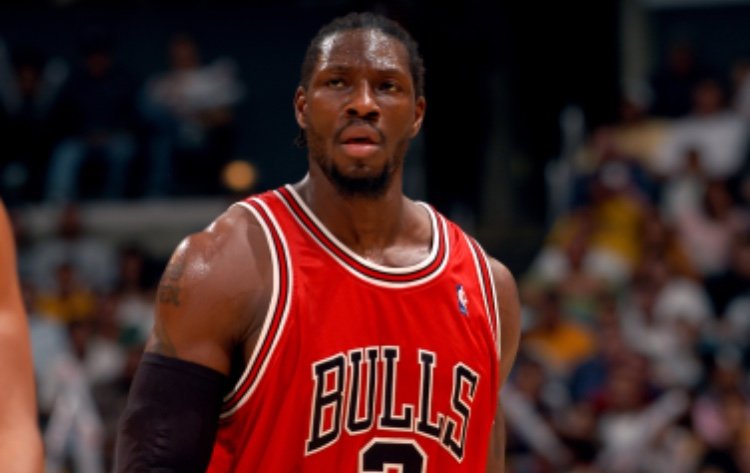 ---
But without Wallace setting the standards, many defensive minded centers who are average or mediocre offensively would have never gotten this type of respect or money. He made the NBA realized that if there's a big man who has any semblance of good defense, then they're very valuable and worth a lot. Obviously, this way of thinking has backfired sometimes and we see a lot of big men today who are heavily overpaid and clogging up a team's cap space. But it's better for the players at least guys like Mahinmi, Mozgov, and Biyombo should all be thanking Wallace and the salary cap spike.
---
Anyway, Wallace was also an inspiration for a lot of undersized big men as well as he showed everyone that players can still be amazing even if they're giving up a couple of inches. Draymond Green has stated that Big Ben was his inspiration growing up. Green grew up in Michigan and was lucky enough to watch Wallace in his prime with the Pistons. But there was something that always boggled his mind. He never understood how Wallace was so under sized yet dominated anyone who challenged him. How in the world was Wallace doing this? It didn't make any sense to him but Green was able to meet him when he was a kid and found out quickly why he was so good. It was because Wallace had a relentless work ethic and he refused to be outworked by anyone in a game or at practice. When you're already under sized, you can't let others outwork you or else you'll never make it to the NBA. Green took his words of advice and modeled his own game after his. Even to this day, the two of them are still friends and in 2017, when Draymond Green won Defensive Player of the Year, Wallace actually presented him with the trophy.
---
So, how good Ben Wallace actually was? Is he deserving for the Hall of Fame? In my opinion, he was the greatest defender in the last 20 years. He might not be good offensively but a four-time Defensive Player of the Year should be a Hall of Famer. Look, he was winning the award over guys like Duncan and Garnett and we know how amazing those two were on defense. It might take a couple years or more for Wallace to get into the Hall of Fame, but he will eventually make it I'm sure of that.
---
Thank you for following @steemsports and you can find me @dwin0603
---

---

---
**Disclaimer:**
This is a @steemvoter subscription payment post. Thank you to Steemvoter customers for allowing us to use your Steem accounts to upvote this post by virtue of your free subscription to the Steemvoter.com curation automation service. @steemvoter is proudly a @buildteam subsidiary and sister project to @dlease, @tokenbb, @ginabot, @steemsports. @steemsports-es and @minnowbooster.
---
Beneficiary Declaration:
This is a 20% @sbdpotato beneficiary post!