In the last week, there has been a steady stream of posts in my feed about @steemtorch. Lit by @geekgirl, and transferred through the Steem blockchain, the overarching objectives are to show twitter, and the world, the strength and "trust" that the Steem Community have in one another.
The idea is that one person transfers STEEM to another, either adding (but never taking) from the total like an old fashioned chain-letter.
It is also an interesting social experiment in seeing how people react to transparency.
At the time of writing, the steem torch burns around various blockchain wallets with the fires of 405.001 STEEM.
The Steem Torch isn't an original idea, and nor is its corporeal counterpart, a little mascot called @rustle.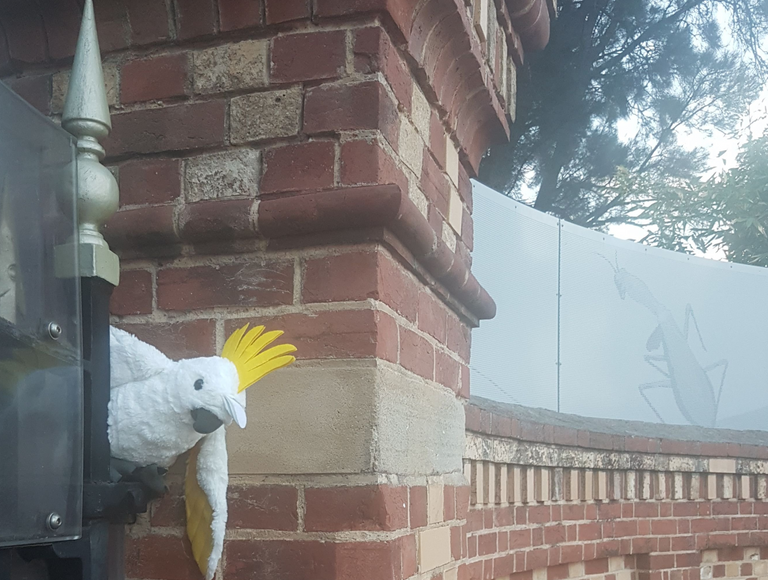 Photo by @mattclarke
The brainchild of @mattclarke, @rustle is the "meet up mascot". The text below is taken from @rustle's introduction post:
Walking past the Adelaide Zoo, a splash of white caught my eye. I crept up for a better look and realised I was witnessing an actual breakout. This sulfur crested cockatoo was done with their bars and their rules. He was clear of the gates and sat waiting for a bus, so we got to talking.His name's Rustle and he wants to see the world. I told him about steem and he got really enthused, so I took him home and set him up with his own account - @rustle He wanted to throw the authorities off the scent, and express his enthusiasm, so we switched up his crest.
This is what @rustle looks like now: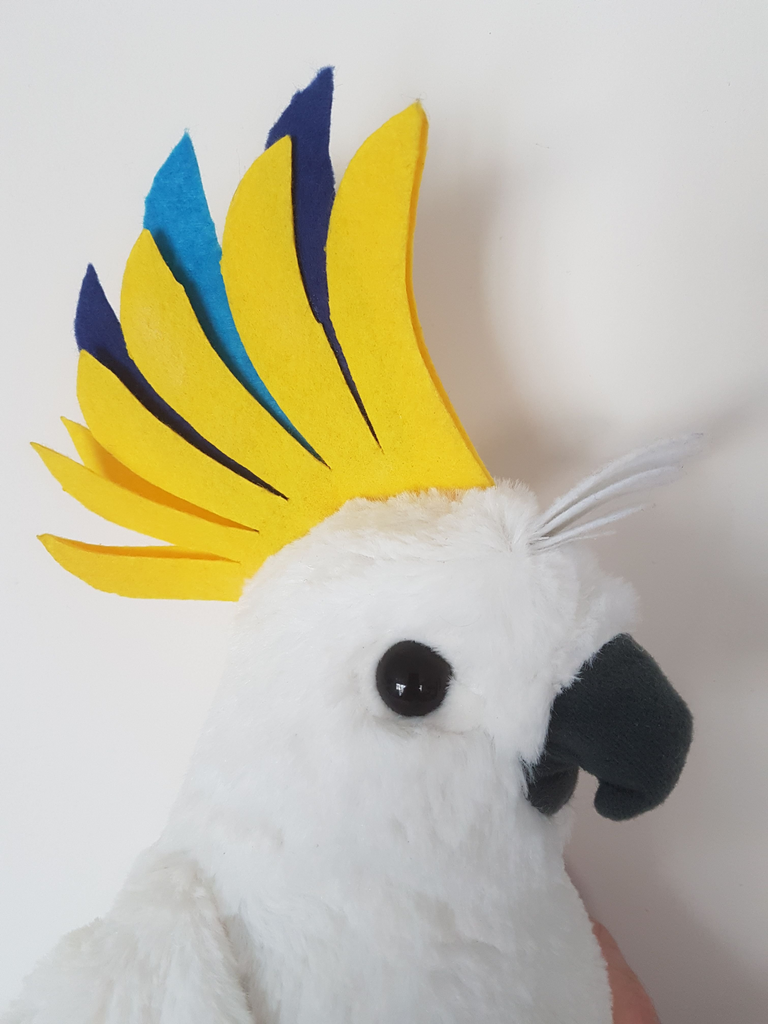 photo by @mattclarke
@rustle made his first appearance in meat-space at the #mallsballers monthly meet up, in sleepy, Adelaide, South Australia.
Four Steemians made posts about his existence in the days that followed.
@minismallholding spoke of the special visit from not only @rustle, but also of @ratticus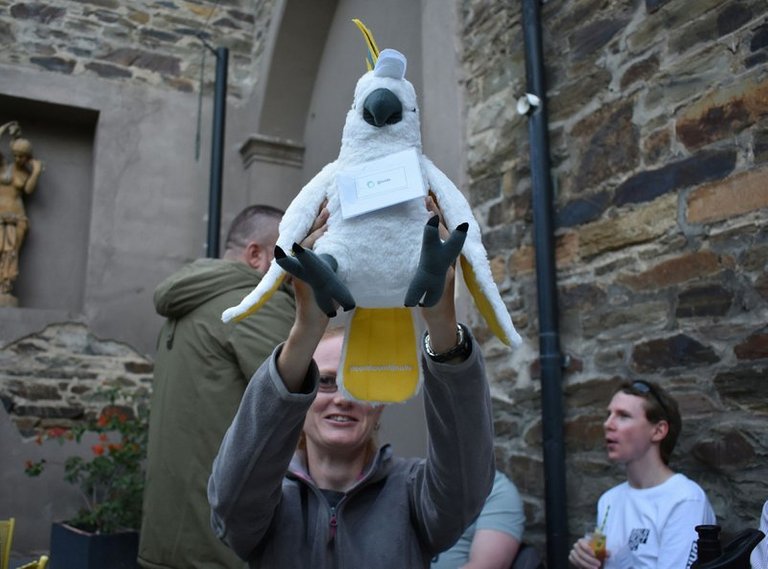 We also heard from @julienghost and @thevillan, locals.
The Visit from @ratticus is probably the most important, here.
He took @rustle from Adelaide, and moved him onward. Helped him evade the authorities in the Adelaide zoo that had detained him. It was off to Melbourne, Australia.
Like an olympic torch, @rustle's grand relay around the Earth had only just begun.
In Melbourne, another meet up occurred. @mazzle (who has now migrated to Adelaide, and is officially becoming a #mallsballer!) spoke about meeting @rustle in a video.
@ratticus continued onward, documenting his continuing journey with @rustle. New South Wales was next.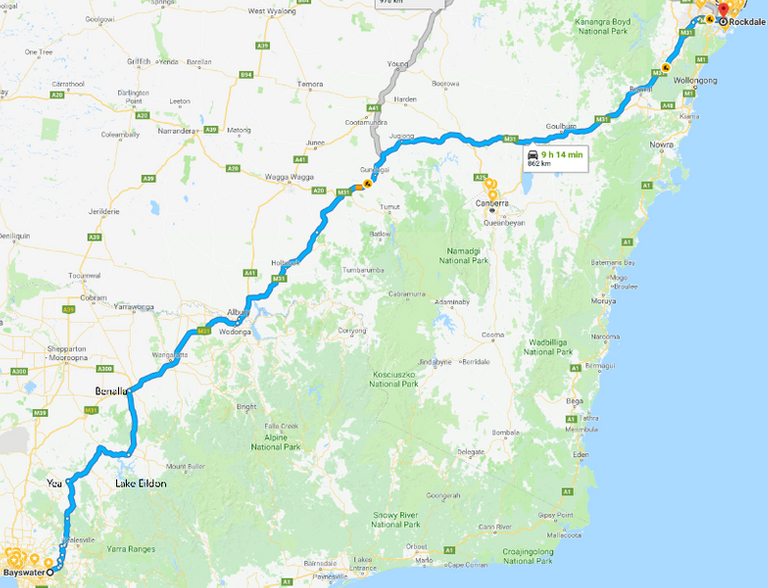 High Tech Survilieance shows @ratticus and @rustle making a trek
Eventually, he found his way to Sydney. There, @rustle met a huge bunch of steemians, and was being very cheeky indeed.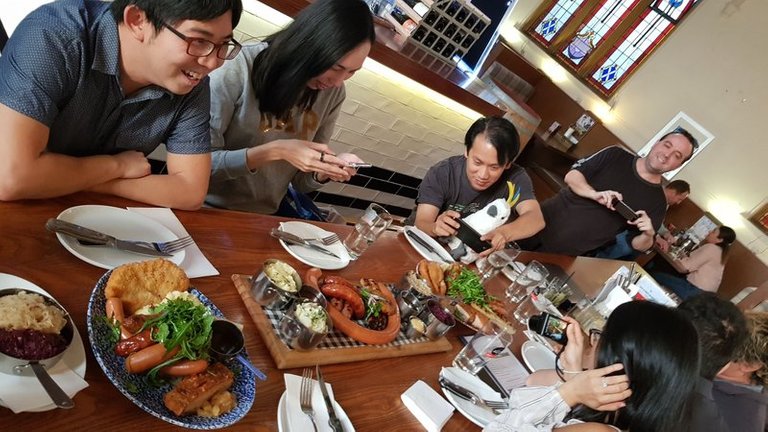 photo from @bearone
In attendance was @stabilowl, @travelgirl, @quochuy, @ratticus, @phamished, @ohboy and @chrisdavidphoto. That wasn't the end of @rustle's journey.
Thus began @rustle's foster care with @bearone, in the beautiful blue mountains.
After some time, @rustle got a bit restless. It was time to move. @r00sj3 had just gotten into town, and taken custody of @rustle on her road trip around Australia. She thoroughly documented @rustle being a nuisance.
We only learned more about @rustle when he was finally interviewed by @r00sj3.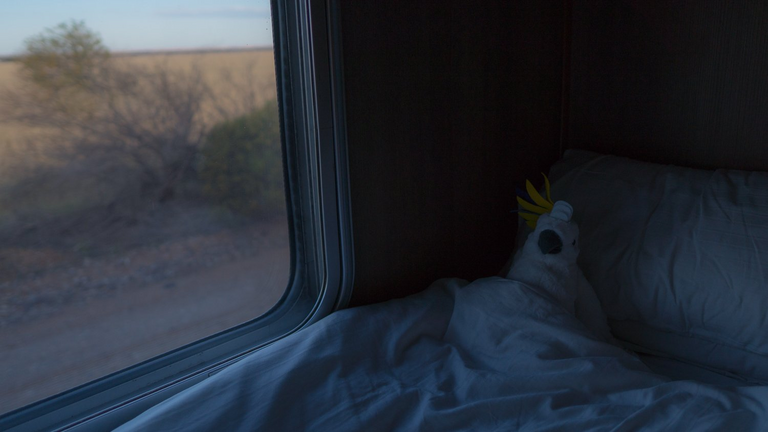 photo by @r00sj3
Back to the Australia road trip. Did you meet up with a lot of people?
After leaving @bearone's place, I didn't know what to expect. I was given a place on the dashboard in @r00sj3's motorhome and I could look out of the window the whole time. It is clear she has no clue how to drive on the left side of the road, though. People would stare and smile at me, that was nice. But often, when she stopped for a quick snack, she kept forgetting about me and left me all alone in the car. I bet she didn't want people to see us together. She just wanted to keep me all to herself!
Before long - @rustle would find himself in The Netherlands.
He Then found his way to @steemfest where he rubbed shoulders with Steem's most beautiful, and finest people, as superbly documented by @llfarms and her brilliant photography.
For instance, here's @tarazkp with @rustle from @llfarms gallery: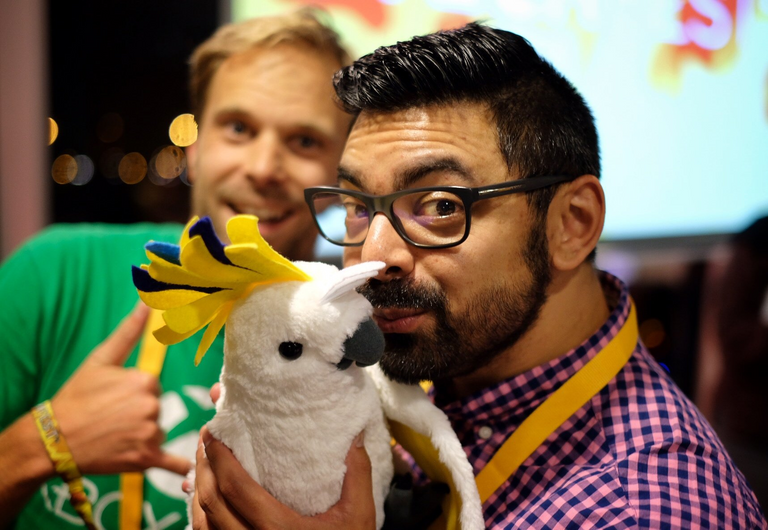 Another photo by @llfarms shows that @rustle wasn't going to embark on his next trip without a fight.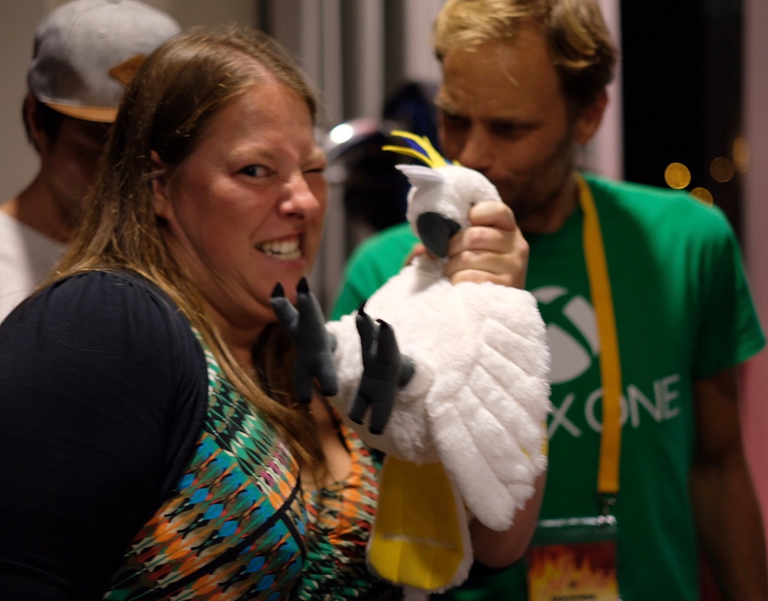 Next, it was time for @rustle to go across the ocean again.
@coruscate managed to sneak @rustle past airport security, continuing his journey toward literal freedom: The United States of America.
Before that, there's evidence that saw @rustle causing even more mischief at Steemfest.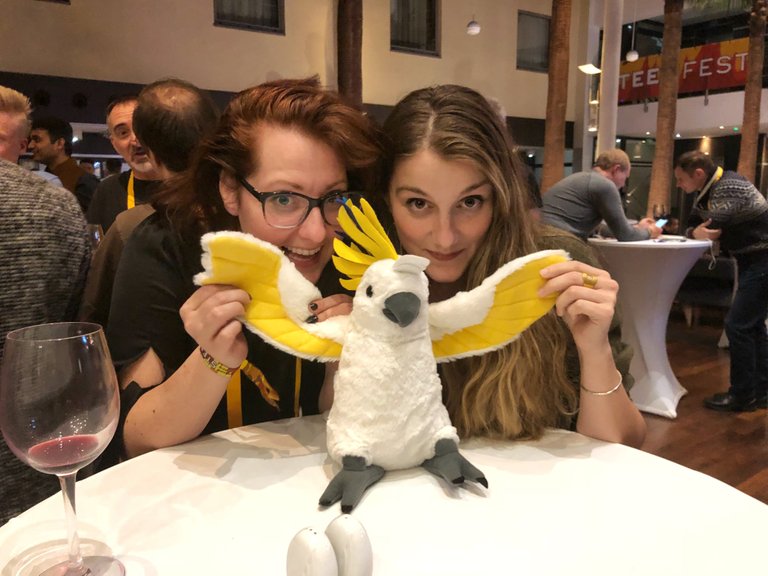 @coruscate pictured with @crimsonclad and @rustle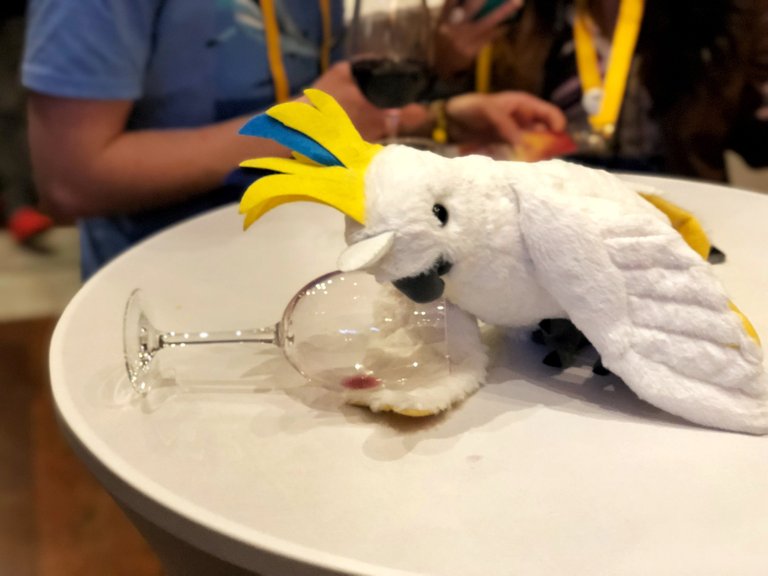 hitting the booze, by @coruscate
Then @rustle decided to photobomb @aggroed and @yabapmatt
After a long flight he found his way onto the @steemsistershow, where he quickly became executive producer.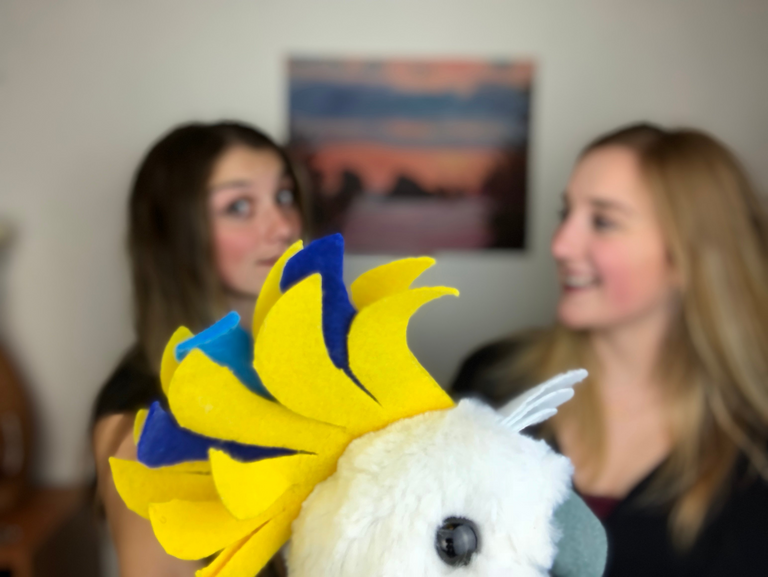 @rustle has been busy at work, planning his next journey. @aussieninja is keen and eager to spend some quality time with @rustle, and we, the #mallsballers, and the birthplace of @rustle, can't wait to see where his journey takes him next.
A Transaction on a blockchain is one thing.
A Physical, Steem-Themed Torch, passed from meet up to meet up, person to person, and from place on Earth to another place on Earth is a far greater testament to the power of the Steem blockchain.
The power to bring people together.
Finally, here is me and @rustle