Hello Steemians! It is a down day again for cryptocurrencies. I enjoy writing on Steem when it is a down day because it gets me distracted from the prices 😂. Anyway, I am not going to talk about crypto prices today. Instead, I am going to talk about Steeve.app. Steeve released a new update about a week ago and one of the new features is something I found very interesting. It is something which I have yet to see on any other Steem interfaces nor any other social networks.

---
Introducing the OmniBox!
The OmniBox allows users to jump to specific topics and accounts very quickly with a press on the "T" key. Pressing "T" while you are on Steeve but not in a content writing box will pops up the box as shown below. Once you are at the OmniBox, you just need to enter the #topic or the @account which you are interested in to navigate there directly. This is a very neat feature which is unique to Steeve.

At the same time, Steeve also introduced several other hotkeys to help users navigate and browse the site faster. For example, pressing "R" on your feed will reload the feed and press "N" followed by "W" will bring you to your wallet. Information on the hotkeys are as below.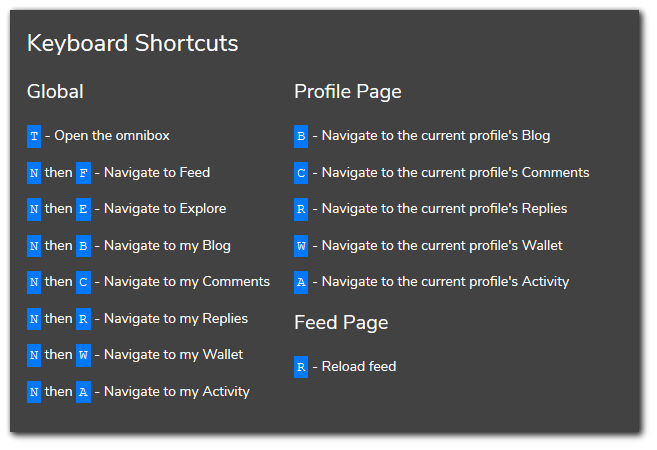 I also want to point out that I am very impressed by how fast the Steeve team is able to respond to users' feedback. When I first tested the OmniBox feature, it was not working on my default browser, Firefox. I left the following comment on @steeveapp's blog post:

And on the same day, I got the this reply from @void:

And before I know it, @void fixed the issue!
This demonstrated dedication from the team and because of this, I decided to post more from Steeve.app moving forward!
Other than the OmniBox feature, there are also a few noteworthy features such as night mode, drag-and-drop image uploading and ability to choose 100% SP for author reward!
---
Conclusion
While the cryptocurrencies market is bleeding, there are teams that are still working. If year 2017/18 is the period where we HODL, then year 2019 will be the year we BUIDL. Although there are projects that have been abandoned, the Steem platform has never lacked activities. Since the day I joined, I see continuous development on Steem apps and the blockchain itself. It is projects like Steeve that make me believe that those who survive this crypto winter will emerge stronger.
Thanks for reading and please share your thoughts!
---
View this post on Steeve, an AI-powered Steem interface