Dear Steemians and Steevians,
It is time for the next Steeve update. There are a few pretty exciting new features since the Beta release announcement already.
New Features
We have brought you quite a few new features:
Explore section to browse Steem and discover new content
Full Steem Keychain integration
Instant story hiding of perhaps annoying stories
Bookmarking categories is now available on mobile
Possibility to set beneficiaries
Story drafts stored in the browser
All changes are listed in the release milestone.
Explore Section
The Explore section is basically used to browse Steem and it is also a part of Steeve's mission to help people discover good content.
When exploring, you select a tag (or no tag at all) and then sorting, which can be one of Steeve's Trending, Steeve's New, Trending and New. The latter two are just showing regular Steem sections as you know them, the two former are based on their Steem counterpart but improved with AI, counting genuine votes and what not, trying to show the content worth checking. The feature is still pretty new, but we are on the way to make Trending and New meaningful again.
To make the behavior more clear, when Steeve's New sorting is selected, we're trying to filter out spam on Steem and the posts marked as spam by Steeve don't get to the selection right away. If you don't see your post in the story list right after you posted it, it doesn't mean it won't show itself later on, though. The feature is a bit experimental, we'll be evaluating its performance and popularity to see if it serves its purpose.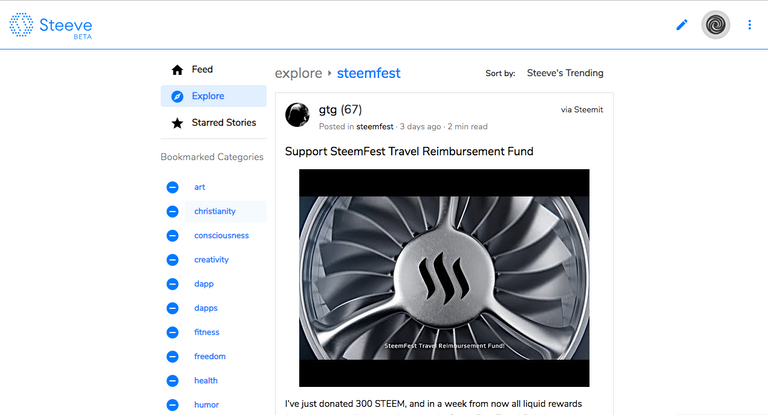 Steem Keychain Support
It is now possible to authenticate with Steem Keychain, skipping SteemConnect entirely. In this way, Steeve does not require you to pass your private keys to anybody.
Steem Keychain is not complete yet, though, so you won't be able to delete posts and claim rewards when authenticating in this way. Any other blockchain operation should work as before.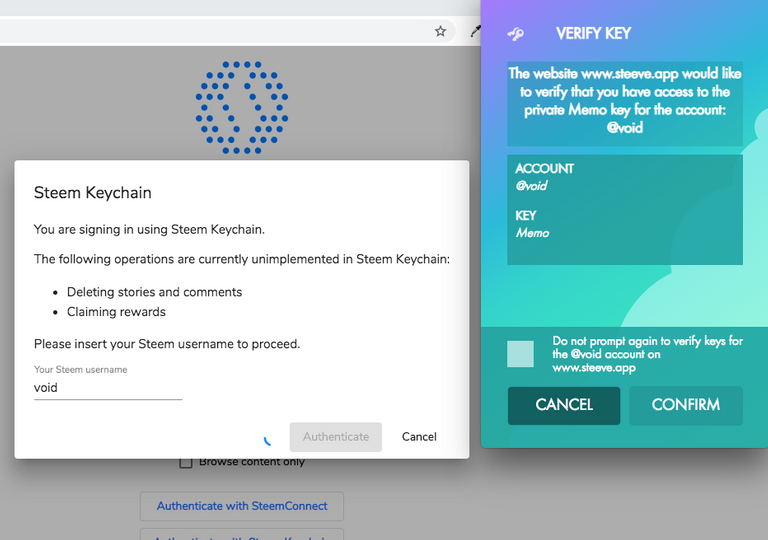 Hide Story Instantly
Every story card has a More menu now that contains a button to hide the story instantly. A message is sent to the backend that you don't want to see that story ever again. When receiving recommendations later, the story will not be shown again. This way you can further tailor your feed and we also will take your "dislikes" into account when calculating recommendations for you next time ;)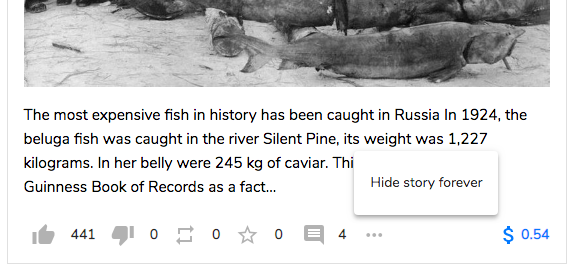 Global Beneficiaries
There is now a Settings section in Steeve where you can set global beneficiaries for your account on Steeve, the beneficiaries configured there will be used automatically when submitting any story via Steeve.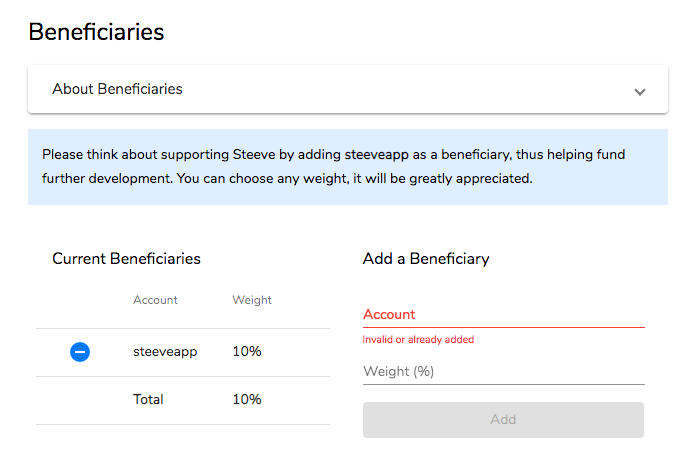 Bookmarked Categories Sidebar
The bookmarked categories sidebar present on the home page (feed) was not accessible on mobile. That is now no longer true! There is now an icon next to the logo on mobile that you can click to view the sidebar and enjoy this feature everywhere you go.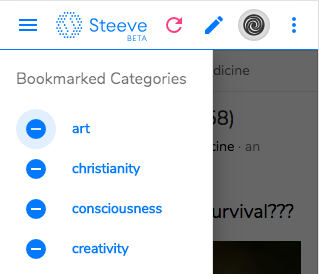 Saving Story Drafts
The story editor now regularly stores its content in local storage. In case you close the browser accidentally, your content is not lost from now on, it is loaded from local browser storage and you can continue editing.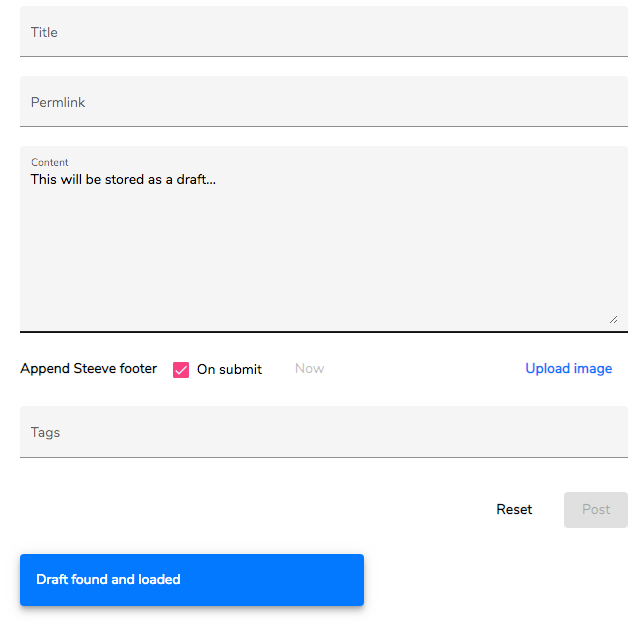 What is Next
@void is going to simply keep working on the issues in the issue tracker. There is no end to it and there never will.
@mor is taking good care of the recommendation engine, improving it constantly.
@hr1 went to SteemFest and we are sure that he is going to come back with many new ideas and connections from the community that will affect Steeve's future substantially.
Support Steeve!
In case you are using Steeve regularly already, and we are hoping so, or just want to support the project, think about setting @steeveapp as a beneficiary in your account settings to help fund further development. We are not asking for much, any share will do.
Our thanks go to:
@cardboard for reaching out, giving us new ideas and setting @steeveapp as a beneficiary as the first person to do so :-)
@ziapase for tirelessly helping to build Steeve community in Indonesia
Feel free to join our Discord to have a chat about Steeve or anything else.

Last but not least, there is a public issue tracker where you can always post your ideas and we will discuss them and reply as soon as possible.
SteemFest
Oh yes, @hr1 is at SteemFest, so feel free to find him and ask him whatever interests you!
We are really open to any ideas concerning Steeve and we are moving forward pretty fast feature-wise. In case there is anything you wish to be implemented or ask us about integrating a service of yours with Steeve, feel free to reach @hr1 at SteemFest or visit our Discord that @void is guarding day and night.

---
View this post on Steeve