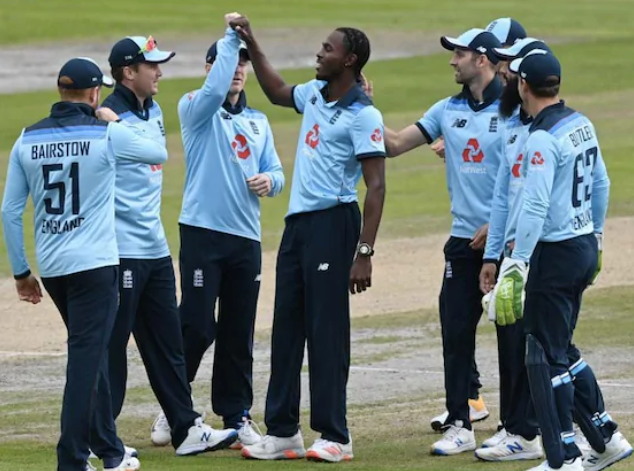 source
The 2nd match of the ODI series between England and Australia was played yesterday at Emirates Old Trafford, Manchester, in which England defeated Australia by 24 runs, with this victory England equaled the series by 1-1.
England won the toss and decided to bat first, England batted first and scored 231 runs loss of 9 wickets in perfectible 50 over. England started not very well, but I think luck with them. Eoin Morgan 42 runs in 52 balls, Joe Root 39 runs in 73 balls, Chris Woakes 26 runs in 39 balls, Tom Curran 30 runs in 39 balls, Adil Rashid unbeaten 35 runs in 26 balls, Johnson Roy 30 runs in 22 balls, Joffra Archer scored 6 runs in 2 balls, Sam Billing scored 8 runs in 28 balls, Jos Buttler 3 runs in 7 balls, and Sam Curran scored 1 run in 5 balls. In this way, England won the toss, batting first, and scored 231 runs after losing 9 wickets in the prescribed 50 overs and set a target of 232 runs for Australia.
Australian ballers- Adam Zampa got 3 wickets, Mitchell Starc got 2 wickets, Josh Hazlewood, Pat Cummins, and
Mitchell Marsh got 1-1 wicket.
In the second innings, Australia chasing 232 runs, the Australian team all out in just 207 runs in 48.4 overs, and lost the match by 24 runs. Aaron Finch played a half-century inning of 73 runs in 105 balls, Marnus Labuschagne scored 48 runs in 59 balls, Alex Carey scored 36 runs in 41 balls, apart from this no batsman reach figures of 10, wickets keep falling one after another, end of result Australian team were all out score of 207 runs in 48.8 overs, and lost the match by 24 runs.
England's ballers- Chris Woakes, Jofra Archer, and Sam Curran got 3 wickets, and Adil Rashid got 1 wicket.
The bowlers of England bowled very well, winning the low-scoring match easily, especially Chris Woakes, Jofra Archer, and Sam Curran bowled 3–3 wickets, besides Jofra Archer, and Tom Curran 2–2. Madden Over and Chris Woakes also took out 1 Madden Over.
reference