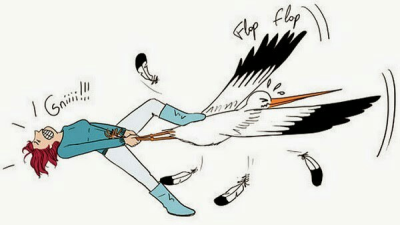 Authorization obtained from the creator of the picture (Facebook)
I adapt my post on one journey for a child whose French version can be found here.

I had stopped in my previous post on an exchange with the midwife of the MAP service.
November 2011
The suspense was over and the decision would be given to me today at 2 p.m. and I waited frantically circling in circles, my mobile phone in my hand with my eyes glued to the screen to look at the time.
Just after 2 p.m. I dial the number, the secretary tells me that neither the midwife nor the gynaecologist is available and asks me to call back in an hour.
One hour... it's not a big deal but they had told me at 2 p.m. but all of a sudden the phone rang.
I immediately imagined before I even looked that it was MAP.
And no, bad luck, it was my husband.
Strange, we had agreed that I would call him after I got them.
"It's okay, it's okay.
— What's okay and why are you yelling first, what are you saying? I don't understand anything. Well, hang up if the MAP calls, they won't be able to reach me.
— No, no, wait, it's okay," he repeated as loud as ever with excitement in his voice.
I was a little annoyed and a thousand miles away from understanding, when I heard him tell me.
"It's okay, they just called me, they've agreed to the waiver, we can get started and we need to give them our donor's contact information soon."
It felt good to be able to cross one more hurdle, I had confidence again, I had hope again, I was reboosted and more determined than ever to find our fairy, I hastened to phone my brother and my cousin to tell them the good news.
I was starting the hard search. It was not easy, of a very timid nature I practiced again and again on how I was going to ask, I was constantly questioning myself. Who to ask, how to ask... ?
It was really complicated... I was putting a lot of pressure on myself, my brain was overheated.
The conditions for being a donor, I've to know them by heart.
I repeat them like a recitation :
Then she must be under 37 years of age, her spouse's permission, of course be in good health and have already had a child.
I could have done without the last one because the bioethics law had just abolished it, but... as in France nothing is ever simple, the law's application text would only come out five years later!
A few weeks later, I received an unexpected text message from my brother.
He told me that his girlfriend had agreed to become our donor. I had never dared to ask her, she had never mentioned it to me, even though we often discussed my sterility.
It was the biggest problem, asking friends, family, people who were very close to us and being able to take a "no".
I never dared to ask what had decided it and we just kept repeating it over and over again,
Thank you, thank you and thank you again for your wonderful gesture, a donation of a few cells that will perhaps allow me to become a mother.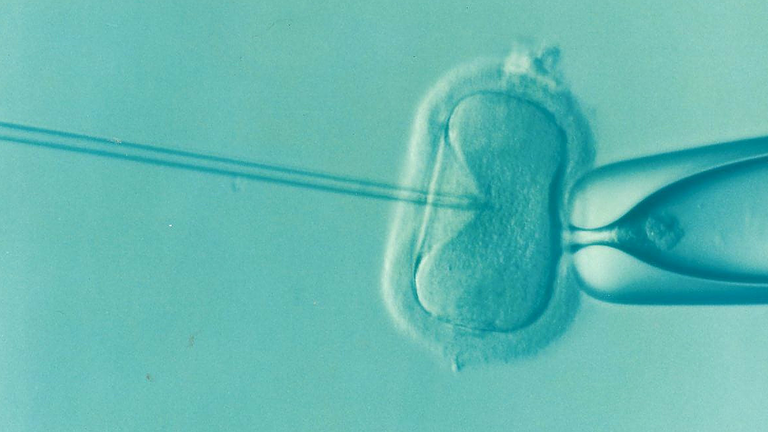 Pixabay
Thanks to this gift, we were "sure" to be able to attempt a first fertilization within the next twelve months.
After many discussions with my sister-in-law to agree on how we were going to handle things, I understood that a problem, and not the least, was floating in the air.
I decided to burst the abscess right away, there was no need to ask a thousand questions. She explained to me that she kept thinking about it, and that intellectually, donating her eggs was complicated in the end.
She was thinking about this unborn child who was going to have her genetic makeup, perhaps resembling her...
Even though I could hear, I could hardly understand.
Come on, another sledgehammer blow.
She added, however, sensing the distress that I was internalizing that she would continue the process but would prefer that I find another donor.
JANUARY 2012
I hadn't found another donor despite all the steps I had taken, at best a girlfriend agreed but not her husband...
At the beginning of January, my sister-in-law completed the last steps before the oocyte donation. She had to be seen by the gynaecologist with a consultation and an endovaginal ultrasound, a geneticist and finally a psychologist.
This was her second consultation, the first being devoted to giving all the information about the donation and obtaining her consent.
If this step were validated, the next step would be stimulation with regular ultrasound and then oocyte retrieval.
My biggest fear was the consultation with the psychologist. I thought that she would talk about her fears and then she would not be held back.
The day ended and I couldn't wait for her to call me and tell me how it went.
The phone didn't ring until around 9:00 p.m., taken by her obligations she hadn't seen before or perhaps she was uncomfortable about giving me the bad news.
She told me that she was unfit to donate (that's the term they had used) and that that was the end of it. She knew no more and assured me, without my asking, that she had not told the psychologist about her concerns.
Why didn't she know more? Was she hiding something from me?
I learned a few days later that there was a medical contraindication to her donation. They wouldn't tell us more.
I had to pull myself together and start looking for our fairy again without wasting a second.
January had been an important month. From now on, I will no longer work because we had made the decision to leave our restaurant to tenant managers. This would give me more time and energy for those I needed.
I just had to do one last little thing before passing on the torch.
Train the buyers for a fortnight and this was the opportunity I was going to meet Nelly for the first time.
I don't know if friendly love at first sight exists, but if it does, I think that's what happened to us. She is the young mother of a six-month-old baby. She is giving him the bottle, I stare at her with so much happiness in my eyes, the dream of soon being in her place when her eyes meet mine. She has a big smile that lights up the whole room.
Very quickly, I had the impression that we had always known each other.
She couldn't help but ask me the question at the end of the evening, while we were taking a breath of fresh air on the terrace, which I was beginning to fear because I couldn't answer it without bursting into tears, but I don't know why, that day, it happened differently:
"You look like you love children, don't you?
— No, I don't have any."
A long pause followed and then I told him, without going into too many details, that we had been trying for many years to experience this miracle, but that I had learned that I was suffering from premature ovarian failure, in other words, that I had been definitively menopausal in my thirties.
"I'm so sorry for you, it's not possible, there's got to be something we can do, right?
— Yes, there is one and only solution, and that is that I benefit from an oocyte donation. I had a donor but now I need another one.
— I'm willing to be your donor."
Facebook (screenshot of my profile))

You will have to wait for the rest, hoping that you enjoyed it, allowed you to reflect, and especially to learn more about medically assisted reproduction with oocyte donation.
See you soon.
If you missed the first parts:
One journey for a child #1
One journey for a child #2
One journey for a child #3
One journey for a child #4
One journey for a child #5
One journey for a child #6
One journey for a child #7
One journey for a child #8
One journey for a child #9
To go further, here are some articles that I have selected with great care, unfortunately only one is in English because they are important articles for which I do not find an equivalent in English (mainly French problem):