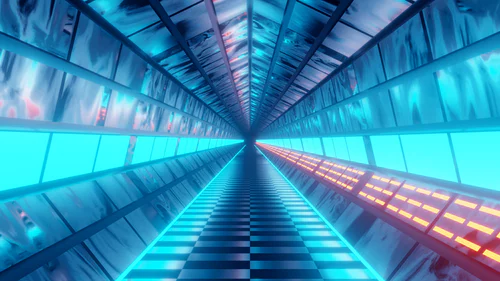 The robot tried not to hurt me while putting down and removed the mask from my head. He was watching me with his triangular eyes. Now that I had overcome the first shock, I stood up and asked, "What are you looking at, have you never seen a human?"
A bit of disgust had now been added to the expression of wonder on his face, which I was annoyed to think he considered himself superior to me. He turned around and left the room lit by a red light. When I turned around and looked back, I realized that Oliver, our chief engineer, was also with me. He was lying on his back as if sunbathing on the beach and not moving at all. I knelt next to him and checked his pulse, after making sure his heart was beating, I shook him. He started glancing at me unconscious.
"Are you okay?" I asked.
"I think my blood pressure has fallen," he answered.
The room we were in was moving. I helped Oliver get up from where he was lying, and we tumbled to the ground as our room suddenly sped away. When I fell to the ground, I noticed that the floor was soft like the flesh of a plump woman, as I hit the ground I was not hurt. The room we were in was probably out of the giant spaceship because the stars looked out of the only window on the wall. Since we didn't dare to stand up again, we had gone into a sitting position and started to examine the place we were in. Oliver pointed to the door at the end of the oval-shaped room. We came to the door like children walking on gymnastic cushions. The door slid open, and we went to the other room. It was understood that we were inside a space shuttle, we could see the space in all its glory through the vast windows of this new place illuminated by a purple light.
We heard the "sit in your seats immediately" announcement while looking left and right like confused chickens. It was understood that the kidnappers knew English, though it would have been better if the announcement had been made in Turkish, I did not find it appropriate to enter into the discussion of cultural imperialism at that time. It seemed that the space shuttle didn't need crew, there were neither buttons nor an instrument panel anywhere in the room where we could interfere with the flight. We sat in our seats and started waiting for what would happen to us. The seat belts that came out of the places wrapped us tightly, and a cheese tin-sized robot came out of a hidden corner of the cockpit and came up next to us.
"Why did you kidnap us, who are you, what is your purpose?" I asked the robot.
"I'm just a simple servant," the robot replied in his echoed voice.
"I will ask your masters to account for this bullying. You made a big mistake dealing us," I said.
Instead of answering me, the robot went inside the box in the corner of the cockpit and returned with two cubed cups in both hands. He left the cups filled with a colorless liquid that looked like water, on coffee tables that automatically rose from the floor.
I took a small sip of the water the robot left with us because I was afraid they would carry out perverse experiments on us. It was water, as we know. I took the glass to my lips dried out of excitement and flurry and drank all the water. I was revived when I was set up in a comfortable seat and quenched my thirst. I told the robot, "get us something to eat from there," and I leaned back and started listening to the buzzing of the shuttle's engines.
Meanwhile, I noticed that a vaguely lilac smell had mixed into the air of the room. Those who kidnapped us would not be malicious beings. They could even call us "Tovaris" in the name of the brotherhood of the cosmos. I closed my eyes and started listening to my body in a semi-numb state. My heart was pounding with sweet harmony; I could even feel the blood flowing through my veins. My existence seemed to melt, integrated with the universe, my heart filled with compassion.
I turned to Oliver and said," You're a superior man," and if I knew how to untie my belts, I could get up and kiss his bald head covered with quince feathers.
Oliver, who had never heard a single positive word from me before, was amazed, he answered: "So are you."
"I can't even be your nail. I'm a major failure."
"There must have been something in the water you were drinking."
"Currently, the ambiance is very nice. If they want, they can take us to hell."
"There should be something they know. Or they wouldn't have mobilized a ship that big," Oliver said. What if I had half of that guy's positive energy, maturity, love of duty? Oliver, a man of short stature and blond, was a sweet person like teddy bears. He knew six languages, including Turkish, and he was a master engineer.
Image Source: https://unsplash.com/photos/KnLj3o9A66E