Stronghold Crusader HD está disponivel na Steam para download!
A sequela altamente antecipada da Stronghold mais vendida, o Stronghold Crusader HD lança-te em batalhas históricas e cercos de castelo das Cruzadas com oponentes diabólicos da IA, novas unidades, 4 campanhas históricas e mais de 100 missões únicas.
Download: https://store.steampowered.com/app/40970/Stronghold_Crusader_HD/

---
Read more: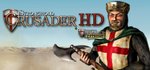 Stronghold Crusader HD on Steam
The highly anticipated sequel to the best-selling Stronghold, Stronghold Crusader HD throws you into historic battles and castle sieges from the Crusades with fiendish AI opponents, new units, 4 historical campaigns and over 100 unique skirmish missions.
Source:
https://store.steampowered.com
---
Share this post:







---