BigCherryArcade game #6 Guber Popping Bubbles :)))
Jeu Big Cherry Arcade # 6 Guber péter les Bulles :)))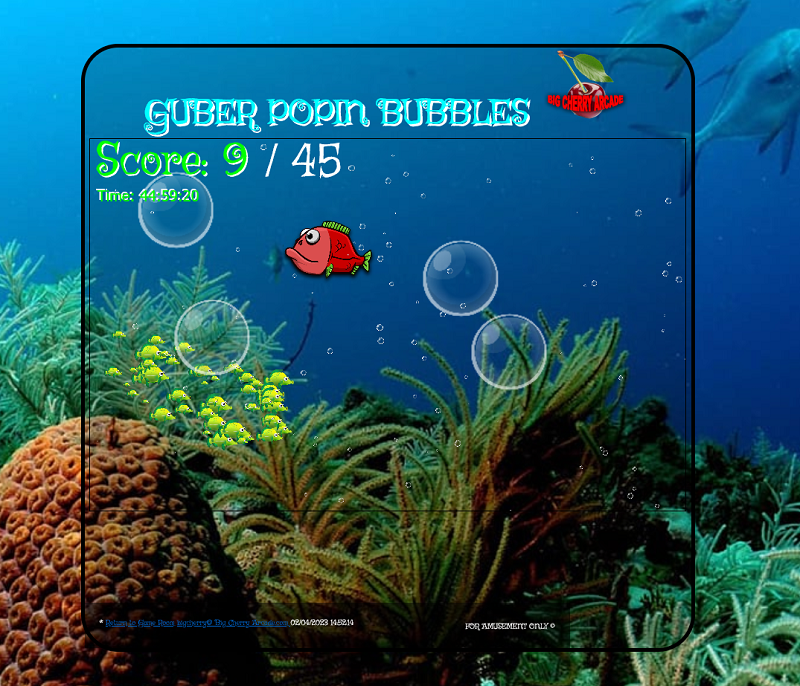 http://bigcherryarcade.com/BubbLES/
Ive had this game for a while wrote it for my kids they spent hours playing this endless game but as far as adults go yeah not for you maybe your cat or dog might find it amusing also if your playing it on a tablet could be a lot of fun for them :)))
anyways i f i remember there was a little more to it but i left it out on purpose the meanies come out to eat Guber so sad... and cause i didn't think anyone would even notice and that is the case ten times out of ten so here's my shortened version .
http://bigcherryarcade.com/BubbLES/
J'ai eu ce jeu pendant un certain temps, je l'ai écrit pour mes enfants, ils ont passé des heures à jouer à ce jeu sans fin, mais pour les adultes, oui, pas pour vous, peut-être que votre chat ou votre chien pourrait le trouver amusant aussi si vous y jouez sur une tablette. beaucoup de plaisir pour eux :)))
de toute façon, je me souviens qu'il y avait un peu plus mais je l'ai laissé de côté exprès, les méchants sortent pour manger du Guber si triste... et parce que je ne pensais pas que quelqu'un le remarquerait et c'est le cas dix fois sur dix alors voici ma version abrégée.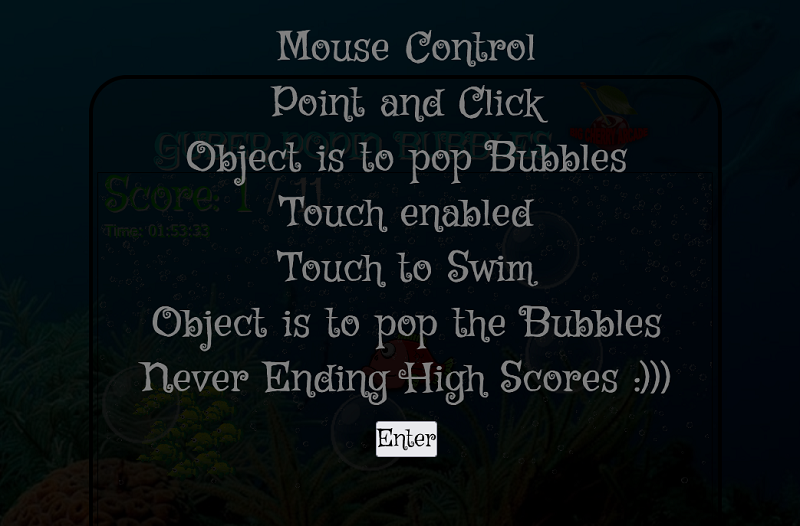 its a very simple game point to where you want Guber to swim so he can pop the bubbles. Hint: the further away the faster he swims its not as simple as it seems and yes it is simple and haven't scored a perfect game up till now its FIXXED lol:)))
I thought of making it into a screen saver but with everyone choosing a different OS
didn't make much sense and there are a lot of aquarium screen savers already so...
c'est un point de jeu très simple à l'endroit où vous voulez que Guber nage pour qu'il puisse faire éclater les bulles. Indice : plus il nage loin, plus il nage vite, ce n'est pas aussi simple qu'il n'y paraît et oui, c'est simple et je n'ai pas marqué un match parfait jusqu'à présent, c'est FIXXE lol :)))
J'ai pensé à en faire un économiseur d'écran mais avec tout le monde choisissant un système d'exploitation différent
n'avait pas beaucoup de sens et il y a déjà beaucoup d'économiseurs d'écran pour aquarium donc...
as the collection grows:)
here are the links so far
au fur et à mesure que la collection s'agrandit :)
voici les liens jusqu'à présent
http://bigcherryarcade.com/BubbLES/
http://bigcherryarcade.com/froggy/
http://bigcherryarcade.com/tremiNO
http://BigCherryArcade.com/sweeper
http://bigcherryarcade.com/snaKE
http://bigcherryarcade.com/wheel
your critiques and suggestions are welcome thanks :)
vos critiques et suggestions sont les bienvenues merci :)
and enjoy :)))
@darsico