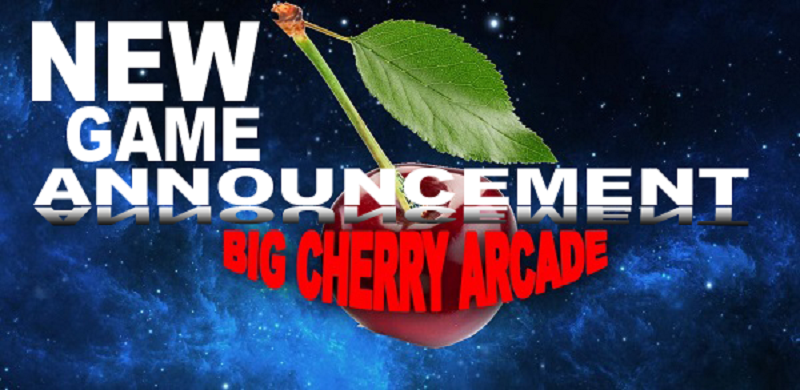 BigCherryArcade game #7 COIN CRUSHER :)))
http://bigcherryarcade.com/crushER/
okay here's the latest addition BigCherryArcade game #7 COIN CRUSHER :))) my version of candy crush :))) its starts out easy but gets a little harder each time . Not hard to play just flipping squares to create matches that's how you'll make points. Each level has its own requirement[how many points you'll need to get to the next level] if you don't make you go back to the start :))) which is zero of course.
Jeu BigCherryArcade #7 CONCASSEUR DE PIÈCES :)))
http://bigcherryarcade.com/crushER/
ok voici le dernier ajout au jJeu BigCherryArcade #7 CONCASSEUR DE PIÈCES :)))ma version de candy crush :)))
ça commence facilement mais devient un peu plus difficile à chaque fois. Pas difficile à jouer, il suffit de retourner des carrés pour créer des correspondances, c'est ainsi que vous ferez des points. Chaque niveau a sa propre exigence [combien de points vous aurez besoin pour passer au niveau suivant] si vous ne vous faites pas revenir au début :))) qui est zéro bien sûr.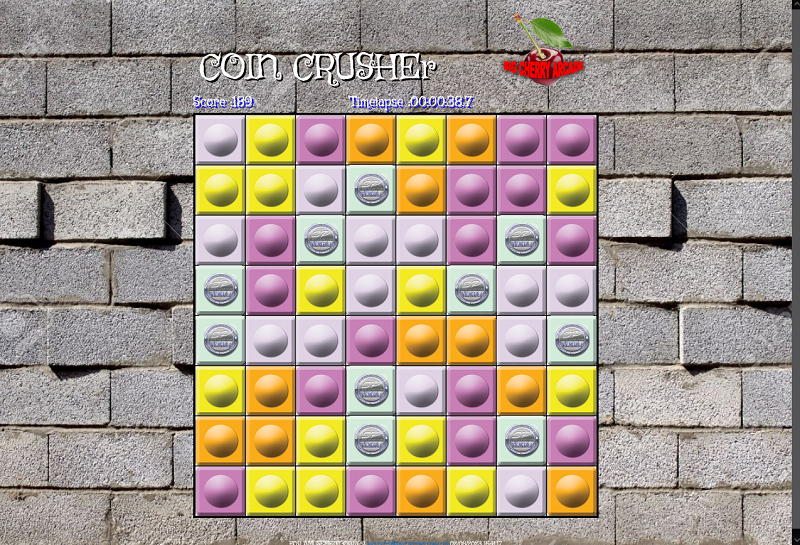 It may take a while if you haven't played before or tried a similar game still waiting for a bug report eh :) oh if you have to resize you should do it before you open the game instruction window other wise you might have an out of focus coordinate window, you could experience problems playing just refresh the screen F9 before starting.

Okay cela peut prendre un certain temps si vous n'avez pas joué auparavant ou essayé un jeu similaire en attendant toujours un rapport de bogue hein :) oh si vous devez redimensionner, vous devriez le faire avant d'ouvrir la fenêtre d'instructions du jeu, sinon vous pourriez avoir une sortie de la fenêtre de coordonnées de mise au point, vous pourriez rencontrer des problèmes en jouant, il suffit de rafraîchir l'écran F9 avant de commencer.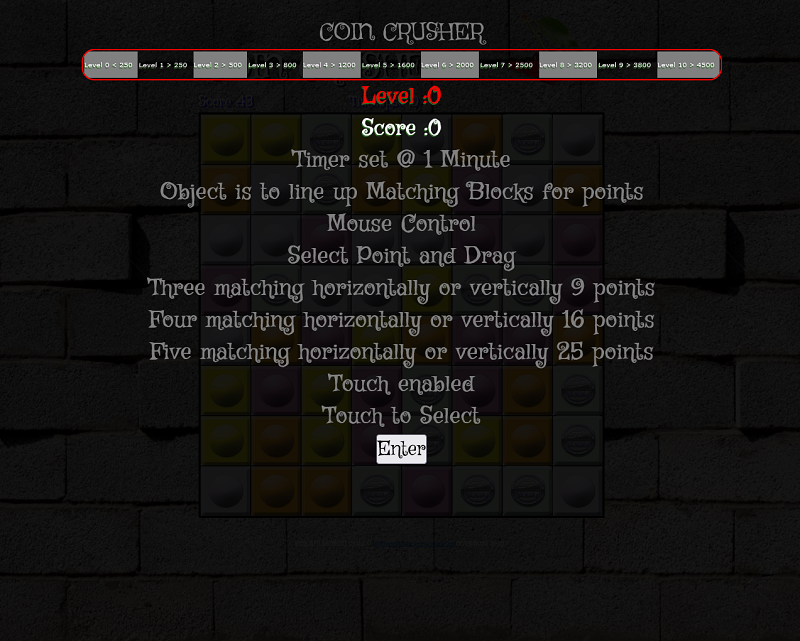 The instruction are pretty simple drag and drop using your mouse or tablet hint : the more you manage to match up the more points you will make still looking at this i might increase the points as the game gets harder anyways let me know whacha thinking :)))

Les instructions sont assez simples par glisser-déposer à l'aide de votre souris ou de votre tablette. Plus vous parvenez à faire correspondre, plus vous marquerez de points en regardant cela, je pourrais augmenter les points à mesure que le jeu devient plus difficile, de toute façon, faites-moi savoir ce que vous pensez :) ))

as the collection grows:) here are the links so far au fur et à mesure que la collection s'agrandit :) voici les liens jusqu'à présent

http://bigcherryarcade.com/crushER/
http://bigcherryarcade.com/BubbLES/
http://bigcherryarcade.com/froggy/
http://bigcherryarcade.com/tremiNO
http://BigCherryArcade.com/sweeper
http://bigcherryarcade.com/snaKE
http://bigcherryarcade.com/wheel

your critiques and suggestions are welcome thanks :)
vos critiques et suggestions sont les bienvenues merci :)

and enjoy :)))
@darsico