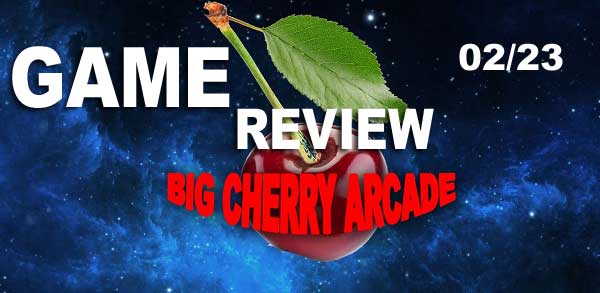 BigCherryArcade game review week of feb 25
Revue du jeu BigCherryArcade semaine du 25 février
BigCherryArcade game #8 INVADERS :)))
Jeu BigCherryArcade #8 ENVAHISSEURS :)))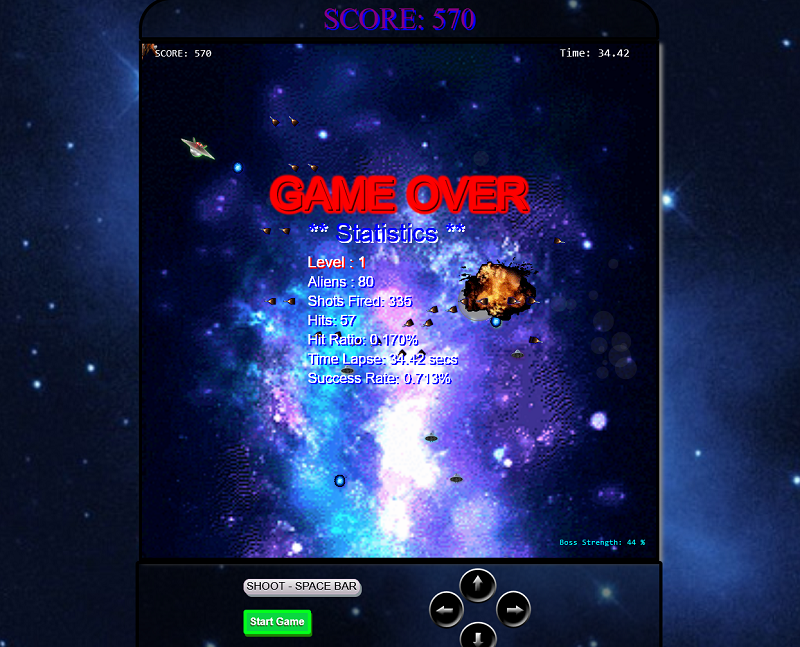 this is the latest addition to the collection has been revised with a larger play area most bugs have been fixed the targeting works great so many little things and oh yeah sound effects really change the look and feel also added a few more improvements like more bosses and levels not to forget this game geta harder and harder so in all probability i didnt make and end where you beat the machine as it gets a little faster and faster chances are :))) but it a lotta fun but as always i need feed back in order to improve users experiences.


c'est le dernier ajout à la collection a été révisé avec une zone de jeu plus grande la plupart des bugs ont été corrigés le ciblage fonctionne très bien tant de petites choses et oh oui les effets sonores changent vraiment l'apparence et la sensation ont également ajouté quelques améliorations supplémentaires comme plus de patrons et niveaux pour ne pas oublier que ce jeu devient de plus en plus difficile, donc selon toute probabilité, je n'ai pas fait et fini là où vous avez battu la machine car elle devient un peu plus rapide et plus rapide, il y a des chances :))) mais c'est très amusant mais comme toujours j'ai besoin de commentaires afin d'améliorer l'expérience des utilisateurs.
BigCherryArcade game #7 COIN CRUSHER :)))
Nouveau jeu BigCherryArcade #7 CONCASSEUR DE PIÈCES :)))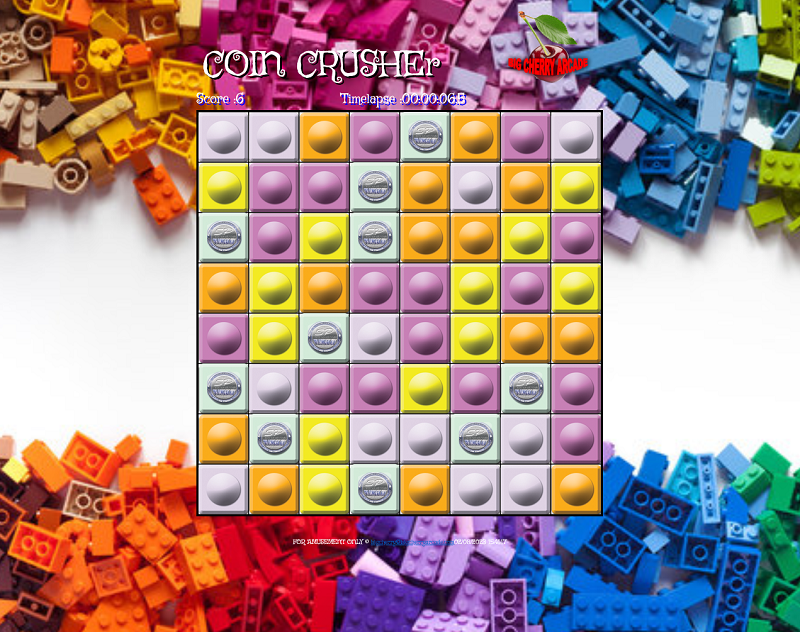 The CoinCrusher my version of candy crush this game also has undergone a lotta changes look and feel still wondering if i should replace the blocks with crypto logo such as bitcoin but that can be easily modified later on if needed :)
Le CoinCrusher, ma version de Candy Crush, ce jeu a également subi de nombreux changements d'aspect et de sensation, je me demande toujours si je dois remplacer les blocs par un logo crypto tel que Bitcoin, mais cela peut être facilement modifié plus tard si nécessaire :)
BigCherryArcade game #6 Guber Popping Bubbles :)))
Jeu Big Cherry Arcade # 6 Guber péter les Bulles :)))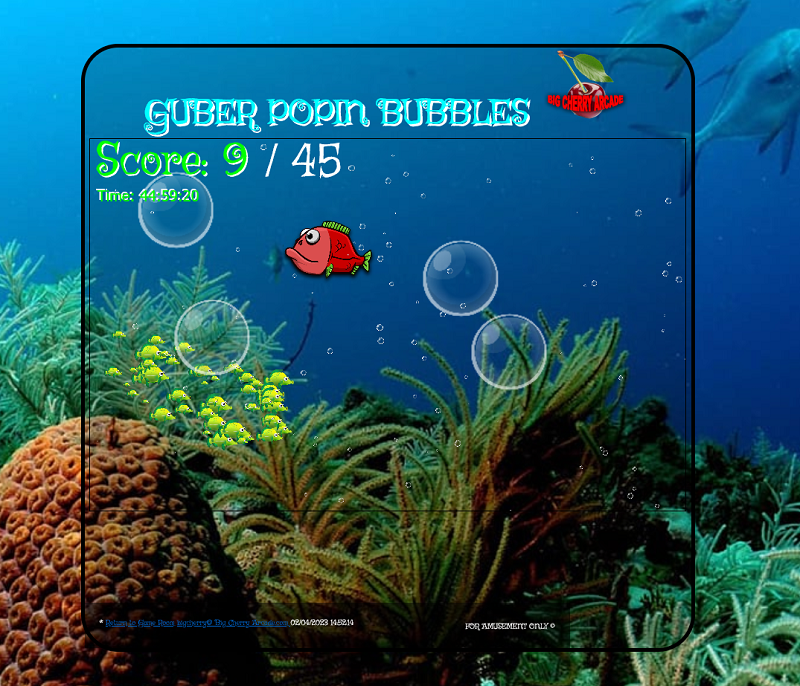 This game is still the easiest to play i have even gotten some applauds from animals lovers because this one goes over well with the pussy cats eh :))) and appreciation is what its all about if there is anything that would make it better please leave a note.
Ce jeu est toujours le plus facile à jouer, j'ai même reçu des applaudissements de la part des amoureux des animaux parce que celui-ci va bien avec les chats de chatte hein :))) et l'appréciation est de quoi il s'agit s'il y a quelque chose qui le rendrait meilleur, veuillez partir une note.
BigCherryArcade new game #5 Froggy
BigCherryArcade nouveau jeu #5 Grenoulle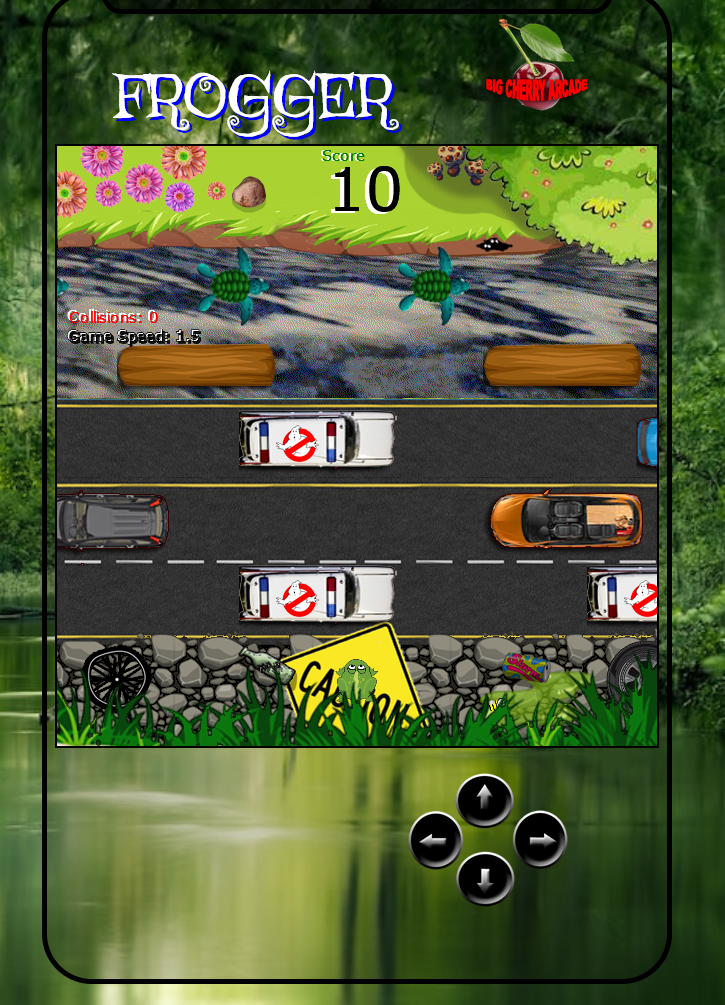 Now this game i played way back it was on its own little console like a real arcade machine gave me hours of amusement and i really never got to the end either :)))
Maintenant, ce jeu auquel j'ai joué il y a longtemps, c'était sur sa propre petite console comme une vraie machine d'arcade m'a donné des heures d'amusement et je n'ai jamais vraiment fini non plus :)))
BigCheryArcade game #4 Retro Tetriss
BigCheryArcade jeu #4 Retro Tetriss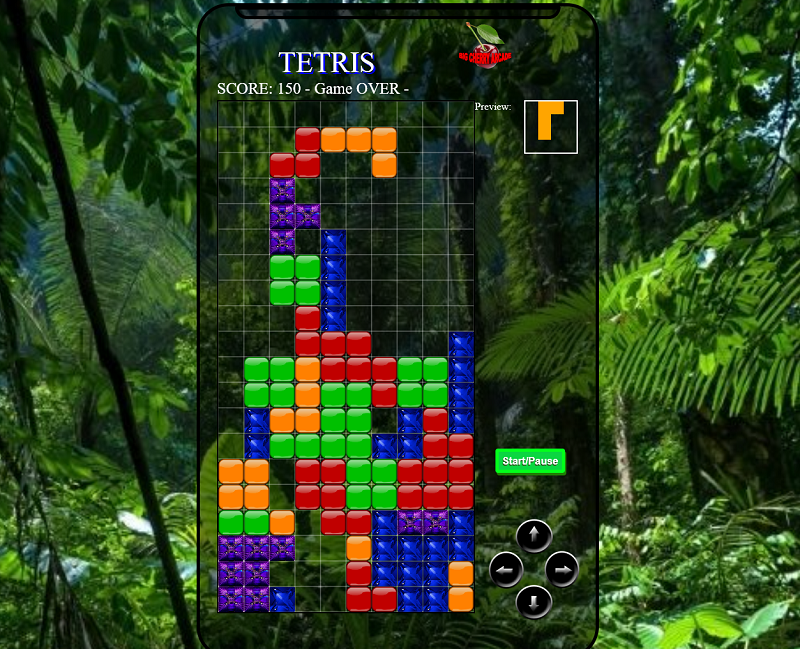 I like this game i have to say its one of my favs . This is a game of luck and persistence it is possible to get to high scores but you gonna have to be able to plan your moves carefully a lot of metal agility goes on trying to fill those lines . Its challenging even for the best of us.
J'aime ce jeu, je dois dire que c'est l'un de mes favoris. C'est un jeu de chance et de persévérance, il est possible d'obtenir des scores élevés, mais vous devrez être capable de planifier vos mouvements avec soin, beaucoup d'agilité métallique continue d'essayer de remplir ces lignes. C'est difficile même pour les meilleurs d'entre nous.
BigCherryArcade game #3 Mineswaeper
BigCherryArcade jeu # #3 Mineswaeper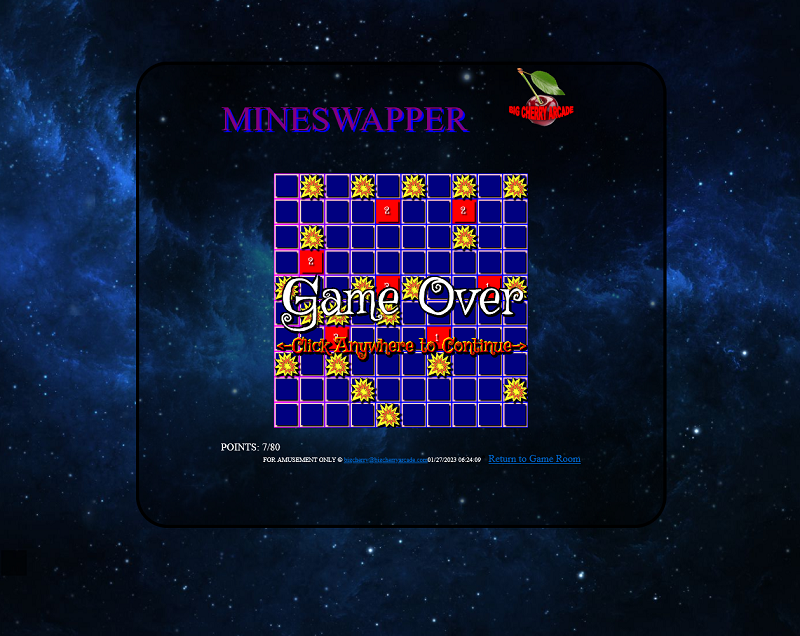 Now here's a game of strategy eh . Each square will reveal how many bombs are placed in its vicinity this information combined with the info from other blocks will give you an idea where not to click you can use the flags by right clicking them if you flag all the bombs you win if you uncover a the safe blocks you win !

Voilà maintenant un jeu de stratégie hein. Chaque carré révélera le nombre de bombes placées à proximité. Ces informations combinées aux informations d'autres blocs vous donneront une idée de l'endroit où ne pas cliquer. Vous pouvez utiliser les drapeaux en faisant un clic droit dessus si vous marquez toutes les bombes que vous gagnez si vous découvrez. a les blocs de sécurité vous gagnez !
BigCherryArcade game #2 Snake
BigCherryArcade jeu #2 Serpent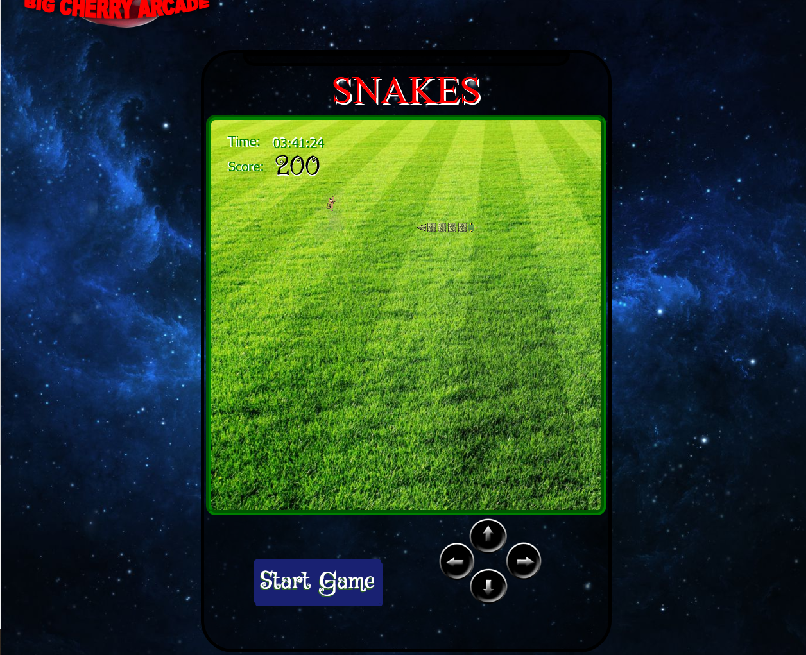 An older game goes way back one of the games on my old nokia so much more fun and easier to play on a PC.
Un jeu plus ancien remonte à l'un des jeux de mon ancien nokia tellement plus amusant et plus facile à jouer sur un PC.
BigCherryArcade game #1 WHEELOFFORTUNE i
BigCherryArcade jeu #1 LA ROUE DE LA FORTUNE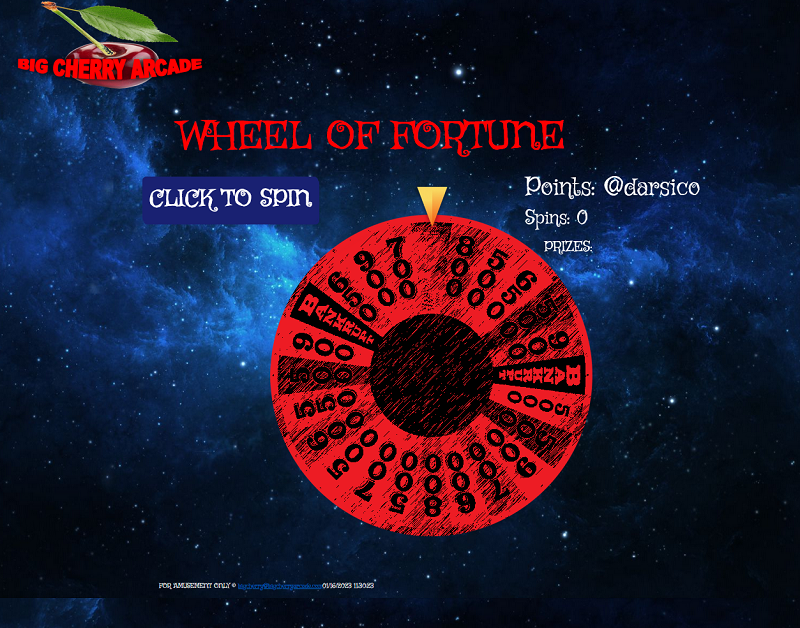 The game that started it all i guess something for random events that might need a number truth is the wheel can be changed for anything event or choice of numbers or prizes i think there could be a multitude of real time usage.
Le jeu qui a tout déclenché, je suppose que quelque chose pour les événements aléatoires qui pourraient nécessiter une vérité numérique, est que la roue peut être modifiée pour tout événement ou choix de numéros ou de prix, je pense qu'il pourrait y avoir une multitude d'utilisations en temps réel.

as the collection grows:)
au fur et à mesure que la collection s'agrandit :)
http://bigcherryarcade.com/inVaders/
http://bigcherryarcade.com/crushER/
http://bigcherryarcade.com/BubbLES/
http://bigcherryarcade.com/froggy/
http://bigcherryarcade.com/tremiNO
http://BigCherryArcade.com/sweeper
http://bigcherryarcade.com/snaKE
http://bigcherryarcade.com/wheel

your critiques and suggestions are welcome thanks :)
vos critiques et suggestions sont les bienvenues merci :)