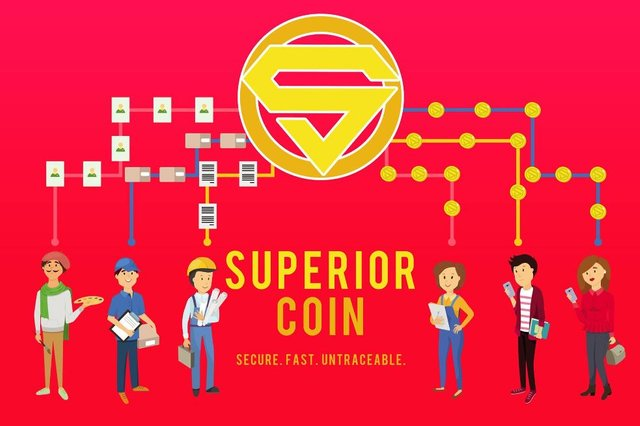 ABOUT SUPERIORCOIN
PRIVATE, SECURE AND SCALABLE
Superior Coin is a secure, private, untraceable currency. Unlike many cryptocurrencies that derivatives of Bitcoin. Superior Coin is based on the CryptoNote protocol and possesses significant algorithmic differences relating to blockchain obfuscation. Superior Coins main emission curve will have issued about 1.5 billion coins to be mined in over 30+ years. Superior Coin protects privacy in three wats for all transactions on the network.
Ring signatures hide the sending address.
RingCT hides the amount of the transaction and
Stealth address hide the receiving address of the transaction.
Superior Coin is the first decentralized secure, private and untraceable currency pays dynamic block rewards along with ASIC RESISTANCE
SPECIFICATIONS
Type: POW (Proof of Work)
The new block size (NBS) is compared to the median size M100 of the last 100 blocks
Algorithm: CryptoNote
Difficulty Retarget: CryptoNote Difficulty adjustment per block
Block Time: 2 minute
Fee Transaction: minimum of 2 SUP
Total Supply Coins: 1.5 Billions
Emission Tate: 35+ years
Pre-mine: 300 Million
HOW IS THE PRE-MINED DISTRIBUTED
100 Million Sold in Pre Sell
To be dripped out daily.
200 Million lock_transfer
Locked on a 4-year cycle where 1.8% are unlocked per month. Of that 1.8% distributed as follows: 0.45% to reward users on our platform, the other 1.35% will be lock_transfered back into the blockchain for another 4 years where the cycle will repeat itself.
ACHIEVEMENTS
Here is a list of some of the Achievements that been accomplished over the past 2 years.
Released ICO coins to all investors
Implementation of Superior Coin on Kryptonia.io and Kblog.io
On Exchanges
9 Mining Pools
On CoinMarketCap
On BlockFolio
GUI wallet
Mobile wallet
Online wallet
V7 cryptonight
ASIC Resistant
Dynamic Rewards
Steemit voting bot
FUTURE PLANS
SuperiorCoin and the platforms around SuperiorCoin are continuing to be developed.
The next version of SuperiorCoin is being tested and planned to be released shortly with a hard fork (network update).
Other SuperiorCoin platforms are being developed to be launched this year which includes the following:
Kryptonia Exchange
Image hosting platform
Talent Exchange
Collaboration Apps
SUPERIOR COIN LINKS
KRYPTONIA LINKS
ADDITIONAL LINKS
If you want more information or want easy way to buy Superior Coin contact me on Facebook Messenger or Telegram
---



Share your Steemit Posts on Kryptonia.io --> SIGNUP HERE