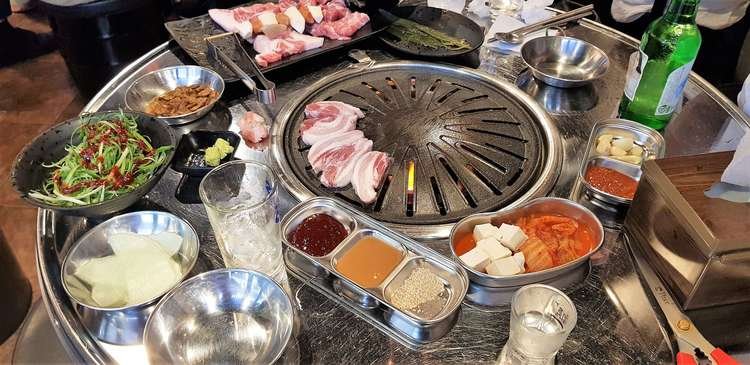 I generally eat BBQ or grilled meat at least 1 time a week. If I avoid this, I tend to get frustrated and angry at life. I can be a vegetable eater for a few days, but it's hard to go more than a week. Also, when I fail, I like to fail properly. Accidentally eating vegetable soup with a little fish sauce is a sad way to fail.
One thing about Korea is there are hundreds if not thousands of Korean BBQ restaurants. Actually, I think the best Korean BBQ restaurants in the World exist in Korea. However, unlike outside of Korea, in Korea, we just call them BBQ restaurants.
So the other day, I noticed a new BBQ place in my neighborhood called Seok Shi Ggun (석쇠꾼) which is a descriptive title. I wanted to try it, but it was so busy because it was new. It didn't look extremely impressive, being somewhat of a BBQ connoisseur I can tell by the price and the menu, so I wasn't in a rush. In any case, fast forward a month or two and there were a ton of free tables and no wait so I decided to drop in for a taste.
When you look at the menu on the wall, the first thing you notice is Course A and Course B. A is 24,000KRW and B is 33,000KRW. In A there are 3 different cuts of pork and in B there are 4 different cuts of pork. You get 150g of each. I was only with 1 other person so we decided on A. Besides there is a la carte options if you want to punish your body more after your meal. There are also side soups, noodles and rice available.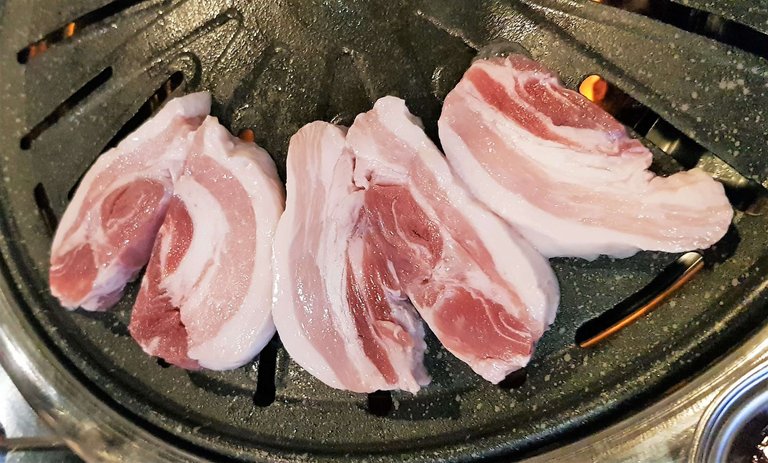 Usually, I have a side soup if it is not provided for free. I avoid eating rice or noodles with my meal when drinking soju. Actually, I had soju, too. 3 or 4 bottles, lol.
The meat was extremely greasy and altogether not that good. Not only was the fire flaming up constantly which means either burnt meat or a lot of attention, but it was just very heavy. It wasn't marinaded or anything foolish, it was just very fatty cuts (which I knew). I blame the restaurant because only one of the cuts was supposed to be extremely fatty. The others it would depend. I didn't think they would punish me this much.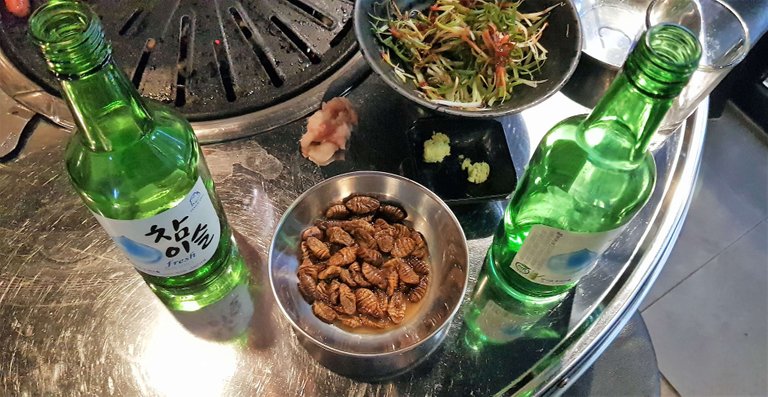 The sides were a disappointment. Normally you get 3 to 5 side dishes and lettuce. Most are usually good. In this case, they gave us a heaping bowl of silkworm larvae. I don't really like to eat this food since I am not a bird, frog or lizard. In any case, some people like eating it.
To be honest, I don't really care about side dishes at these kinds of restaurants since I always just eat the soup and meat anyway, but it's nice to have better options.
The interior of the restaurant was typical and nothing special. There was a big fake cherry blossom tree complete with fake blossoms in the middle of the place. There were also a few real plants by the window.
The tables are your typical BBQ tables that are circular and use real charcoal and not gas which is good. They also have ventilation thankfully. For charcoal, this is a government safety and health regulation. But for gas, it isn't, even though it should be. The amount of indoor air pollutants created by grilling pork is too much for your average air pollution machine to handle.
All in all, I think this restaurant is average. There are better Korean BBQ restaurants in Korea and even in the immediate neighborhood. The quality of the meat was the same as an all you can eat buffet, the side dishes were worse than the buffet and they have exact same cuts available. I think the only thing that made this place better than the buffet across the street is the real charcoal.
Anyway, here is the Naver website: https://store.naver.com/restaurants/detail?id=1121845484
---
Restaurant Information

Seok Shi Ggun 석쇠꾼



295-1 Yuljeon-dong, Jangan-gu, Suwon, Gyeonggi-do, South Korea
---
Visit the New BBQ Meat Course Grill Joint
This post participated in the Tasteem contest Your weekly choice