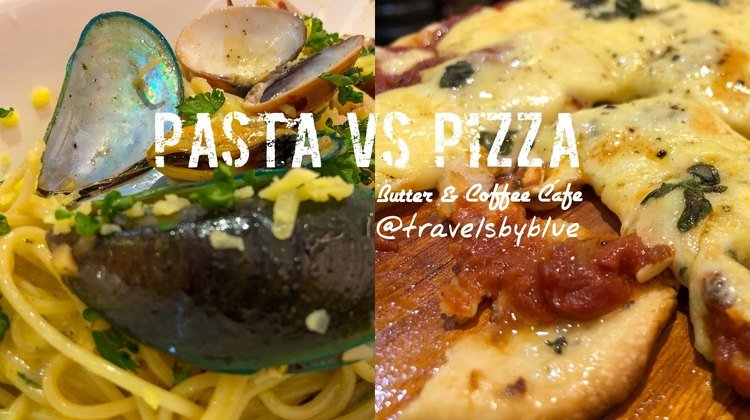 Hello Steemitverse and Foodies around the world!
It was one Saturday afternoon when I was craving for some Italian food but I'm too lazy to cook. A unfamiliar cafe was keep on popping in my news feed in one of my social media accounts (facebook) with its irresistible menu and luckily it's just around my area, maybe because my location was enable for the app.
It was only 10 minutes drive from home, located in the city proper of Lucena called "Butter and Coffee Cafe".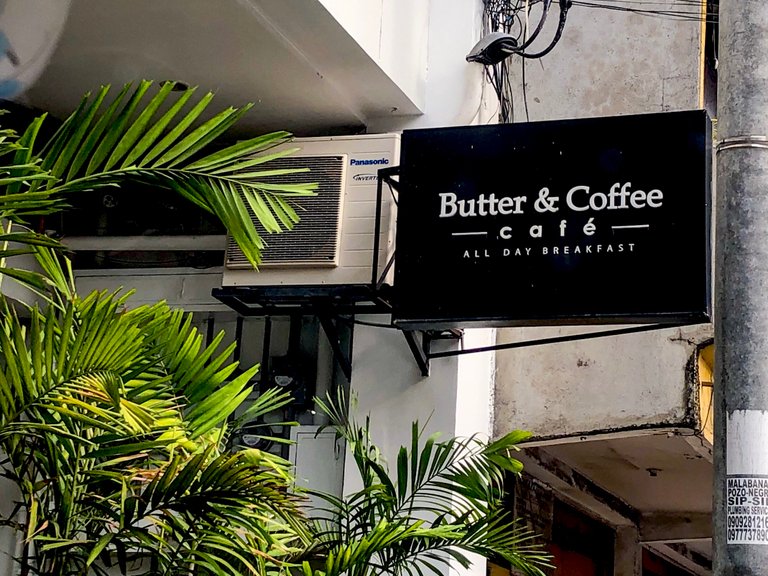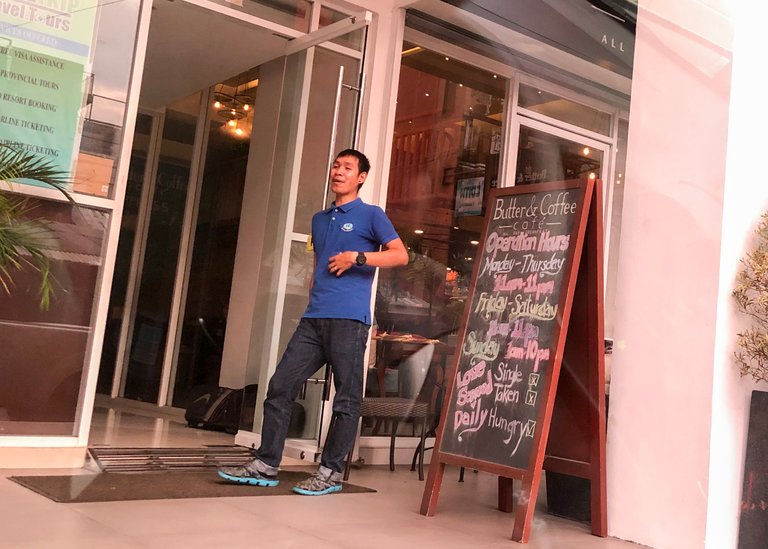 The outside of the cafe were simply designed with the standard signage and other stuffs written on the chalkboard standee near the entrance with exterior glass wall.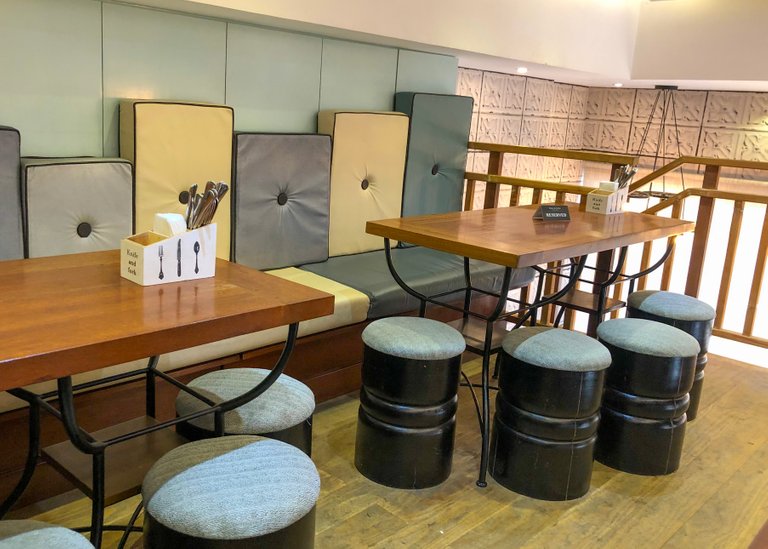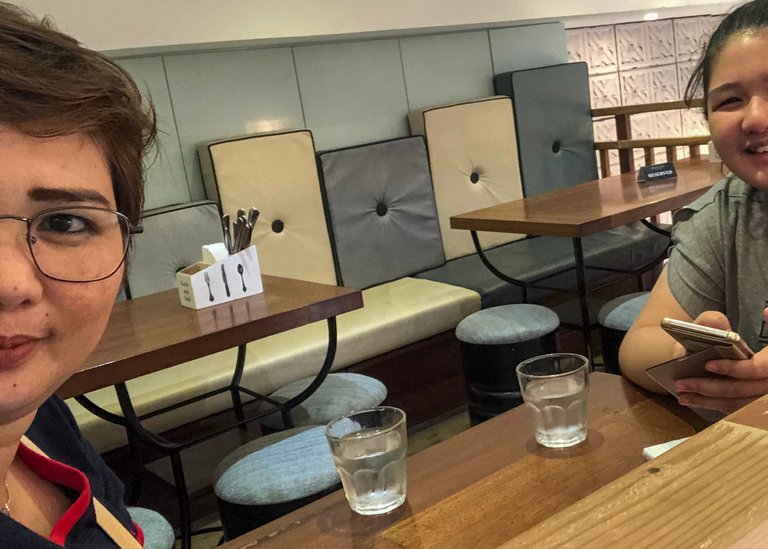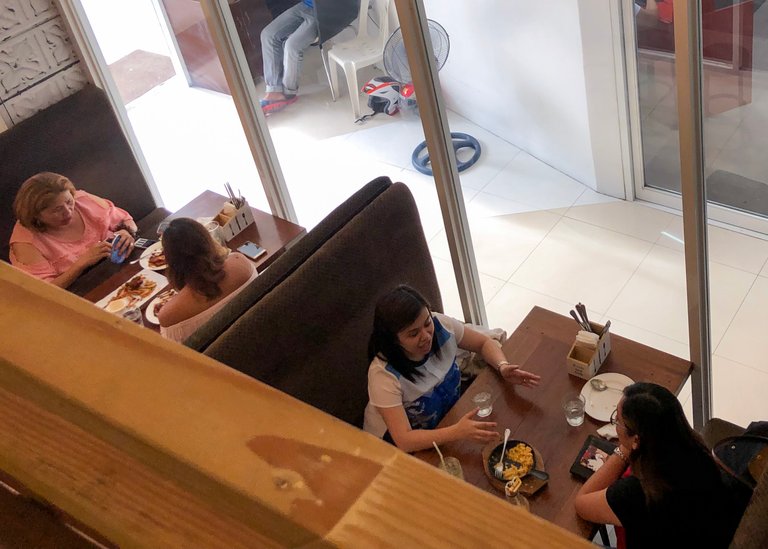 But when I get inside, I was really surprised. The place was unexpectedly amazing, the photos from the internet promotion did not lie. Though the place is kinda small, like 20 sq meter or something but they maximized every inch of the area. With its cozy European vibe, having a loft (where we're seated), four sets of table are arranged and another 4 tables on the ground while under the loft was the counter and kitchen.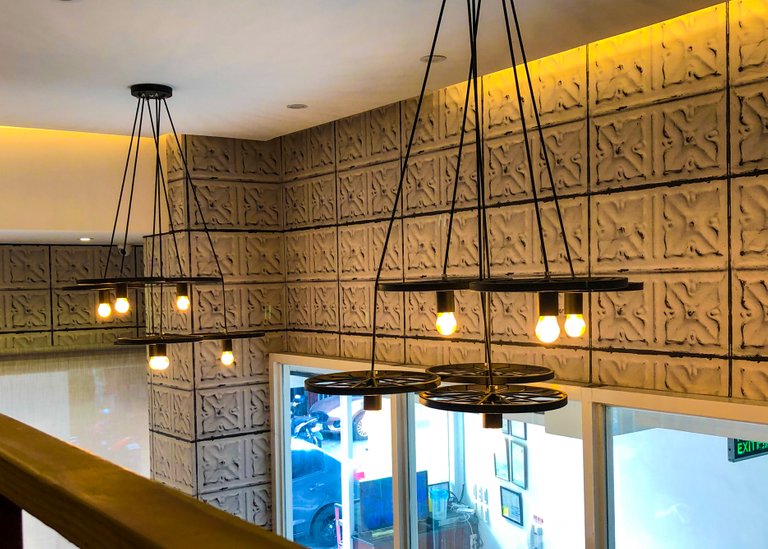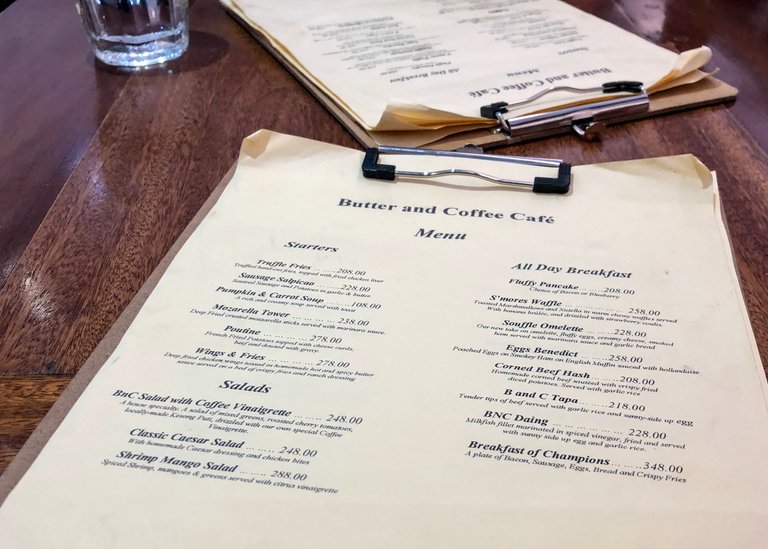 It has some unique decorations caught by my eyes and the coolest among them that I really like was their menu which is printed in some kind of an old paper, so classic.
And speaking of menu...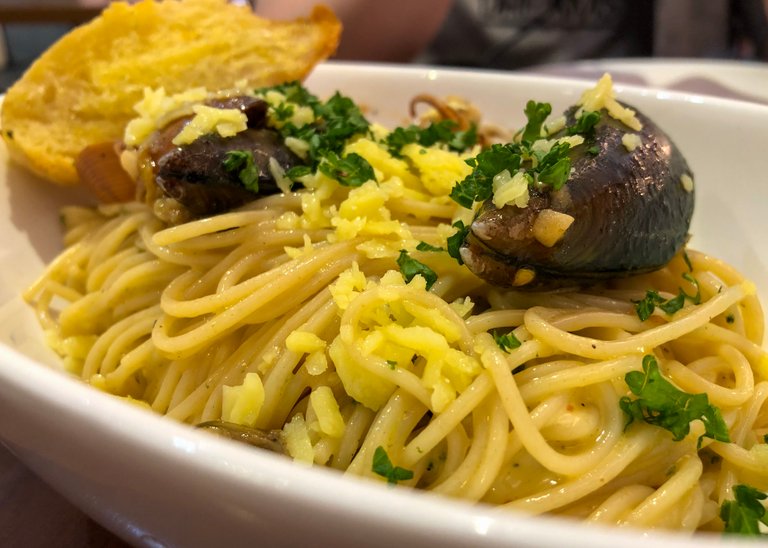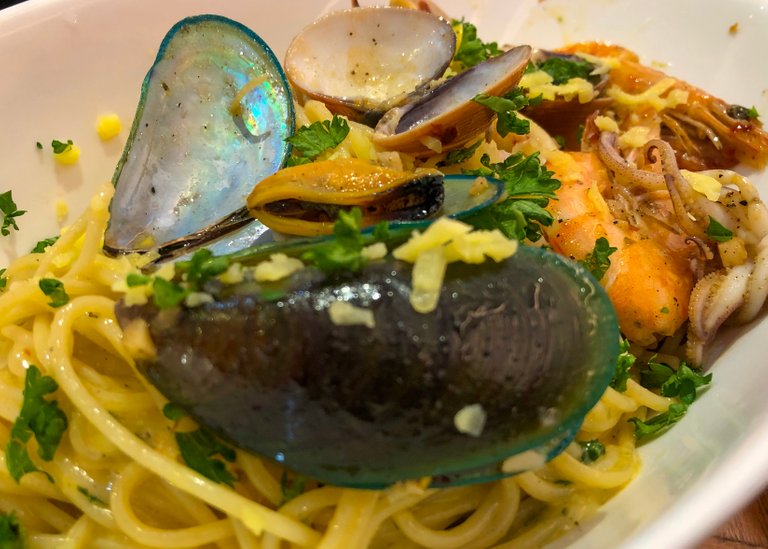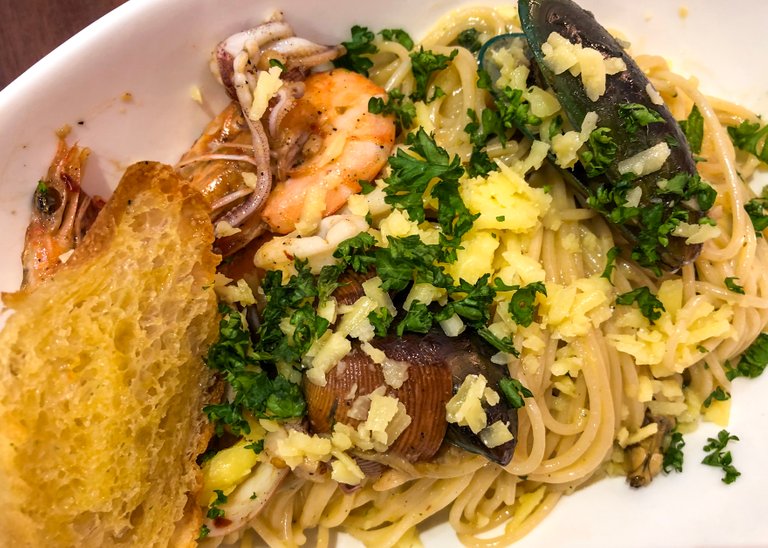 Ugh! This Seafood Aglio Olio, I am not exaggerating but this is the best! The best seafood aglio olio pasta I ever tasted here in Lucena City, it was really hard to find something as good as this one. The taste was perfect for me, not too oily, not too salty, the pasta was al dente and real fresh seafood (shrimps, mussels, clams and squid) cooked in perfection. Topped with fresh parsley and garlic bread on side. The serving is also big for a single order and enough for two persons.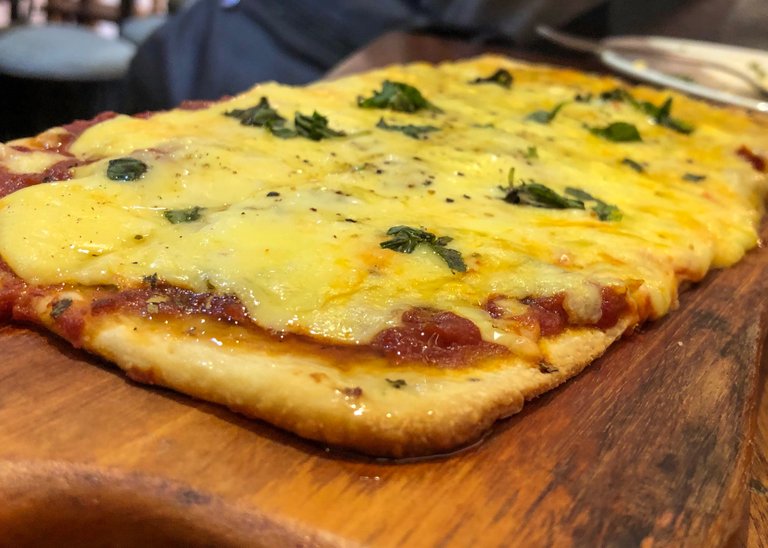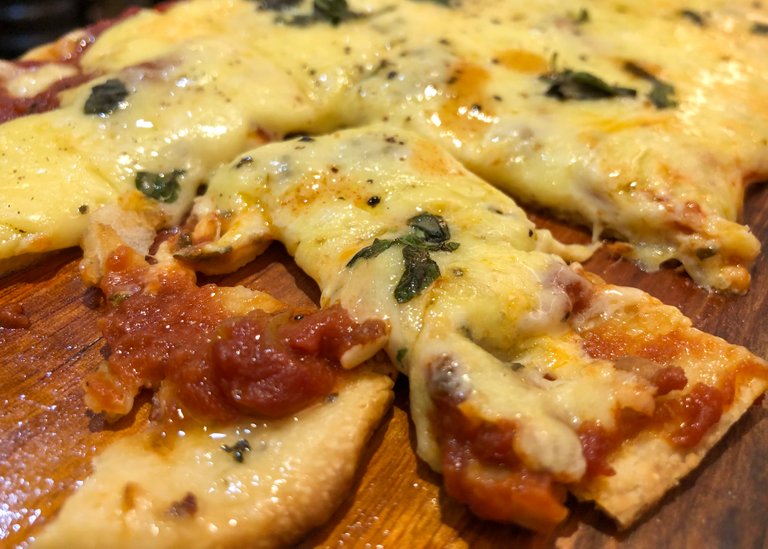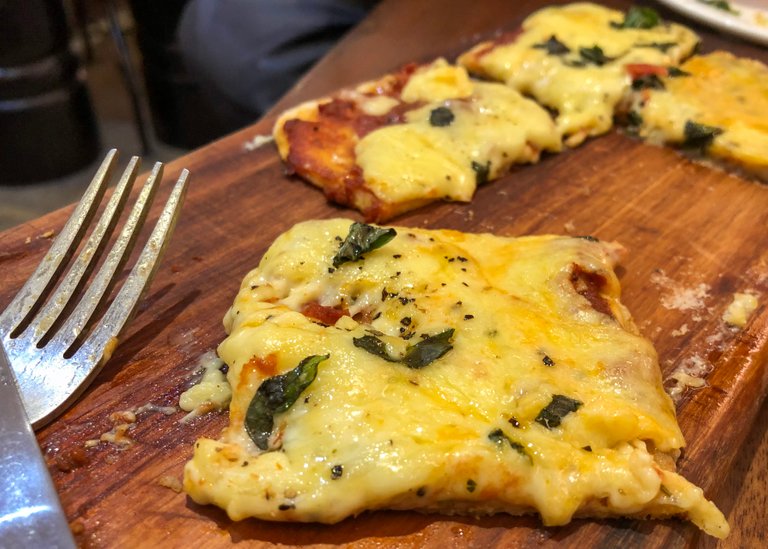 Another authentic pizza that we had was the Four Cheese Pizza, freshly baked thin pizza crust with mozzarella, cheddar, parmesan and monterey jack cheese, fresh basil and Italian pizza sauce. This pizza overloaded with cheese was unbelievably light and delicious, each flavors are not overpowering. By just looking at the photo makes me drool right now. 🤤😅 It was my daughter's choice and she actually ate most of it like 6 slices and only got 2. Haha!
Pizza and pasta are always good together.
To complete our Italian food trip, we paired it with our favorite dessert - ice cream or the best version... Gelato!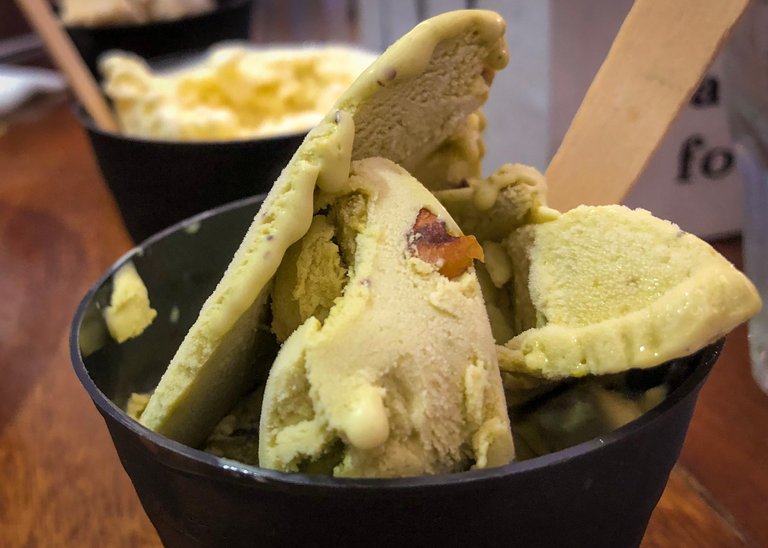 Pistachio Gelato

Salted Caramel Gelato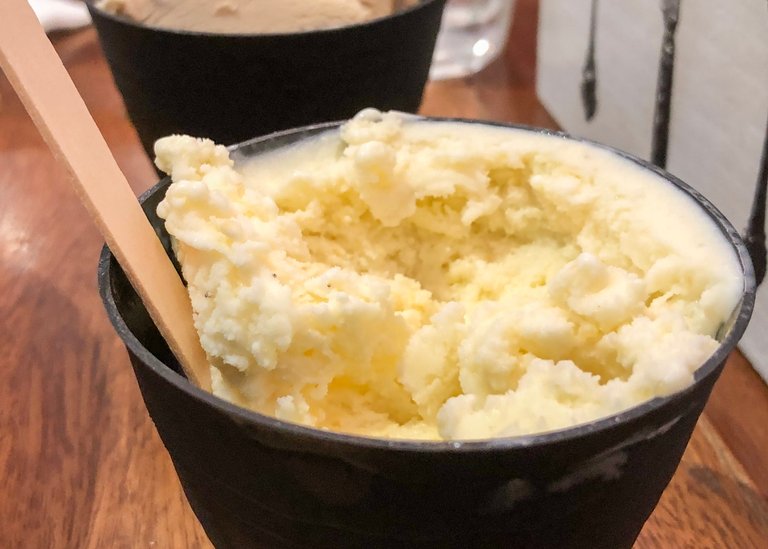 Four Cheese Gelato
Again, Butter and Coffee Cafe had the best gelato ever here in Lucena City. Haha! The texture and taste was sure real, pure indulgence. I never get tired of this flavors. Luscious!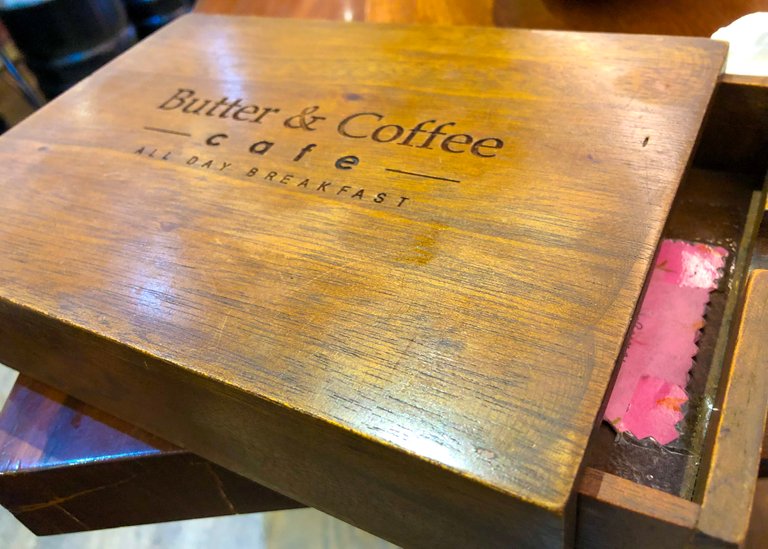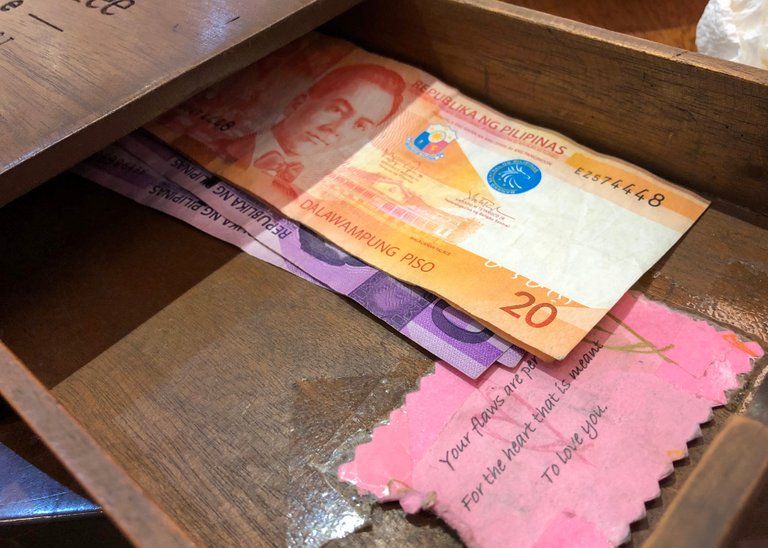 This meal was cost 760.00 Php / 15.00 USD, a good price for a good food like this. Another unusual in my observation is the wooden bill box with quote attached inside. 😉
Also, the staffs of this cafe are very friendly, accommodating and attentive to your needs. So, if you're up for some kind of cozy place here in Lucena City, Quezon and good food, you must visit this cafe.
Thank you and have a good day.
xoxo,
@travelsbyblue
---
📸 I OWN ALL PHOTO/S AND CONTENT POSTED ABOVE 📝
---
Restaurant Information

Butter and Coffee Cafe



Enverga Street & Osmeña Street, Lucena, 4301 Quezon, Philippines
---
STEEM Food Tours #82 : Butter and Coffee Cafe • Lucena City, Philippines
This post participated in the Tasteem contest Pasta vs Pizza