We already have a society where true critical and free thinking has been degraded through the robotic education system that promotes conformity. But it's not the only factor that is helping to dumb down future generations.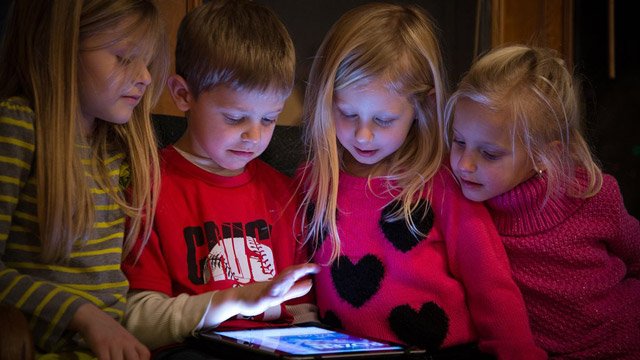 Source
Too much screen time from smartphones, tablets or computers, is now being linked to reduced brain development in children. Specifically in the areas linked to language and literacy.
The study was done by researchers at the Cincinnati Children's Hospital Medical Center. They compared scans from 47 children aged 3 to 5, along with their reported screen time.
Exceeding one-hour per day resulted in a lower structural integrity of white matter in brain areas associated with imagery, mental control and self-regulation. Those children also did worse in cognitive tests.
The first 5 years of life are crucial to development, as the brain/mind is very malleable/plastic and soaks up everything and it last for life. The last generation who has grown up immersed in electronics has changed childhood, and the brain.
Screens are common place for children, and the frequency of use increases as they grow up. Of the children studied, the average screen time was 2 hour per day, with the highest at 12 hours. About 60% had a portable device and 41% had one in their room.
This doesn't mean the screen time is what necessarily causes the deficits themselves. But the increased screen time takes away from spending time doing other things which better promote the development of those brain regions, such as interacting with family. In turn, family members are also heavily using screens, which cuts into their ability to interact with the children.
Lead author and pediatrician Dr. John Hutton says:
"Kids this age, they need human experiences for their brains to develop optimally and reinforce these tracts. We just really need to be careful about making sure kids have access to these same human interactive experiences that probably our brains are wired to require."
Recommendations to resolve this are to create media-fee time for the family to spend time together, and to create media-free locations in the home.