Hello everyone!
Breeze DAO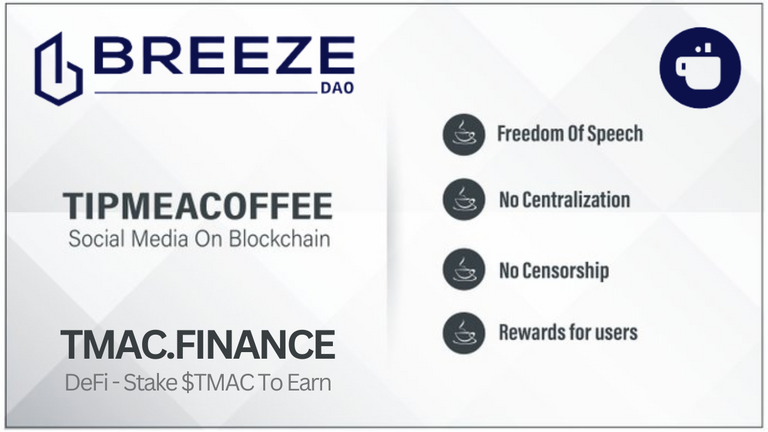 Breeze is a decentralized autonomous organization which has mainly come to provide the decentralized and an open source social media and to reward the social media users for their activities and to provide the freedom of speech without any resistance.
Breeze has developed following dApps:
Tip Me A Coffee (Social Media)
Tmac.finace (DeFi)
Tip Me A Coffee
Now a days there are a lot of social media networks with a lot of users as everyone is linked with the social media networks. But all those social media networks and applications are controlled by the central authorities and the users do not have freedom of speech, and users are also not rewarded for their activities.
Breeze Foundation has introduced Tip Me A Coffee social media to cope with these problems. Tip Me A Coffee has been developed on the Breeze Blockchain with the following features:
Tip Me A Coffee provides freedom of speech
There is no centralization
There is no censorship
Tip Me A Coffee is a #share2earn social media which rewards its users for their activities. When users share their content at Tip Me A Coffee they are rewarded with the $TMAC tokens when others like(upvote) their content. When users like (upvote) others then they get the curation rewards which are directly transferred to their accounts.
Tip Me A Coffee Affiliate Program
Tip Me A Coffee has a wonderful affiliate program which makes it more unique than the other social media platforms. When users refer others with their referral link they become eligible for the lifetime rewards. Whenever anyone likes posts of referrals the referring person earns 2% rewards of that upvote.
TMAC.FINANCE
Breeze Foundation has its own wonderful DeFi on the binance smart chain named as Tmac.finance, It is the best best DeFi with the following unique features:
There is no staking fee
There is no unstaking fee
Flexible staking
You can enter at any time
You can exit at any time
Withdrawal at any time
Tmac.finance Affiliate Program
Tmac.finance offers exciting referral reward. When anyone joins tmac.finance DeFi with your referral link, referring person gets 10% of all the rewards earned by the referral.
---
Useful Links
Breeze Foundation | Tip Me A Coffee | Tmac.finance | Breeze Explorer | Submit Proposals | Forum | Help Desk
---
Social Media Handles
Twitter | Telegram | Discord | Medium
---

All the pictures are the authority of the @tipmeacoffee .