3comma – The Best Crypto Trading Bot for Beginners
You have probably heard of bots for trading cryptocurrencies, and high frequency trading programs for stocks, but thought to yourself, "I don't know the first thing about bots or programming and I'm not even that good at day trading!" If this is you, the 3comma crypto trading bot is perfect for you. Every day people are making money day trading without even looking at a chart or clicking a button, and if you get the right trading bot working correctly, so can you. 3comma is an easy to set up, beginner friendly bot that requires no programming knowledge at all. In this article I will tell you a bit about how it works, but if you want to go to their site now, you can use my special Steemit referral link: https://3commas.io/?c=steem
The Power of Compounding Interest and Automated Trading
Trading bots are incredible because if you can get them working right, and you get harness the power of compounding daily interest, you can be a rich man in no time. Think about this… If you had $1000 in an account and could make 1.5% daily, reinvested, for 365 days, you would have over $229,000 in just one year. This is the power of compounding interest. This is the power of investing by hard set rules that don't change, like bots do.

This calculator can be found at this site. Play with the numbers and see how powerful daily, consistent, compounding returns can be for growing wealth quickly.
SmartTrade System to Lock in The Most Profits Possible
The 3comma trading bot connects to crypto exchanges easily including by Binance, Kucoin, Bittrex, Poloniex, GDAX, and other exchanges. The platform tracks your holdings on the sites and allows you to automate your trades so you are able to walk in the most possible profit on every trade even if you're not at your computer. The SmartTrade and SmartSell feature allows you to set a Take Profit and a Stop Loss on any, or all of your positions at the same time.
As you can see in my screenshot, on this trade I have set three different Take Profit price points that will trigger a different amount of the currency to sell once the price is hit. The trailing stop gives us wiggle room in case the coin price rises higher than expected, the sale will not be triggered until the price moves in the opposite direction up to the specified percentage amount you are comfortable with. At the same time this crypto trading bot lets us set a stop loss so if the coin price never moves up, and starts to fall, a sell order will be placed to cut your losses.
Free Crypto Trading Bot Parameters for You to Copy
3comma also offers automated cryptocurrency trading bots that run on multiple parameters and will continuously make trades throughout the day. They run on a very simple goal of trying to buy a coin lower and immediately sell it higher. If you are a beginner this is the best crypto trading bot. This automated scalping algorithm was available on the site for me to copy for free, and all I had to do was make the adjustments that I wanted. The bot was set up to buy any number of coins paired with Bitcoin that were showing a status on Trading View of either "Buy" or "Strong Buy" with over 30 BTC volume trading in the last 24 hours.
How It Works
This crypto trading bot works by opening small positions on coins with buy signals and then immediately sets a sell order at a higher price based on the target profit percent that you set. If the price of the coin drops after the bot purchases it, the bot will place automatic by orders to dollar cost average down the entry price of the position. These are called safety trades, and the parameters for them can be set to your specifications to limit the number of times a safety trade is opened to DCA down. In this example I have my target profit at 1.5%, and my safety trades set to trigger when the price drops 1% from the opening cost.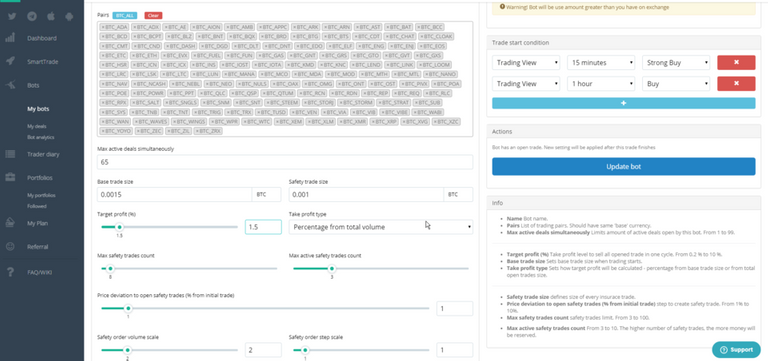 After running the bot for 24 hours on a small account I set up to test it, my net return for the day was 0.75% profit and ran 125 trades. My goal is to get to 1.5% profit per day which should leave me with at least 1% profit after exchange fees and the monthly cost of this program. I am sure that with practice and better understanding of the bot as time goes on, I will be able to easily program this cryptocurrency trading bot to make money scalping, and even shorting coins with its easy set up and analytics.
Try It For Free and See If You Like It For Your Self!
There are a few different pricing plans that you can choose when you sign up for 3commas, depending on the number of exchanges you want to hook up to and your individual needs, but all in all the cost of the subscription is well worth paying for if you can get your trading bot programmed to profit from high-frequency trading against the quick price action on the exchanges. Either way, make sure you give this bot a try because they are offering a free three-day unlimited membership when you sign up with my referral link. You will also get a 10% discount on the first deposit you make if you decide to sign up and pay for one of their subscriptions. I hope you guys have success with this bot, and we can share tips with each other on what settings have been working to make the most profits. And remember… All you need is to make 1% per day and you will be rich in the time. Sign up for 3comma.
Sign Up for Binance, Kucoin, or Coinbase