Today's analysis I write on Monday. The main reason is that Sunday night was not decisive on the market and it was not very clear whether the next day we will wake up 300 USD higher or lower. On Monday after lunch, the market signaled where the Bitcoin price could move at the end of the year.
Has the BTC price already found the bottom?
After the previous analysis, there were further declines. The Bitstamp minimum price was 3122 USD. But buyers are starting to be a little bit nervous, so there was a return back over 3200 USD on Sunday. A small pump appeared on Monday after lunch and sent price to 3400 USD. It could appear to us that the bottom has already been found. Is that right?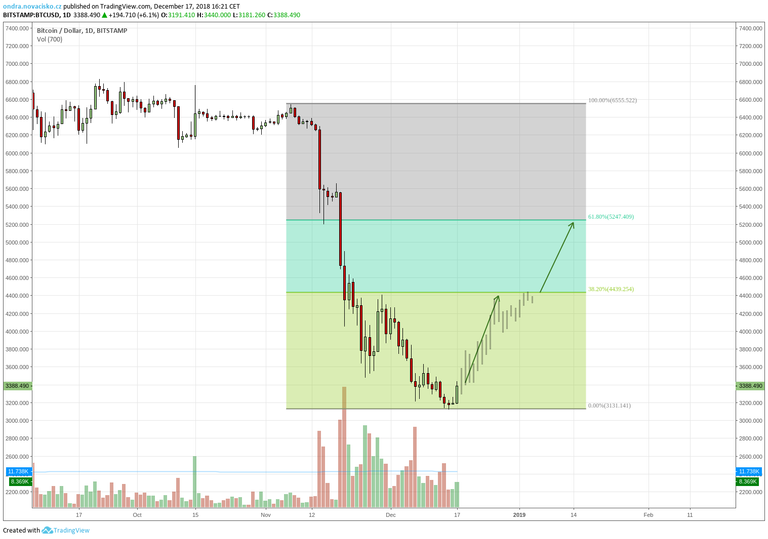 The analysis is not very different from the previous one. We will speculate on growth. Up to 61.8% retracement. This should be at 5247 USD. However, the first resistance may be 4440 USD, which corresponds to 38.2% retracement. I am a moderate optimist in the next development, and I think that until Christmas, the growth can continue. If HODLers also believe this and they will not be getting rid of their BTCs, then we can go upwards.
Sentiment in the market, shorts and longs
Bitfinex: short (35k: 40k) - Longs grow more than shorts
OKEX top traders: short (47:51)
BitMEX leaderboard: short (47:53)
Recommendation: Buy and hold at least until the first resistance (4400-4440). Stoploss at 3100 USD.
---
Disclaimer: These articles cannot be considered as an investment advice, and it is still a good idea to make speculation on bitcoin stock exchanges only with funds you can afford to lose. The high profit potential is balanced with a significant risk of losing, especially here on the crypto markets.
Česky: https://btctip.cz/kurz-bitcoinu-analyza-spekulace-na-rust-trva/
---
View this post on Steeve, an AI-powered Steem interface