Is the bull finally visiting us?
Last week, I predicted even bigger dump than the one on the Black Friday. This eventually partially happened, although the discount on BTC is not as high as it could have been. Last Friday, on Bitstamp the price went down to 3210 USD.
And it looks it could be a final bottom... at least for this year.
Why do I think so? Immediately after reaching the minimum, the price went upwards climbing 3500 USD. During Saturday, there was a drop, but at the end of the day (especially on Bitfinex) a larger amount of short positions was closed. In total, shorts for 2689 BTC were closed. Part of BTC (approx. 900 BTC) was bought for the market order, thus resulting in a price increase to 3800 USD. Then the correction came, so it fell back to 3500 USD and during this decrease, the rest of shorts was closed.
The fact that speculators are getting rid of shorts may indicate that a turnover is expected along with a more positive mood. The long positions are still lagging behind, but it may be just a matter of time and in addition, at the time when the traders will go for long, the price will probably be much higher.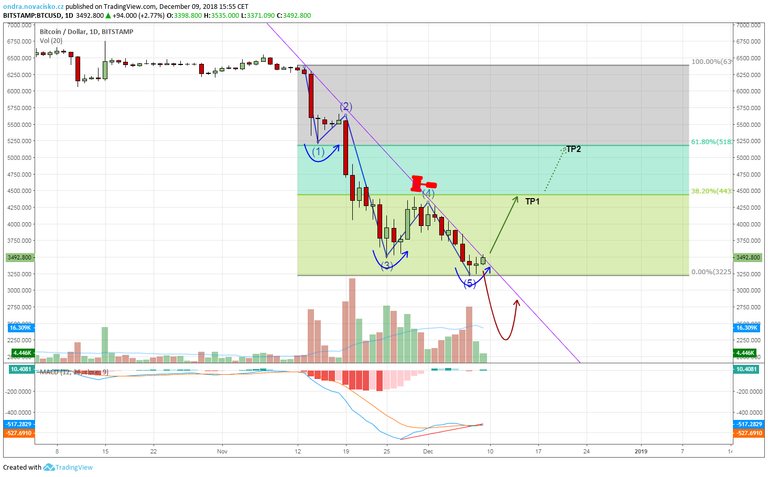 As you can see, several indications contribute to the positive mood.
The first is Elliott's wave, which could now reach the fifth point. Some correction can be expected.
According to Fibonacci, the correction could reach around 4430 or even 5180 USD.
Another indication is MACD, which is slightly twisted due to the big fall, but still places the peak (5) higher than the peak (3).
Also, surpassing the trend-line may indicate the beginning of the correction.
---
All of these indications are valid if point (5) is really a peak. If it was not the top, then another fall could be seen and found even lower. Let's hope it does not happen. At the time of writing the analysis, the Bitstamp price exceeded the purple trend-line. The subsequent development of price will be decided especially on Monday.
Sentiment in the market, interests
Bitfinex: short (28:38)
OKEX top traders: short (42:58) – short leads in volume (17:24)
BitMEX leaderboard: long (53:47)
Recommendation: Possibly a good time to buy. Target price is the range of 4430 USD to 5180 USD. Stop-loss at 3100 USD. The market is highly volatile and the panic is still not behind us. Higher profits can be expected, but also unexpected turnovers resulting in higher losses.
---
Disclaimer: These articles cannot be considered as an investment advice, and it is still a good idea to make speculation on bitcoin stock exchanges only with funds you can afford to lose. The high profit potential is balanced with a significant risk of losing, especially here on the crypto markets.
Česky: https://btctip.cz/kurz-bitcoinu-analyza-dno-dosazeno-otoci-se-trend/
---
View this post on Steeve, an AI-powered Steem interface