Are we at a start of a recovery ?
Let's take a brief look together and think:
I would certainly bet Hive is going to recover at this point by September, worst case October. Case is, I already did that 🌞🤙🔥.
As usual, we need BTC to react.
In any case, never forget there's HIVE/BTC chart. The similarity between its USDT pair should not be taken for granted.
Always consider the possibility of a bear market. One year, or maybe more. But always look at it as a wonderful opportunity. I'm hungry for extremely cheap coins, although I don't think the whales would allows to get stuff so cheap again. It doesn't matter.
Always focus long term.

RSI HIVE/BTC pair.
Take a look that the RSI had a long period on green in the past months. There's a downtrend in the last moves going red, very clearly.
Interestingly enough, HIVE/USDT pair looks to be pointing up for a short recovery on its RSI, which could indicate BTC is pushing crypto prices today. Usually low volume coins like HIVE tend to react a bit later. Stay on your ground traveller.
We shall expect a slow recovery for the whole crypto martlet until greedy sentiment comes back again.

Fear & Blood
Just like a movie, recent days have been tough for small traders. Market is full of fear, according to my Favorite Crypto Index.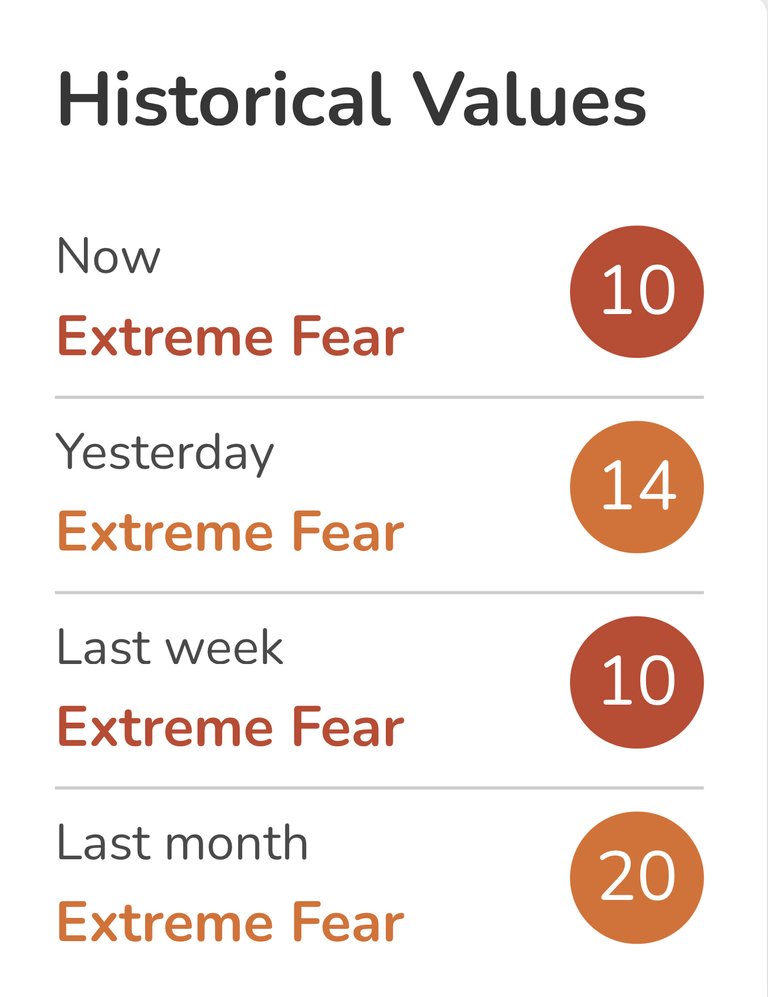 Today's index is at 10, which is freaking low. Last time I posted about this, I explained how good this fear can be if you learn how to interpret the relation between HIVE/USDT pair and fear & greed Index chart.
Whales 🐋 are ALWAYS causing panic. Even if they are not the cause of fear 100% of the time, consider at least 90%. The same argument works when sudden pumps occur on BTC pair with USDT.
I'm expecting it to follow this pattern by now. Short term, some days and few weeks. Enjoy the crypto winter. Hibernate with your stack and make your own research my hivean friend.
Welcome to the jungle. 🔥
May the force be with you. ✌️
See you in the future, dear hivean.
The future is awesome.