Why Transaction count matters and why the Market is WRONG!
I did a little study and found something very interesting I would like to share with my fellow crypto fans. Before I begin, I want to credit coinmetrics.io . Wow what a great site!
Take a look at this chart: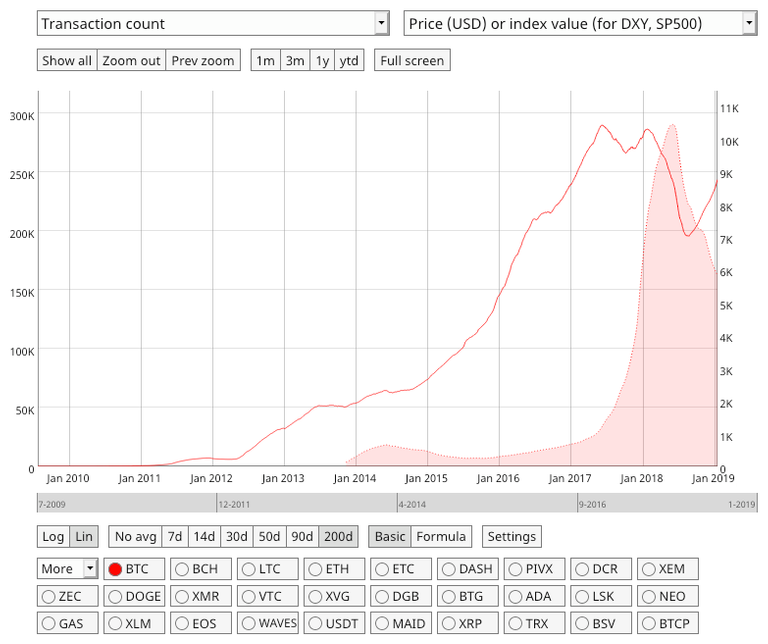 BTC price to transaction
The solid red line represents the 200 day moving average of the daily transactions. This filled in section in red is the 200 day moving average price of BTC.
One can correlate as transactions grow the price also grows. And as you can see starting in 2014 to about beginning of 2018 everything was following this expected pattern. You will also notice that around Jan 2018 BTC transactions peaked. Then the transactions began to fall and so did the price of BTC. I wont go into why this happened, but, suffice it to say the price still followed the transactions directions.
HOWEVER!!!
Notice that transactions have begun to pick up again but the price is not following. There is a divergence happening that makes me think that the Market is WRONG!
As of Oct 2018 transaction have picked up but the price has dropped. Why?
Let's look at a few other crypto projects.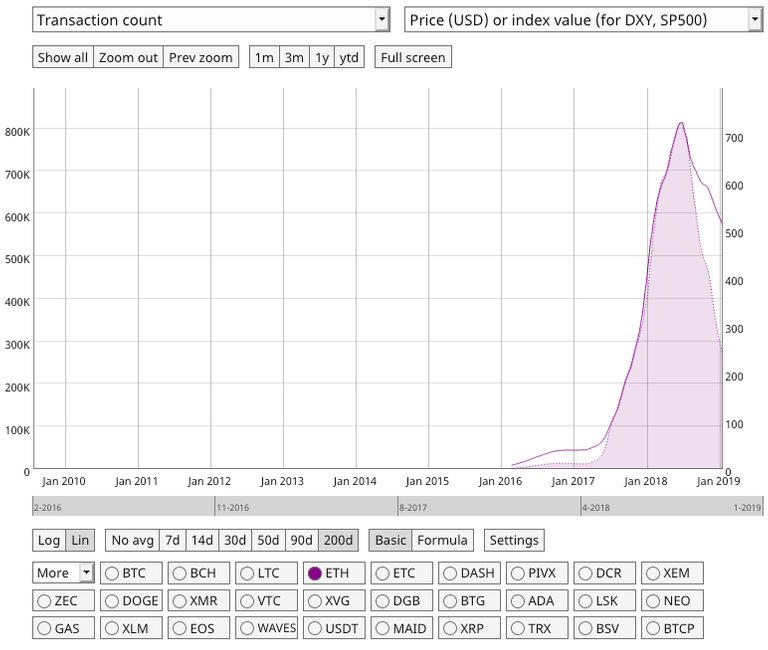 ETH
Let's look at ETH. This is a chart that make perfect sense to me. Transactions grow price follows. Transactions drop price drops. This would be expected.
Let's move on to the next project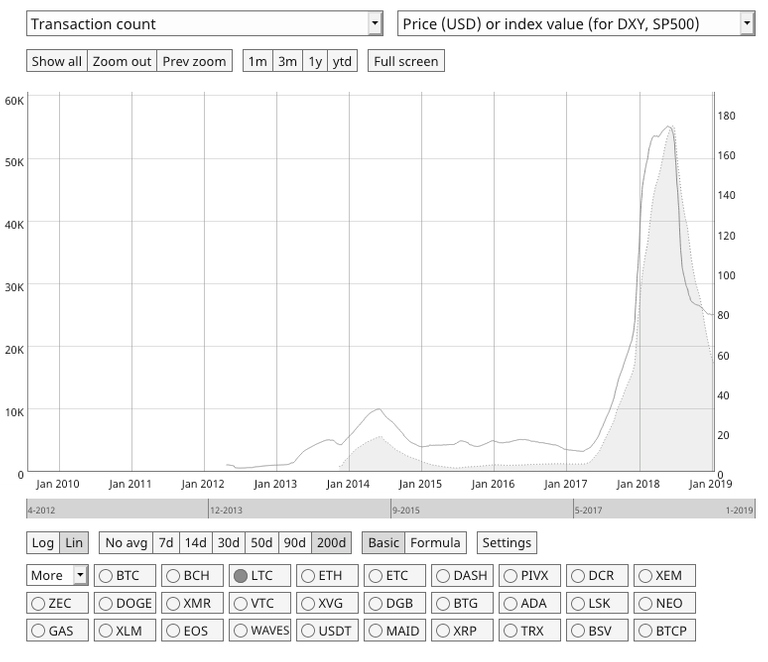 LTC same. Makes sense.
The next two cryptos I'm going to show is going to stir up some controversy. Some may say they are not a true crypto. Others may say they are the next generation. I'm not here to prove either point so don't shoot the messenger. Also, these project haven't been around as long as BTC, ETH or LTC so time will tell.
Let's look at the next chart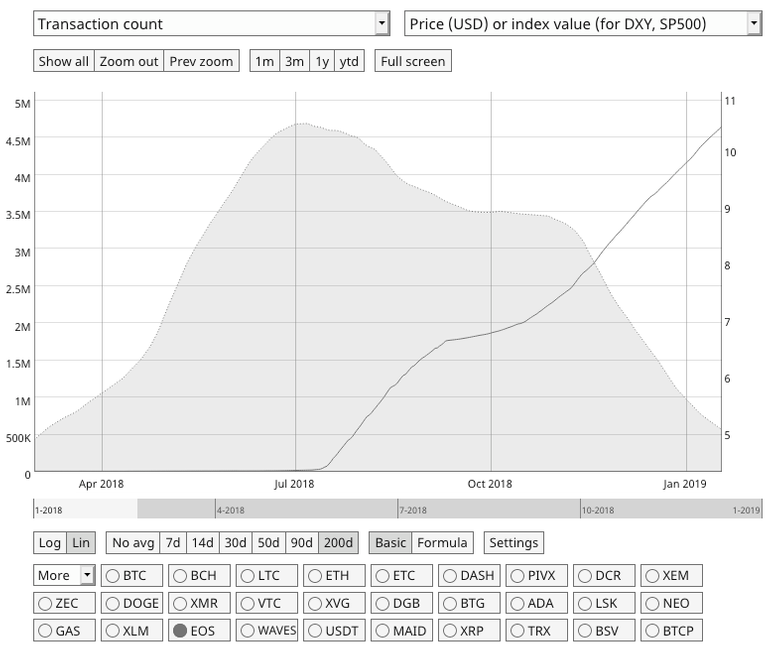 EOS
That's right look at this EOS chart. The most transaction per day than any other crypto on the market. Remember this is the 200 day moving average so EOS has hit over 5 Million transactions in a day. That's more the BTC, ETH and LTC combined twice over. Could the market be wrong on this one?
Lastly here is the second most transaction based crypto on the market that I was surprised to see.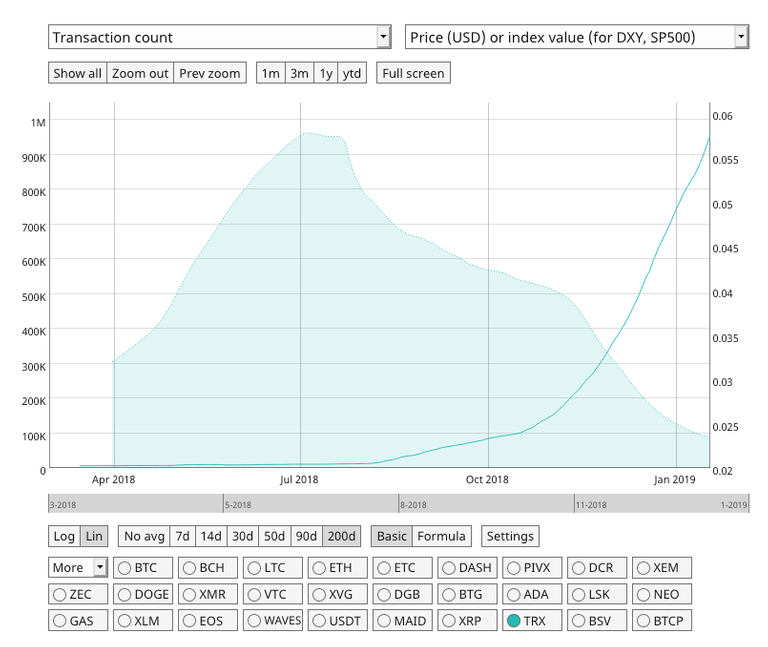 TRX
Still not the amount of transaction as EOS but you can see the uptick in usage these past few months. Something to keep an eye on for sure.
I'm not sure what this all means but I thought I would share my data with everyone to ponder.
Thanks for your time.
~@controllinghand