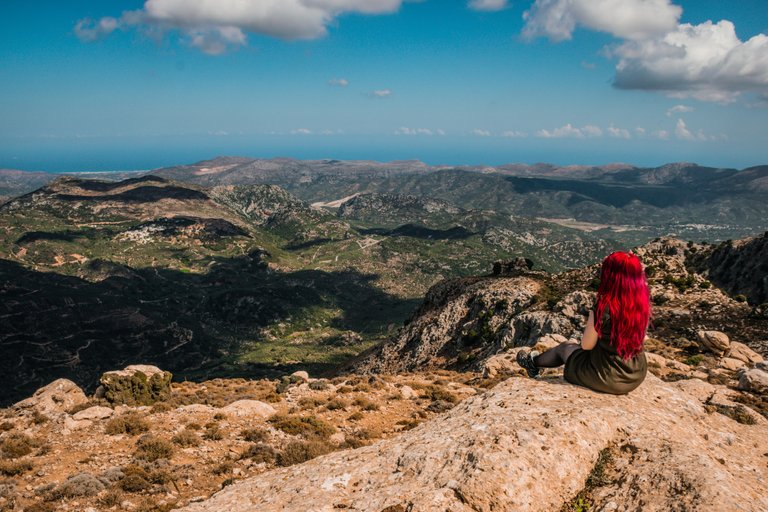 Welcome back!
Today we resume our adventures in Crete, traveling across various inland villages, sightseeing beautiful views and immersing ourselves in Cretan history and mythology. It is a continuation of last week's blog post, so if you haven't read it yet- click this text, to check it out! This will be the last part of my adventures in Crete… at least for now.
We continue our trip in the mountains, driving across the swirly roads, overlooking the high sharp cliffs. We were driving higher and higher up, leaving only dust behind us. Windows were rolled down letting fresh air in, my hair was flying in the draft and my hand was holding the overhead grab-handle trying to keep steady with the bumpy truck.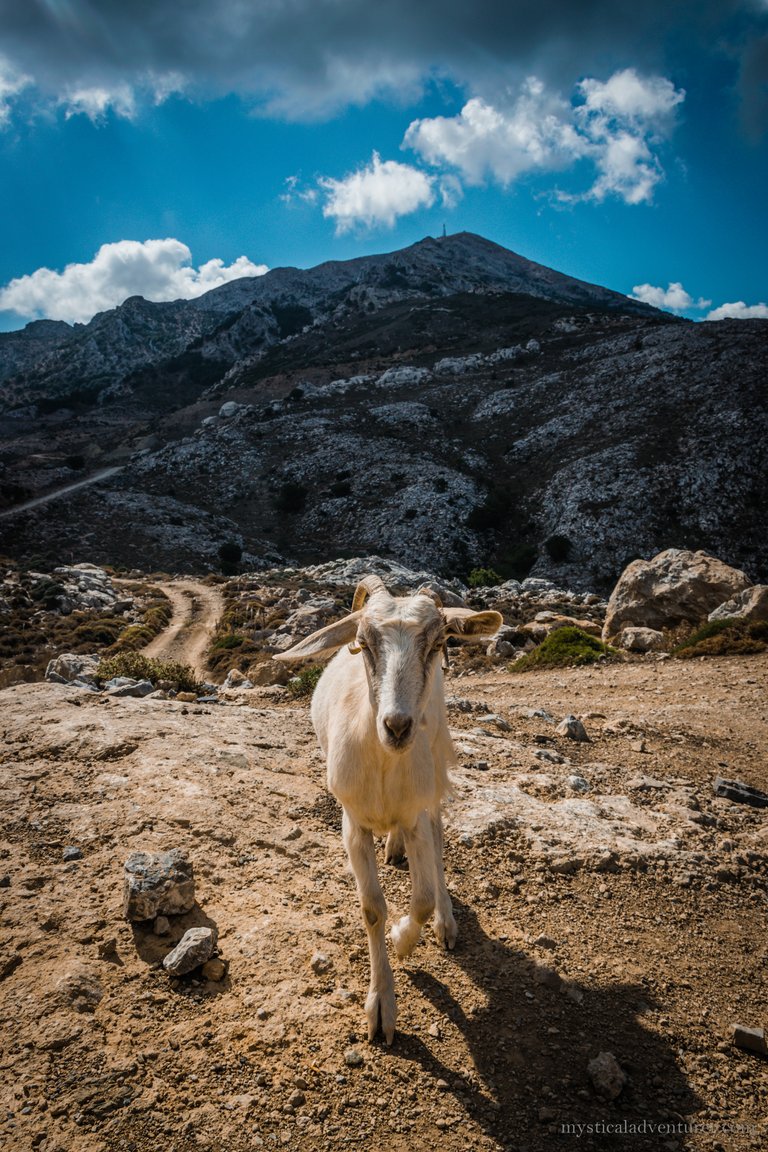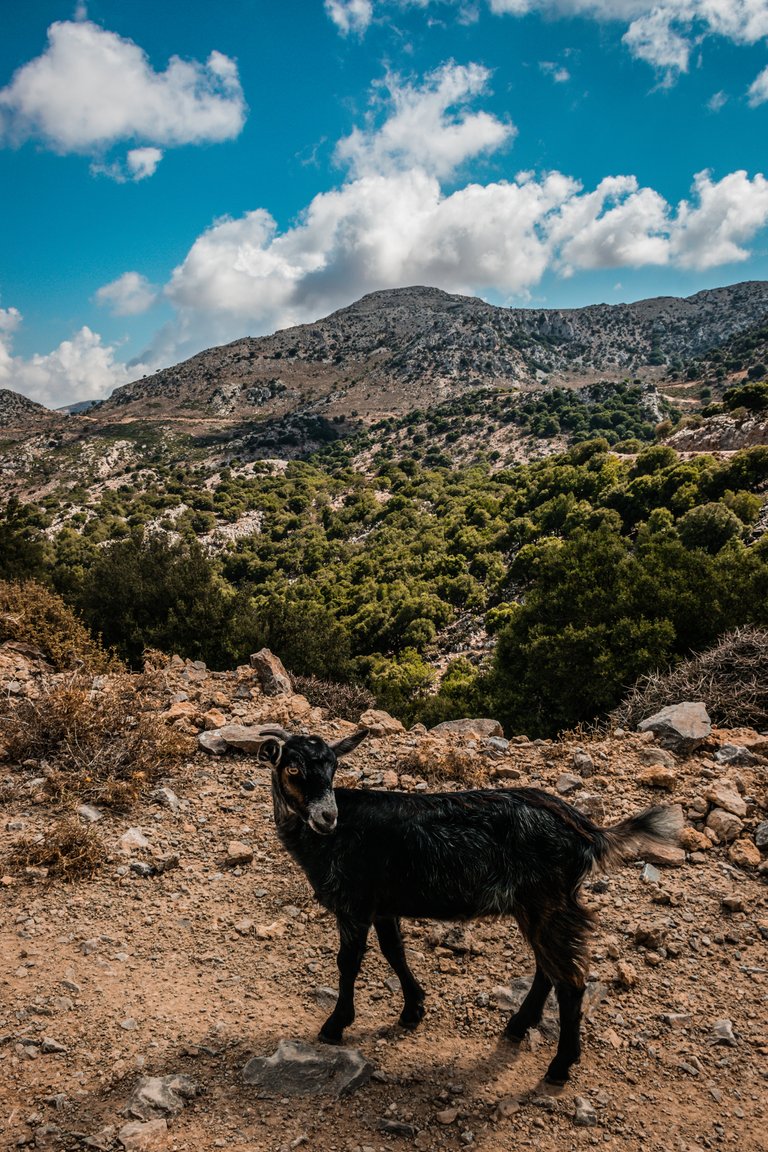 We stopped off at the viewpoint, overlooking the vast Cretan scenery of mountains with the sea stretching over to the horizon. I felt joy, excitement yet also tranquillity there. I imagined how wonderful it would be to have a cup of coffee while admiring this view, but that thought didn't last long, because I heard a bunch of bells ringing and then I was ''attacked'' by goats. And by ''attacked'' I mean a bunch of them surrounded me demanding food. I suppose tourists trained them well.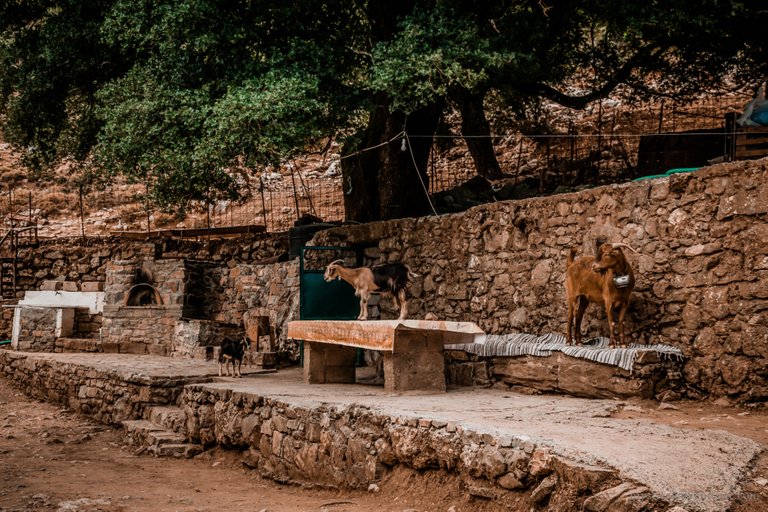 After some goat petting, we drove off a short distance to a goat farm of a local shepherd. This shepherd is the owner of the majority of the goats we saw and man… I was so surprised to see how many more he had around the farm. It seemed like they were running the place. It makes sense though, as this man was specializing in making goat cheese so technically, they were his business partners hehe.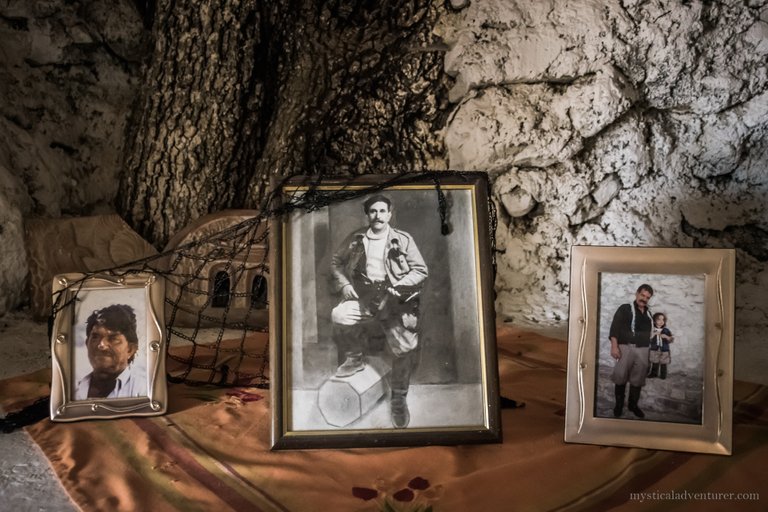 We went around his premises, and looked into the little stone huts filled with some of the goats' cheese making equipment.
We walked to this man's former home, which was very humble. Much like the white stone huts we walked into previously, this one was only slightly bigger and had a stone ledge which was used as a bed. There was also a bucket in the corner which probably served as a wash basin. He also had a little stone shelf with his family's photos, including his granddad who was in the resistance movement against nazi's.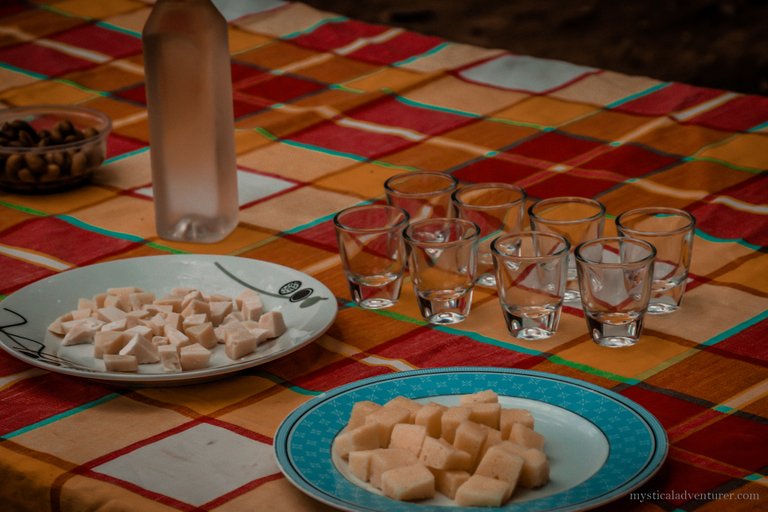 I walked over to the table he set up for us, filled with shots of his homemade raki and some of his cheese to taste. He was taking shots with us and smiling so wide, although I had no clue whether that was caused by genuine happiness or all the other groups that he had shots with before us….maybe both. The cheese was amazing, so I ended up buying half a wheel to bring back home.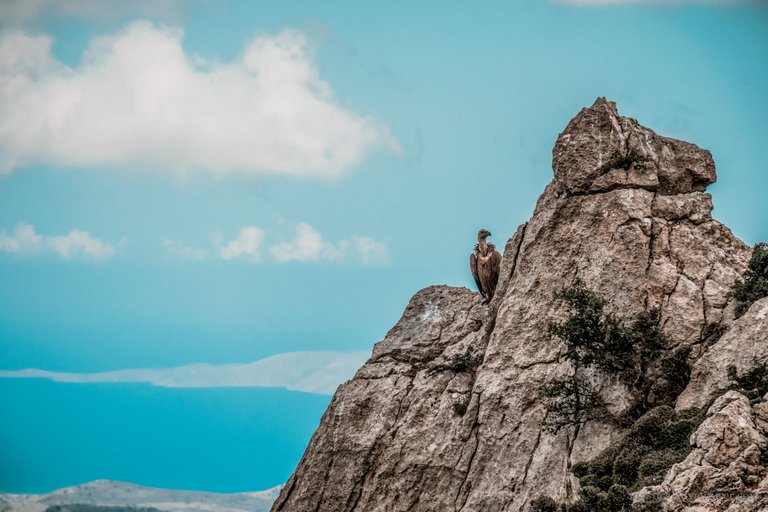 I headed back to the truck to continue the journey. We drove off, leaving the farm behind and meeting more of the rocky mountain views. I managed to admire some vultures, up close. They sat on the rocks, occasionally flying down, and showing off their impressive 2.8m wingspan. I wondered why there were so many of them in this one area. Then I found out, that this cliff is a popular dump spot for farmers to drop off the diseased and dead animals. Various skulls, bones and animal fragments were lying at the bottom of that hill. Lovely.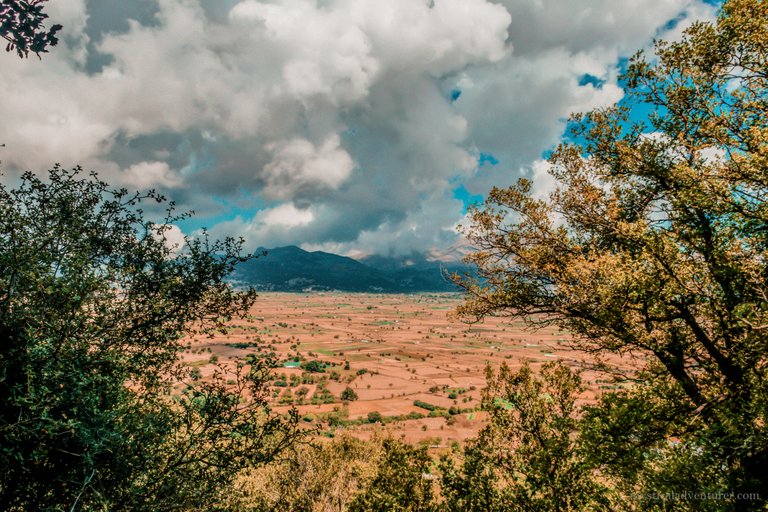 We continued onto a Minoan Path to make our way to the Psychro Cave (also known as Dicteon Cave). A mythological location of birth of Zeus. It's in the Mount Dicte range near a Psychro village and is one of the most famous caves in Crete. The cave lies at an altitude of 1025m and the way to reach it is by foot or a donkey, but I'd say if you can't get through around 20 min hiking trail with your own feet, then you should reconsider visiting this place. As once you're at the top, upon entering the cave you have a series of steep steps to tackle and the donkeys won't help you with that. I have to say that walking up was okay for me, but the steps were tough on my injured knee, even with a knee brace.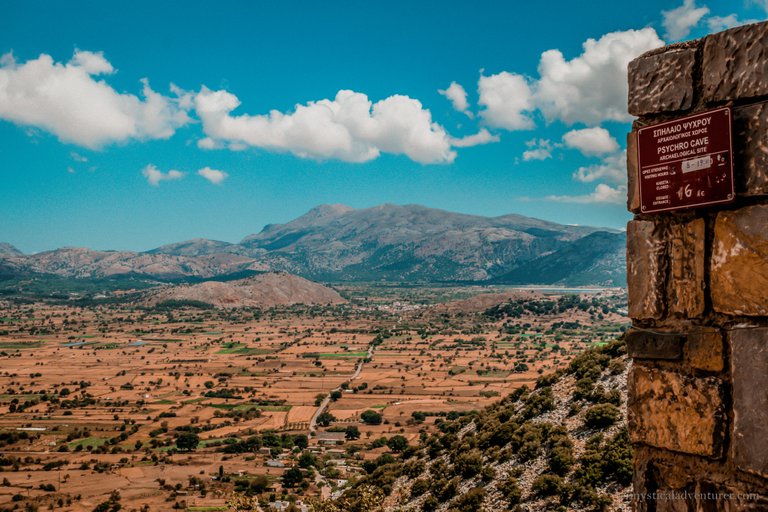 The hiking path leading up to the cave was incredibly beautiful. With the hot sun- I found comfort in the shadows of trees around me. Walking up the path I was admiring vast plateau views with herbs such as thyme and sage surrounding me, giving off a wonderful scent. Occasionally I would spot a lizards on the rocks around the path.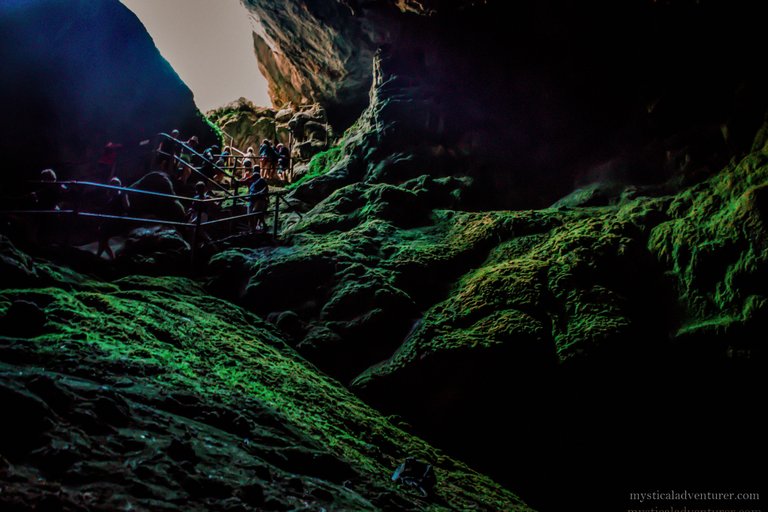 The Psychro cave is said to be a location where Rhea gave birth to Zeus in hiding. Rhea found out that Zeus's father Cronus had a 'tendency to devour' his newborn babies (due to the prophecy that he will be overthrown by one of them). Rhea didn't want the same fate for Zeus as his 4 other siblings suffered already, so she fled to the mountains to give birth in secret. Then she wrapped a stone in swaddling clothes and gave it to Cronus- pretending it was her son, which he promptly ate. It is said that Zeus was then raised by a goat, who would nourish him with goats milk and remained hidden in caves until he grew up. Once grown up, the myth says that Zeus gave Cronus an emetic to vomit up all his siblings, who were all grown up by then. Joining the forces with them, they were able to overthrow Cronus and banish him and other titans into a dark underworld region known as Tartarus.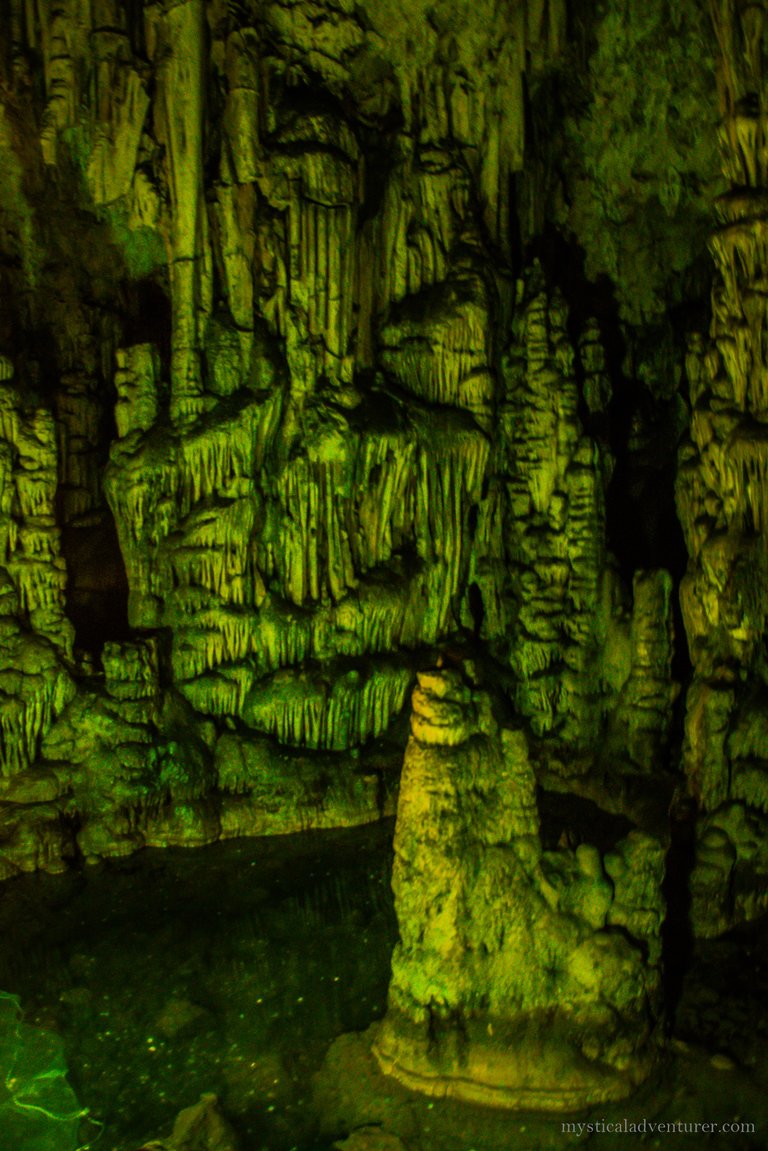 I found it so surreal being there. I was looking around at various rock and mineral formations and was blown away. The variety of shapes and patterns of them, all fascinating. I felt as if I've stepped into another world. I walked to the middle of the cave and looked at the small pool of water with coins glistening underneath and a little ''seat shaped'' stone in the middle- I imagined it being a cradle where Zeus would lay…. But then I looked behind it and embedded in the wall -I saw shapes resembling some sort of a protector, a guard! With eyes, nose, mouth and beard, armour on head and body with his arms closed. I was in awe, and couldn't believe my eyes! I swiftly pointed this out to a fellow tour companion and they were equally surprised.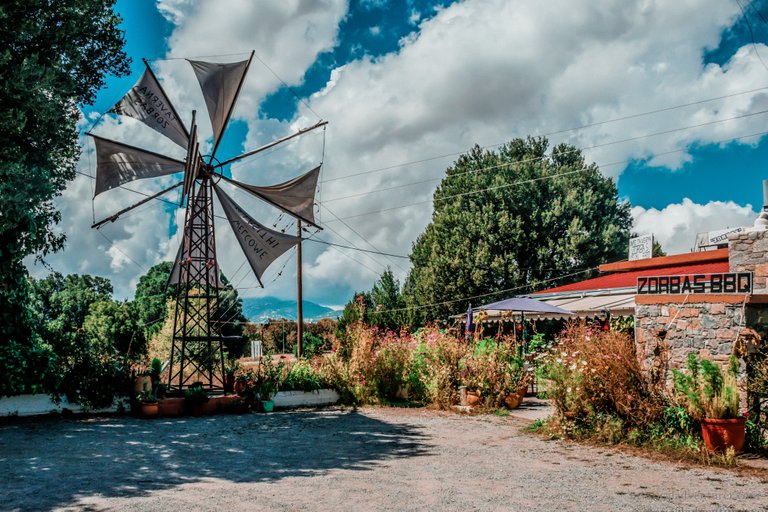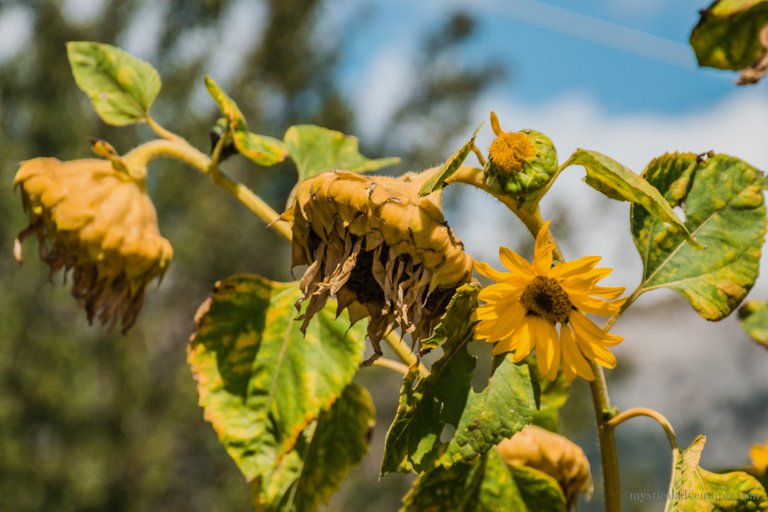 Then it was time to head back down, through a much easier and paved terrain. With my stomach grumbling after all this excitement and adventure, it was time to head to another stop in Lassithi Plateau - the Taverna Zorbas for some food. I passed small windmills and was surrounded by flourishing beauty of nature. Flowers of various colours were blooming everywhere.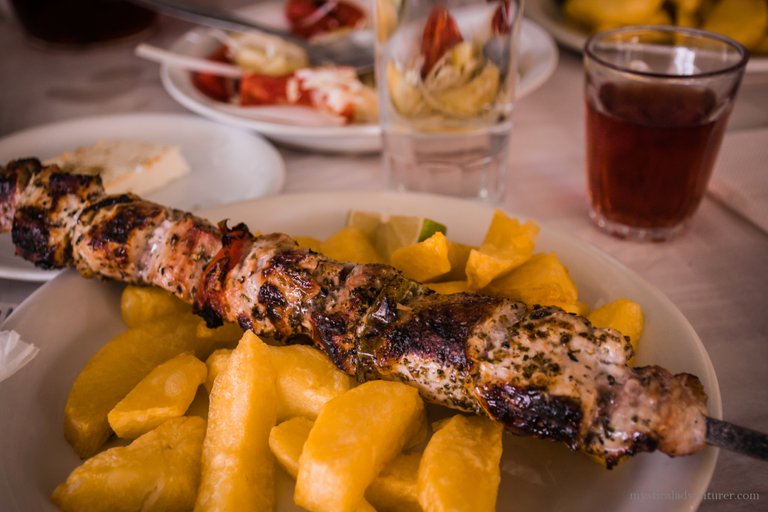 I promptly sat down at a table ready to feast. The owner of the tavern brought over fresh bread, feta cheese and vegetables. Peppers, tomatoes, cucumbers and olives- all picked from his back garden. Everything was bursting with flavour. We all indulged in some chips and grilled meat. I enjoyed this meal so much knowing the effort put into it and the kind smile and hospitality of the owner made this experience even sweeter.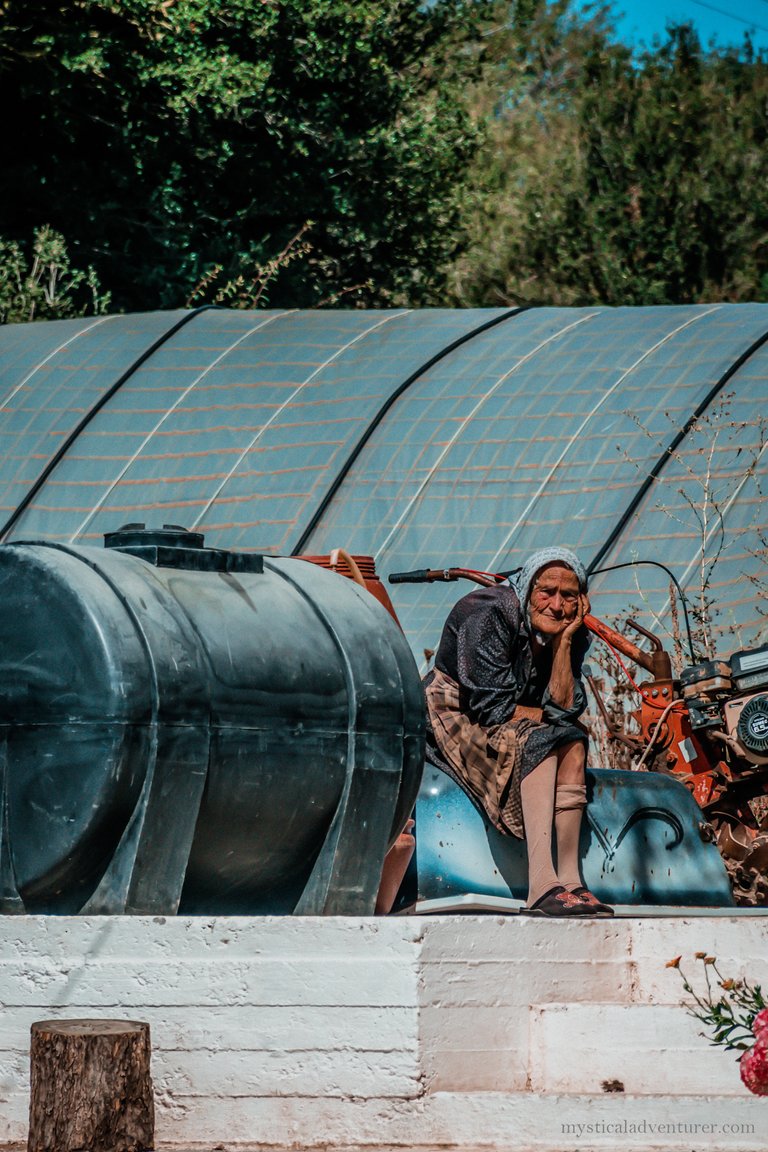 After food I explored some of his garden, so much fresh produce was surrounding me and there was butterflies flying around. It was beautiful. I noticed an elderly woman from the house next door was watching us. Her smile was so infectious.
With that,it was time to make our way to the last destination- Krasi village. Krasi is a traditional village, settled near the mountains. It's known for its cafes, taverns, stone churches and stone fountains which supply water to the village and surrounding areas of plateau.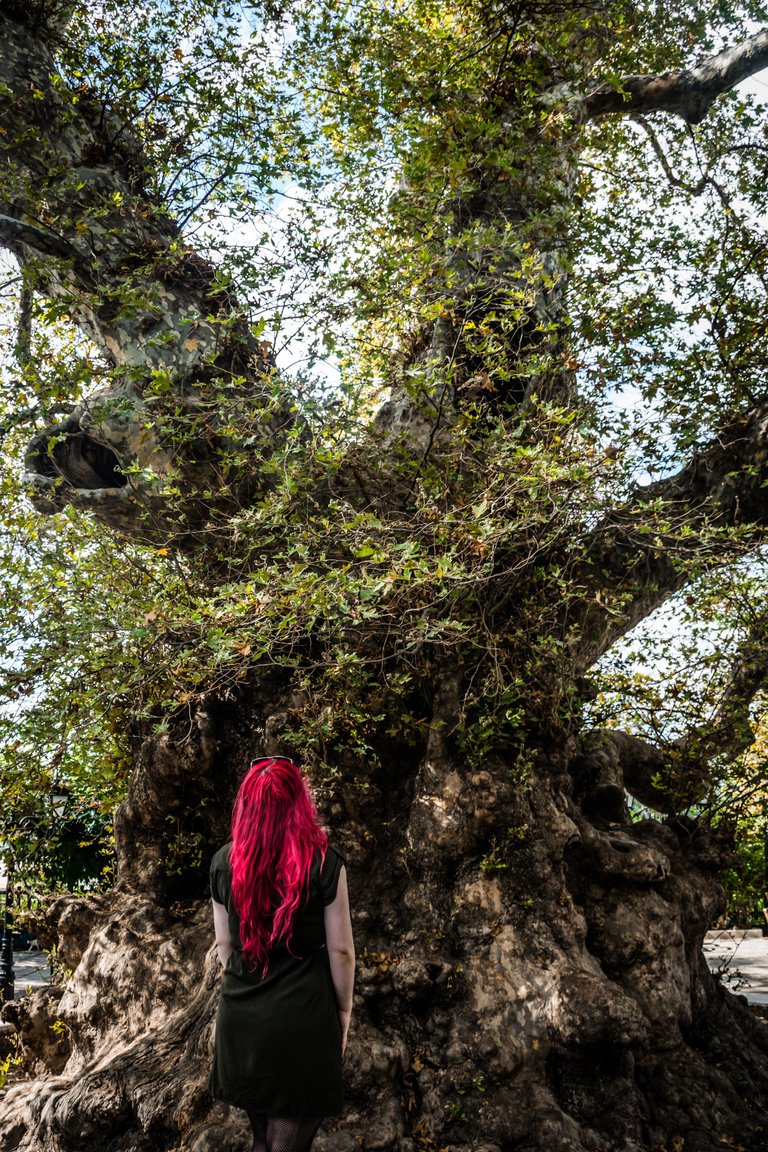 But there is one more thing that this village is known for. It is an ancient Platanus tree. Deeply rooted, 14 metres in diameter - this big tree is over 2500 years old… It's hard to fathom the time and history it was there for. I looked at this tree but it almost seemed haunted to me, the aged bark was all droopy, looking like a melted lava. I imagined all the incredible things this tree has withstood and been a part of. The daily life of villagers all the way to the big historical moments, battles and wars. Through hundreds of years a lot of poets and artists would come to sit, write or paint by the tree fuelling their inspiration. Now the square surrounding the tree is a popular spot where local feasts take place. I wish I had time to explore more of this charming village and relax by the tree, but the day was nearing the end and the journey back was awaiting me. Driving back I was in a bit of a daze, trying to process all the amazing things I witnessed that day.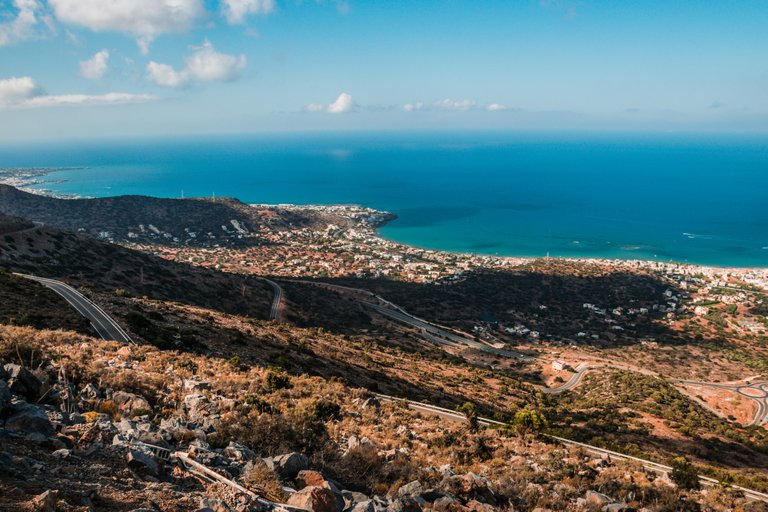 There was some time to stop off and admire the coastal view from one of the roads. The small and big villages bordering vast sea with turquoise waters. I stood there admiring every single detail of this scenery. I felt so happy and grateful for all the experiences and views I witnessed on this wonderful island- despite the short stay. I felt determination to return one day and explore more of what Crete has to offer. But for now, it was time to part ways. I will hold on to the precious memories I made in Crete, until I return again.
Thank you so much for reading,
I hope you enjoyed this post!
Please don't forget to upvote, comment and share this post if you liked it!
For a full post please visit www.mysticaladventurer.com and follow me on Instagram @mystical.adventurer for updates!
See you again,
Marta x