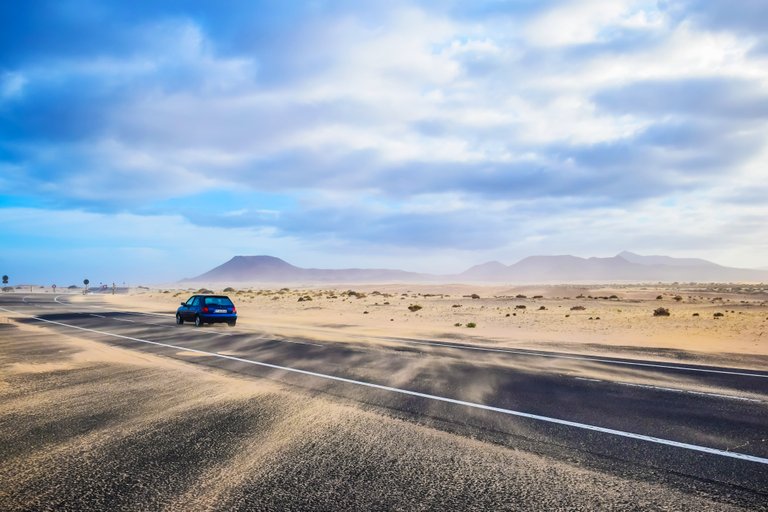 Hello Hive!
Today I take you on an adventure to Fuerteventura! Since I was travelling to Lanzarote, I thought it's only logical to try and see as much of the surrounding area as possible. So, I booked a one-day tour to a neighbouring island Fuerteventura.
The journey started by catching a ferry from Playa Blanca to Corralejo. Being prone to sea sickness, this of course, is my least favourite way to travel and something I wasn't looking forward to. While I sat down on the outside benches (for maximum fresh air flow to aid my nausea), with boat swaying up and down- I only hoped that whatever awaits me there is truly worth that 40 minute torture.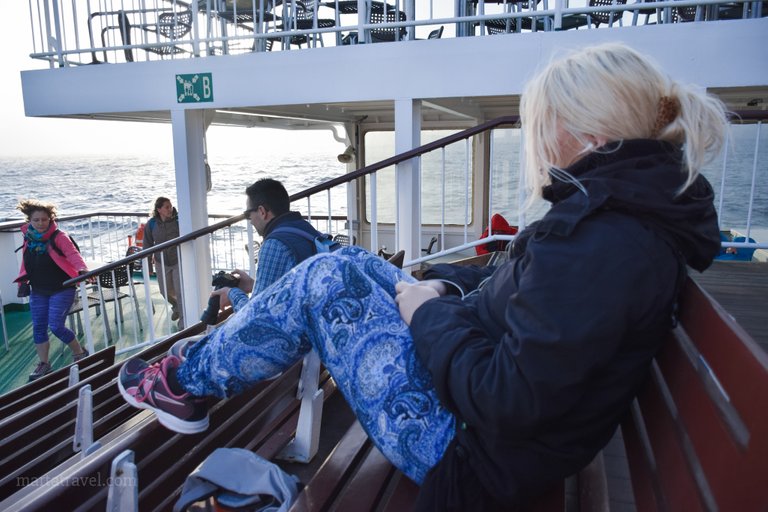 Fuerteventura is another popular holiday location, and though this island is almost twice as big as Lanzarote, as the tour guide eloquently put: ''Now that you've given us your money, I can honestly tell you- there's nothing here.'' I don't agree with that statement, especially after this tour, however I must say that Lanzarote – although smaller, has much more to offer. You will be met by many scenic routes, and incredible beauty of nature… but if you stayed in Lanzarote before, it'll pale a bit in comparison.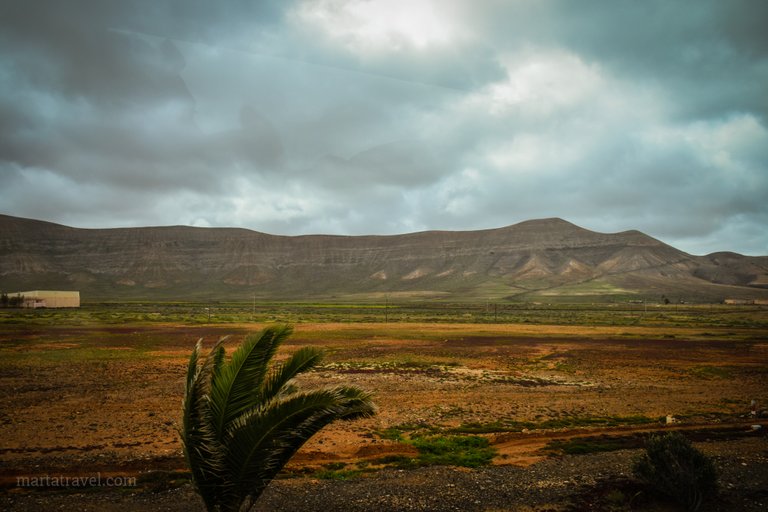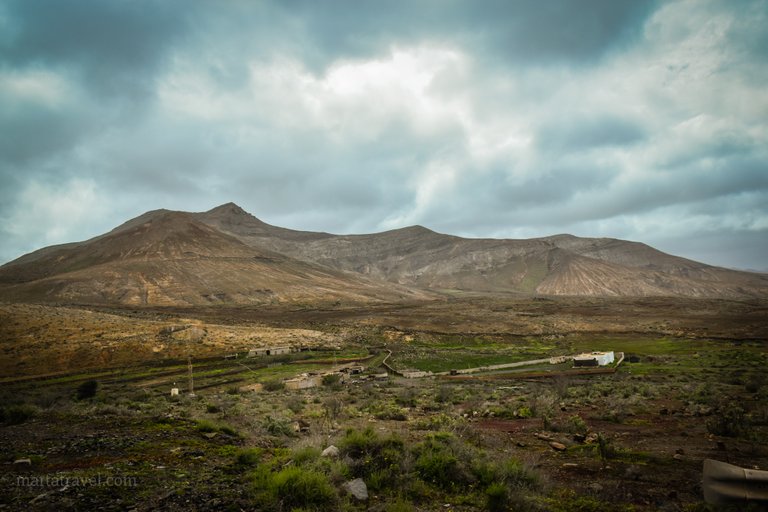 That being said, let's start on the tour. We left the port at Corralejo and started the journey driving through vast volcanic landscapes. The amount of greenery was noticeable straight away coming from Lanzarote. After seeing the landscape that was formed due to years of continuous explosions in Lanzarote, it was apparent to me Fuerteventura hasn't suffered the same fate being much greener. Upon checking, there was indeed no historical eruptions on Fuerteventura, and the last eruptions could have taken place around 5,000 years ago.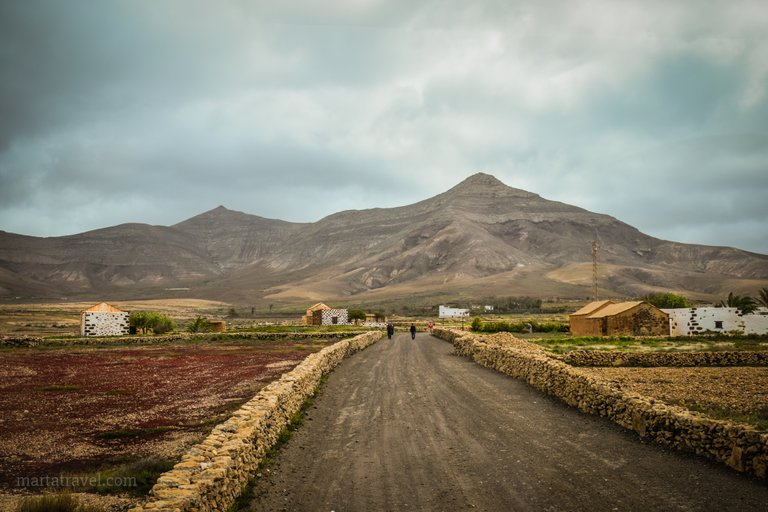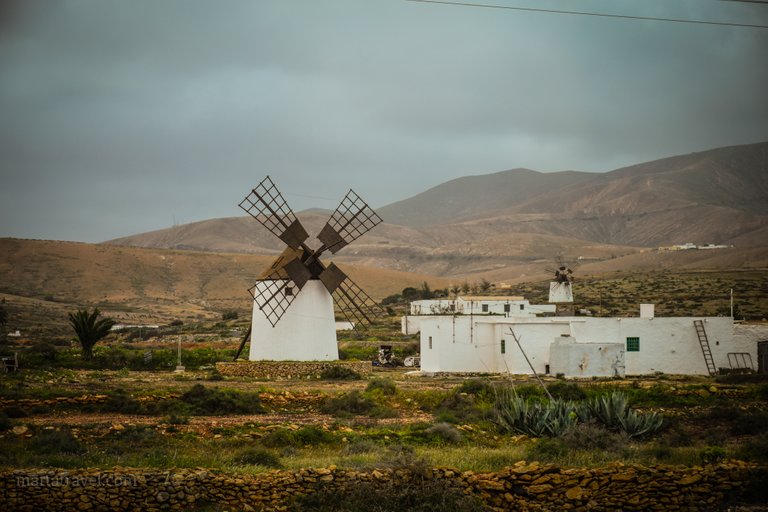 I admired the sights of rustic villages along the way, as we drove through places like La Olivia and Los Molinos where we saw some exciting windmills! The colonization of the island meant that new agriculture opportunities were utilised, including introduction of windmills in Fuerteventura's very windy climate- to grind grains. The windmills are scattered in open areas where there are constant winds. I walked through the short pathway to check out some of the surrounding area and admire the windmills. The white round stone shape, with a wooden cap, a rudder which guides the blades to the wind. Such a simple structure that had such a significant impact on islands agriculture and economy. I wished there was time to explore them inside, see the full mechanism, but that wasn't involved in the tour. To those who are interested, there is tours that involve exploration of certain windmills such as the windmill museum, where you can explore this part of the island in more depth.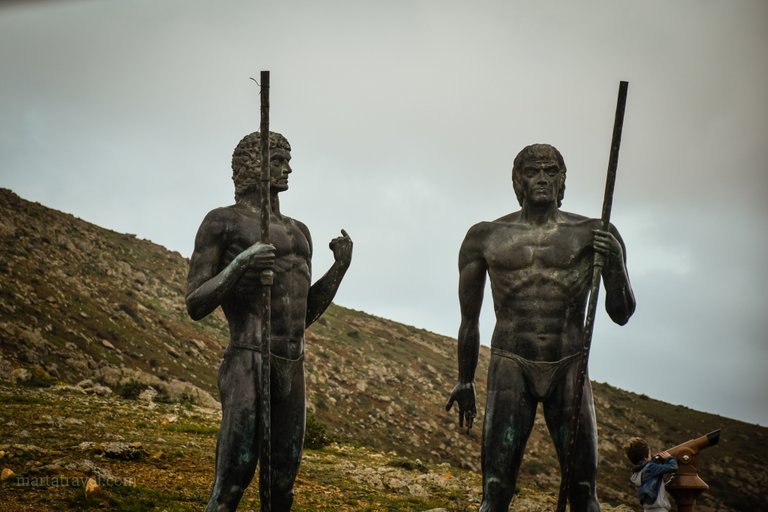 We moved onto the next location of Morro Velosa (Mirador Corrales de Guize) where we saw more of volcanic landscapes along with two big bronze statues of Guise and Ayose situated at altitude of 600m. Guise and Ayose were ancient kings of Fuerteventura who ruled the two divided parts of the island. When the Castilian invaders came to the island the kings tried to fight them but had no luck as their native army wasn't as advanced as the one of invaders. The Norman conquerors won the battles and became new rulers of Fuerteventura.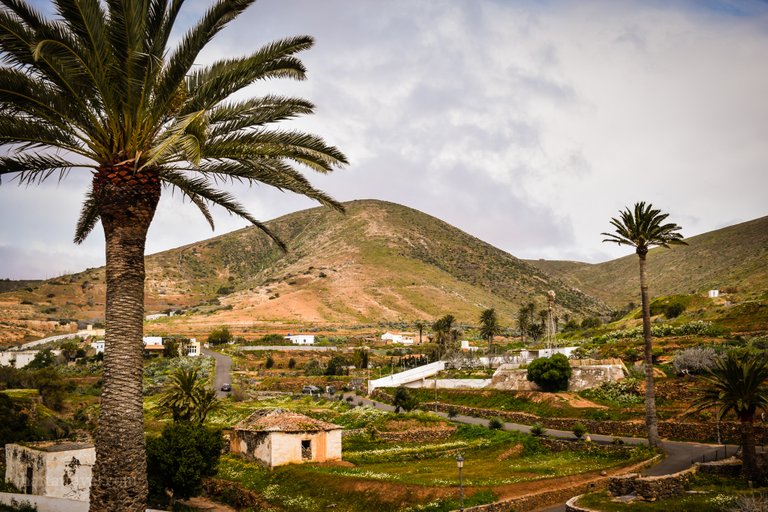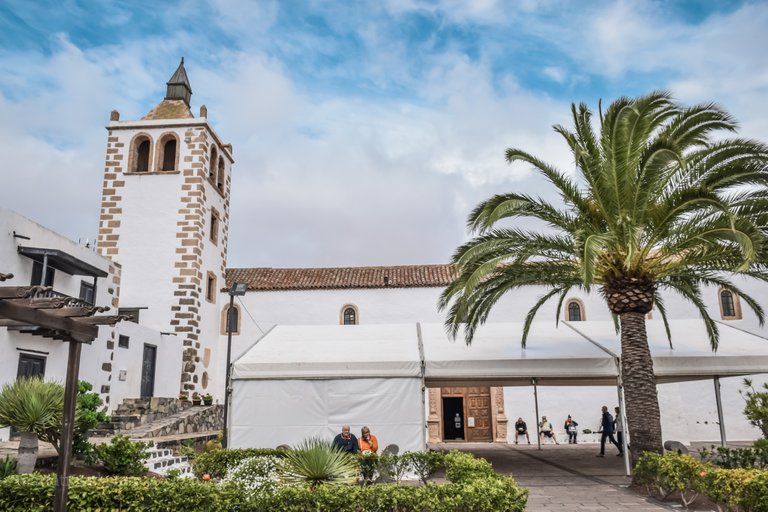 Which brings us to the next location, the small town of Betancuria which was founded in 1404 by the conqueror Jean de Béthencourt and became the first settlement on the island. It was the original capital of Canary Islands and later a capital of Fuerteventura. The reason the conquerors chose this location, was due to natural defences of surrounding mountains and the very fertile lands with fresh water streams. The new settlers used it to build houses, courts, churches and military institutions. Despite the defence efforts, the pirates still raided this town on a few occasions and with the exploitation of this land, it became dry and deserted and so did the water streams which caused many occupants to leave. Now it has population of around 800. It's very small but charismatic and still very green, though I was there in February and I heard it gets drier in the summer.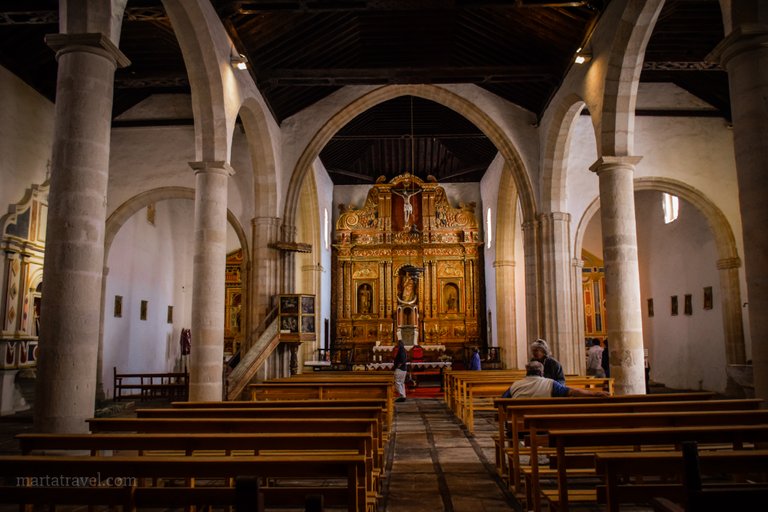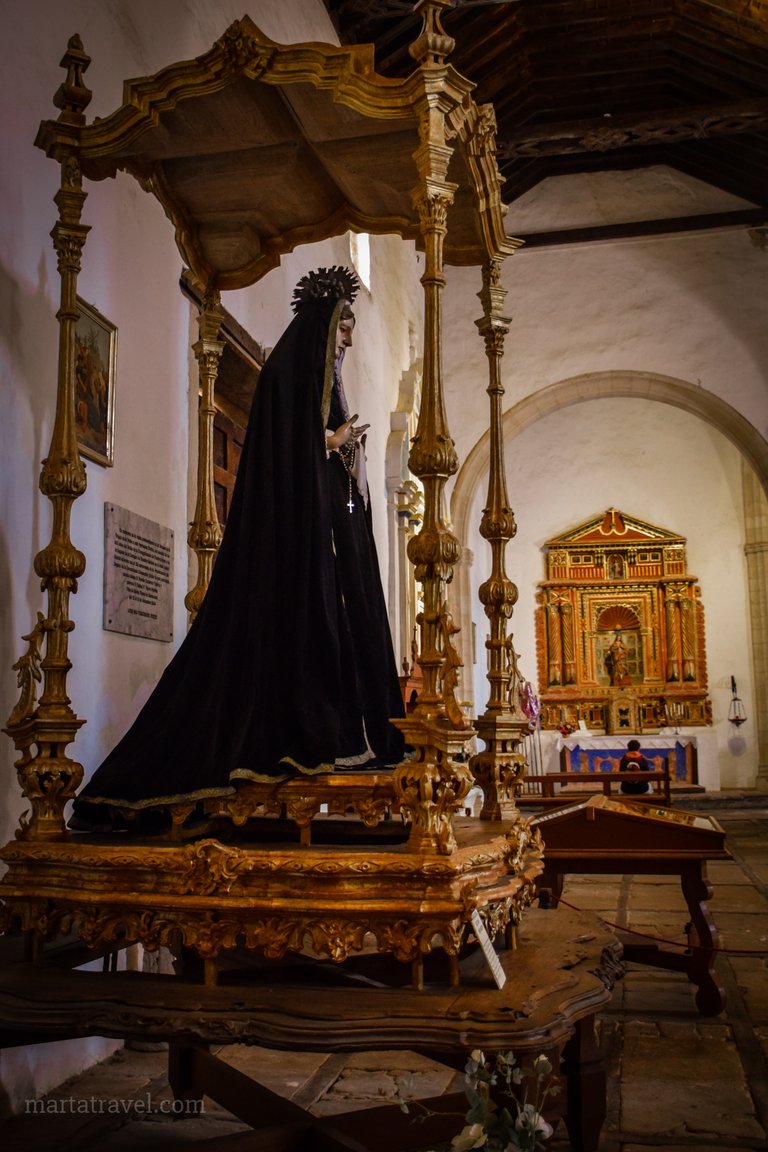 We headed to explore the infamous church Iglesia de Santa Maria de Betancuria. It was the first church built on this island in 1410 but it needed to be re-constructed due to pirates invading this town in 1593 and burning a lot of the buildings including this church. Only the bell tower remained in its original form the rest was re-constructed in 1620. I admired the church architecture but even more so- the surrounding area consisting of hills, rustic houses and other structures. On the inside the church is more worn but mesmerizing in baroque style altar and tall stone arches, carvings and artwork. One that particularly struck my eye is a carved sculpture of Mary in black gown. It's meant to represent her being grief-stricken over the crucifixion of her son. I find it utterly beautiful. The detail in this design all the way to the wooden posts around her is truly fascinating. Other pieces involve a big oil painting of St. Michael the Archangel and another wooden sculpture of St. Francis of Assisi. I have to say that though I think this worn-out appearance indoors, added to the atmosphere; it really felt as if I was stepping back in time- I am worried about all those intricate details and art pieces that seem to need some restoration. It would be great if people could still enjoy them many years from now.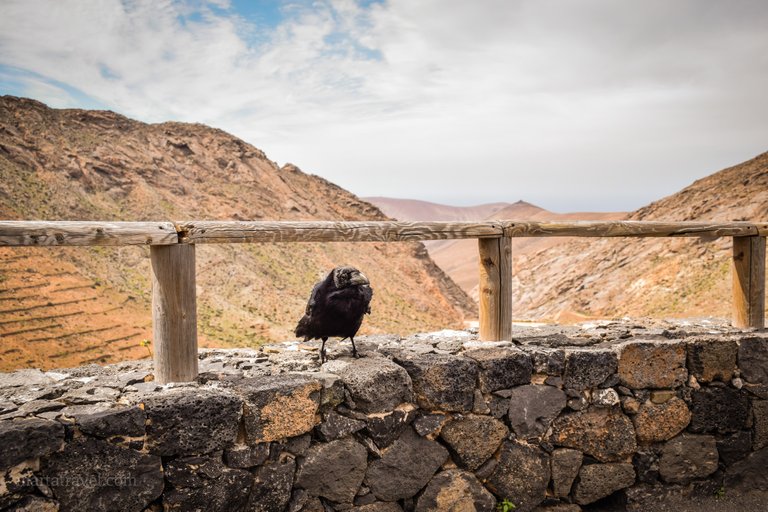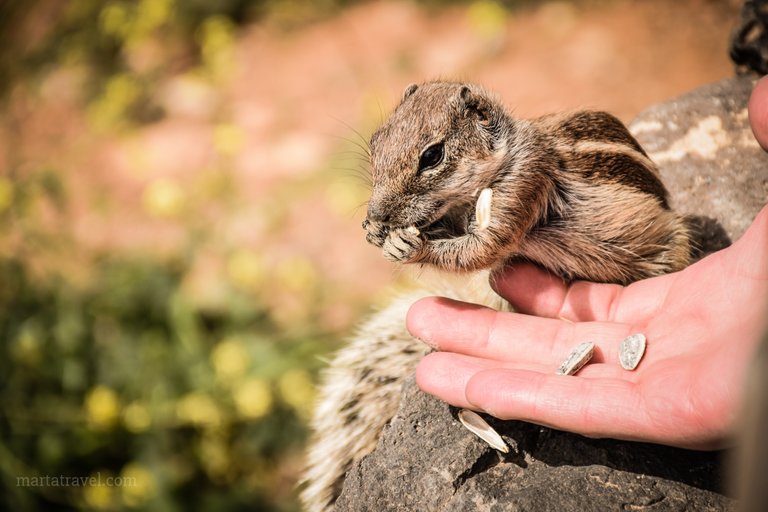 Upon leaving, we drove through the Parque Rural De Betancuria, the beautiful rural park that is a home to many protected species of plants and birds on this island. The scenery was something completely different than what I witnessed in the journey so far. The golden and brown hues of mountains stretching before me, made me feel as if I was in a western movie. The tour guide talked about little creatures that got brought in and invaded this part of the island, and they were…. Chipmunks! In the 60's a person brought a pair of chipmunks into the island as pets, however they escaped and 'keeping busy' ;) – they populated the island by thousands. We were informed that the chipmunks are very harmful since they cause damage to farms, local animals and plants. Poor farmer… he didn't know what he got himself into…right? Hehe. We were given some sunflower seeds, to feed these little fellas and the fellow tourists were in awe due to pure cuteness, as the little chipmunks would eat right out of our hands. I thought to myself, how can something so cute do so much damage?….But then I thought of kids and concluded, yeah, it happens ;).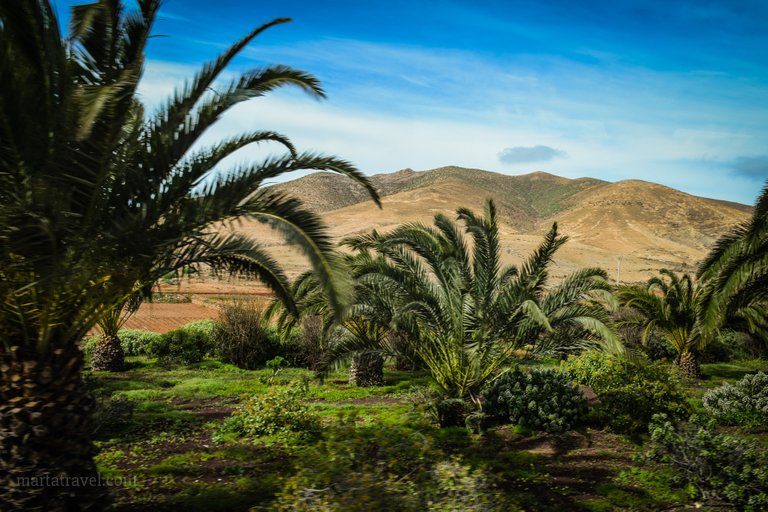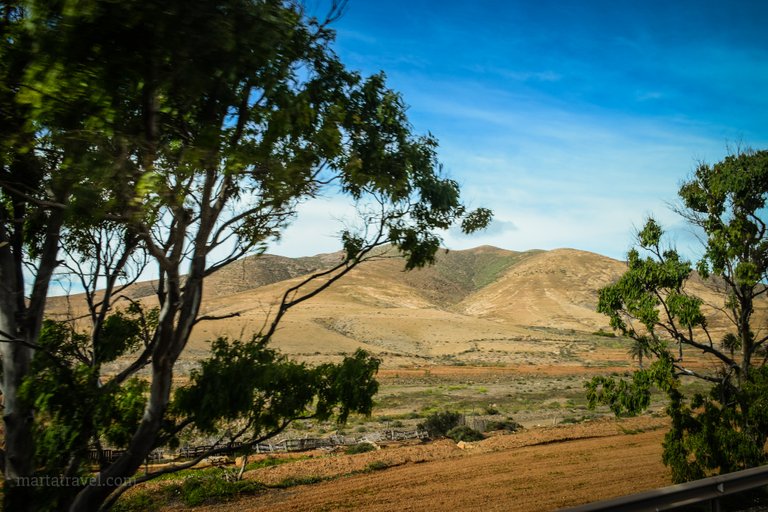 (Views en route)
After this cuteness overload, it was time for food. And I was STARVING. So, in Pajara- we stopped off at a restaurant, where all of us were given a nice 3 course meal. Some soup, potatoes with fish and then a little desert. Chatting to fellow tourists, I met an incredibly funny couple who I had a good laugh with. Especially when the woman thought the jug of white wine, was vinegar and dipped her bread in it! Hehe. After the meal, there was some time to explore Pajara, so I headed to the nearby church- Iglesia de Nuestra Señora de Regla -that has also a vast historical value. The certain differences in architecture were noticeable straight away as you look at the doors alone. The Aztec design of the doors with engravings depicting the sun and moon, jaguars or a snake serpent- eating his own tail which is thousands of years old symbol of the ''circle of death and re-birth''. Then heading inside, I was met by 2 altars of absolutely stunning design and immense amount of detail.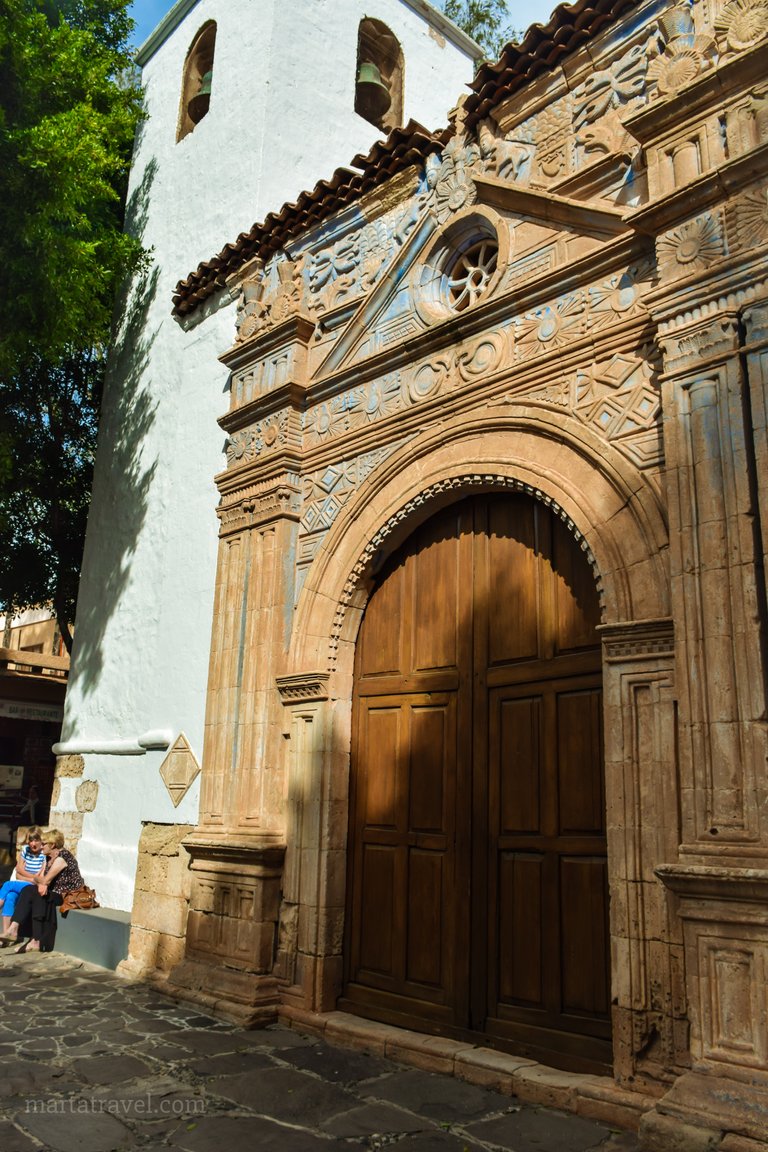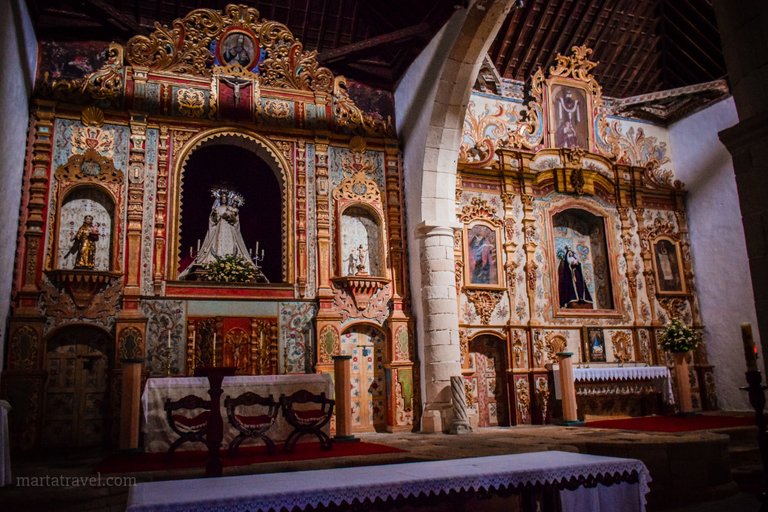 I wished we had more time so that I could explore more of this town, but it was time to move onto another location. I was met by many more scenic views until we reached our stop at Aloe Vera farm in Antigua.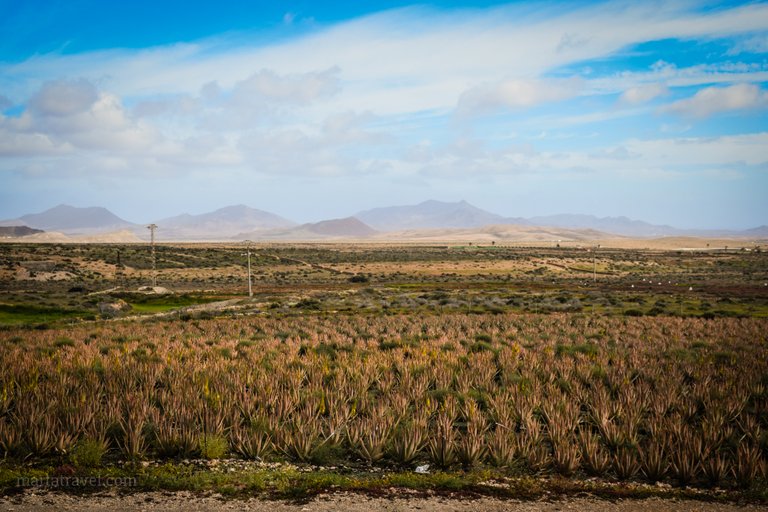 I have to say that the views on this farmland were great. Fields with aloe vera plants stretching on, with mountains in the distance. We were directed to a little table, where a woman talked about the many properties of aloe vera and demonstrated how to cut through it and extract its juices. The whole thing sounded like a big sales pitch to me, especially since she seemed to focus on explaining the magical healing properties directed at the elderly people of the group.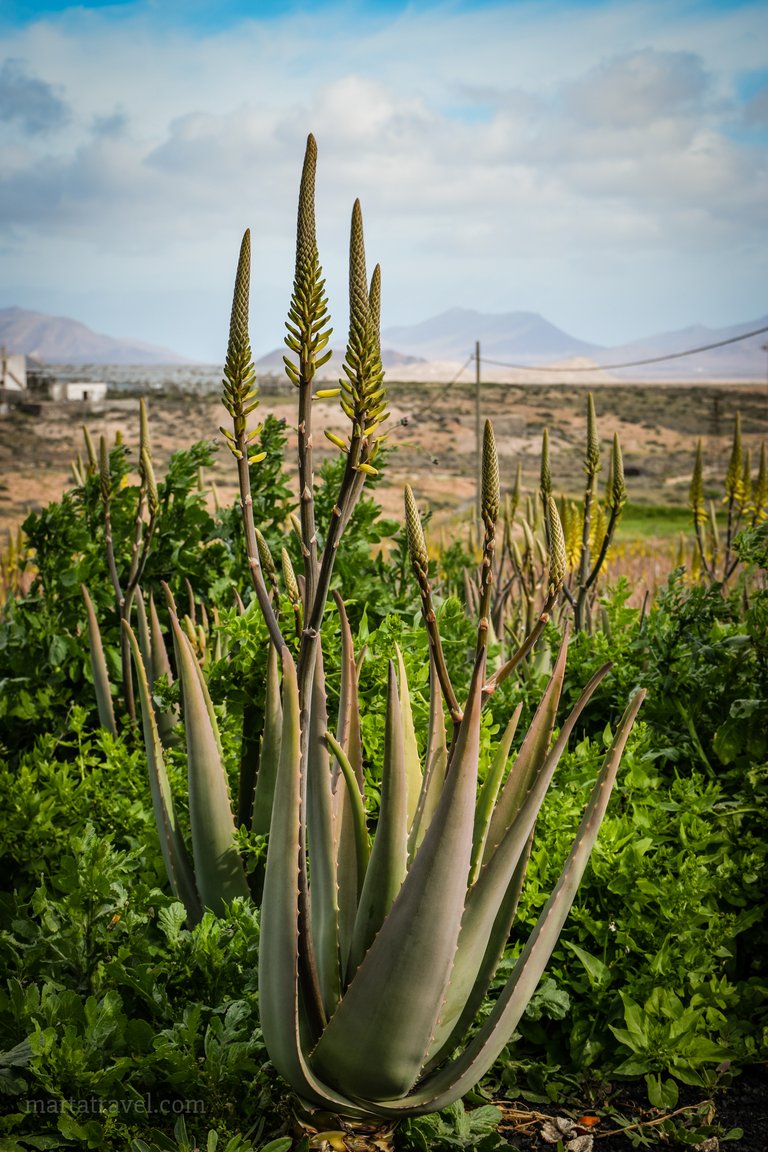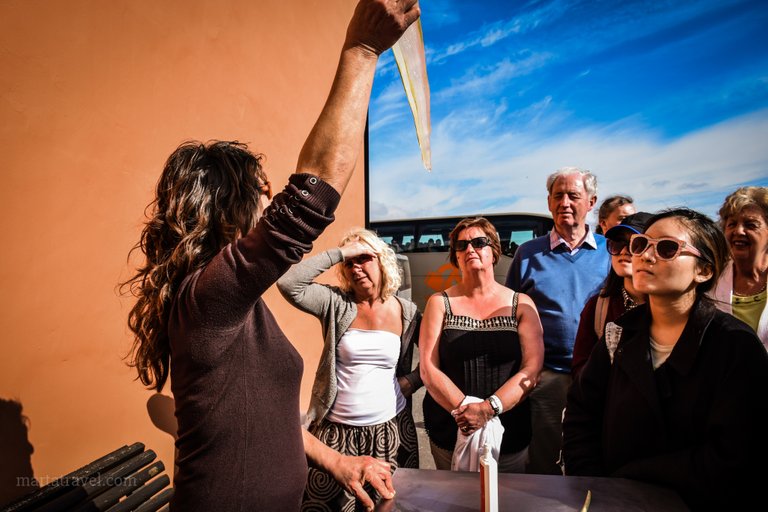 She gave us a small aloe vera chunk to try on our skin and then like sheep gathered us to go into the building which looked more like a warehouse filled with aloe vera products and advertisements, with people trying to sell you oils, juices, gels, shower gels…anything and everything of aloe vera. I was suddenly dis-interested. Although I get that a lot of businesses on this island rely on tourism, I wasn't fond of the tactics used there, targeting elderly people and sure as heck didn't feel like spending 20 euros on some gel. So instead, I escaped to outdoors and just admired some farm views. I was a bit disappointed with how long we stayed there, so many better-amazing places had such short stops or no stops at all designated, but I mean- business is business I guess.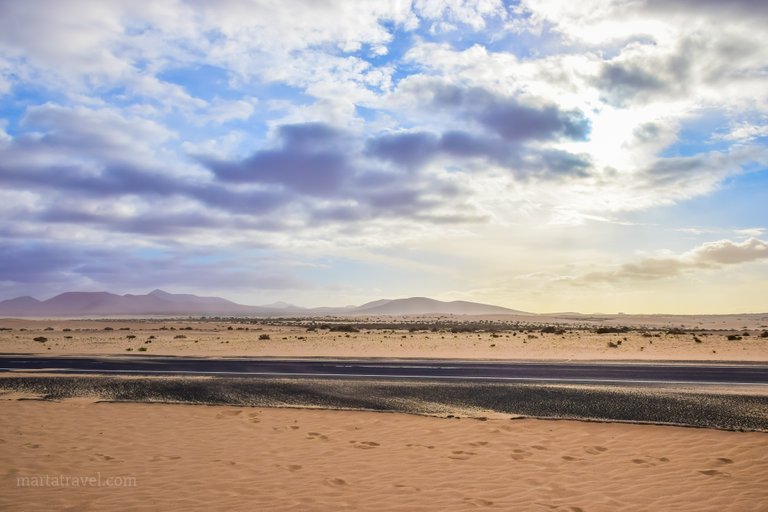 After it was time to move on, we drove onto the last and the BEST stop. Hands down my most favourite place of the entire trip. We entered the Corralejo National Park! Stepping out of the coach I was suddenly surrounded by sand dunes. Stretching for 8km it's the largest of its kind in the Canaries. Such a contrasting landscape to all the volcanic, rugged views I witnessed so far on this island. The view is hard to describe, even the photos don't do it justice. The mix of fresh ocean breeze and the sparkly sand stretching vastly with the dark volcanic mountains in the background- tranquillity of this scenery is something out of this world. You just have to be there.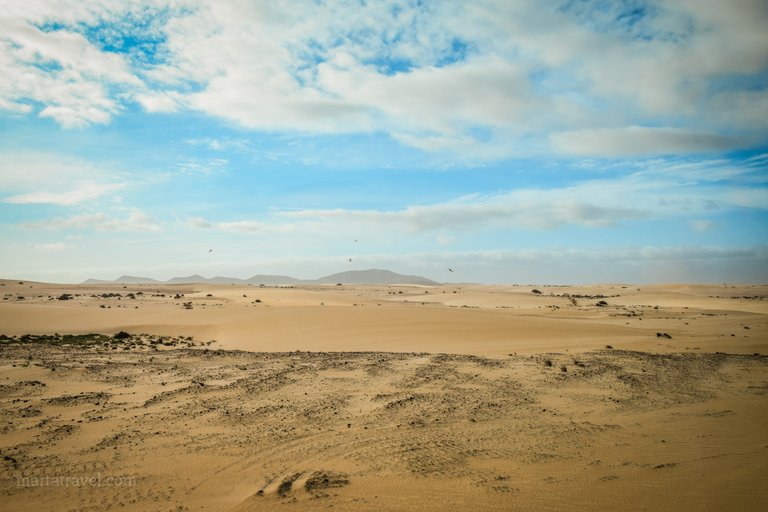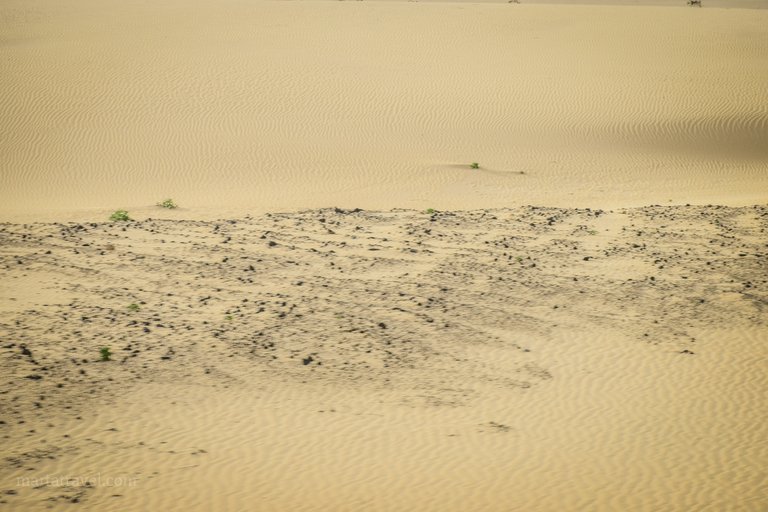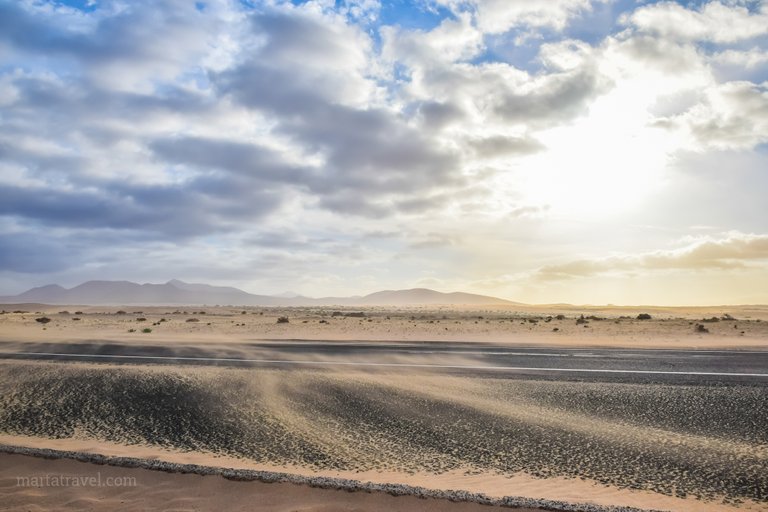 The dunes were created by the disintegration of shells and marine organisms and strong wind which carries it for kilometres, across the scenery. This is very apparent when you look onto the dark road in the middle of it. I watched the bright sand dance across the dark asphalt road, all the way to the other side, it was truly hypnotising. This space was declared a national park to protect it from increasing developments of hotels and apartments for tourists, and I'm very glad so. Because this space should be protected. If you're in Fuerteventura, this is a MUST SEE. Keep in mind to bring some sunglasses to shield your eyes from flying sand and maybe a scarf/cover for your mouth also. Being excited, smiling, talking and all- I happened to swallow some sand, and it is not great… hehe. I'd also try to remember where you are parked, where the road is, as I can imagine straying further into tall sand dunes you could easily loose the sense of direction and get lost.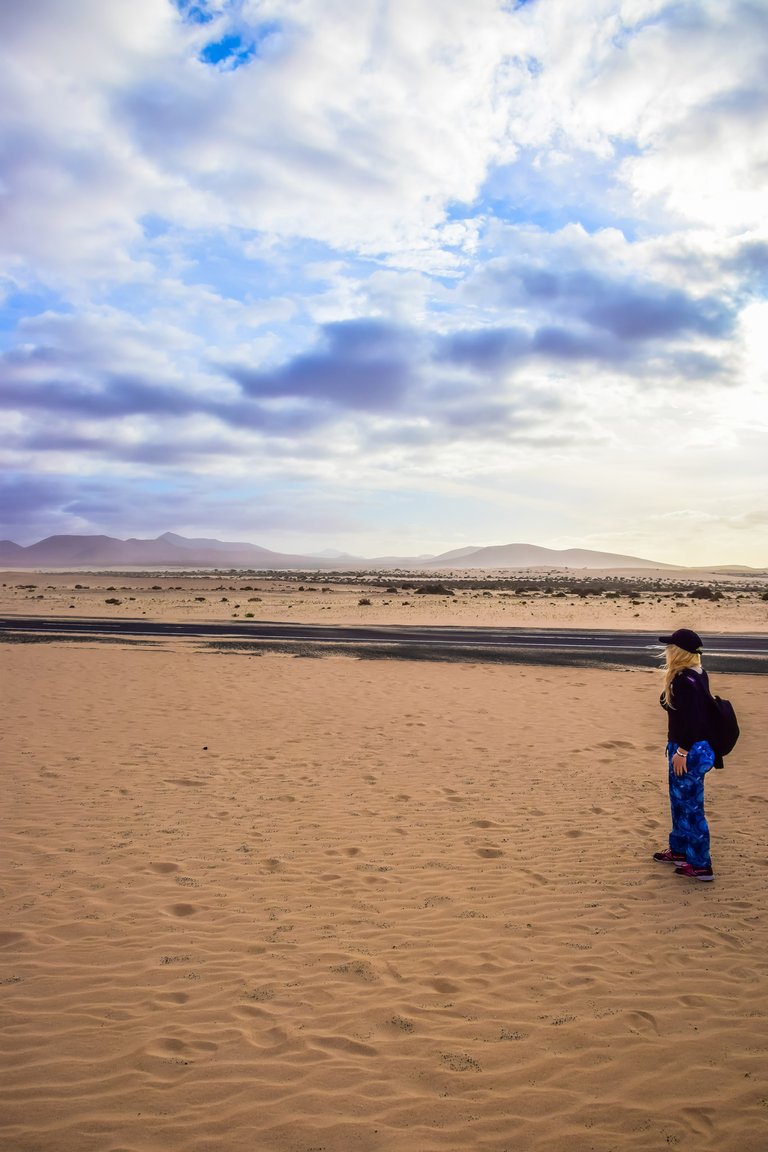 There is no denying that this is such a beautiful scenery with a peaceful atmosphere- I could easily spend hours in this place alone. Lower down from sand dunes, there's an amazing coast with turquoise blue waters. Close by, you have restaurants, bars and hotels- so if you're planning a Fuerteventura trip, I'd pick Corralejo to stay at. So that you're close to all that mesmerizing beauty. I'd book a trip just to explore this area alone, I really ached to let the coach drive away just so I could explore and admire this place for longer. But I had an early flight to catch, so sadly this wasn't an option. The clouds and the beginning of sunset was giving some amazing hues so, I stood there instead, breathing in the fresh air, enjoying the wind breeze and the spectacular scenery in front of me for as long as I could, until it was time to move on.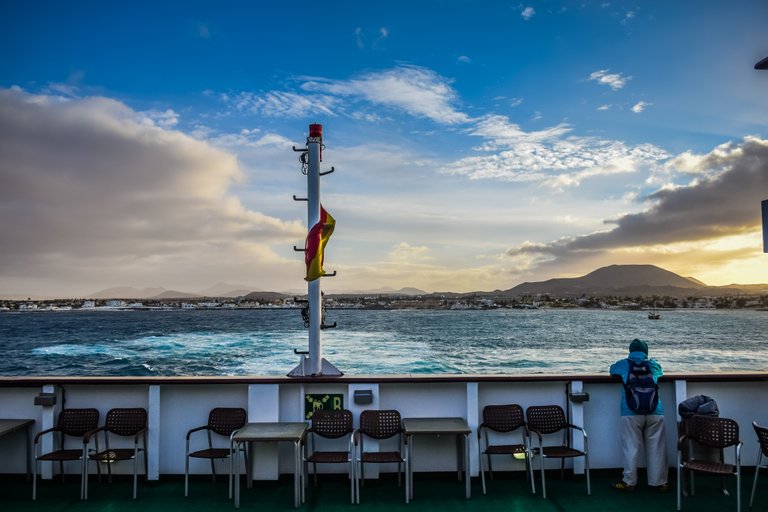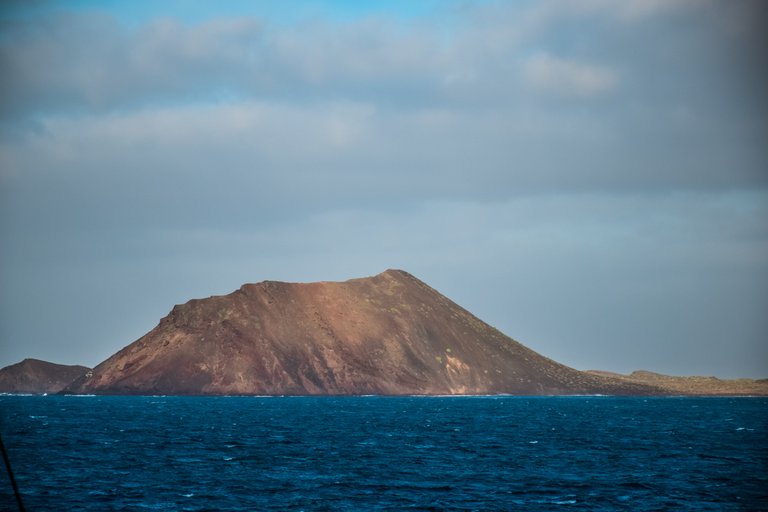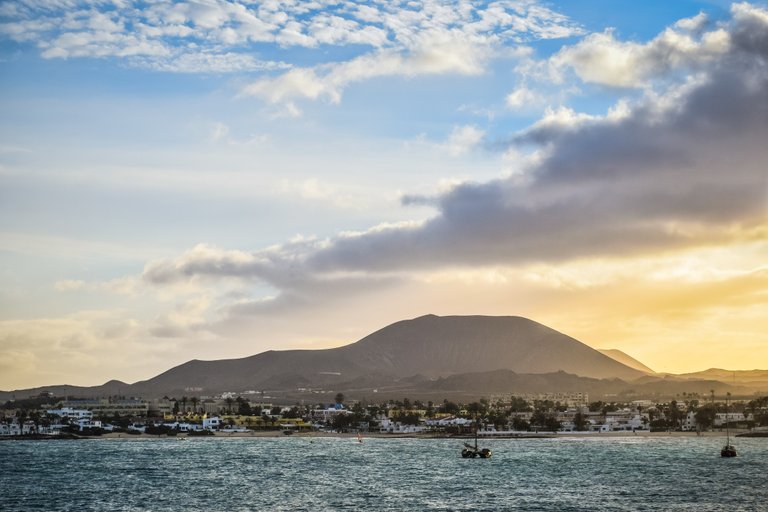 Back on the ferry, the journey and sea-sickness was soothed slightly due to my distraction of the sunset views of Lobos island in front of us, and Fuerteventura in the back. Leaving this island with this stunning view was a cherry on top of a cake. Great way to end the trip. Fuerteventura did not disappoint, and I certainly wish I had more time there even for the sand dunes alone!
Please consider commenting, sharing and upvoting to see more of my travel adventures.
Please visit my website www.martatravel.com and follow me on instagram at martaetravel !
Thank you for reading,
See you again,
Marta x