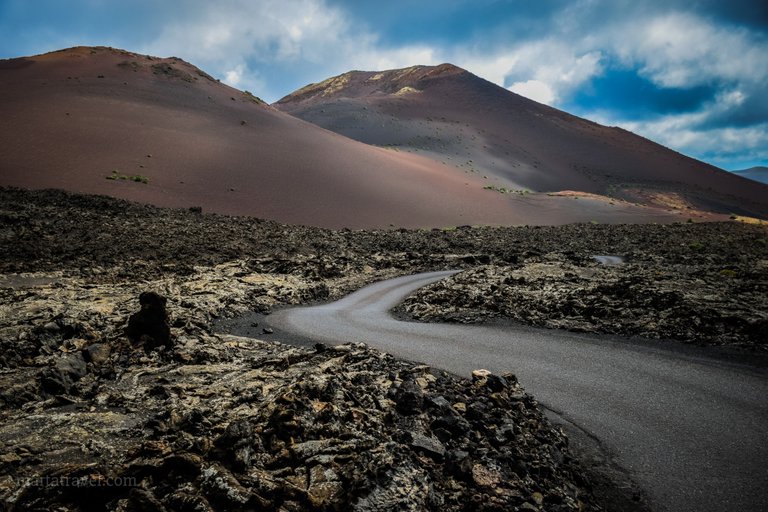 Welcome back,
Today we continue the Lanzarote adventures! Last time we left off, we were relaxing on a beach in Puerto del Carmen and watching stunning sunsets. That relaxing day was essential in resting my knee and body and preparing myself for some intense adventures for days to come.
And that's where we are starting today. If you've read my introduction blog, you might remember me saying about how after the surgery and laying in bed for months, I was eager to get up and get back into the living. How I wanted to prove to myself that I can still achieve my goals and dreams, but maybe with slight adjustments or in different ways that I originally imagined.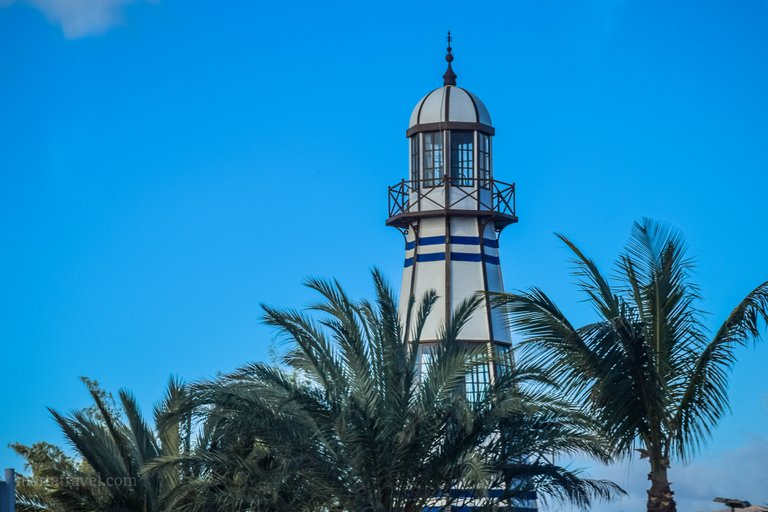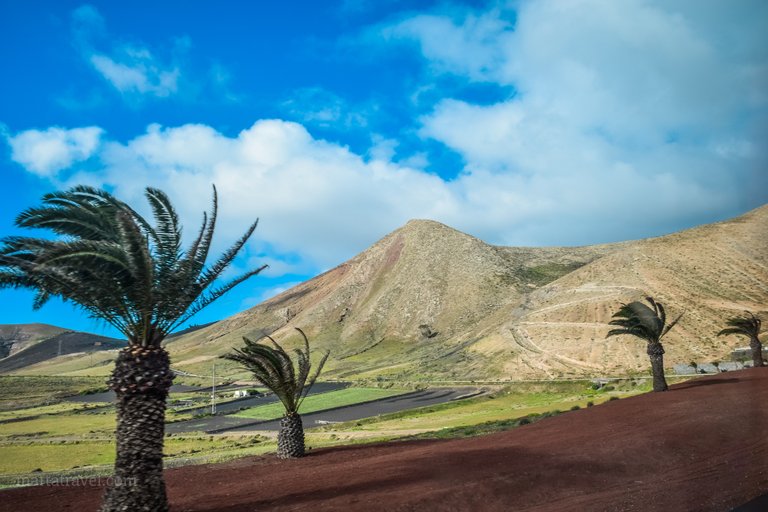 One of my bucket list items, was to climb an active volcano. And this was one of the main reasons for this trip. Lanzarote is most known as a volcano land, with the infamous Timanfaya national park often referred to as the place of fire mountains. With the vastly volcanic landscape and countless volcanoes- easily accessible for tourists- I knew I'd find a way to get on top of a volcano there with some assistance.
So, I did the touristy thing and booked a tour. I love those, as with the right guide, you can get so much more information and insight into places- than you would have if you went on your own. I set off early in the morning and was excited about discovering places that furthermore showed the beauty of this island.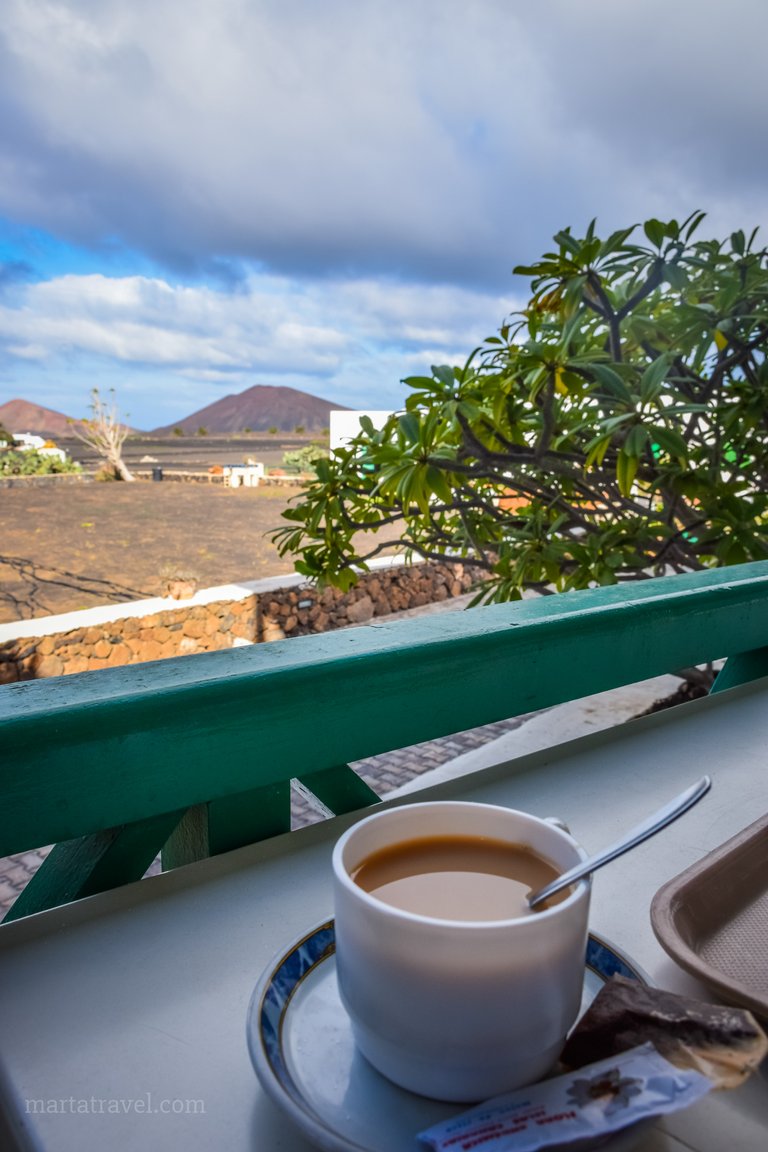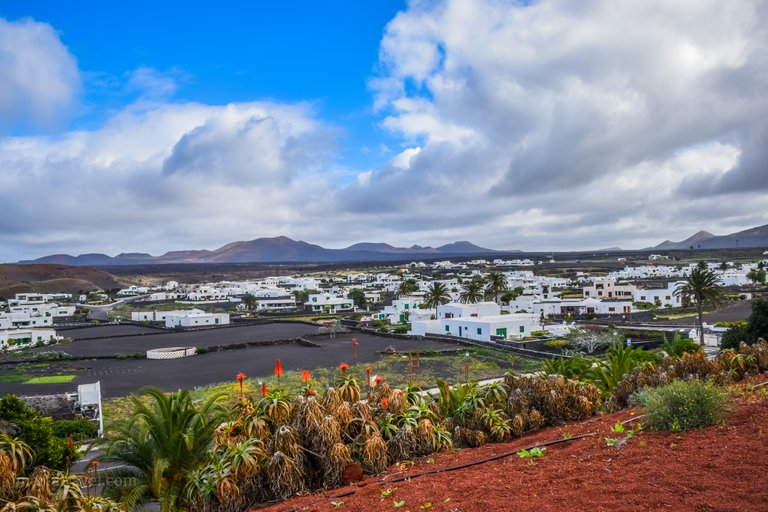 We started the exciting journey, and already I was admiring the beauty of Lanzarote among the way. After picking up some more people, we stopped for a nice tea & coffee break with a pretty scenic view of Lanzarote. I was excited for the coffee, though I didn't really need it since my excitement about this trip was fuelling me in ways I didn't even imagine.
So, after my pleasant cup of tea, I walked up to the viewpoint, which featured a few steps. Steps were my main weakness along with inclines, even knee brace wasn't helping enough with that. But I knew that though this trip is very convenient, since it practically drops you off at the attraction spots, I still needed to brave some steps and walking in order to see everything those places had to offer! I admired the first view of the trip, excited about what's yet to come.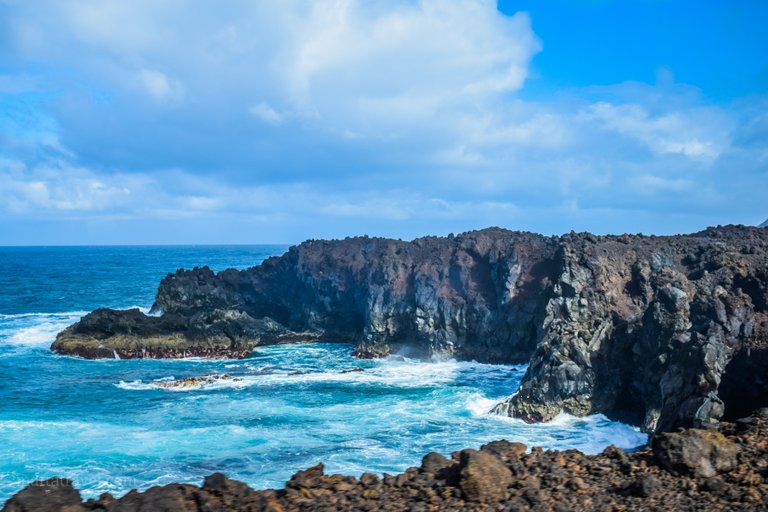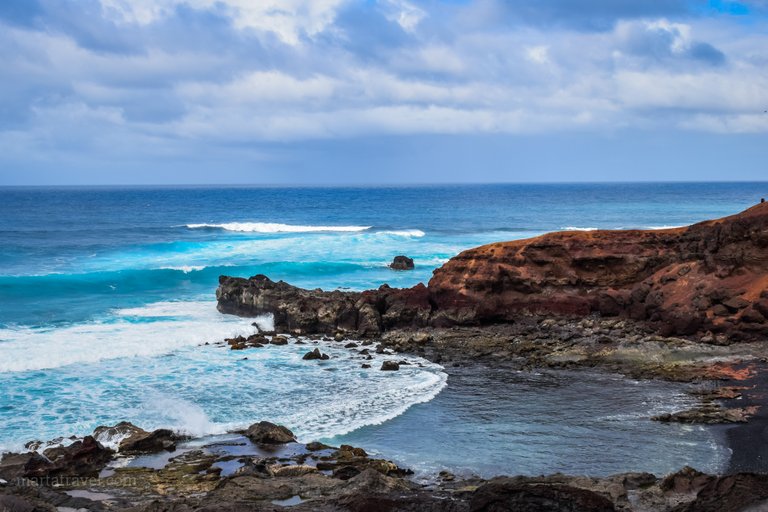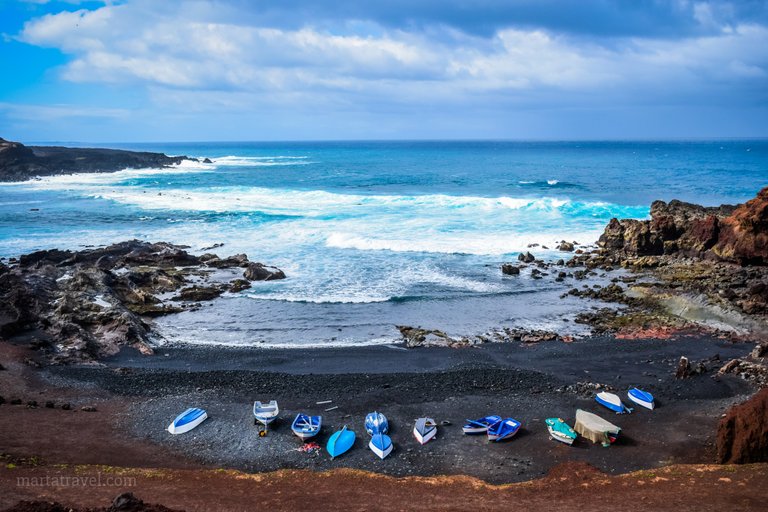 Reaching our first proper stop close to Los Hervideros and El Golfo. We passed fishermans village followed by dramatic red and black rocks with deep blue sea waves crashing into them. I must say, I was already in love and so happy I chose this tour. The view was so captivating, the waves crashing with such brute strength against sharp looking cliffs and rock formations. I imagined the spectacular process of lava meeting the sea- and solidifying, making this stunning view of the cliffs we see today. I walked alongside the path and admired the deep colours of the cliffs, the sea and colourful boats settled on the shore.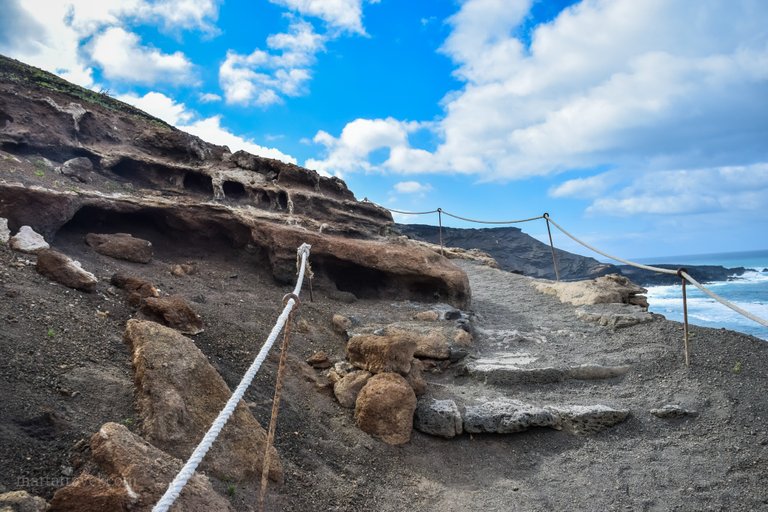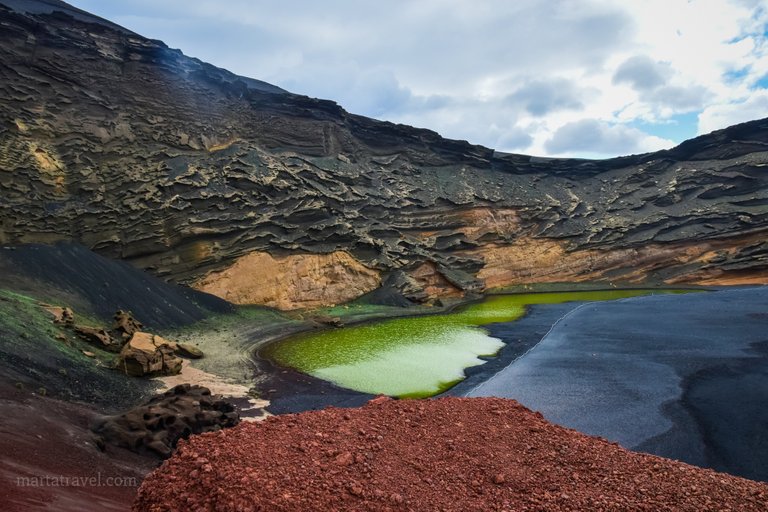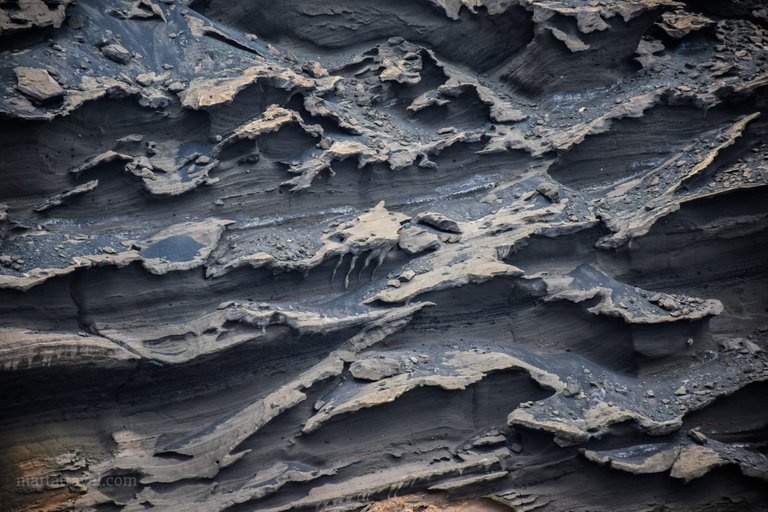 I followed the path which at first was very easy, I was surrounded by beauty and mesmerised by waves. I kept walking until I reached a more rugged part of the path and then a turn that would reveal the magical view of Green Lagoon!
The red rocks contrasted with the black lava rock formation, and in the middle of it all a vibrant green lake. I felt as if I was on another planet, perhaps mars? The whole scene is out of this world, the photos really don't do it justice. I was stunned by the vibrancy of colours in everything I saw. By the shapes, patterns and textures of everything. A photographer in me awakened with the desire to have a model I could photograph against this magnificent background.
The green lake is positioned in the middle of a volcano. The volcano erupted centuries ago and got flooded – therefore creating the lake. Its connected with the ocean which helps maintain its water level and ensured the lake's survival so that we can all see it today. The green colour is most likely due to the algae situated at the bottom of the lake as I was informed, the vibrancy of it is truly breath-taking. As I was admiring this look, I imagined how wonderful it would have been to come by during the sunset and see the colours come to life even more. Though, it is really hard to imagine how this view could get any better.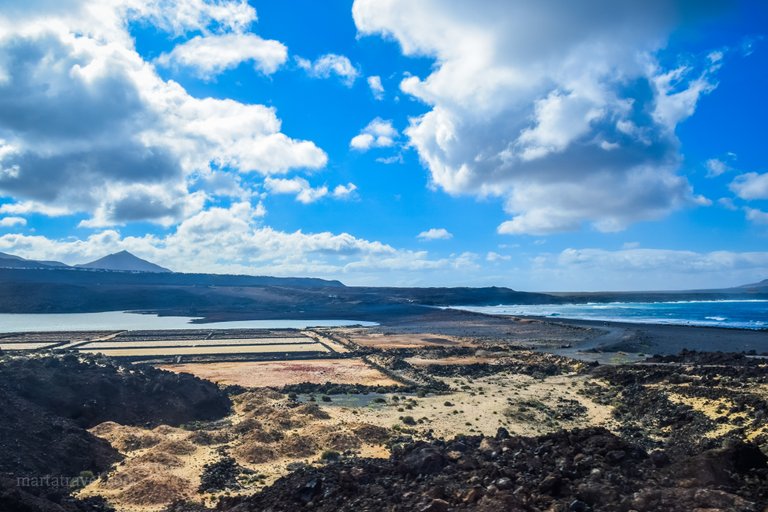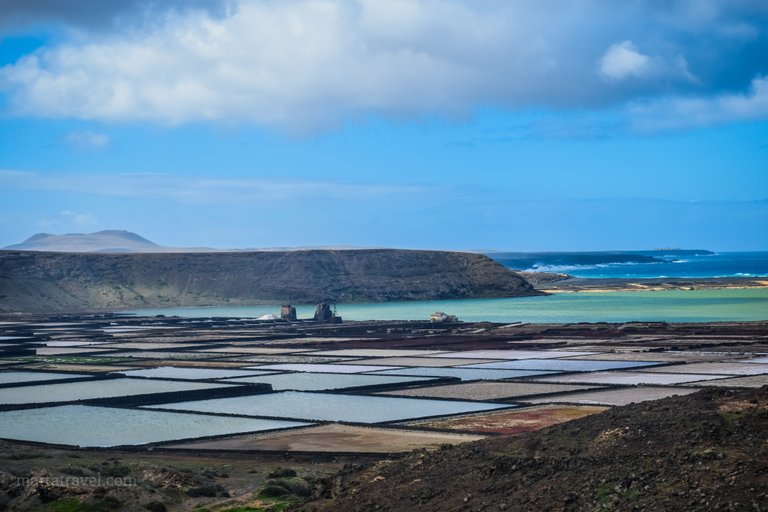 After my little incident, where I thought I have lost my lenscap and almost missing the bus because of it (only to find it in my pocket-typical…) we headed to the next location. While en route we passed by the infamous salt flats, the Salinas del Janubio. A place where islanders work, to create salt which is consumed by locals or exported into other parts of the world. This place is so beautiful, the vibrancy of waters in shades of blue, green or turquoise- all interlined into one scenery. I was told that this specific salt land was created by the great eruptions of Lanzarote, which made a lagoon therefore allowing creation of the salt flats. Around same time of eruptions that created the green lagoon earlier.
I found it fascinating that so many of the stunning views and functionalities of the island where created by vast destruction which came from volcano eruptions. A destruction that created beauty and in some areas, purpose.
Since the salt flats creation in 1895 the same family has been operating it, up to present. While so many salt flats have shut down due to technological advancements, this one is one of the few still operating to this day.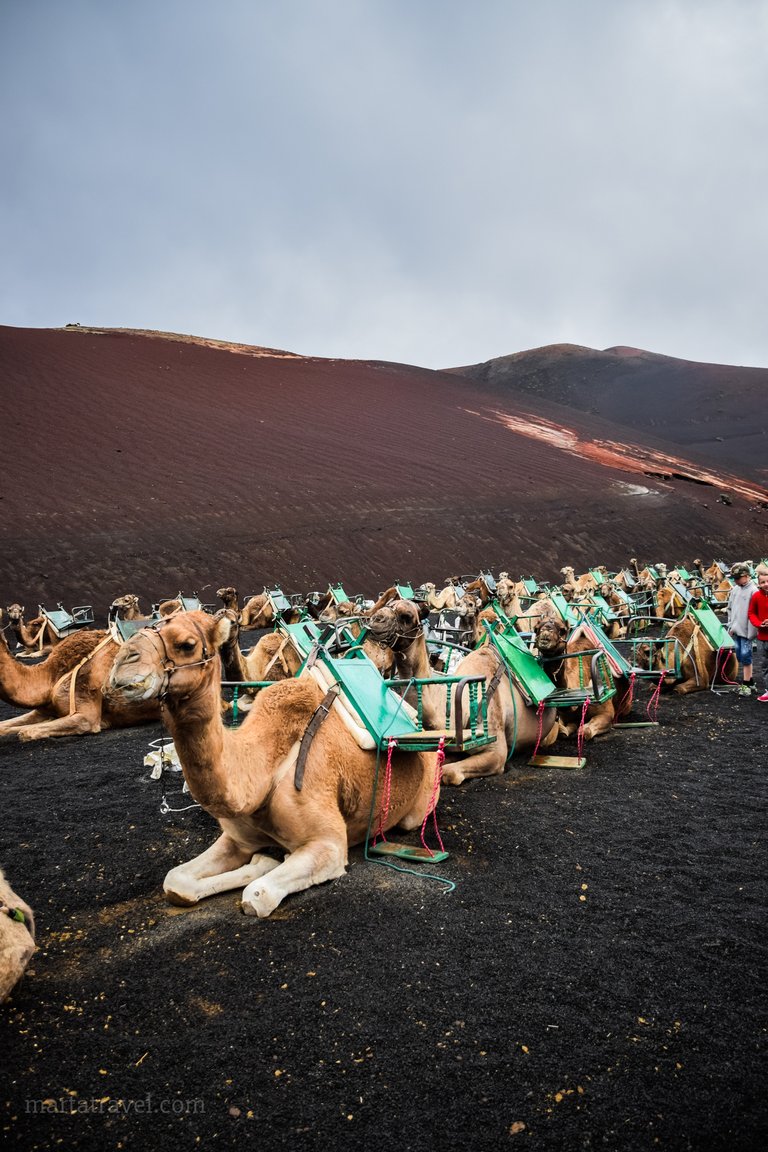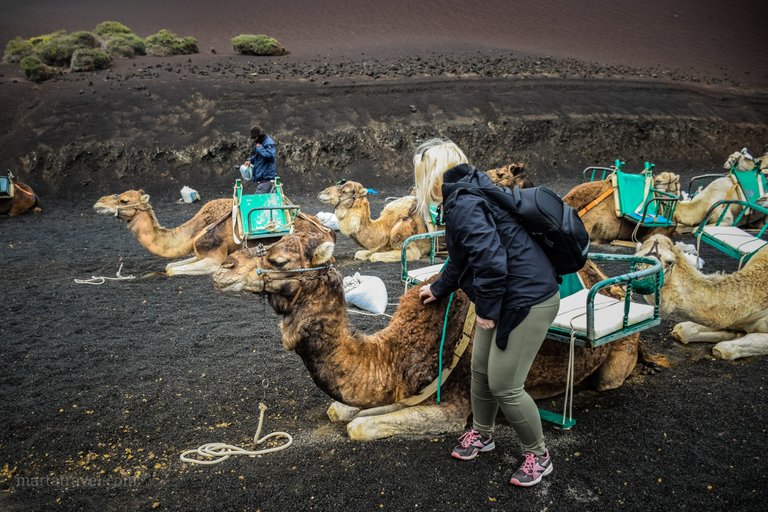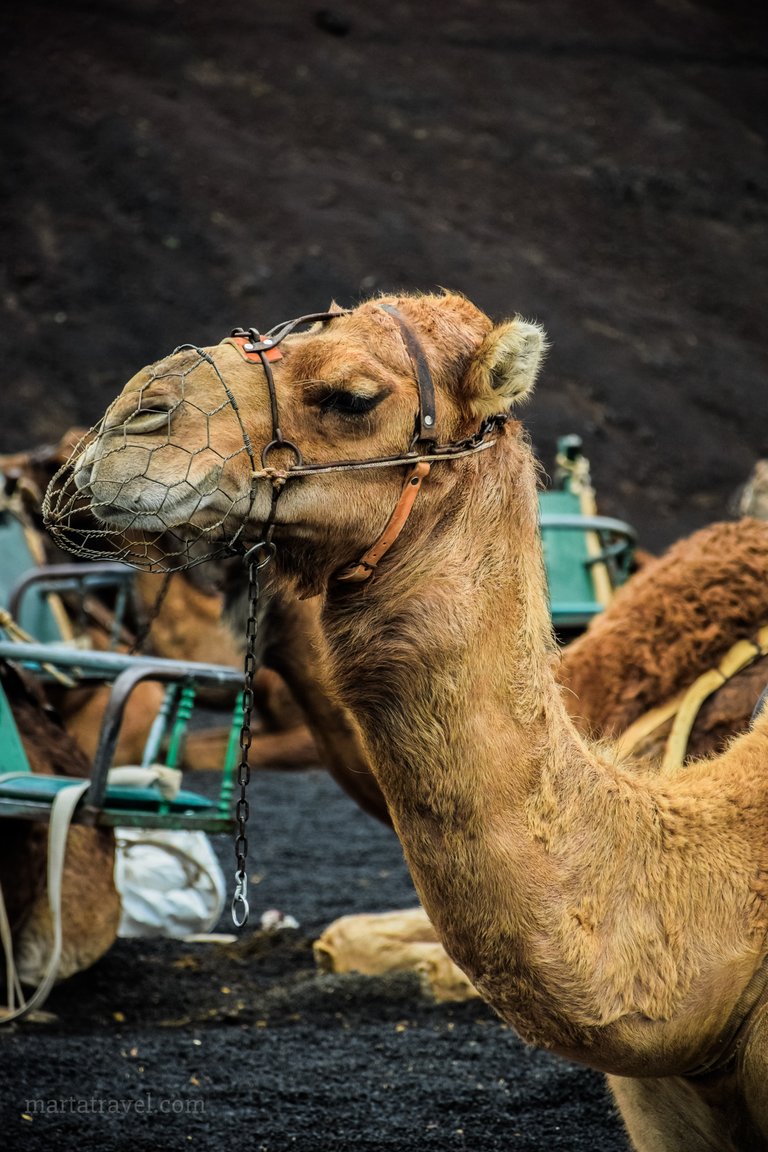 Then it was time to catch another exciting spot with a mighty camel ride. Although there was no time to participate in the actual activity, I had fun looking at those mighty creatures and petting them, hoping they won't spit on me. I've been there before with llamas; I learned my lesson hehe. There was so many of them, just relaxing away on the volcanic sand. I have to say that going on a camel ride amongst the volcanic sand dunes seems pretty great. Though I really hope these animals are treated well, they seemed pretty relaxed but you never know whether that's the training or their contempt.
I know we have seen so much already, but this is when the tour started to get even more WILD.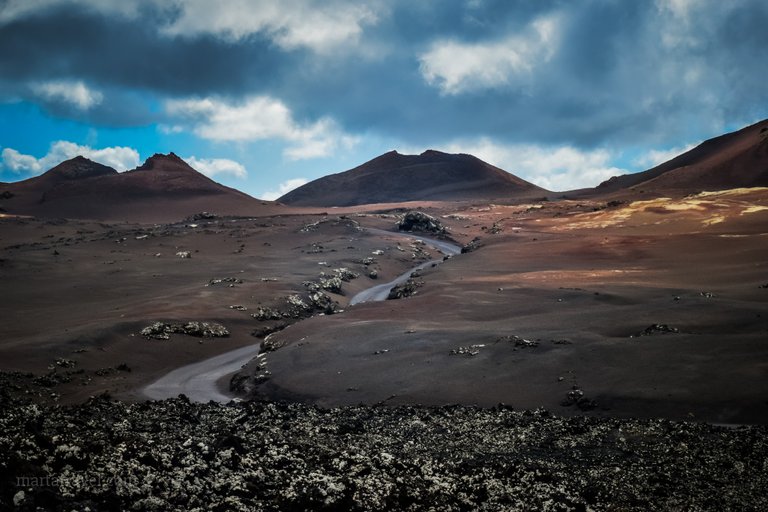 We entered the Timanfaya national park, the land of fire. The place I was looking most forward to. The place with such vast history and the undeniable proof of the power of nature.
As soon as we entered the park, I was bombarded with picturesque views from every angle. Volcanoes on every corner, lava land stretching for miles, it was as if I entered the land of Mordor in Lord of the Rings. I wished I could step outside and walk on foot around these views, but the area is restricted in access to tours only– to preserve the flora and fauna of the area.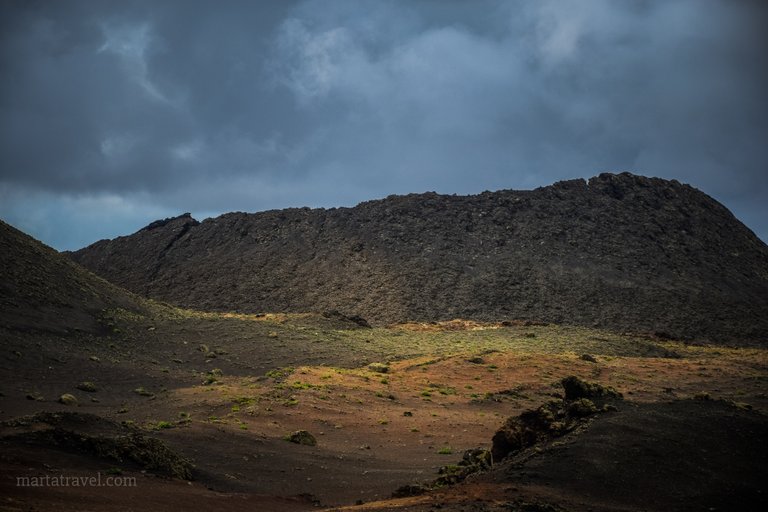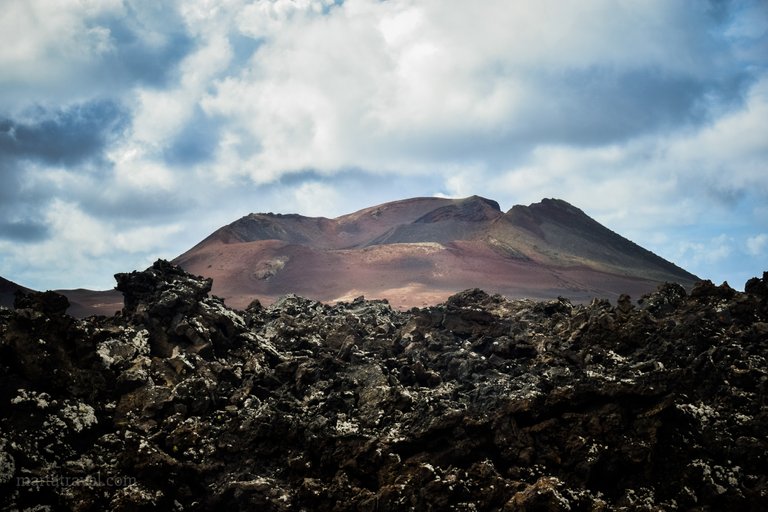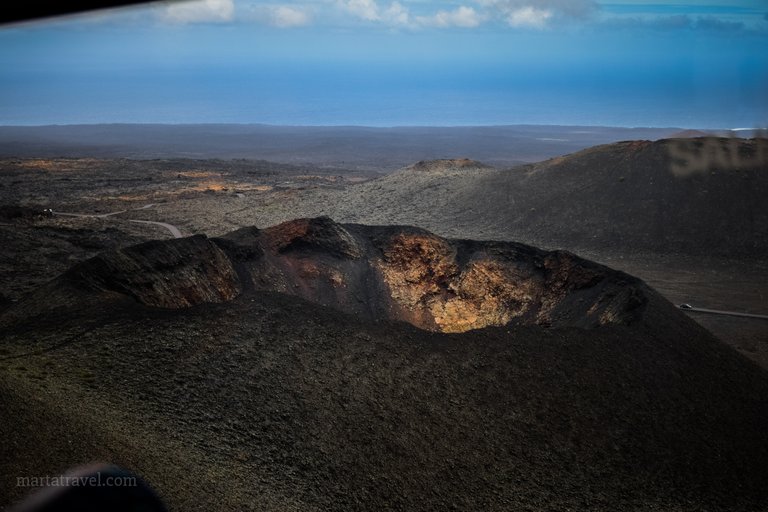 Timanfaya was created between the years 1730 to 1736 after over six years of almost continuous volcanic eruptions. More than 30 volcanoes exploded in that time, with some rising from the ground and the temperatures reached 800c. The eruptions changed the shape of the island drastically, covering around a quarter of the island with lava. It covered 5 villages, farm lands and forced the inhabitants out of their homes to flee to other places of the island. Due to the dry climate of Lanzarote, this lifeless area looks similar to how it did 300 years ago, with some exceptional areas where the force of life pushed through the dry lava rocks. The beauty of this place is hard to describe, whether it be the dark, ashy landscapes of solid lava rocks stretching for kilometres or the grandiose volcanic craters. As beautiful as it is today, I can't imagine the fear of people who witnessed it in those times.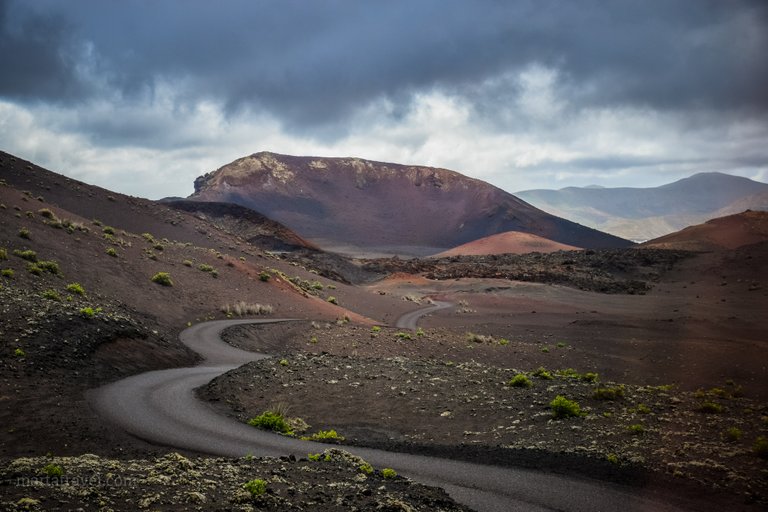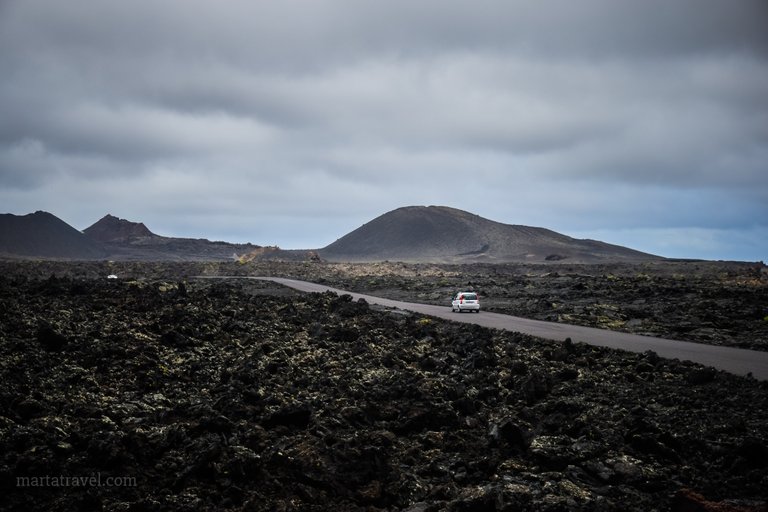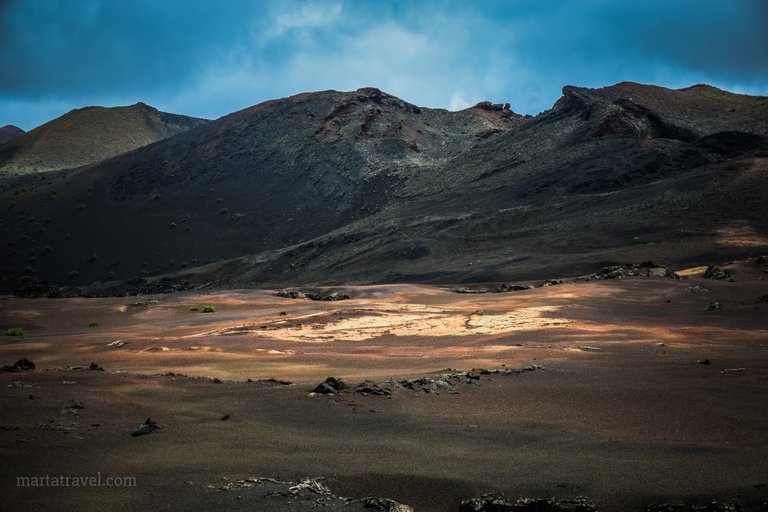 One of the main documents from this era talking about the eruptions belonged to a priest who described the events in the years of eruptions. He talked about the frightful sound of thunder and explosions from erupting volcanoes, the mountains rising from the earth, the dead fish overflowing in the sea, the darkness that followed from the cloud of ash covering the island, people fleeing to seek refuge from it all. It must have seemed like the end of the world.
I was watching this landscape in complete awe, the swirls and turns that revealed more volcanoes, at the end I've lost count on how many I've seen. Looking back at the tour itinerary, it looks like it was about 32. I was stunned by all the shapes and patterns, of lava of rocks, by various shades of red, yellow, black and grey.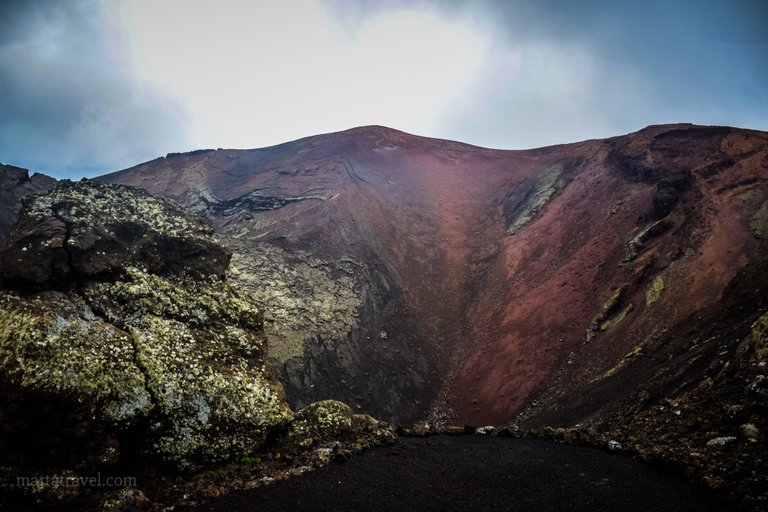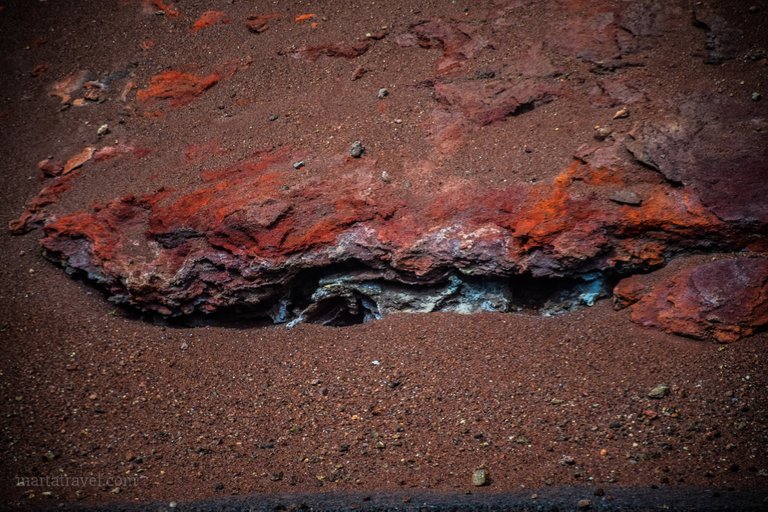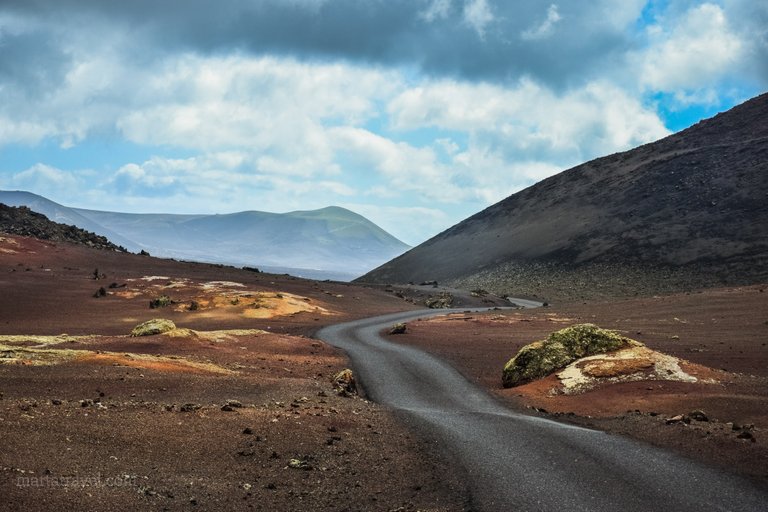 The entire drive was breath-taking, especially with the educational narrative which described how this entire place came to be. I wish the ride was longer, as in all honesty everywhere I looked there was a photo opportunity of a landscape to just truly admire, it got me quite stressed as I tried to admire and capture as much as I could, from my limited bus seat. I'd say that this way is very convenient in seeing as much as possible in most efficient way. But if you're a wild soul, you might like one of the smaller guided tour options or even hiring a car for this trip. You can easily spend an entire day in this place and feel like no time has passed at all, immersed in the unique beauty of it all.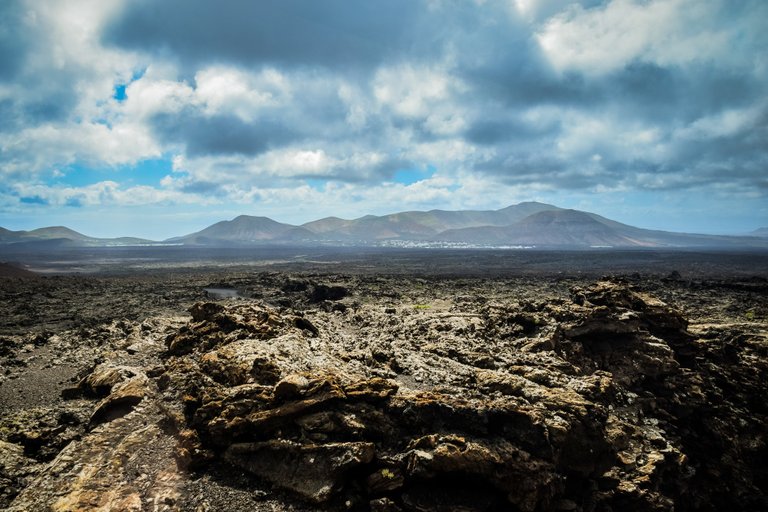 The drive continued but this blog will stop here as I decided to split this day into a two part, there is just so much to describe, so much to share and this part got already quite long. So if you'd like to see me achieve my goal of being on top of active volcano as well as the other wild and amazing experiences of this trip, please stay tuned for next week's blog!
Meanwhile I hope you enjoyed this journey,
Please don't forget to comment underneath/upvote & resteem.
Please follow my instagram martaetravels and visit my website www.martaetravel.com
Thank you all for reading and until next time
Cheers, Marta x