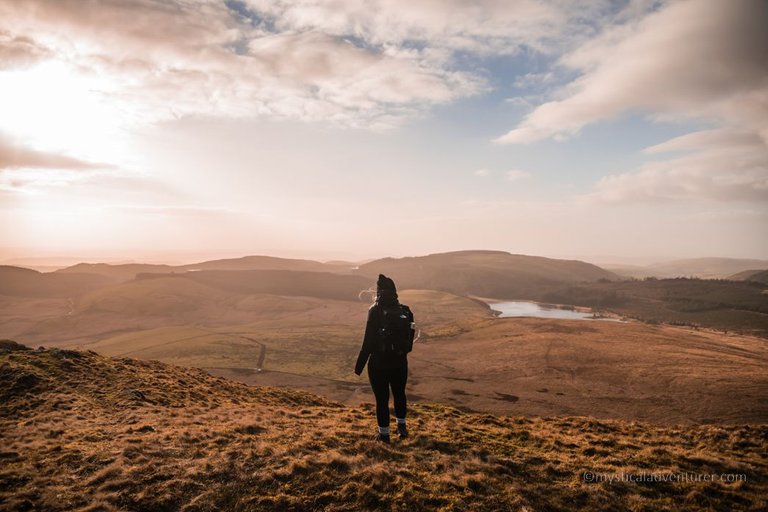 Hello everyone,
Today I'm taking you on an adventure to Pendam in Mid-Wales. Join me for some hiking in this incredible place where I made it my mission to explore the many versatile trails, including forest paths, many lakes and hills that just ask to be climbed.
I would love to say that I picked a perfect day for this, as the sun was shining bright, with some clouds making for a dramatic lighting. In reality the weather got dramatic also, soon after I started hiking I was hit by mild winds which increased in force the higher I climbed. But more on that later.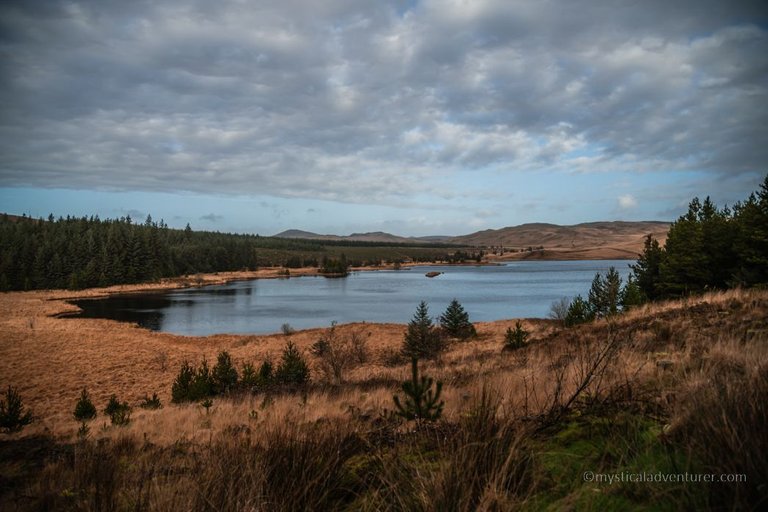 Pendam is quite a well-known location among the locals. The wide trails attract motocross and mountain bikers. The many hiking paths and trails vary in difficulty. From easy paths that take you among many scenic lakes to a more uncharted paths where you can walk for miles and miles to other scenic locations that Mid-Wales has to offer. Whatever your fitness level is, I think this place has something for everyone.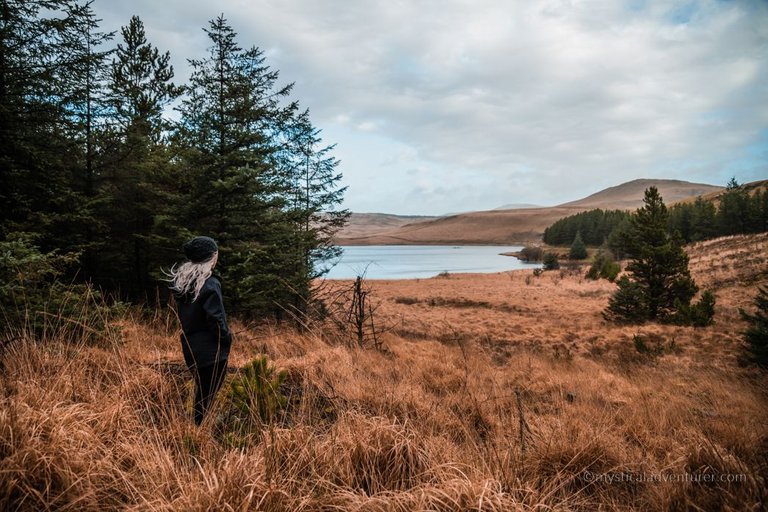 I've had the pleasure of exploring some of Pendam in Winter, back then I set my eyes on one of the taller hills I could see from one of the trails. The pyramid shape reminded me of a volcano, towering over the trees. I knew I will attempt to climb it as practice for bigger mountains- even though I wasn't sure how I was going to do that exactly.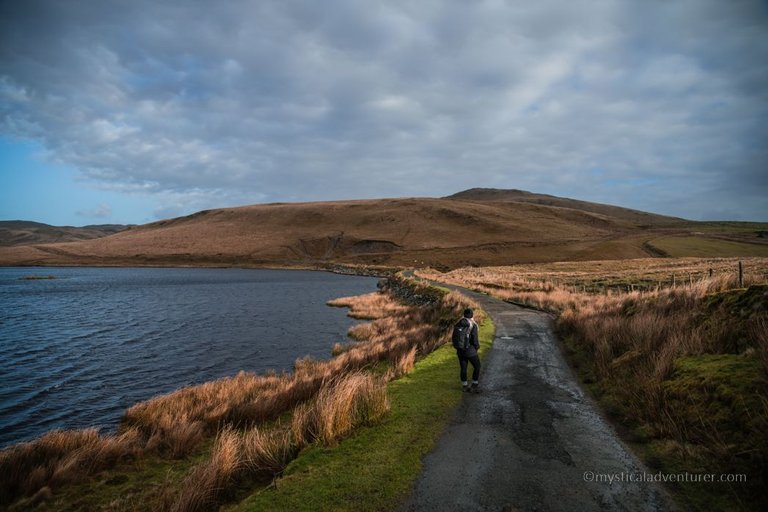 Well, the time has come, and I started my hike with my eyes set on that big hill. I walked down the forest trail surrounded by trees and took deep breaths, enjoying the fresh earthy smell of moss. Soon enough I reached the first opening of the scenery that showcased a stunning lake.
I stood at the edge of the lake, just soaking up the beauty of this scenery and appreciating all the depth of colours surrounding me.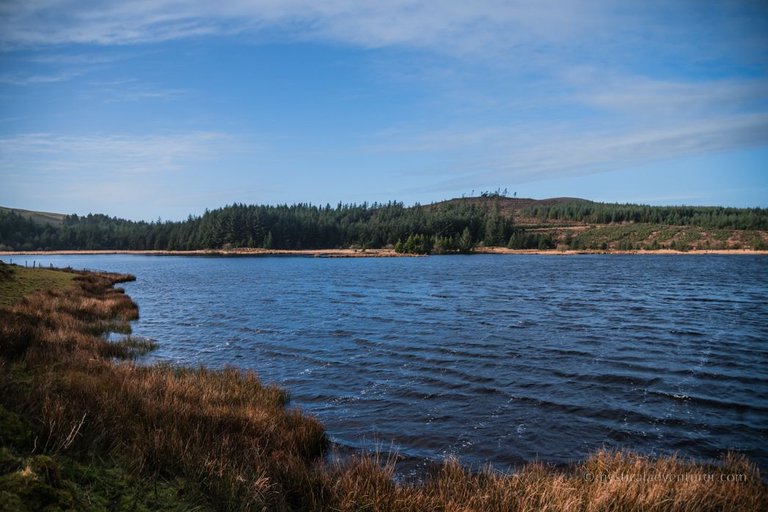 I then proceeded to walk down the forest path by the lake, slowly emerging from the forest depths. Eventually, I was no longer surrounded by trees but grassy yellow and brown hills instead.
It was then that I realised how much the wind has picked up in a short time span since I started the hike. Tiny waves formed on the lake, suddenly the winds started to make me feel much colder.
Weather conditions weren't ideal, but I proceeded to climb in the direction of the hill. I was no longer on any trail and heading up into the unknown, not knowing whether this path has been walked before. I couldn't find any documentation of this route online, so wasn't exactly sure on what to expect.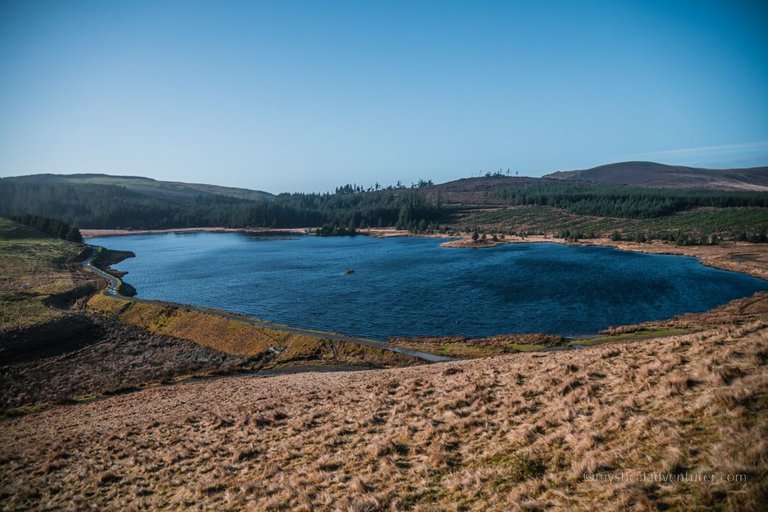 I felt a sense of excitement, especially while looking down at the views of the lake which was precedingly getting further away. But as I climbed, the winds became increasingly relentless. The harsh cold from the wind was pinching my cheeks and at times gusts of wind became so strong, I had to brace extra hard not to lose my balance. I put my snood on and carried on.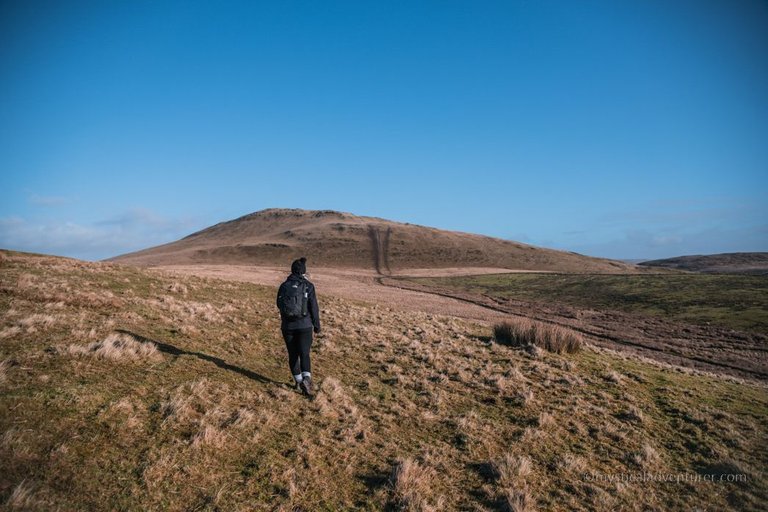 Making it over the incline I had a better view of the peak. It felt like it was at my fingertips. I started walking across bumpy grass land where I came across some fluffy sheep. Then another incline began. I stopped a couple of times to appreciate the views looking down, it's good to see the progress of how far you've come but also because of the scenery that gets progressively revealed more the higher you go up. These moments would fuel me up with so much joy and excitement.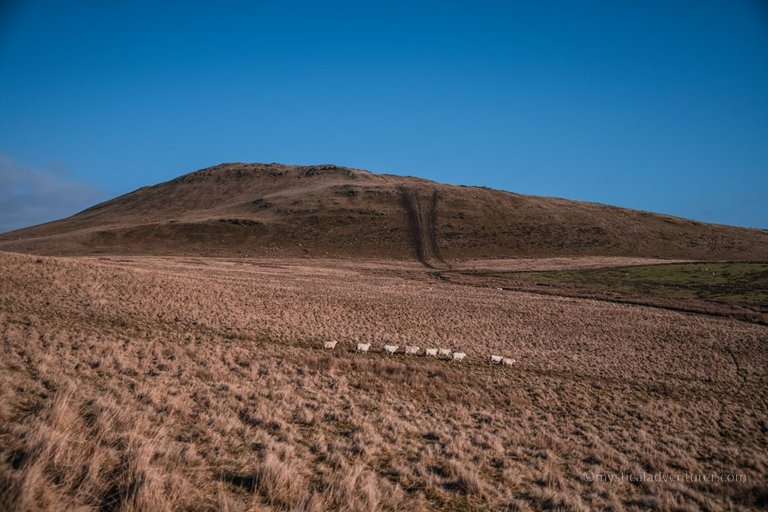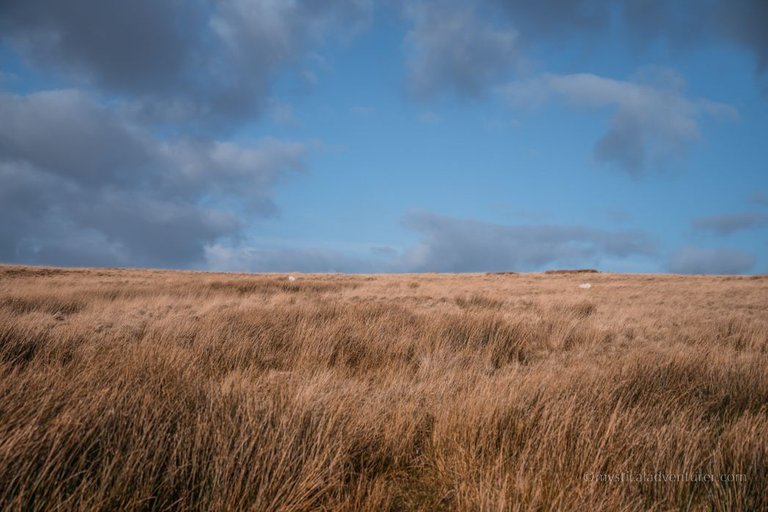 At this point the winds gusts became something that I had to actively fight against. This hill might have felt like a walk in a park on a sunny calm day, but at this point each step was taking an increased amount of energy to make sure I don't get swept away and tumbling down the steep hill (as fun as that might sound, it's a no from me hehe). My fingers started turning purple and I quickly realised that drinking coffee at the top of the peak to warm up, will probably not happen. (Although I did try, so if you're interested snoop around my Instagram @mystical.adventurer to see how that went).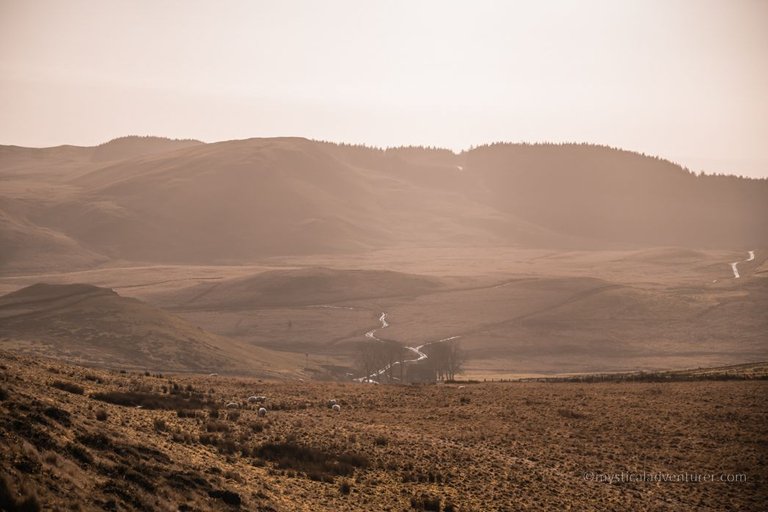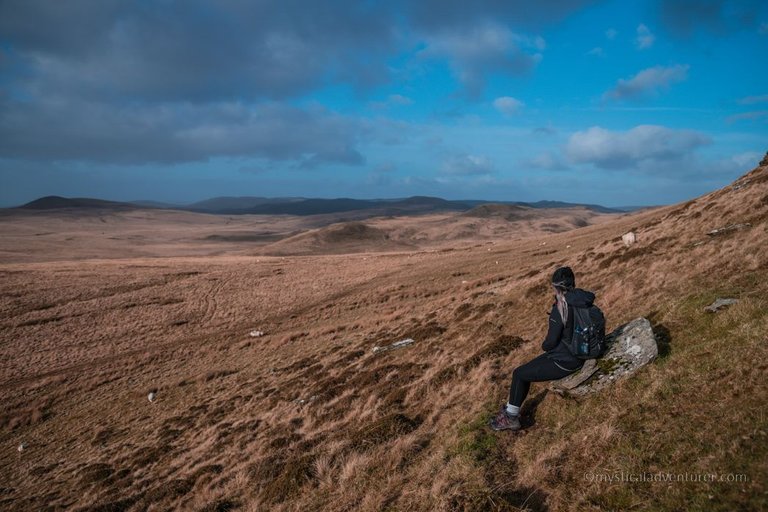 The evening sun, however, has peaked from the clouds and the sunshine started turning the yellow and brown grass surrounding me- golden. I was in absolute awe over the scenery in front of me. I suddenly found myself entering a deep sense of peace, calm and gratitude. Even though I was actively fighting the winds, looking at this scenery made me realise that this moment was SO PERSONAL.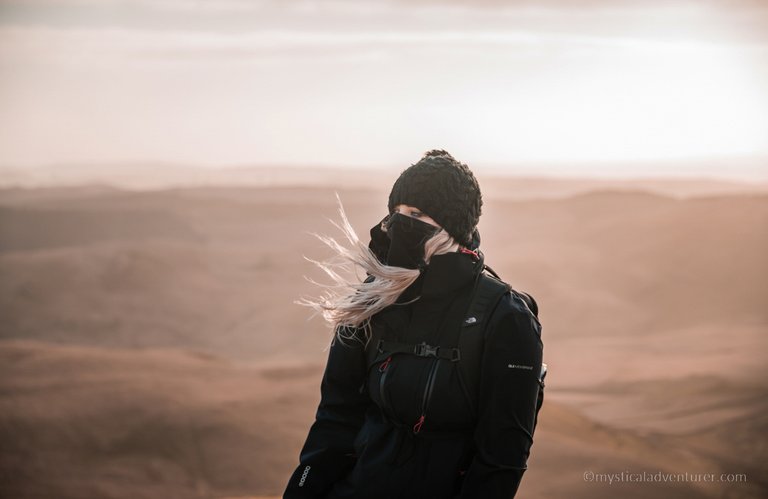 There were no other hikers around me – at this specific time, this specific moment in this specific place- this whole scenery was -for me. I was awe struck and thanking God, because the beauty I witnessed that day is truly hard to describe.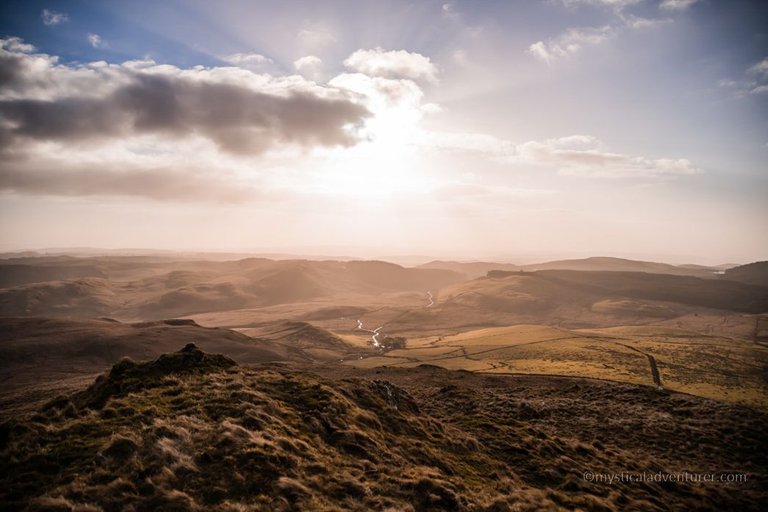 A little bit higher up the hill I eventually reached what was a peak. I found a pile of rocks there which made me wonder whether this ''hill'' that I was climbing was actually a small mountain. Highly doubt so though.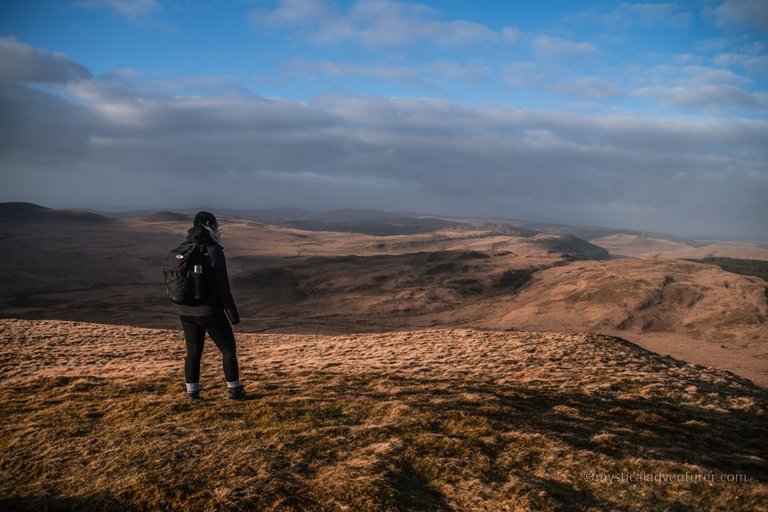 I looked at the views outstretched before me, the golden hills surrounding me. I couldn't appreciate the view for long however, as my legs felt like icicles at this point and with the sun going down, I made a quick plan to drink my coffee at one of the lakes instead.
Walking down I had one last look at the scenery. With dramatic clouds rolling in, suddenly it became much darker. I knew I had to hurry up going down to make it before the sun completely disappears.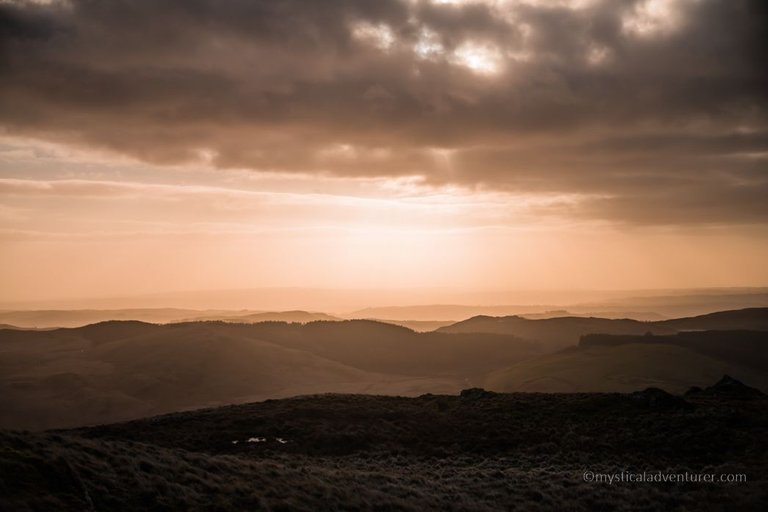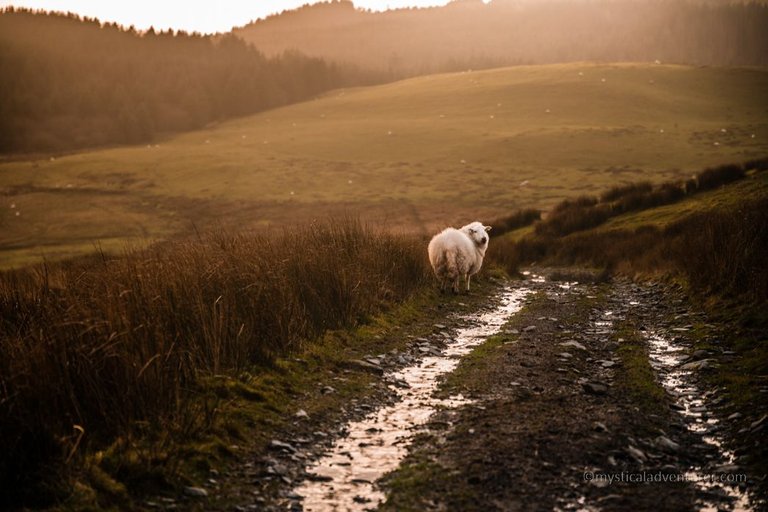 Walking down, I took an easier route that connected to one of the side paths, crossing golden fields. Eventually I started seeing trees again. And then re-joined the official hiking route which looped around different lakes.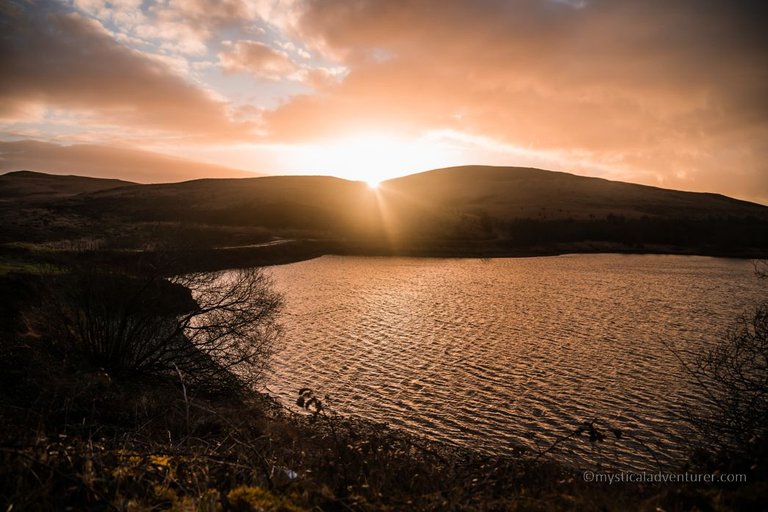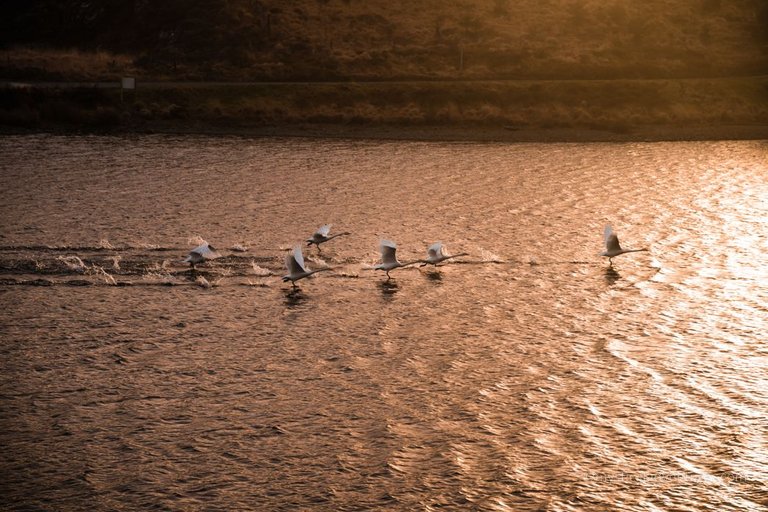 I made it just in time as the sun started dipping behind the hills. I finally felt relaxed, not having to battle winds any longer- I just sat at the edge of the lake, watching the wildlife, eating sandwiches and finally having my long awaited CUP OF HOT COFFEE. Wrapping my cold hands around that hot cup felt like a dream, each sip felt like a warm hug.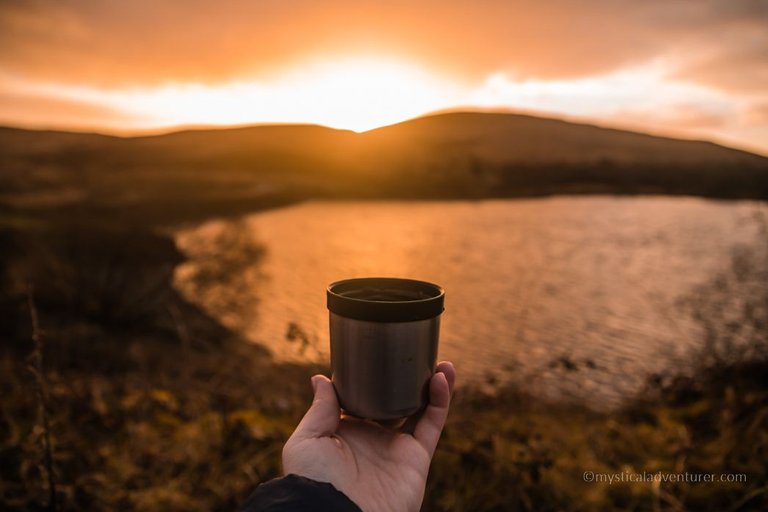 I delighted in this moment, pondered how hard it was at times to carry on. The freezing temperature, cold biting wind that kept trying to sweep me off my feet but how rewarding to be able to witness all this incredible beauty of nature? So worth it.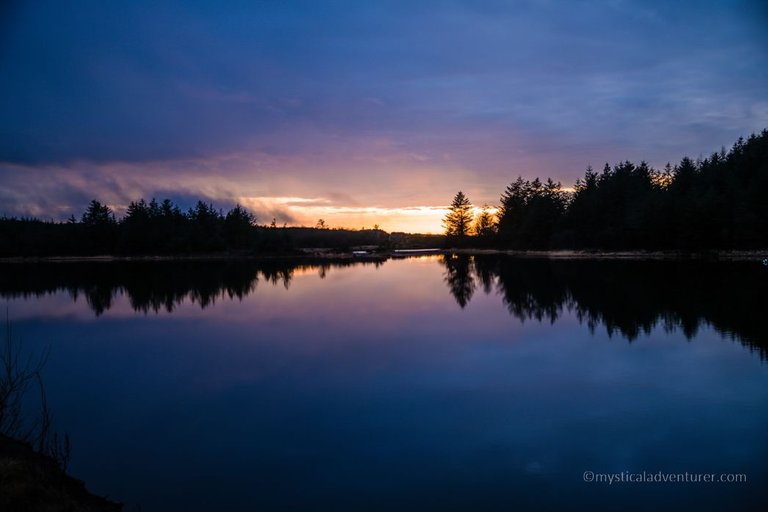 As the sun disappeared, I walked the rest of the trail to another lake located by the carpark, there I appreciated the pastel colours of the sky painted with the last traces of light. Then it was time to go home.
Hope you enjoyed this blog post! I'm so joyous to be able to share it with you all. God bless you all!
Thank you so much for reading,
Please don't forget to upvote, comment and share this post if you liked it!
For more blog posts visit www.mysticaladventurer.com and follow me on Instagram @mystical.adventurer for up to date updates!
See you again,
Marta x