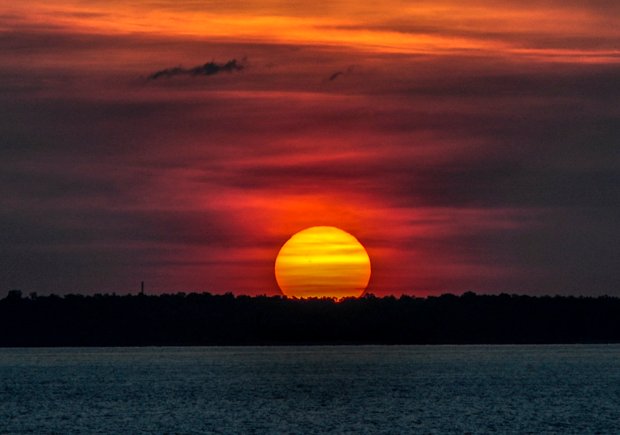 Darwin was the last of the Australian State capital cities I visited. It took me years to get there as it is closer to Asia then the majority of the Australian population centres. With a modest population and relaxed atmosphere, Darwin is more of a provincial town with a handful of office buildings and streets making up the city centre.
The majority of Darwin's inhabitants are from elsewhere having moved here to work in the military or mining industries, therefore pushing the housing prices up astronomically (average house rent $800 per week). Although recently the military have been moved to South Australia so many families are selling up and returning south.
To get the most out of Darwin tourists should visit in the dry season between May and October and avoid the tropical wet season when an average of 1500 millimetres of rain is dumped along with excessive humidity, mosquito and cyclones.
The local Fannie Bay beaches are deserted for a good reason: saltwalter crocodile territory. Instead of paying for the usual crocodile parks or exhibits, including one in the main street – you can see them free if look hard enough at low tide.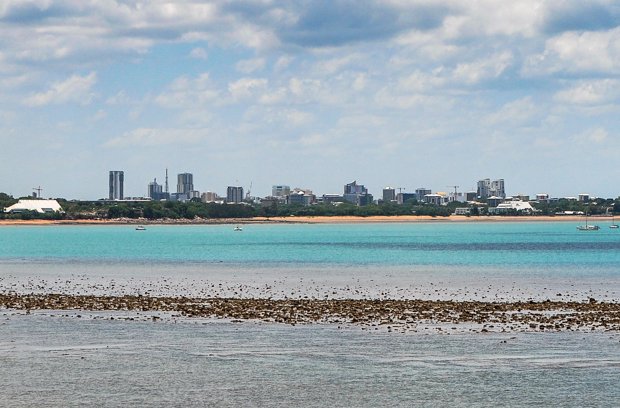 Darwin highlights
Deckchair Cinema; Jervois Road, Darwin Waterfront
"Where the stars light the screen" is the motto.
A short stroll from the city centre from April to November is the nightly outdoor cinema showing latest releases and old classics. Show time begins at 7:30pm for $15 with free insect spray available. There is a bar and tasty food available with a good turn out of people sitting in front of the outdoor silver screen on comfortable fabric or plastic deckchairs with cushions.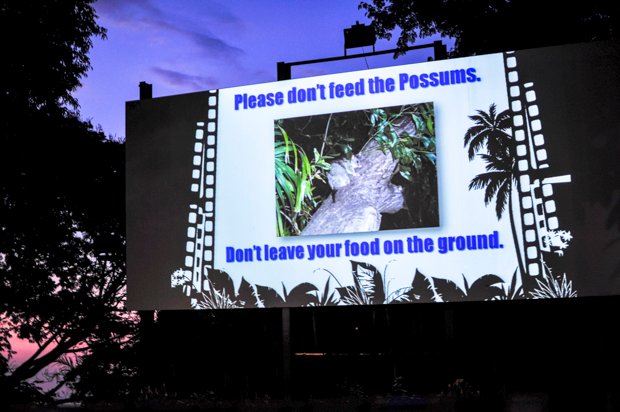 I loved going here each afternoon to cool down at the Wave Lagoon. It is five dollars well spent swimming and "surfing" the man-made waves.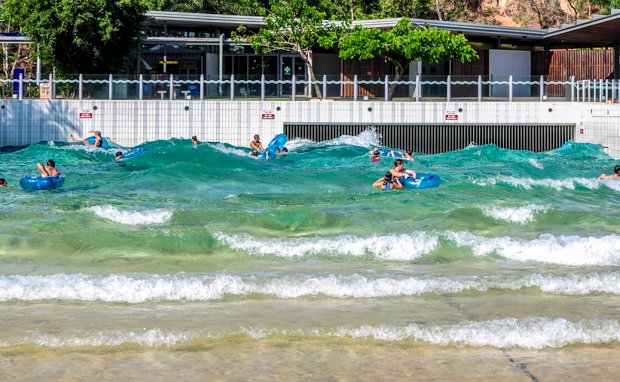 The waterfront has many bars and restaurants, art sculpture and shady trees. A small beach inlet for swimming protected by netting, if you don't want to pay for the Wave Lagoon. A walk along the in the harbour pier to 'spot-a-croc' or for a closer look at the frigate ships is possible. The harbour has recently leased to China for 99 years!
Nearby, behind the Civic Centre in Harry Chan Avenue, is a park with a Banyan tree, known to Buddhists as the "Tree of Knowledge". There are several cast bronze bells with native birds on top surrounding a replica of Charles Darwin's HMS Beagle ship.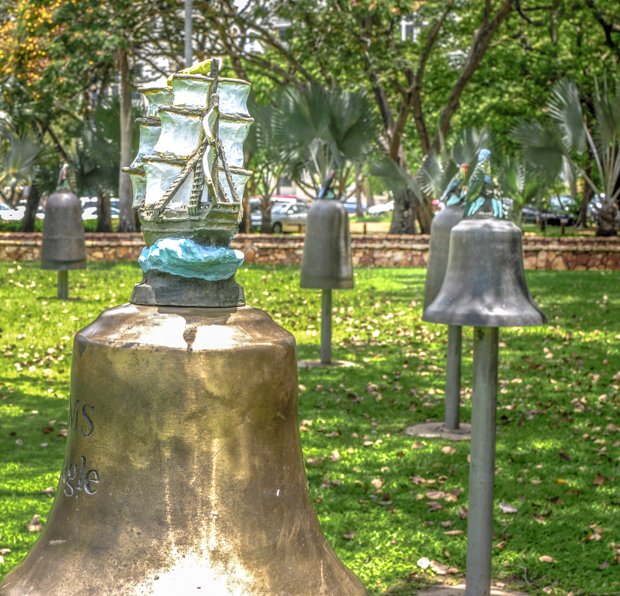 Here the main focus is on Indigenous art with some amazingly intricate paintings done by regional artists. For aboriginal artwork, this gallery had the best I have seen.
A highlight is the 780kg, five metre long stuffed hide of Sweetheart the saltwater crocodile. For five years this crocodile had been terrorising a local river until1979 when it was professionally trapped to be transported to a safer environment but died during the process.
On Christmas eve in 1974 Darwin was destroyed by Cyclone Tracy. In the natural science section there is an exhibit on Cyclone Tracy with before and after photos of the damage and a sound room to hear a chilling recording of the noise that night.
During World War II Darwin played a large role in Australia's defence. The first ever attack on Australian soil was in 1942, when 243 people were killed by Japanese planes.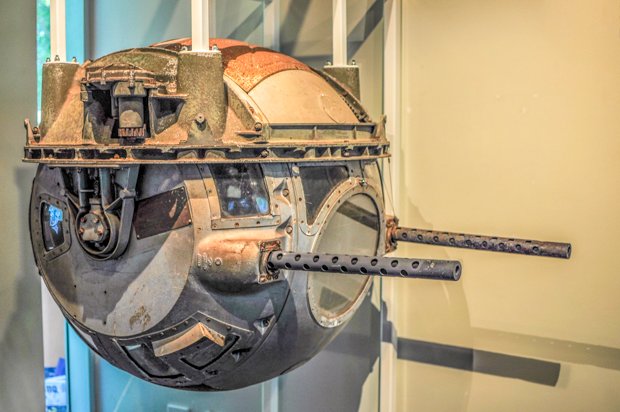 The museum has an dazzling interactive multimedia presentation showing where the bombs hit and a short film first-hand recollections of what happened over the two years when Darwin was bombed 64 times. In Darwin harbour there are 45 sunken war ships including a Japanese submarine.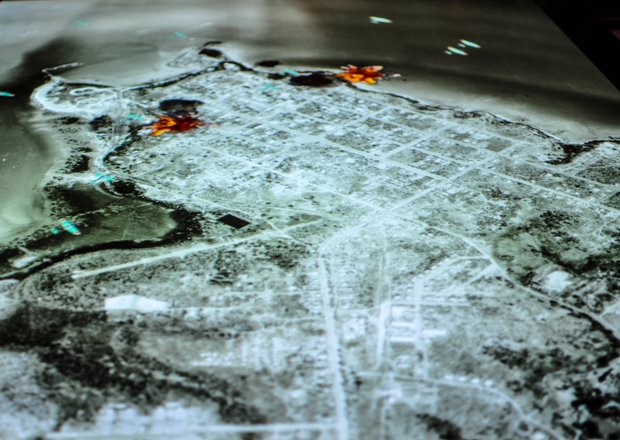 Multimedia bomb blasts
The outdoor area is surrounded by original war buildings and artefacts such as artillery guns and vehicles. Main attraction being the massive anti-aircraft gun pill boxes. It is possible to go inside and see how the guns were loaded and deployed.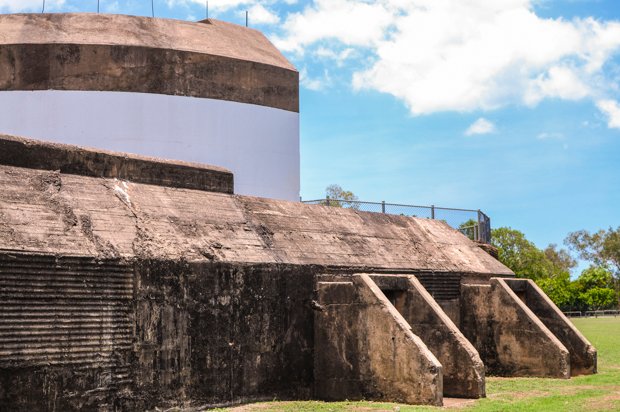 The surrounding East Point Reserve has an expansive view of the Darwin skyline and Fannie Bay. A perfect spot to watch a "Top End" sunset.
These four attractions are the foremost in my opinion to see in Darwin. There are much publicised markets with Asian street food and souvenirs. Or the botanical gardens with the free mangos and crazy bird life, but for something different I choose the above as "must-do" activities.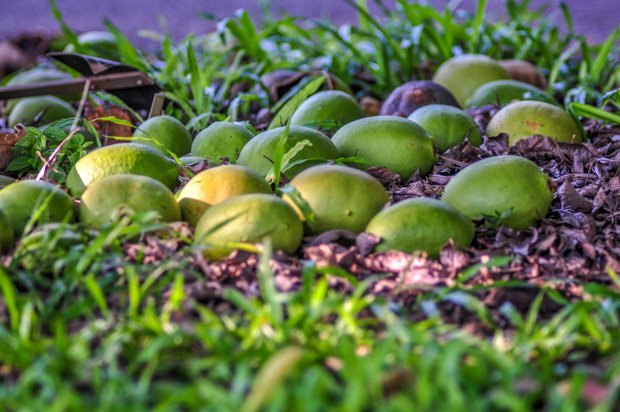 Mmm mangos in the park
Three days is probably enough to visit Darwin before driving south, along the highway with WWII airstrips beside the bitumen, to experience Kakadu National Park, Litchfield National Park and further on to Katherine Gorge.
If you must see captive crocodiles wait until passing through Adelaide River to experience the famous boat ride with jumping-for-meat crocs splash in front of you.
---
All photos taken by myself.