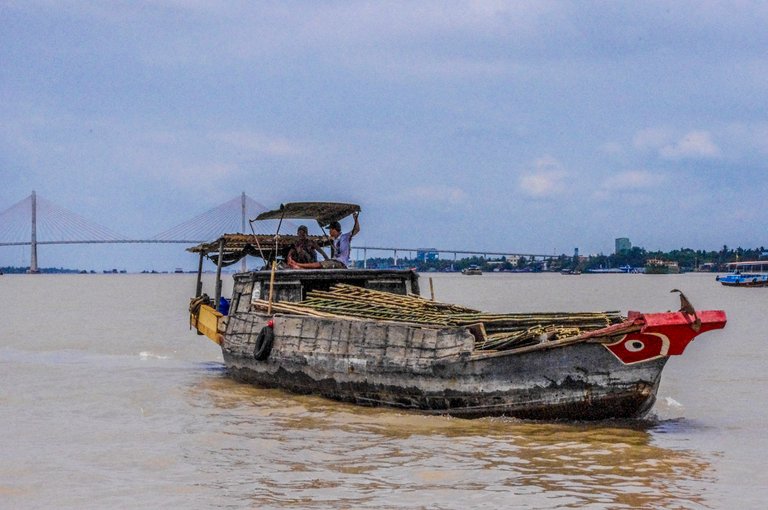 After three months in Vietnam cruising around with my fellow Aussie traveller Wes. After sleeper buses and motorbikes it was time to leave Saigon and head to Phnom Penh and check out Cambodia.
In a tourist cafe we spotted an advertisement for a cheap $US45 per person three-day tour of the Mekong Delta ending in Phnom Penh including 2 nights accommodation. We booked ourselves on it for the next day. There was no hurry to get there.
Day One: Saigon to Can Tho
A 7:30am start on a mini bus with seven others onboard from Saigon's District 1. Lieu is our guide. An outgoing and smiley girl who will end up frowning upon us cheeky Aussies.
She speaks from the front of the bus with a microphone plugged into a long cord - "old tech style". She is quite happy to do some acapella singing along the way, incase we are bored looking out the window at rice fields. Vietnamese folk songs mostly as she doesn't know any of our requests.
First stop a place where blind people work on handicrafts. It's humid and sweaty outside the bus air-conditioning so I was not really interested in getting out. Sorry.
By 10:30am we were on a smelly diesel-fumed chugging motorboat at My Tho. The Mekong is wide here with many large barges carrying goods along the river. The modern cable suspended Rach Mieu Bridge spoils the traditional goings-on views around us.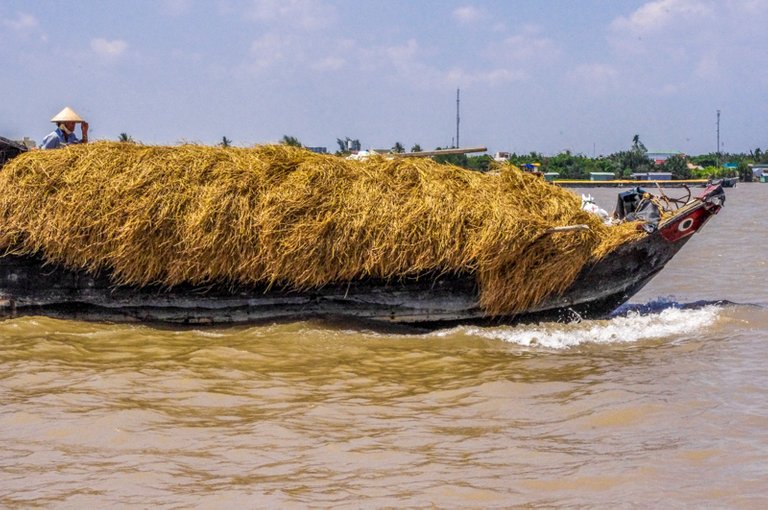 An hour later on Unicorn Island we are watching local women in pink suits wrap coconut candy. We gather around and take photos as it is the done thing. People working a monotonous job wrapping candy! Of course you are enticed to taste test and buy some. We do and save for later when can stomach the sweetness.
Nursing hangovers at lunch, we share a table with a couple from Munich who turn out to be hungover as well. The four of us pick at a plate of fresh fruit, guzzle bottled water and politely clap for the performing Vietnamese folk music entertainment until Lieu drags us off for photo opportunities with bee hives and pythons.
While wandering around looking at cages of cocks (bird kind) and strange looking cattle spieces, we find some crazy pigs.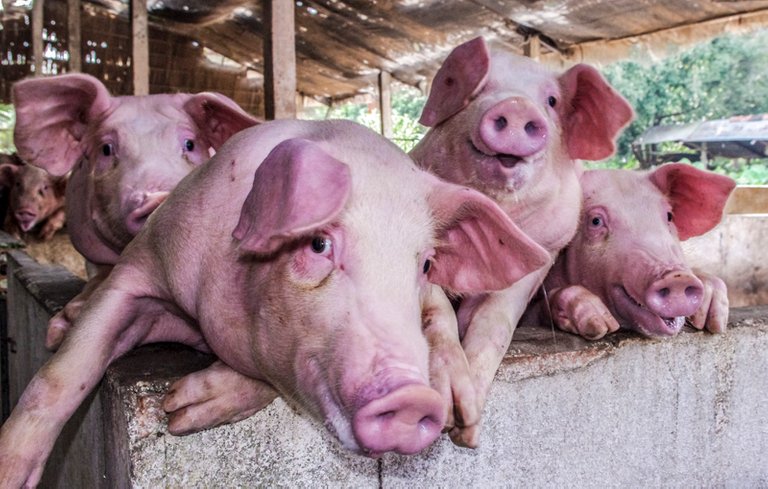 1:30pm: On the minibus for a short ride to An Khanh. Here are the tourist-brochure-favourite-image natural canals with local women in pointy hats load us up on a Sampan boat to row us through the murky waters. We also have to put on a pointy bamboo hat. With four to a boat, we glide along surrounded by coconut tree shade. It is very photogenic and a welcome relief from the heat.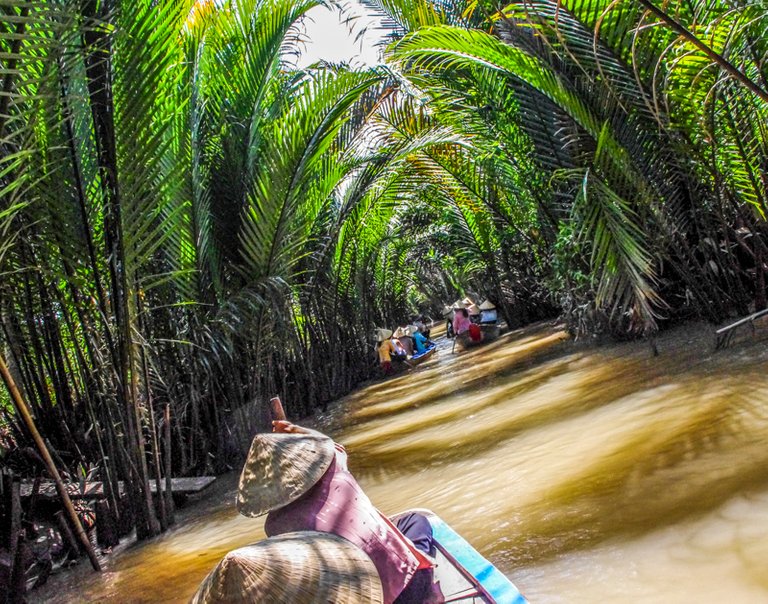 Back on the bus for the three-hour trip to Can Tho, our large water consumption made all four of us desperate for a toilet. We ask for the driver to stop so we can relieve ourselves but told to wait. Wes starts up a chant "wee wee, we want a wee wee, stop the bus or wee wee on the seat." Leiu comes down the back of the bus to hit us all gently on the head with her plastic water bottle. Her way of telling us to shut up.
The gist is understood and we have an unscheduled toilet stop victory.
In Can Tho the hotel is spacious and better than we expected. I would rate 3 star. At dinner with the Germans, the restaurant with a river view has rats, grilled bird and snake on the menu. I go safe with a ginger crab meal.
Day Two: Chau Doc
Feeling more energetic on waking we are keen for the 7:30am Cai Rang floating market in the smelly motorboat.
After passing a floating petrol station and local stilt houses on the river, we turn a tributary corner into the peak time market traffic. Local people selling fruit to smuggled goods. I settle on just a bottle of water from one of the passing vendors.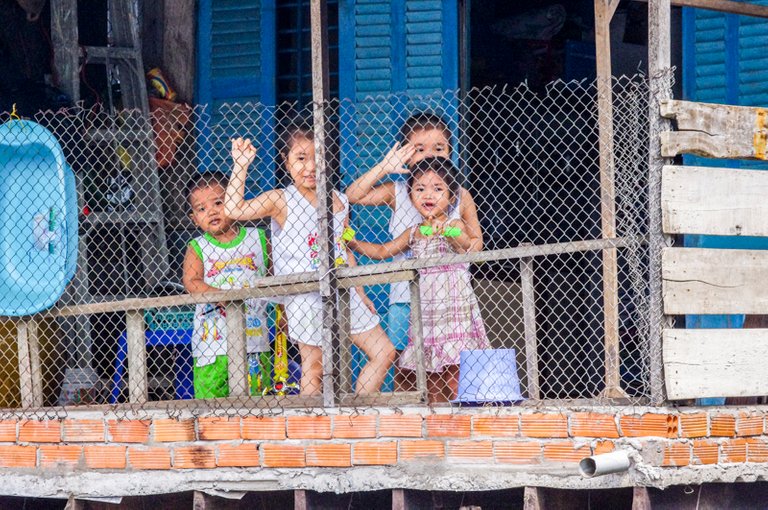 Backyard babies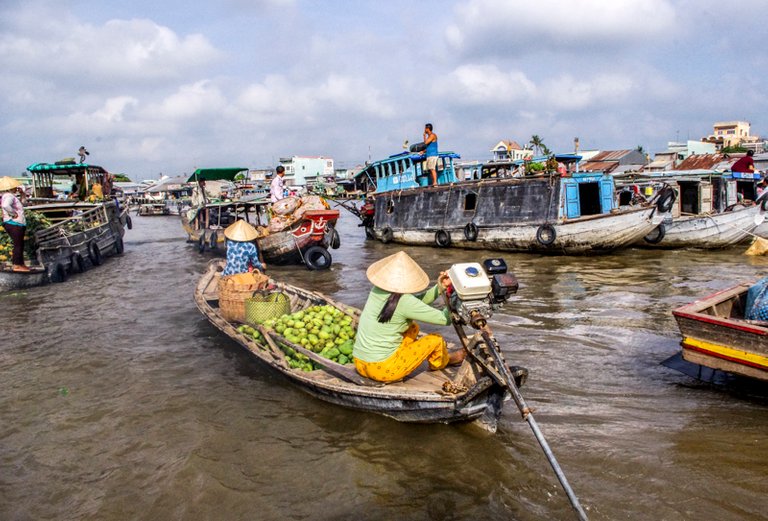 Down river past the market, Lieu has us stop at a rice noodle making village. It is all very pleasant. On these tours there is a lot of stops to pack in shopping opportunities.
Back at Can Tho we must say auf weidersehen to the Germans as they are on the two-day tour and Lieu is taking them back to Saigon. For Wes and I we are put on a different minibus alone for a long journey to our next sleeping destination - Chau Doc.
Mid afternoon we stop off in a town on the main street. The non-English speaking driver points at an open gate so we get out and investigate. It turns out to be Long Xuyen crocodile farm. I have no idea why they have a croc farm or its purpose but it's weird. Holes in the ground filled with crocodiles laying on top of each other.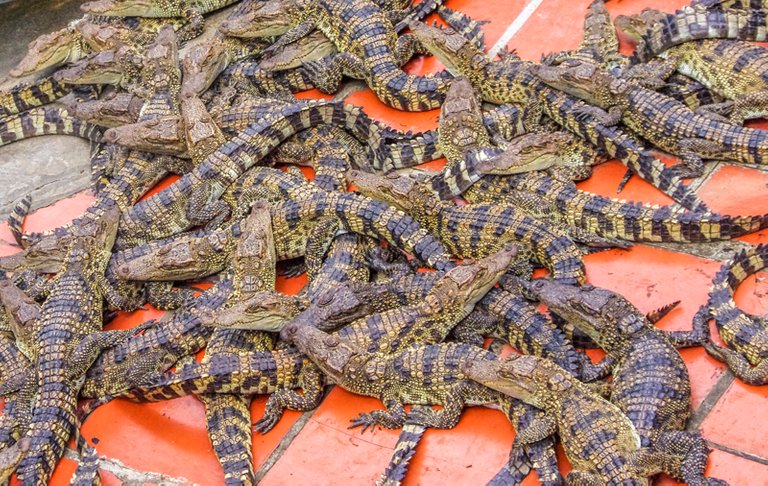 Finally arriving in Chau Doc around 3:00pm, we check into Vinh Phuoc Hotel near an undercover market. The hotel staff advise us to be back down in the lobby within 15 minutes as there is another minibus to Sam Mountain to the Buddhist Lady Chua Xu Temple on the Vietnamese-Cambodian border.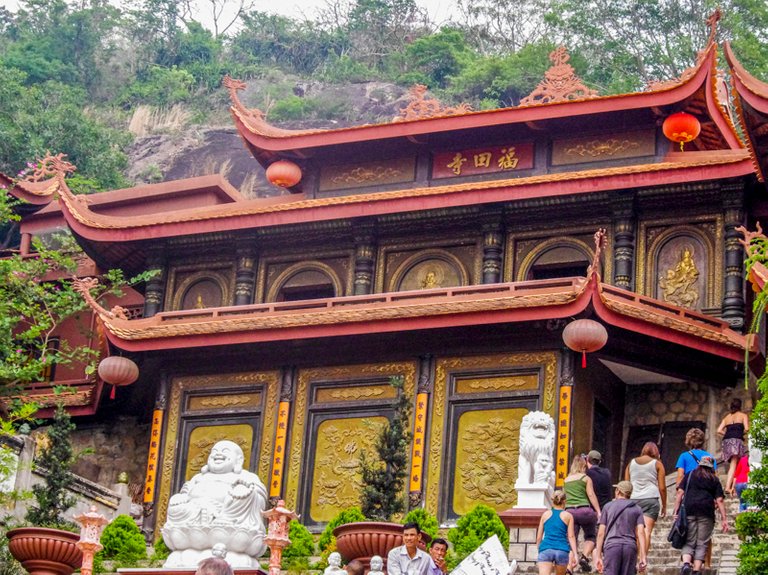 After climbing some crusty concrete steps up to the temple you are rewarded with a hazy limited view over to Cambodia as the sun sets with a commanding view of a pretty graveyard below.
We are back on the streets of Chau Doc by 6:00pm for a street food meal and in the fading light a quick walk down to the river. Masses of floating lilies cover the still water and on the banks are extremely poor and vulnerable stilt houses.
Day Three: Chau Doc to Phnom Penh
By 7:30am we are at the floating-house fish farms. Out boat pulls up at one families home so we can see their cage of catfish on their doorstep. For food and fish oil I hear the boat driver say over the barking dogs.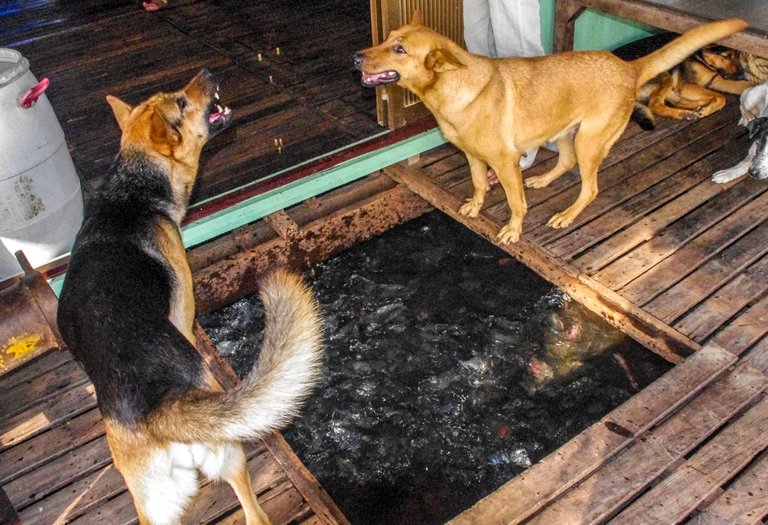 Wes and I are pointed towards another blue motorboat. This turns into a three-hour, thirty kilometre journey to Vinh Xurong on the Cambodian border.
As the boat putters down the canal gradually, the stench of the burning fuel and stinky water drags my mood down until I take more notice of the slow, ever-changing display of rural life of Cambodia on the left bank and Vietnam on the right.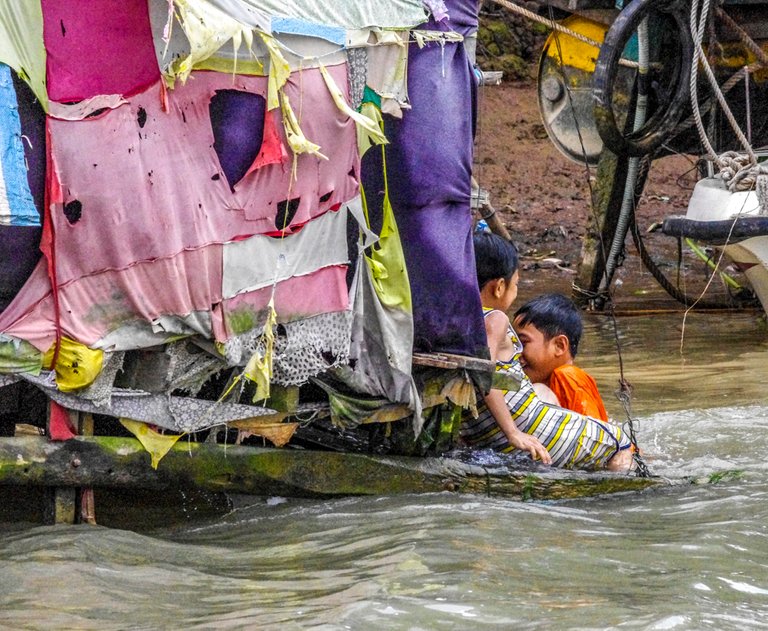 I consider myself lucky to be here on the Mekong. I was not home. I was in another country another continent watching the passing haystacks, house boats, water buffalo, birds and people. Children race the boat waving and shouting "hello" in English.
I remind myself most people are friendly and hospitable in this world. Always smiling even when no common words.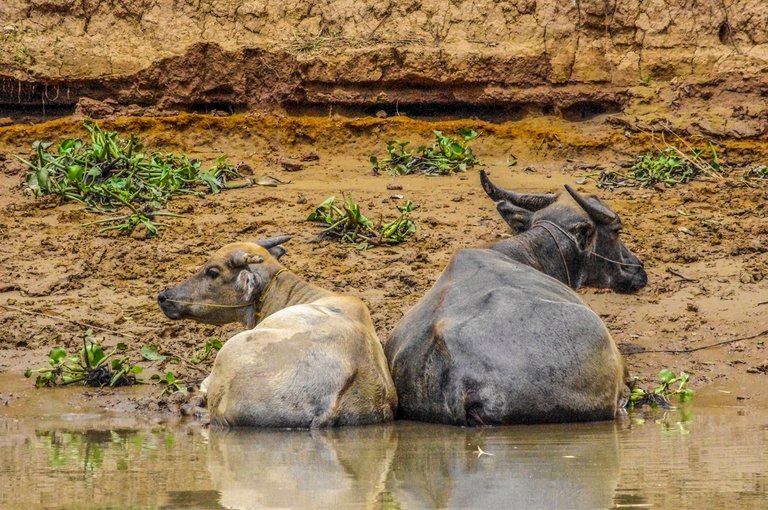 As we turn a corner into a larger waterway there is confusion as our captain spoke no English. We were pointed in the direction of the Vinh Xurong immigration checkpoint. Once inside and after a little wait for visa checks we are pointed this time towards a white van for the final 100 kilometres to Phnom Penh.
Just after midday, we set off on a bumpy ride sitting in the middle of the front seat of a van. Route Nationale 1 follows the river and the majority of the way half the road has grain crops drying out from the local farmers. We pass tin sheeting houses on bamboo stilts and banana plantations. It is interesting to see Asian agricultural life.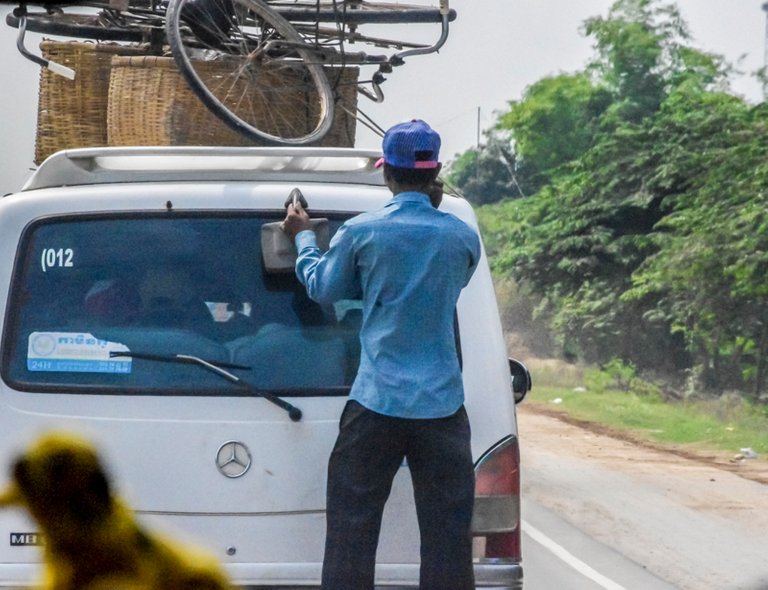 This guy stood on the back for an hour averaging 80kmph holding on by one hand while on the phone
After another three hour stint of travelling, we arrive in Phnom Penh and check in to our hotel close to the city's central market.
I walk out onto the rooms second-story balcony and directly across the road is a room full of women operating sewing machines. Sweatshop maybe?
Welcome to Cambodia.
---
Photos taken by myself