Riga, Latvia - Latvian football - Skonto FC vs Liepajas Metalurgs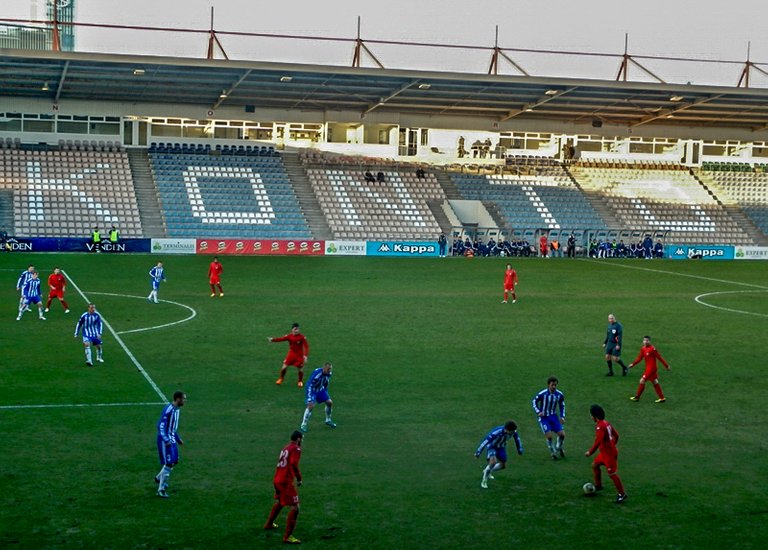 The infographic sign above the ticket office at Skonto Stadium shows bombs and guns are banned inside, along with syringes. Tickets to the game are only 1 Lt (1,50 Euro) and come with a 6 page guide, written in Latvian, showing the players and current Virsliga table. Skonto FC sits in second place and Liepajas are fifth after four games of the season.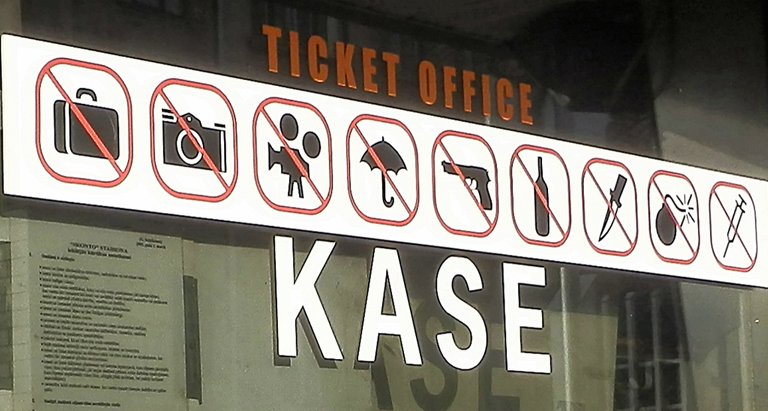 Skonto has won the national title 15 times, including 14 years in a row since their inception in 1991. Virsliga was suspended from 1944 due to the Soviet inconvience. Winning 14 titles in a row is a European record. Skontos' other boasting right is holding Chelsea FC to a scoreless draw when hosting a UEFA Champions League qualifier in 1999.
The Skonto Stadium in Riga is also the home ground for the Latvian national team and seats approximately 8,000 but this evening there is lucky to be 200 people here.
The only entrance open is via the club rooms where a dusty trophy cabinet greets you at the door. The merchandise shop consists of a few garments hanging off a clothing rack and there was little interest in it.
There is a bar lounge inside where the local beer, called Zelta, is served in a plastic cup. The bar girl serving was chatty as her job is very boring with just a handful of customers. She tells me how she would love to see the game outside. I ask her why she doesn't turn on the TVs nearby but she replies that they are not allowed to be on as "there are money problems".
Both teams walk out to an instrumental fanfare and gather for team photos before kick-off. Players are mostly Latvians with one Japanese, one from Panama and a smattering of ex-Soviet Bloc nationalities.
Throughout the game the home team fan-zone sing familiar football chants in their own language. There are only thirteen hard core Skonto fans standing tonight in front of various homemade banners, including Bart Simpson with his pants down.
Below them is an old guy who looks drunk and sings his own songs loudly. By half time he was hoarse and was later responsible for the smoke bomb that goes off.
In the second half, the scoreboard, which looks more like a basketball scoreboard, decides to work finally. Surprisingly no one claps for any good play, like when the goalie makes a good save.
Liepajas score the one and only goal of the game at the 48 minute mark. The skill standard is comparable to an amateur senior's competition, although the majority of the players for Skonto are under 23 years of age. I doubt they are professional players yet they have a good chance of making the Latvian national team.
The defence for Liepajas are the size of giants and prove hard to get past for the Skonto level the score line. It stays at 0-1 and Skonto lose a rare home game.
The official crowd attendance was 250 on a Wednesday night. The bargirl had told me it was quiet due to the weather being too cold. I didn't think it was cold at all but then again, the game was one of the most boring games I've been too. I think basketball is a more popular sport in the Baltic region. Or weightlifting.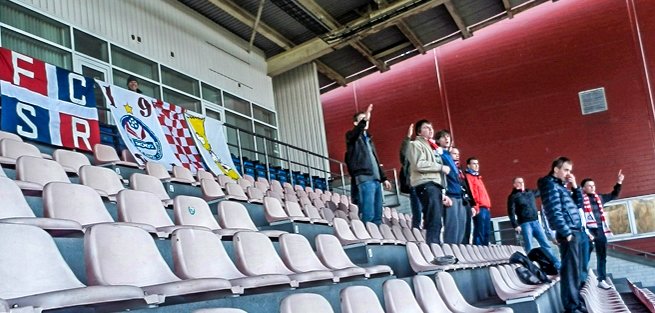 Who are ya, who are ya?
---
All photos taken by myself.