Most recent updates have TRONtopia scheduled to launch their most provably fair dapp to hit the TRON ecosystem on FEB. 18th 1PM EST!!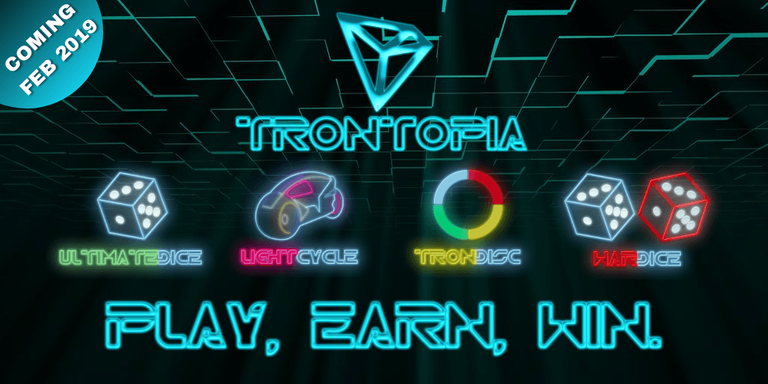 The TRON community have been bombarded with gambling dapp after gambling dapp over the past few months with very little, if any improvising nor improvements. Well, I can finally say that wait has come to an end! One word that we haven't heard that much in the space: TRANSPARENCY. There are also words that are currently overused and meaningless: PROVABLY FAIR. Most of the competition has been frustrated with their current user experience. Whether it's the feeling as if you're being cheated out of your money, neglected when you needed the help, or just plain lied to about critical issues or questions. We can finally put that behind us.
Introducing the first gambling dapp to finally put its money where its mouth is! TRONtopia. Its a very simple ideology: The main kicker is they have developed a system in place where the house reveals their seed first, not the player. Think of it as if you owned a casino. Wouldn't you want to know what the players betting against you were holding, so you can figure out a way to sway a roll, or a hand in your favor? Well thats exactly what the current models have been doing to you as of late. TRONtopia completely throws that out the window with the transparent system where you don't have to feel someone is manipulating around your bets. You are in control! You have the last deciding factor! Tomorrow will be the day when we close one door and open the next, which will lead us forward towards a more trustful environment.
Users who wager TRX, will be given TOPIA tokens which when frozen onto the platform will be rewarded with daily dividends system which automatically is paid out in TRX. There are currently only a 100 million token supply. Each stage has a minimum wagered amount to mine 1 TOPIA token with a progressive system where as the rounds complete the minimum TRX wagered to mine will increase as well.
Not only will TRONtopia excel in the provably fair aspect of things, but also in hearing the community's word! No one should feel left out, and everyone has a say. No matter if you have a huge stash or the least. Everyone in this community are family, as it should be. The development team, graphic designers, and administrators are all top notch in what they bring to the table and they are consistently aiming for the best user experience, stellar support, and friendship that comes along the way. The future is bright with upcoming new games, events, even a DEX! We are all together on this journey!
Experience it first hand! Join the telegram. Interact and ask questions to get a taste of what TRONtopia really brings to the table! They'd love to hear from you.
https://t.me/trontopia
Tomorrow we start opening up a new chapter in the gambling sphere! Come join us and play along side your peers!
https://www.trontopia.co/
As always,
Good Luck!