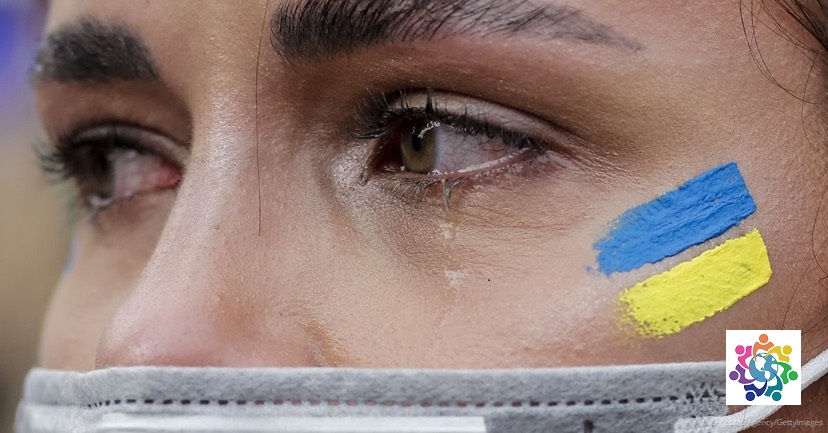 The power of Hive is a wonderful thing when it comes to digital marketing. Whether is it leveraged by a digital marketing company like us at https://towncriermarketing.ca, a small business doing their own marketing, or drawing support for a worthwhile cause like supporting Ukraine, Hive is simply excellent.
The fact we have been head down supporting our clients and causes and have not leveraged our blockchain superpower is a bit embarrassing. No time like the present to re-engage and no better story than local organizations teaming up to support refugees!
Here is a story on a couple wonderful organizations in our small Canadian community and how we are helping.

Ukraine Support from Afar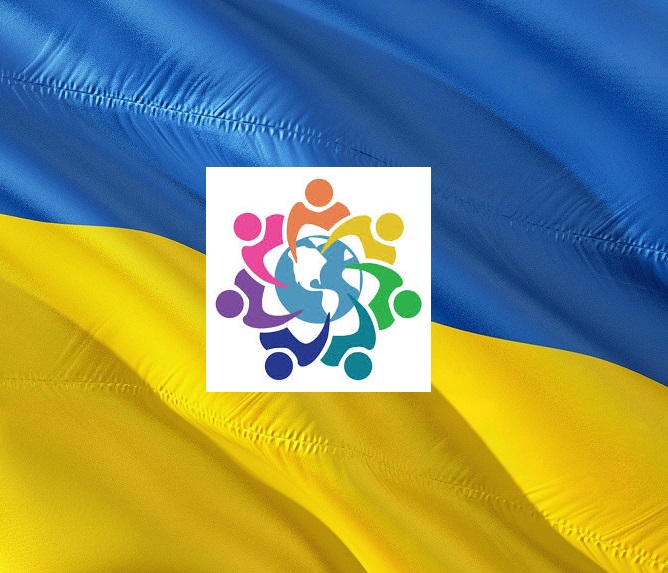 Before the recent incursion (to put it probably too lightly,) there were approximately 1.4 million people who identify as Ukrainian-Canadians. In a nation of only just shy of 38 million people, that is almost 4% of the population which is very considerable. It is said that the largest concentration is in the Edmonton area which suggest these are resilient and hard working folks who are not afraid of vicious winters!
With the crisis pushing people out of Ukraine, it is estimated that 42 refugee families will land and settle in our region. While thoughts and prayers are encouraging, the local multicultural association https://maph.ca is committed to do something real and directly-impacting. Though we have not the means to send aid directly to those brave souls fighting insurmountable odds and unimaginable battles, they are focussing their efforts close to home and we are doing our best to help them.


Revival House!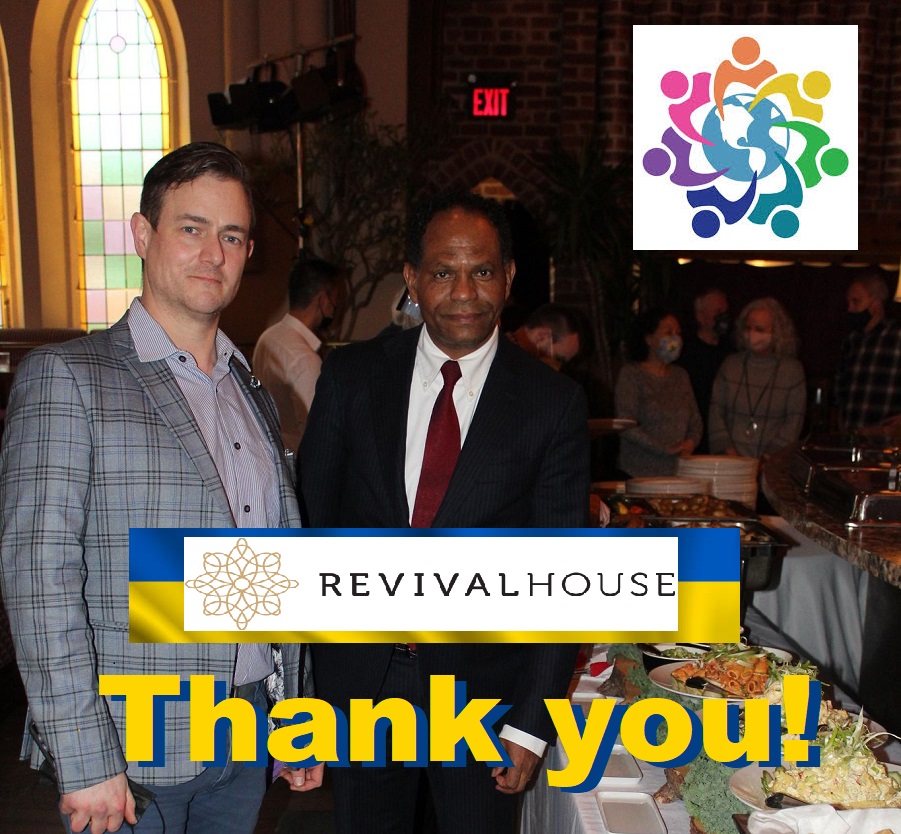 One organization stepping up to help raise funds to empower the MAPH is Revival House Stratford https://revival.house Here we have the owner Rob Wigan posing with the MAPH president Geza Wordofa at the event held this week. Rob was born and raised within a few blocks of the wonderful restaurant he dedicates his professional life to running while Geza hails from a beginning in a very distant Ethiopia! The miles, language and culture difference between these two individuals is celebrated as they collaborate to raise funds.
Imagine a huge venue like this, having endured 2 years of lockdowns and zero tourists which are essential to the very survival of the business. None of that mattered as they organized a Ukrainian-inspired buffet from the upscale kitchen and donated the profits directly to the MAPH fund to help the landed refugees.
As far as business goes, giving up profit used to pay employees and rapidly increasing costs is not generally a great idea. The branding is a completely different story as what better way to be a leader in the community, leverage your success towards helping distressed families build a life, and engage the community while employing the staff on a day that would normally see the restaurant closed?
Wonderful leadership and generosity that we aim to convert into safe families and more local clients who have not yet visited this fantastic business.

Raja Stratford!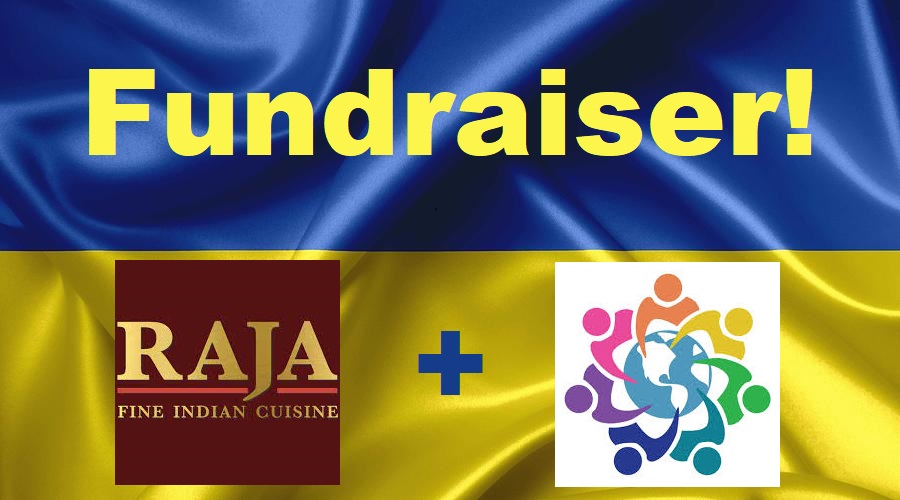 Another embattled restaurant has stepped up to the plate as Raja Stratford https://rajastratford.ca is a leader and has strong ties to Ukraine. Seems as though the owner (of 15 years) Zafar Quazi spent a decade in Odessa for education and the launch of his career. The goings on are weighing on our minds as concerned global citizens but imagine having 10 years of memories and being able to vividly picture the places you lived and loved littered with tanks, troops and destruction. Knowing Zafar, he would most likely step up and raise funds for his brothers and sisters in the MAPH and Ukrainian refugees had he never even been in Ukraine. This real connection just makes the story more real.
We are helping them run a campaign where money is donated to the MAPH from each online reservation made or take out order. They too are struggling without the promise of huge tourism but are compelled to lead and do the right thing. A week after the promotion started, we were instructed by Zafar and the team to extend it another week so that Raja can contribute even more than they already have.
Wonderful cuisine our families simply love and even more virtuous leadership locally for those far away but close in our minds.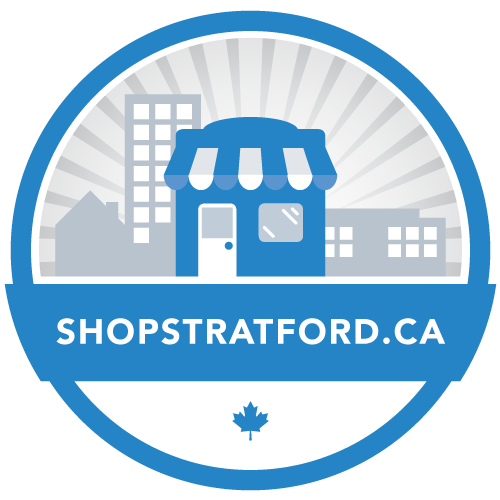 We hesitate to mention ourselves but know the value of back links and content related to our business so please forgive us as we toot our own horn! ;) When the pandemic hit, we drained our corporate bank account and borrowed more from each of the owners to purchase the rights to the shop local platform https://shopstratford.ca In short, we were looking to distribute digital life preservers for the smallest, most exposed, locally owned businesses as there were crucial times ahead. The platform allows everyone from the smallest of side hustles to build a marketing mechanism and engage the community all the way up to the well established community pillar companies to enhance their presence and impact. Helping all of the locally owned businesses to band together in a real way was the right thing to do and quite the undertaking for our small business striving to survive in kind.
We offer not-for-profit organizations the $2400/year PLUS package (https://shopstratford.ca.packages) for free indefinitely to promote their cause and engage the public. The benefit to us, beside doing the right thing, is that these unique users leveraging and publishing their content empowers the platform, especially in the eyes of Search Engine Optimization (SEO) and Google, to benefit all the other locally owned small businesses. What a feel-good win/win.
We are helping the MAPH directly by enabling them to raise funds directly by enabling them to publicize their events in the local calendar, and using the online marketplace to collect donations directly to the MAPH bank account https://www.shopstratford.ca/maph/?listing.action=products&view=details&pcatid=0&productid=10531112 This link is what locals are using to donate and, if one person from the Hive community feels the compulsion to donate 1 dollar, the time spent authoring this post will be worth it.

Huge thanks to the magnanimous teams at Multicultural Association Perth Huron, Raja Stratford the community and our team members at Town Crier Marketing for teaming up to help refugees build a new life as part of our communities.
Links to more information:

Thank you for your business and community support, following our story and sharing in those we tell of our clients. Feel free to create a blog for your business https://signup.hive.io/ and ask @town.crier how to leverage it towards success.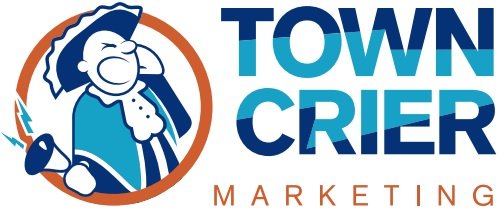 http://www.towncriermarketing.ca - Telling Stories, Building Businesses. Now on the Hive Blockchain!