Please start by subscribing and liking the following: 
Subscribe to us on YouTube: UloggersTV
Like our Facebook page: https://www.facebook.com/UloggersTV 
Kindly join the communities on Discord & Telegram 
Preface To Today's (Ulog-Vines) Video Contest
This is a simple contest that will turn into a culture, movement and activity on #ulog. 
The aim of this contest is to timely-ly stir community, create a buzz and excitement, showcase the creativity and innovation that the art of #ulogging carries and most especially, create a repository of #ulog-material that we can use to constantly promote the steem ecosystem.
To participate in this particular video-contest, you would need to oblige that people can use your entry to promote steem. They can use it as shareable media but they can also edit or modify it to make their own steem-promotional  resource. 
You would also allow us to use all or parts of it to promote the steem ecosystem and https://ulogs.org which ultimately leads to steem. We may look to feature awesome entries on UloggersTV on all social fronts to celebrate and showcase the awesomeness of @uloggers globally as well as promote steem in fresh light.
We may look to combine these resources to make a compilation or sets of compilation videos that we can have handy, when we decide to make use of conventional ads to promote steem. 
If you are a "private figure", you may not need to appear in your video-entry for this contest. Simply apply the use of objects, avatars, locations etc and flex your creative muscles. To help you flex these muscles we are keeping all video entries to this particular contest vine-like, to tally with a pretty popular trend in the world out there known as #vines; but we will stay in between #vines and #snaps and we would want your video-entries to this contest to be 8-seconds long; the number of letters in the word "uloggers".
By this #ulogging activity we will try to up-build community. We will also hope to demonstrate that there can be very-technical-quality in short-form-content depending on the eyes of the beholder. 
We also want to highlight the fun and innovation that #ulog, #ulogging #ulog-related activities and #ulog-generated activities carry.
We want to use this activity to add "freshness" to known hashtags like #vines or #snaps popularly known in the world of social media e.g snapchat, twitter etc by adding "#ulog" into the mix. By this means, we will be integrating a special type of stardom (our world of @uloggers) into existing popular hashtags. 
Then, we will be promoting steem as a currency, a blockchain, a movement, an ecosystem, a home.
Contest Proper.
Note, if you will be using steemit.com or https://ulogs.org to participate (in combination with YouTube), you can use only 5 hashtags. If you will be uploading your entries on Dlive.io, you can use more than 5 hashtags as allowed by @dlive.
To participate, simply create a video that is only 8-seconds long or shorter. (It is not compulsory to appear in your videos). In this very short video, kindly create any video scenario or scenery that captures the following sentiments:
Steem/Steemit is the only cryptocurrency/blockchain/social ecosystem/social community/digital currency/social interface built on blockchain etc who "success" isn't measured in "bulls or bears".
Other general things to note as you create the video-scenario for your 8-seconds-long video (#ulog-vines) are these general sentiments below:
The keyest aspect of steem-promotion is "your own conviction about steem's beauty". 
How do you fell about steem? Is it bulls and bears for you in how you measure "steem's success or steem's potential success"? 
While we may consider the success of other blockchain(s) or digital currencies using "bulls or bears"; for once, steem is the only blockchain where "no animals" involved, for in this case, it is YOU and me. 
Kindly submit your entries; Dlive videos, https://ulogs.org + YouTube post URL, steemit.com + YouTube post URL in the comment section below. 
Mention friends in the comment section to invite them to participate.
Share your posts on social media and on https://www.facebook.com/UloggersTV
See sample vines for ideas:
Note: Steemians & you love steem for a variety of reasons besides the state of steem price. We want to showcase this right here on steemit through the art of #ulogging, while creating fresh avenues to promote steem! 
Let's see how many video entries we can get. 
Special Note: All participants wins something. No losers. Flaws allowed. Relegate reservations. 
Kindly vote for the "steemgigs" witness. 
Dedicating My Entire Steem/Steemit Journey To My Mum
If you want to support an extra witness and you support mine "steemgigs", it will be really helpful. 
To vote my witness, simply visit https://steemit.com/~witnesses and upvote "steemgigs" or simply click Here to do it on one click!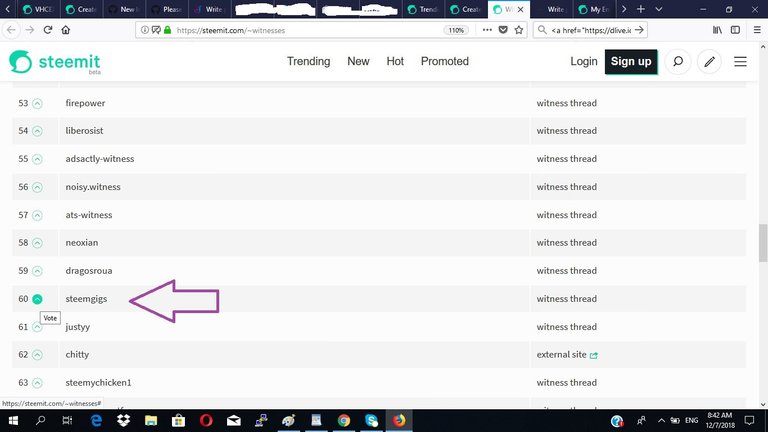 If you want me to make witness voting decisions on your behalf, simply visit https://steemit.com/~witnesses and type in "surpassinggoogle" in the second box for proxy.

Kindly join the communities on Discord & Telegram